Around The World, Part Seventeen
Thursday, March 27 2008 @ 09:18 PM CST
Contributed by:

filbert

Views: 2,257
Our Round The World Trip home page is here.
Part Sixteen is here.
November 2 (Friday, Day 32, Prague) –
We ate breakfast in the Marriott at the very overpriced restaurant (buffet = $30). We decided to take the tram (one form of Prague's great public transportation) up the hill to Prague Castle in order to save our legs for the rest of the day. We couldn't figure out where to buy tram tickets so we actually "poached" a ride. We weren't caught so all was well.
Ah. Europe.
We got off the tram and walked all over the grounds of Prague Castle. We didn't go in any of the buildings but just liked looking at the exteriors of all of them. Going inside the various buildings not only cost money, but there were lines at each of them. It was beautiful since the leaves were changing. Prague Castle in on a hill so you can see the rest of Prague from various points around the grounds. While we were walking around the castle grounds we saw an artist sitting on the wall and painting a scene of Prague. We bought a travel wall painting from him and it shows Prague with fall leaves which was very appropriate for our time in Prague.

Prague Castle (3 pics):

Prague obviously didn't suffer much World War II damage since the buildings still look like they are from the late 1800s and early 1900s. Luckily, it appears this city has decided to keep its buildings intact and not let companies come in and tear them down to build skyscrapers. We saw a few old buildings in Dublin, but they are all over Prague. Seeing a new building (like the Marriott and the Sheraton right across the street from it) is very unusual. Even the malls have been built by taking existing old buildings and keeping the exteriors intact and "gutting" the insides to put in multiple stores and to combine the buildings together.

Views from Prague Castle(2 pics):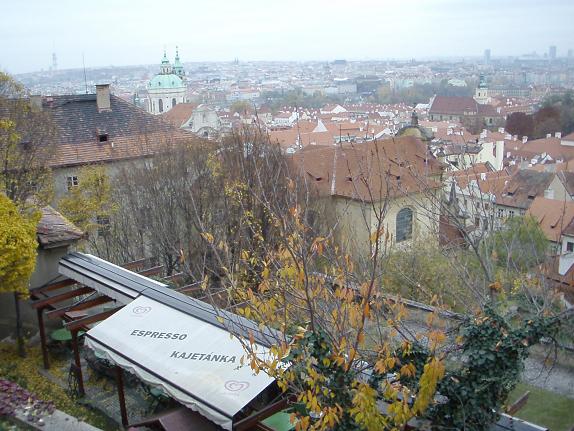 It was refreshing to see Caucasians everywhere. (Snookums wrote that. She's so insensitive and monocultural sometimes!) We also noticed the wealth (or lack of poverty) everywhere and that was nice to see, too. Lots of people were smoking and kissing (which we did, too!). Walking around Prague while holding hands was nice to do after being in so many Arabic countries where we couldn't show any affection. (OK, Filbert is a Euro-American ethno-centrist, too. It's how he was raised.)

We went to a pub for dinner and Filbert had spicy Czech goulash with potato dumplings and two beers and Snookums had a bowl of bean soup. Her appetite still isn't back from her Cairo experience. The pub was very smoky so we left very soon after finishing.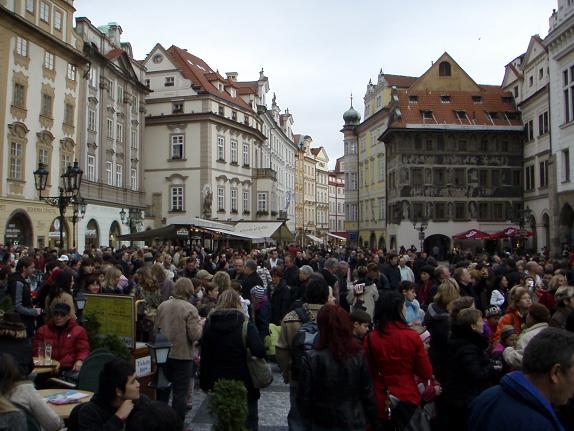 Look, Honey! Caucasians!
The turndown treat tonight was Haribo gummi bears which Snookums really appreciated.

November 3 (Saturday, Day 33, Prague) –

Today was our last major wash day. YIPPEE!!!! We walked around some more and both of us had street vendor sausages for our brunch. We bought more deli-type items at the grocery store and had a picnic dinner in our room.

While at the grocery store we also returned the empty beer bottles to get the $0.15 per bottle deposit back. This was kind of tricky since no employee spoke English and signs were all in Czech. After knocking on a door (which turned out to be the door that goes to the warehouse/storeroom) and having an employee come and yell and motion, Snookums realized that there was a machine right next to the door that looked to be the bottle return machine. She put in the bottles and a register receipt spit out and she took that to Filbert who applied it to the cost of our deli dinner.

Tonight's turndown treat was poor quality milk chocolate. (Filbert blames the Caucasians . . . )
The trip concludes in Part Eighteen, here.
Part Sixteen is here.
Our Round The World Trip home page is here.