Around The World, Part Eighteen
Friday, March 28 2008 @ 09:34 PM CST
Contributed by:

filbert

Views: 2,352
Our Round The World Trip home page is here.
Part Seventeen is here.

November 4 (Sunday, Day 34, Prague to Dublin) –
We again took advantage of the shuttle across the street from the Marriott for an inexpensive ride back to the airport for our 10:40 AM Czech Air flight to Dublin. It rained right before we left the Marriott and we saw a beautiful rainbow while riding to the airport. We were fed on our 2 hour and 40 minute flight. U.S. airlines need to learn from all of these airlines and feed people on every flight!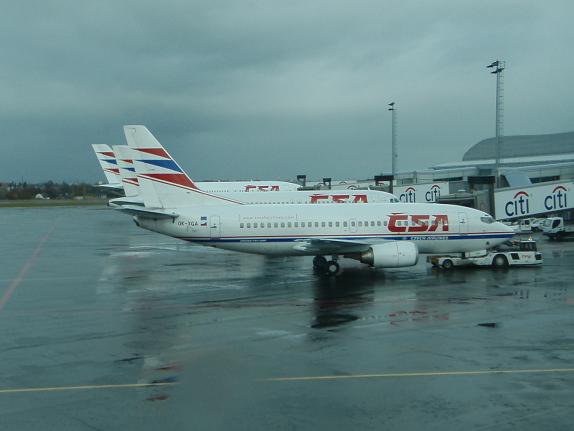 The flight to Dublin
Our flight took off on time and we landed in Dublin and immediately noticed the abundance of English signs, spoken English and Caucasians. What a relief to be in an English-language country!!! We found the correct AirCoach to board for the trip to downtown Dublin. We actually had to walk about 2 blocks to the Conrad Dublin. We took group transportation to and from most of the airports on this trip and this was the farthest we had to walk to get to our hotel. We survived!

We used points for the hotel and we were upgraded to the nicest room type ($479/night plus tax – remember that the Euro makes things very expensive), but the Conrad Dublin doesn't have any kind of free lounge so other than getting two bottles of water per day, we weren't sure what the upgrade got us. But, we had a nice view of Dublin and it was a clean, comfortable room so we weren't complaining.

We walked to the nearest grocery store which was on the other side of St. Stephen's Green and loaded up on sodas and beer and other items. We stopped at a pub near there. Snookums finally had her appetite back from her October 30 Cairo illness and was ravenous. She ordered tap water with ice and lemon and pantomimed a water faucet, too, before realizing that Ireland was an English-speaking nation! 34-day old habits die hard! She had excellent leek and potato soup and an order of fish and chips. Filbert ordered the beef and Guinness pie that was so-so but his two pints of Guinness hit the spot. (Note – Guinness purchased in any Irish pub costs around $6.50. You can buy a 6-pack of Guinness at CVS in the U.S. for $7.50. That darn exchange rate…) We went back to the hotel and watched NFL games. We also could see fireworks out our window around 10 PM and we assumed they were for some soccer match.

We noticed on all of the Coke bottles the lids said "Hand screw". That tells you how much beer people drink in Ireland since the beer bottles require bottle openers. But, they want you to know that Coke bottles are hand screw caps!!

November 5 (Monday, Day 35, Dublin) –

Filbert did some internet research and found that one of the best Irish breakfasts could be had at a little restaurant about 4 blocks from the hotel. We went there but although the sign said that it opened at 8:30 AM, it was after 8:30 AM and it still wasn't open. So, we went to a little place right next to it and we each ordered the Irish breakfast. It consisted of one runny egg, 3 link sausages, beans, black and white puddings, a broiled tomato, and 3 pieces of large toast. It filled us up and was quite good (and it was cheap, too). The diner didn't have any artificial sweetener which we also experienced at another restaurant later on. So, be sure to carry artificial sweetener with you in Ireland. Our hotel had it, but small coffee shops and restaurants didn't. (When we left the little diner, we noticed that the "best" breakfast in Dublin restaurant was open so we decided to try it tomorrow.)

We took various Dublin tourist magazines with us to review at breakfast to plan our day. The weather forecast called for a damp and cold day and since we finished breakfast so fast, we decided to see if we could still sign up for the Wicklow Mountains, Valleys & Lakes Gray Line Tour that left our hotel at 10 AM. We made it! We had a knack on this entire trip of always being at the right place at the right time and this was another case of it. Had we dawdled for even 10 minutes, we would have missed the tour.

The tour consisted of a mini bus with about 10 other people on it. Our driver warned us at the outset that the weather might be bad and that there was some road work on one of the little country roads he was to take so he wasn't sure what we would really get to see. But, no one seemed to care. We were all there to enjoy some of the most beautiful countryside Ireland had to offer on the full day tour of Wicklow that included visits to Avoca Village and Glendalough.

It seemed to only take about 45 minutes to get out of Dublin and to get into Irish countryside. It started raining even harder and after about 2 hours the bus stopped so that everyone could get out at the top of Wicklow Mountain to look around and see the beautiful scenery. Everyone got out and was shocked by the biting cold weather and the sideways rain. One by one we all clamored back on the bus and we were all laughing since no one could believe the fierce cold and very strong wind. Visibility was about 0 so we didn't see anything but it was still fun due to the incredibly strong wind experience!

After another hour drive down the mountain, we pulled into Glendalough. This was a 6th century monastic settlement and it is famous for its 10th century Round Tower and St. Kevin's Kitchen. Blessington Lakes are also here and we used the 2-hour stop to hike the path to the lake and back and to hike around the settlement. This was also a little village so Filbert had to go in the pub and have a pint of Guinness, too, although we only had about 15 minutes left. He didn't have any trouble downing it in that time. It's funny to watch the bartenders pour Guinness since they pull the tap and fill the glass to within an inch of the top and then the glass just sits there for a good minute or two as the waterfall effect occurs. Then the bartender fills it all the way up and gives it to the customer to drink.


Irish (late?) fall colors

Glendalough (2 pics):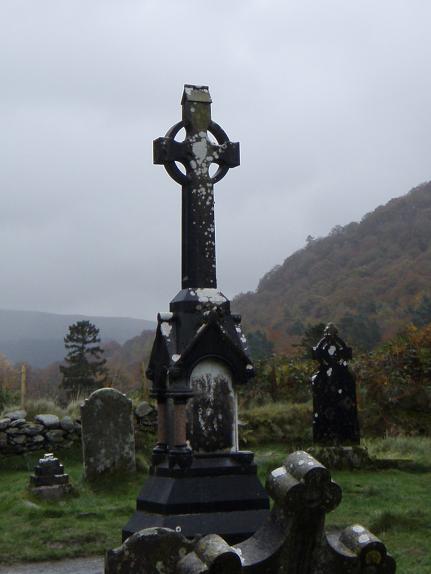 We all boarded the bus and the driver told us that he scouted out the road closure and found another way to get us to Avoca by means of an even smaller country lane. I don't think the driver enjoyed the drive that much, but we sure got to see a lot of stunning scenery. (By now the sun was out in full force and the Irish mist was gone.) There were several times when he had to stop to make sure no one was coming at him since the road was only wide enough for one bus and no cars!

We got to Avoca which is a little village that has a pub, restaurant and a famous weaving mill that claims to be the oldest weaving mill in Ireland. Many people ate lunch at Glendalough but we didn't have time to and we were glad that we waited. The mill had a restaurant with all homemade dishes. The driver ate there, too, and told us after the fact that he always eats there since it is so good. We shopped first and picked out a mohair and wool throw for our greenish sofa in our hearth room. This was really the only souvenir we bought on the entire around the world trip!

We boarded the bus for the ride back to Dublin and everyone was in high spirits and laughing about the horrendous weather around 11 AM and how beautiful it turned out. Throughout the day we saw lots of sheep grazing in the little fields that Irish farms have and they were really pretty.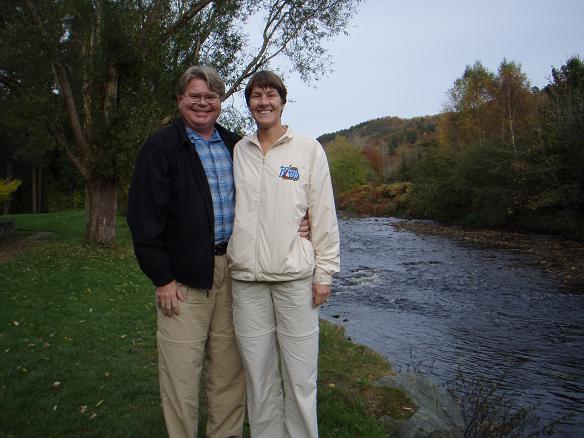 Filbert & Snookums in Ireland
We got back to the hotel and decided to rest a bit before going to a pub for dinner. Well, most of them quit serving food at 7! We finally found one that still served food, but it consisted of frozen sandwiches. Oh well. It was food! There were 6 or 7 guys in there watching the Manchester City team beat Sunderland in soccer and we all witnessed Stephen Ireland score for Manchester City and then moon everyone. Since we were ignorant of soccer customs, we asked if that was normal and we were assured that it WAS not normal and they had never seen it before. Sure enough, it was all over the news that night and made the front page in the 3 papers that were delivered to our room the next morning! We witnessed soccer history while in a Dublin pub. It doesn't get much better than that!

We also learned that smoking is NOT allowed in Irish pubs. Yet another reason to return to Ireland, although the pub barkeeper said the smoking ban has killed their business.

November 6 (Tuesday, Day 36, Dublin) –

We rode the hop on/hop off tourist bus around Dublin and hopped off a couple of times to walk some. One of the guidebooks talked about the pub that serves the best Irish stew so we found ourselves there for lunch. The stew was fine, if watery, but the dense bread was fantastic. I asked where they bought it so that I could buy some and was told they made it but didn't have enough to see me a loaf. Oh well. We walked some more and a band of Gypsies from Romania were walking towards us and Filbert made the mistake of making eye contact. They finally disappeared after we ignored them. We found out later that they moved into Dublin a few years ago and everyone hates them. They look like the stereotype you think of when you think "gypsy" – dirty, disheveled, traveling in large groups.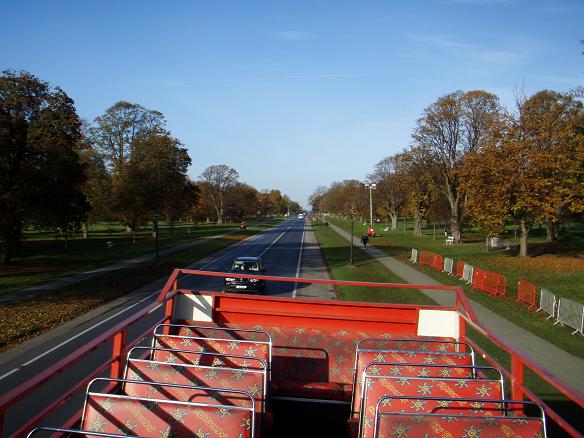 The city circle tour bus
While walking we passed a grocery store called Lidl. It's a German chain and its chief competitor is Aldi. It seemed like an up-scale Aldi to us. We had to go in and while there bought loaves of several different brands of barm brack. I wanted to buy Irish soda bread for souvenirs but it expired within a day or two. So, the barm brack had to do. I wasn't sure what kind of bread it was but it was a heavy loaf with raisins and Irish whiskey so I figured it couldn't be all bad. By this time of the trip, we only had to haul our luggage through one more airport and I knew we had room in it for souvenirs so I wanted to fill it up. Filbert wasn't too happy that I bought 8 loaves or so but he helped me carry it around for the rest of the day so he wasn't too mad. A few blocks from Lidl we found an Aldi and went in. I found more brands of barm brack and wanted to buy a few more but the lines were really long so I made Filbert happy and didn't buy any. (Note – The bread traveled very well and the people that ate it enjoyed it a lot.)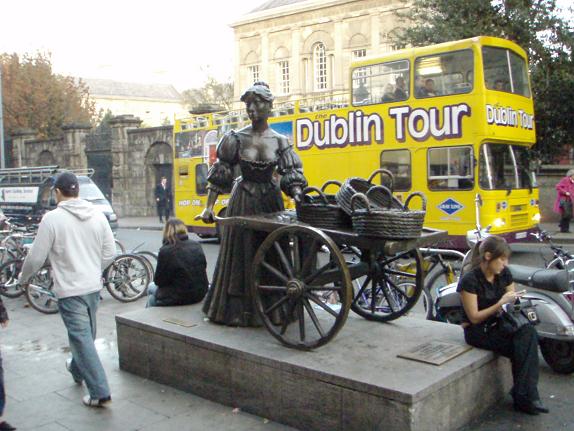 Molly Malone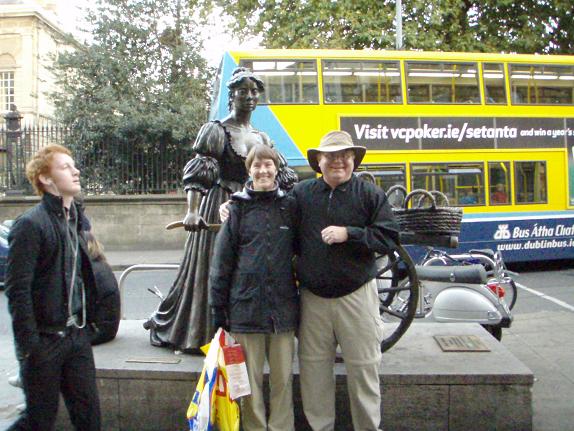 Us, obscuring Molly Malone
We had someone take our picture in front of Molly Malone which is a famous statue to commemorate a legend of a young 17th century woman. We realized that we didn't have any pictures of the two of us in front of anything Irish so we found ourselves near this statue and made it work. There is also a song, "Cockles and Mussels", which is an unofficial Irish anthem about this woman.

We bought sandwiches, salads and chips at one of the many convenience stores (but much smaller than Tokyo's or the U.S. ones) and headed back to the hotel for a picnic dinner in our room.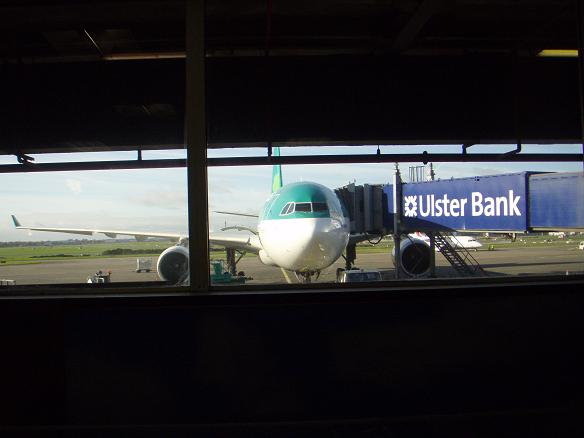 Our plane home

November 7 (Wednesday, Day 37, Dublin to Kansas City via Chicago)

We took the AirCoach back to the airport in plenty of time for our 1:30 PM flight. We didn't realize it at the time, but we ended up going through immigration at the Dublin airport and after doing that we could NOT leave the gate area which meant we couldn't shop at any of the airport stores. Bummer. We had to sit in the basement gate area for a good 2 hours and were limited to one little food counter that sold pre-wrapped sandwiches.

Our Aer Lingus flight was on time. Snookums watched 5 movies while Filbert looked out the window. We also used the largest airplane bathroom we've ever seen. It could have easily accommodated a wheelchair and that was not what it was for. We never could figure out why it was so large, but after going to the bathroom in so many tiny airplane bathrooms, it was a very nice change of pace.

Our 4-hour layover in Chicago was very long since we just wanted to get home! We finally landed in KC and our car service was there to pick us up. Our driver is from Pakistan and his father was a Supreme Court justice. In the middle of our trip there was political/military upheaval in Pakistan and we heard on CNN International that all Supreme Court justices were put on house arrest. We asked about his father and he said that his father was okay and was just fortunate that he was in his small town rather than in Karachi or another one of the major Pakistani cities. Anyway, after traveling around the world, it was kind of interesting to have something halfway around the world affect someone in Kansas City. The world isn't that big after all…Our flying distances on our great adventure were:

October 2 - Kansas City to Tokyo (via Chicago) – 6,677 miles
October 8 - Tokyo to Bangkok – 2,887 miles
October 12 - Bangkok to Delhi – 1,810 miles
October 16 - Delhi to Hyderabad – 766 miles
October 23 - Hyderabad to Dubai – 1,580 miles
October 27 - Dubai to Cairo – 2,470 miles
November 1 - Cairo to Prague – 1,640 miles
November 4 - Prague to Dublin – 902 miles
November 7 - Dublin to Kansas City (via Chicago) – 4,452 miles
Total distance – 23,184 miles

Total cost for EVERYTHING – $9,478.34 (or $256.17/day)

Trip Learnings

Japan has nifty toilets.
Bangkok is really, really steamy and Filbert sweats a lot in steamy weather.
Tigers have very big paws.
Hyatt's Regency Clubs are great for free "dinners" and for breaks from the foreign world.
Delhi is a place you really don't need to visit if you don't have to:
Its drivers are crazy.
It's poor and dirty.
It is very, very, very poor and very, very, very dirty.
It is, in fact, a "festering shithole". (Filbert's term for it.)
Water buffalo and men poop in the lake behind Judy's Hyderabad apartment and people fish there, too.
But Hyderabad is, compared to Delhi, paradise.
A lot of Dubai is new and shiny.
Cairo is very smoggy and poor but the people are very friendly.
Prague is beautiful and very tourist friendly.
People speak English in Ireland.
Any non-U.S. airline is better than a U.S. airline.
There's no place like home!!!!
Filbert's final score of selected world cities:
Hard to go wrong: Tokyo, Dubai, Prague, and Dublin.
Not completely unpleasant but too damn hot: Bangkok.
On the edge: Cairo, Hyderabad.
Festering shithole: Delhi
Part Seventeen is here.
Our Round The World Trip home page is here.
I think we need a vacation . . .