Around The World, Part Sixteen
Wednesday, March 26 2008 @ 09:05 PM CST
Contributed by:

filbert

Views: 3,585
Our Round The World Trip home page is here.
Part Fifteen is here.
October 30 (Tuesday, Day 29, Cairo) –
Snookums woke up this morning and had major issues with her gastrointestinal tract. She thinks it was because she had bad water yesterday. Yesterday her tea was very hot and Mertha took the glass of hot tea and poured it into another glass that Mertha had just dumped water out of. Hence the bad water. Snookums chose to stay in the room (and bathroom) and Filbert went out to see the Giza pyramids, Sphinx and ride a camel with Karen. (We had paid in full for the day of touring so it would have been silly for him to not go.) Snookums curled up in bed and watched movies.
Filbert let Karen and the driver know the situation, and they decided to go find an Egyptian pharmacy. At eight in the morning, this isn't easy, as Cairo doesn't get going until mid-morning. Even so, we finally found a pharmacy that was open early and obtained some local meds for Snookums. They picked up "Antinal," an antibiotic (apparently used on cattle in the U.S.), Azirithromycin (Zithromax) and "Entocid" (a combination anti-protozoal, anti-diarrheal, and good old streptomycin). With this trifecta of local pills in hand, they returned to the hotel to check in on Snookums.
(Of course, Filbert discovered after we got home that India doesn't allow the sale of Entocid, and one of its ingredients is banned in the U.S. as well. Cool!)
Still, when you're miserable, you'll take almost anything that offers relief. Snookums popped the pills and stayed in bed. Filbert took one of those Entocids, too (just in case) and set out for the Pyramids. The drive was one of the most sedate of any we'd had so far in the Third World.
India prepared Filbert well for the onslaught of freelance vendors at Giza. Most of them were cheerfully ignored but some were engaged in Arabic and deflected by Karen. After we'd disposed of the vendors, we came to the first part of the pyramid tour: a descent into Khafre's pyramid, the second biggest of them. We didn't bother with the Great Pyramid of Khufu, as they're basically the same, and the lines are much longer at the Great Pyramid.
They didn't allow cameras in the pyramid, so no pictures follow of the innards of a pyramid. Karen gave good advice to Filbert to go backwards down the 4-foot-high passage to the burial chamber. There were actually two of those short passages--one going down, then another going back up again, with a chamber about 30 feet long between the two where it was possible to stand up. The burial chamber itself was bigger and wider than the intermediate chamber, with an empty stone sarcophagus at one end. There really wasn't much to look at in the burial chamber, so the lack of a camera was really no big deal. If you're really interested, there are pictures on the Internet of the burial chamber in the Khafre pyramid.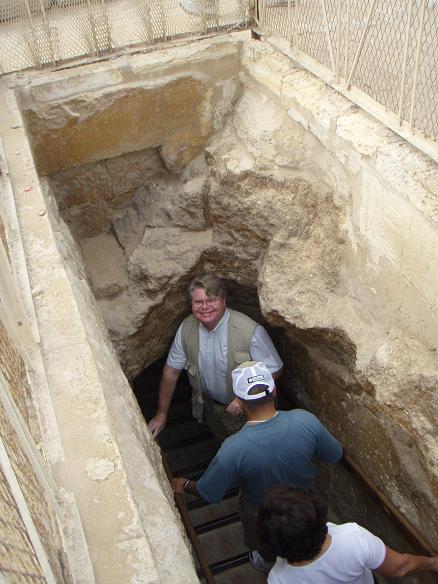 Entering the tomb

After emerging, Filbert walked around the Great Pyramid and wandered through the "Eastern Cemetery" of the tombs of the Pharaohs' queens and aides. Once again, you weren't supposed to take pictures, but Filbert's inner anarchist came alive and he recklessly took (non-flash) photo after photo of hieroglyphics and bas-relief carvings, sticking it to the Man!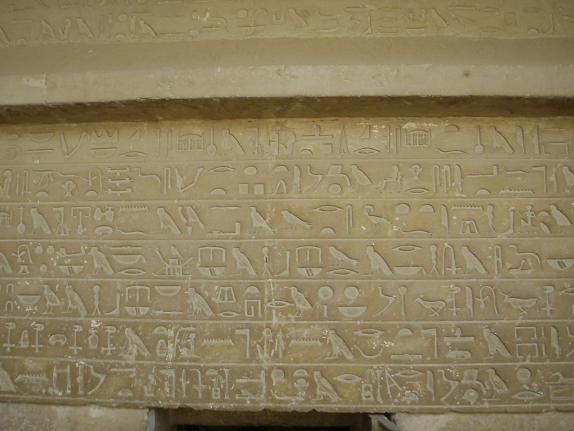 Illicit photo of hieroglyphics
At the Pyramids
After that heady experience, the Great Sphinx was next. (Yes, that pun was intentional.) The Sphinx was mostly buried, and there's now a fairly deep trench surrounding it. After you go through a stone temple, you wind up inside the complex, overlooking the Sphinx. Its nose is gone. A popular story is that the nose was shot off by Napoleon's troops, but the supposedly "true" story is that it was hacked off by a Muslim warlord after finding out that the locals were sacrificing crops to the Sphinx.


The Sphinx
After the Sphinx, we went to the Boat Museum. There's a boat in there. It's really old. And it's a boat. It's made of really old wood. Actually, they're not sure if it was a real boat, or a ceremonial boat facsimile. But it's a really, really old boat, no matter if it ever was in water or not.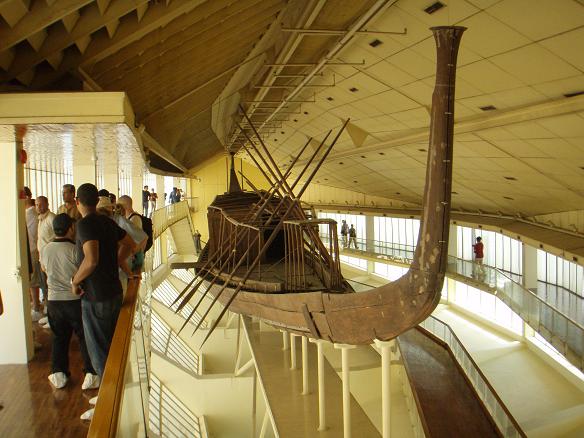 The Boat
Filbert hopped on a camel for the ride out into the desert to the camel owner's home, and quickly discovered that camel riding gets old after a while. The first portion of the ride was fairly slow, with the camel wrangler tugging Filbert's rather reluctant beast along. After about a half-hour of this, the little party (Filbert, Karen, and the camel wrangler) stopped at a hill overlooking the Giza pyramid complex. While Filbert snapped a few pictures, the camel wrangler tied a string to the camel's nose, in order to encourage the camel to go a bit faster. Understandably, the camel was not enthusiastic about this development. But it worked--the camel went faster.

The final obstacle to overcome before arriving at the camel owner's house was to go through the security fence erected by Egyptian authorities around the pyramid complex. Erected, but not completed. Along the fence are several shanties, where guys wait for camel riders like me to come by. They then get out a ladder, go to the fence, climb up to the top, unscrew one of the fence mounts, and open it up for the camels to go through. I'm pretty sure it's not an activity that's authorized by the Egyptian authorities. No matter, we were soon through the fence and riding our Ships of the Desert across the Sahara.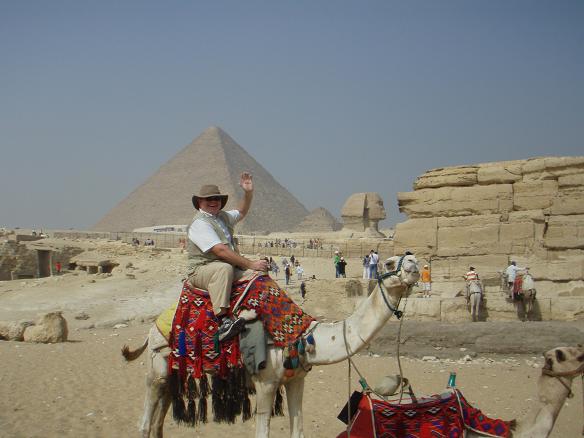 Hi-Yo Surly! Away!
The patriarch of the house is Khalid, owner of the camels and humble proprietor of the camel-riding business which brought Filbert to his house. On the ground floor is the stable, and upstairs on the roof is the small goat herd. Khalid is working with Karen to put together an "authentic lunch with a real Bedouin family" deal for tourists, and Filbert is the first guinea pig.

The meal was a traditional Bedouin meal, with chicken, lamb, rice, all spiced quite flavorfully and presented on a single huge metal tray, accompanied by pita-style flatbread. All, from youngest to oldest, then dig in, eating with their fingers. Unhygienic. And, of course, the three-year-olds will take a morsel, sample it, and then put it back. More unhygienic. Still, it was all quite tasty and so Filbert ate more than he really intended to, all things considered. But he fought off the last samples that the family tried to force on him, then sat at leisure for a while, while Karen and Khalid went into the other room to discuss business. They insisted that he take a loaf of bread to Snookums for her illness so he did. After that, it was just a matter of the car ride back to the hotel, where Snookums was recuperating nicely from her gastrointestinal distress. She opted not to eat the incredibly hard loaf of bread and tossed it in the trash where it made a loud thud.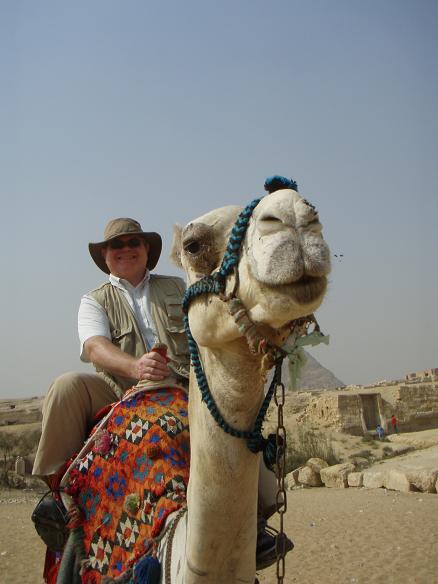 A fast camel is even less comfortable than a slow camel
October 31 (Wednesday, Day 30, Cairo) –

Snookums felt fine today and really wanted to see the pyramids. We negotiated with a cab driver to take us to the pyramids for 5 minutes in order to get a few pictures and then bring us back to the hotel. The cab driver took us to an apartment near the pyramids and then the apartment owner let us go up to his 3rd floor roof. We had a great view and got some good pictures. The owner asked for $10 but we ignored him since we had made it very clear with the cab driver what we wanted and went back to the cab and then back to the hotel. It was a good way for Snookums to see the pyramids "live".

The guy our taxi driver took us to thought it would be neat for us to do the stupid hand-holding-at-the-tip-of-the-pyramid thing depicted below. Oh, well.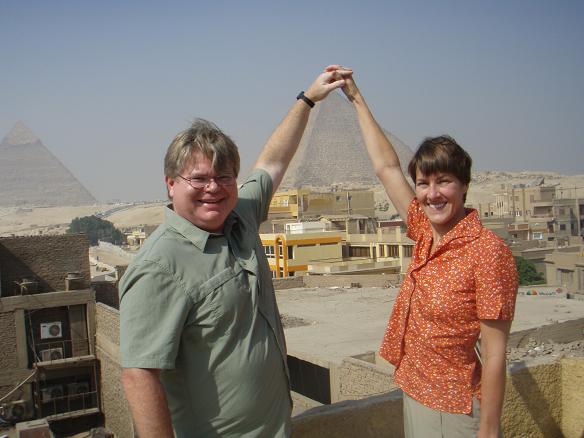 Filbert & Snookums at the Pyramids
We decided to do a Nile River dinner cruise and boarded the Hyatt's Marquise for the dinner cruise. The food was okay but everyone was smoking. Most guests were NOT Caucasians. The entertainment started (a man and woman singing various Arabic songs and US songs followed by a belly dancer) and when it got to be too loud (and too smoky), we went in search of some clean air and peace and quiet. The top of the boat was locked since they were re-varnishing the outside floor but the manager let us go out there after we complained about the smoke and loud music. So the two of us had a very peaceful hour-long private open air Nile River cruise which was a very nice finale to our Cairo visit.

The Hyatt allowed us to stay in our room until 11 PM which was very nice. At that point we went to the Regency Club until midnight when we left for the airport.


November 1 (Thursday, Day 31, Cairo to Prague) –

We left the Grand Hyatt Cairo at midnight. Our flight was scheduled to leave at 3 AM but didn't leave until 4:30 AM. Snookums slept on airport chairs while Filbert read. We were served food on our Czech Air flight. We expected breakfast but instead the meal was a hotdog (no bun, just the hotdog) with a few large chunks of pineapple, pepper and tomato scattered on top of it. Due to her Cairo problems, Snookums wasn't hungry but Filbert ate his and said it was fine.


At 4:30 AM things are a bit blurry . . .
We landed in Prague around 7:30 AM and managed to get our luggage just in time to catch the hourly 8 AM shuttle bus to downtown. The shuttle bus stops in one location in downtown Prague and it was right across from our hotel so we were very fortunate in our timing and location! We checked into the Prague Marriott Hotel and didn't get any kind of an upgrade. We used points for the stay but since we didn't have status we didn't get any kind of perks. Oh no – we're going to have to buy breakfast (and all of our sodas) and we won't get free drinks and appetizers at night!!! Our $226/night room was a very sterile Marriott room that looked out at the wall of the other side of the hotel. We could have been in the Kansas City Marriott.

We unpacked (and this time we finally had to unpack our winter coats and gloves), showered and walked to the full-size grocery store that was next door to the hotel to buy lunch and six various beers. We came back to the room and ate our baguette, meat and cheese slices, and potato chips and then took a 3 hour nap.

After we woke up we walked around Prague at dusk/night. It is very safe and very walkable. There were sausage vendors and mulled wine vendors every where and Filbert had a Moravian brat and mulled wine. Snookums bought Activia yogurt to help with her gastrointestinal issues and since she wasn't that hungry, it was all she wanted. At turndown we received "official" Czech Republic cookies which tasted like wafer cookies.

The trip continues in Part Seventeen, here.
Part Fifteen is here.
Our Round The World Trip home page is here.