Monday, February 01 2010 @ 09:34 AM CST
Contributed by:

filbert

Views: 3,215
A (mostly) daily review of what's out there that caught my attention.
I surf the Web, so you don't have to!
Section One: The Word:
An occasional comment, rant, or snark, brought on by the flow of events:
InstaComment of the Day:
The "Bush was as big a spender as Obama" line is just a flat-out lie, which the apologists for the powers that be hope you'll buy because . . . well, because a lie is pretty much all they've got at this point.
Accompanied by the Graph of the Year: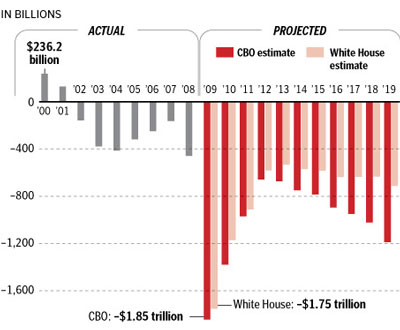 The National Debt under Bush, and under Obama
And that's from last summer. It's gotten worse since then. So, Washington politicians, STOP LYING TO US.

Another random thought: Governments tax the rich for the very same reason that Willie Sutton said that bank robbers rob banks: "That's where the money is." The analogy between government and bank robbers runs fairly deep, although bank robbers don't lie to you about how much their robbery is going to help you--how their theft is good for "social welfare" or the "good of the community," sometime in the indeterminate future. (Actually, some bank robbers have justified their theft by saying that they're "spreading the money around." Sound familiar?)