Escape from KC
Tuesday, December 11 2007 @ 12:01 AM CST
Contributed by:

filbert

Views: 3,185
Here's what the plan was: We would fly out on Tuesday afternoon, in order to be in New York in plenty of time to board our cruise ship on Wednesday for our 10-day Caribbean cruise. Everything was in order--hotel reservations, airline tickets, everything.
Then . . .
ICE STORM!!!!!!
Ice storms are not good. Ice storms are bad. Ice storms are very, very bad. Ice storms are, if you will, not at all cool.
So, on Monday, the National Weather Service says "We're putting out an ICE STORM!!!!!! WARNING at 6 p.m. on Monday until noon on Tuesday." (They may have left off the all-caps and the extra exclamation points--I'm not sure.)
(
Read more!
)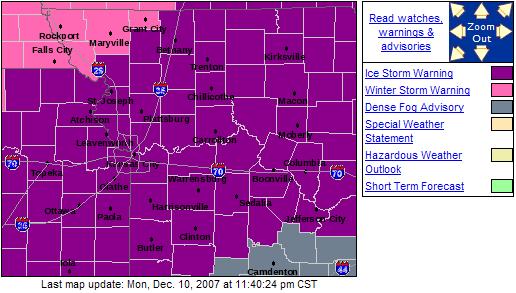 ICE STORM!!!!!
Snookums gets a call from her mother at about 9 a.m. Monday. "Your brother thinks we might want to get a hotel room next to the airport tonight." Since all of Kansas City is at least 30 minutes from the airport (and our house is closer to 45 minutes away), this is good advice. We decide to take it, so we get ready to bug out. Snookums' mom likes to worry about travel, so she's already on board with the plan. Snookums' dad is cool with it, and her sister, who has just arrived from Wichita, is up for the change of plan as well.
So, we get to the Airport Fairfield Inn at around 4 o'clock in the afternoon. We dump Snookums' parents in their room, dump our luggage (and Snookums' sister) in the other room, and head over to the airport long-term parking to drop off sister's van. Then we take the parking bus to the terminal, in order to transfer to the Fairfield's bus which will pick us up and take us back to the hotel.
In the meantime, we decide to check to see if we can check in. Snookums runs inside. I flag down the bus and ask the driver to wait. Snookums returns and says that all of the early morning flights on Midwest out of Kansas City for Tuesday morning are canceled. Well, our flight is an early afternoon flight. The check-in person told Snookums to call Midwest's reservation line.
She calls, finds out that there's a 6:50 p.m. flight on Monday night that has seats. OK, can we switch to that flight?
Sure! says the reservation agent. Do it! says me.
So, we hustle back to the Fairfield, burst into Mom and Dad's room, and tell them to pack it up, we're going to New York TONIGHT! And BONUS! the Fairfield Inn doesn't even charge us for either room that we already messed up. We decided we like Fairfield Inns. A lot. Go stay at a Fairfield Inn tonight. For us. For the children.
Anyway . . .
We get packed up, get on the Fairfield's bus, get to the airport, get checked in, have plenty of time for a sit down dinner, get on the plane, fly to LaGuardia, get in a cab that holds all of our luggage and a wheelchair, and get to our New York hotel like clockwork.
Oh, yeah, when we got to the baggage carousel, there is a TV screen of the next few Midwest flights.
The 6:30 a.m. departure from La Guardia to Kansas City is already canceled.
You know, every time since last Thursday when I've looked at the weather forecast for Kansas City, it's gotten worse. This time, at 11:45 p.m. Monday night, is no exception:

In the bizarre world of the NWS, "occasional" is more likely than "likely". Looks like KC's gonna get some freezing rain.
The more I look at that National Weather Service graph, the more I'm looking forward to the Caribbean.