Hawaii Circle Cruise, January 2009, Part One
Wednesday, January 14 2009 @ 12:59 PM CST
Contributed by:

filbert

Views: 2,035
The 2009 Circle Hawaii Cruise - Holland America Zaandam, January 5-21, 2009
Text by Snookums, Pictures by Filbert
Part One
(Remember to click "read more" if you're looking at this from the main medary.com page to get the whole article!)
January 5 (Monday, Day 1, Flying to San Diego, California)
We were ready two hours before the SuperShuttle arrived to take us to the airport. However, on the way to pick up Snookums's parents and sister (Judy), Filbert realized that he forgot the humidifier for his C-PAP. So, we picked everyone up and headed back to the Palatial Abode for a quick stop.
We made it to the airport in time and got in the long Southwest luggage line. We forgot that it was the first Monday after the holiday season and the flights were full. We got to the gate about 5 minutes prior to pre-boarding so all was well.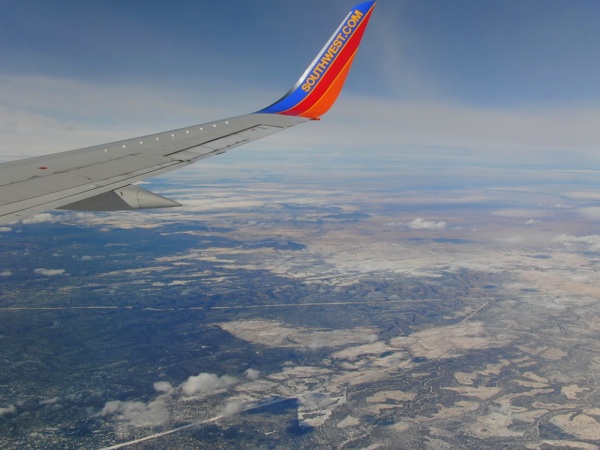 Enroute to Phoenix
More after the jump . . . Our short layover and plane change in Phoenix was uneventful and we arrived in San Diego a few minutes early. After cramming everything into a taxi minivan, the five of us took the 10-minute ride to the Manchester Grand Hyatt. It was 20% occupied and they upgraded us to a three-room suite. Two hotel rooms "bookended" a large room that held a dining room table for eight, a Murphy bed (for Judy), two sofas, a television, numerous chairs, a kitchen, bathroom and floor to ceiling windows with a beautiful view of the bay. It was 4:45 PM and everyone got settled in to the awesome accommodations.
There was a knock on the door and a bottle of complimentary champagne was delivered for Mom and Dad's 58th wedding anniversary. Their anniversary is in June, but that's close enough don't you think? Snookums also had four Diamond amenity cards from the current visit as well as from a prior stay and tried to use all of them for four bottles of wine and four food items. That was the beginning of the difficulties!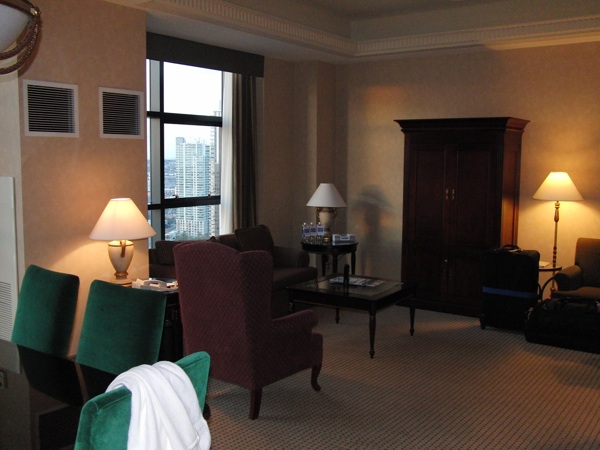 The central big room of the suite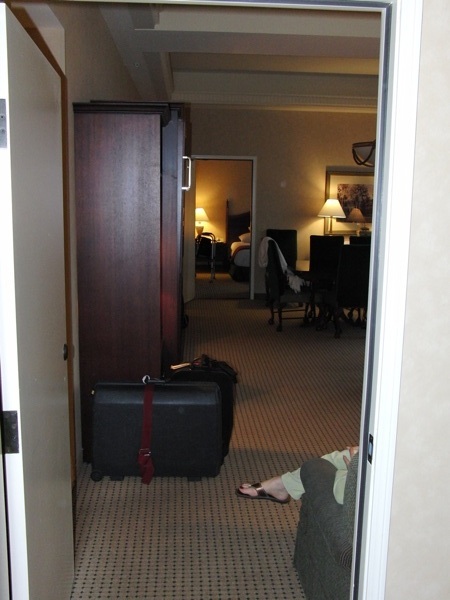 From one end of the suite to the other, with Judy's foot
We went to the Regency Club for our "dinner" of cheeses, cold meats, chicken tenders, sushi, tomato/mozzarella salad and assorted desserts. Snookums requested that the Diamond amenities be delivered while we were gone and she also requested turndown service for 6:00 PM. Surprise! It took 3 ½ hours and four phone calls for the four Diamond amenities to be delivered. Turndown service took another bunch of calls and was ultimately successfully completed around 8:30 PM. And, a housekeeper came in to Snookums and Filbert's room around 7 PM and did turndown and Snookums assumed that the housekeeper did the other two rooms, too, since all of the connecting doors were open and the housekeeper actually entered the entire suite using a door of the middle room. Well, when Snookums went out to see Judy's Murphy bed, she was shocked to see that it was still in the wall. Judy told Snookums that the housekeeper didn't do or say anything. The manager on duty got several phone calls from Snookums. Ultimately everything was accomplished but it was quite trying.
Judy and Snookums went back to the Regency Club for the 8 PM desserts and met a couple going on the same cruise with us as well as a couple that just completed a Holland America cruise on a different ship. The couple that just finished the cruise was very unhappy with the cruise and commented on the bad food and food poisoning. They seemed like very reasonable people, and cruised a lot, so it must have been a bad cruise. We're hoping that our cruise is up to the standards of the ms Amsterdam that we just enjoyed for 65 days.
January 6 (Tuesday, Day 2, San Diego, CA)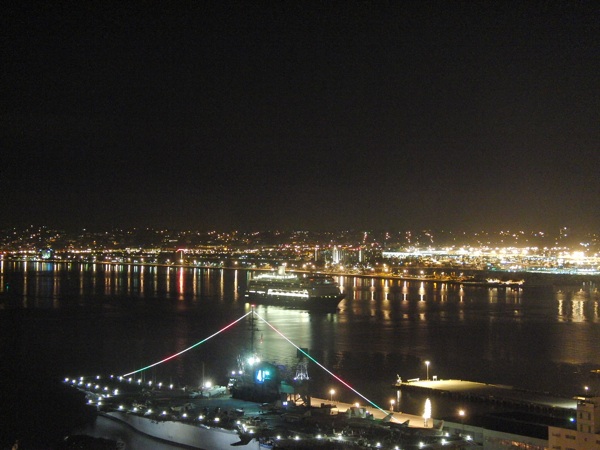 Zaandam arriving, San Diego
Snookums woke up around 5 AM and looked out the window and saw the ms Zaandam sailing in. She took pictures with Filbert's camera that she had never used before and is waiting to see if any of them turned out. She then went back to bed.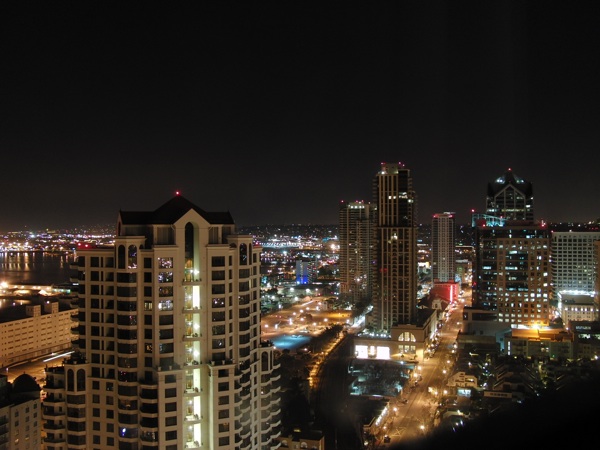 Downtown San Diego, pre-dawn
We all went to breakfast in the Regency Club and then Judy, Filbert and Snookums went looking for a book light and margarita fixings for Mom. A Ralph's supermarket and a mall with a Brookstone was about 4 blocks away and had everything we needed. And, Snookums had a Brookstone gift certificate from 2002 and was ecstatic to finally be able to use it. (It stays in the luggage since a lot of airports have Brookstones so it was handy.)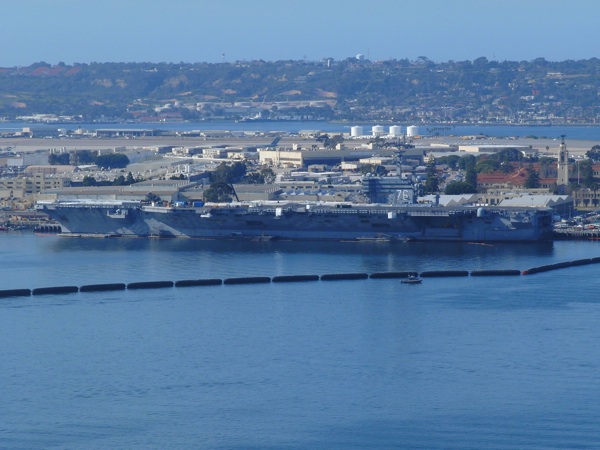 U.S.S. Ronald Reagan, from the Hyatt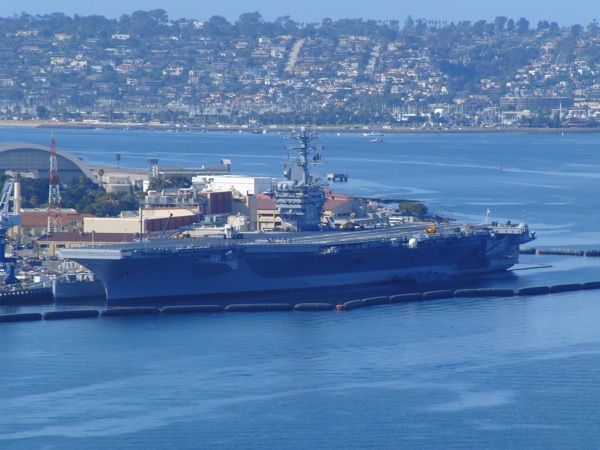 U.S.S. Nimitz, from the Hyatt
We checked out of the hotel at noon and took another minivan taxi to the ship about 5 minutes away. (The cab's meter registered $5.10 which tells you how close the Hyatt is to the pier.) Check in was speedy thanks to Dad in his wheelchair. There was a long line of people but the wheelchair got us to the very front. (The fact that Mom, Dad and Judy have a deluxe verandah suite would have gotten us to the front, too, but the woman didn't even know that and directed us to the front of the line.)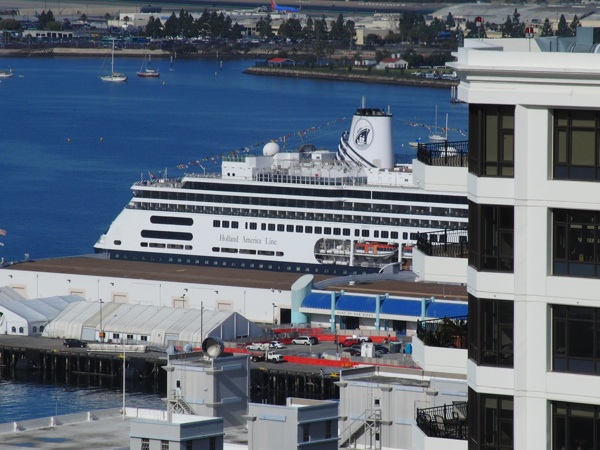 The ms Zaandam in port, from the Hyatt
We boarded the ship and since none of the rooms were ready we got to wait in the Neptune Lounge on deck 7 which is reserved for the ~58 people that are staying in the deluxe verandah suites (556 sq. feet which includes the verandah). We didn't get upgraded like we did on the 65-day cruise so we had to settle for our cramped 292 sq. ft. including verandah cabin but got to enjoy the Neptune Lounge with Mom, Dad and Judy until the cabins were ready at 2 PM. Snookums spoke to the Neptune Lounge concierge, Pamela, and asked if it would be okay for Filbert and her to visit the Neptune Lounge since we would need to help Judy take care of our elderly parents. Pamela said "sure" and this was after she had already told other non-Neptune qualified people to leave!
We went to our small cabin on deck 7, put our carry-on items down and then went to lunch on deck 8 (Lido) which was packed with people. We immediately felt right at home since the buffet layout was identical to the ms Amsterdam. (And we later discovered that this ship is pretty much 99.9% identical in layout to the ms Amsterdam.) We got back to our cabin and our luggage was there. We had packed very little so we got everything put away prior to the 4:15 lifeboat drill.
Mom and Dad's room steward, Ketut, was their steward last year on the December cruise on the ms Noordam (with Pam) and he remembered us. None of us remembered him, though. It's a small world…..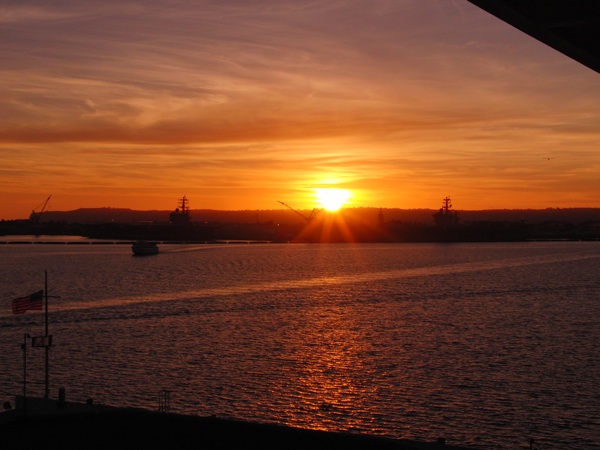 Sunset from the ms Zaandam, over the carriers
We had dinner at Pinnacle Grill which is the $20/person restaurant that serves Sterling beef. We had free dinners for tonight as a booking perk so that's why we went there. Snookums left a note for our regular dining room tablemates letting them know that the five of us would be joining them tomorrow in case they were thinking that they would be sitting at a table with a lot of empty seats every night. Snookums signed all of our first and last names and then Filbert wrote at the end of the note, "I married into the madness". He thinks he is so funny.
The sea was a little rough but not too bad. Mom put on a prescription seasickness patch and seemed to be doing pretty well. It was a long day and everyone went to bed early.