The Grand Asia & Australia Voyage, part 53
Monday, December 01 2008 @ 07:43 AM CST
Contributed by:

filbert

Views: 3,293
The Grand Asia & Australia Voyage - Holland America Amsterdam, September 19-November 23, 2008
Text by Snookums, Pictures by Filbert
Part Fifty-three
(Remember to click "read more" if you're looking at this from the main medary.com page to get the whole article!)
November 19 (Wednesday, Day 65, At sea) -
We woke up around 11 AM and went to lunch. Then it was back to the room to pick up the camera and some money to go to the flea market. This is the first cruise we've been on that has sponsored a flea market for people to sell anything they don't want to take home. Only 15 people or so participated (much to Snookums's disappointment) and there really weren't many trinkets for sale by 1:15 (the sale started at 1:00). People were selling some of the free Holland America items like the plates we got early in the cruise and the wheeled duffel bag we got on the last formal night. We didn't buy anything.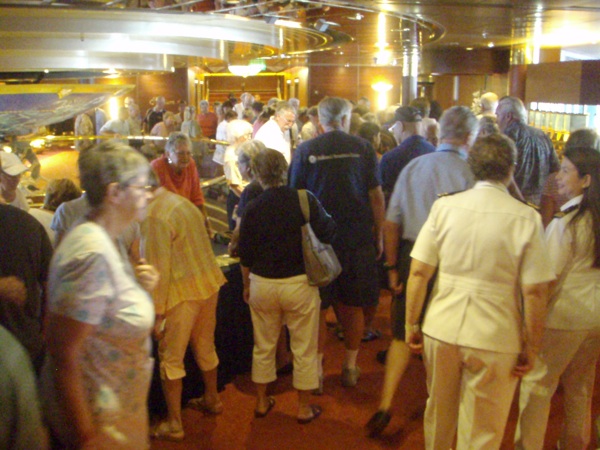 The flea market
More after the jump . . . Gary was one of the vendors and managed to sell $200 worth including HAL sweatshirts, tote bags and "purses" (we should have sold ours!), several maps of the countries we visited (like Filbert, Gary has a masters in Geography and loves maps and brought three or four of every country since he wasn't sure which company's maps were the best), their three bottles of liquor that they got for free for early booking and other items.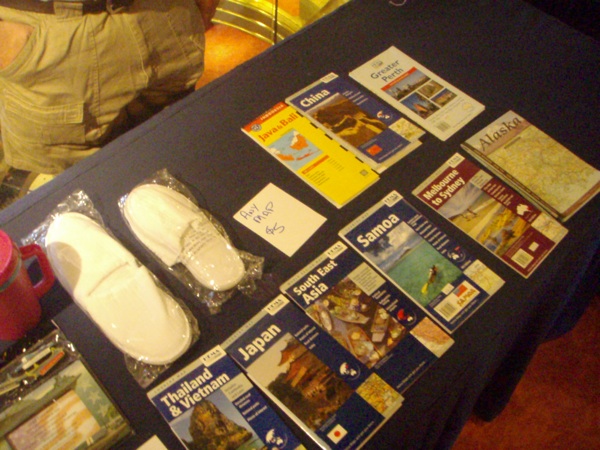 Gary's remaining inventory
We went to the 2:30 Dam Dollars football toss that was moved inside due to winds. There was no line at all and it was our fastest event so and we were out of our cabin for about 1½ minutes total. Alas, we each only received one dollar.
Tonight was our second to the last formal night (or 11th of 12 formal nights on this 65-day cruise) and we opted to not dress up. We went up to Lido to eat and had an enjoyable dinner in casual clothes. Filbert had the lobster and filet mignon while Snookums had the pork chop. We were also invited to a cocktail party at 5:30 for all suite guests on the port side of the ship but since the dress code was formal, we didn't attend.
When we returned to our cabin we were surprised with gifts of two Dutch candy dishes or little trays. We are still wondering whether we will get the "normal" gift that we get every cruise of a square tile commemorating Holland America. Snookums settled in for the evening to watch the movie "The Incredible Hulk" and Filbert continued to work on creating his map of a world to support his science fiction book.
November 20 (Thursday, Day 66, At sea) -
We woke up and attended the Suite Farewell Lunch. It was a so-so buffet in the Crow's Nest and Filbert enjoyed the free wine. We did the 2:30 Dam Dollars event and then Snookums napped until Filbert came in the room stating that we needed to work out. We went to the gym and got all sweaty and then we showered for our 7:30 Pinnacle Grill dinner. This should have cost $20 per person but it was free for us since our anniversary Pinnacle Grill dinner was kind of screwed up. (See October 15, Wednesday, Day 29 for more information.)
We got to the Pinnacle Grill and found out that besides the normal menu, they also offered a special one-night only Italian menu. However, the Italian menu was all seafood and didn't have any pasta. We both opted for the regular menu. Snookums and Filbert both ordered arugula salad and then Filbert also had the French onion soup and crab cake. Snookums had steak Diane (two huge filets in a very tasty sauce), asparagus, creamed spinach and mushrooms for dinner and Filbert had an 10 oz. filet mignon, asparagus, grilled onions, creamed spinach and mushrooms. The food was very good, but it took us 2 hours to get our entrées. We told this to the maitre 'd and were informed that over 90 people booked and it was busy. Well, that wasn't our fault, now was it??!! The restaurant knew its seating capacity and should have staffed appropriately.
We ordered our desserts during our 25-minute entrée wait. This caused a little problem. When we last ate at Pinnacle Grill (for our anniversary on October 15), it was a special Guest Chef's dinner. The dessert that night was chocolate volcano cake with Grand Marnier. Snookums didn't eat it since it was so full of liqueur. The Pinnacle Grill manager assured her that the regular Pinnacle Grill recipe has the Grand Marnier in the whipped cream (on the side) so that when we returned, Snookums would be able to enjoy dessert. Well, the Pinnacle Grill changed its recipe to the one that the Guest Chef made which meant that Snookums didn't eat the chocolate volcano cake. However, the manager said that one could be made for dinner for tomorrow night so Snookums will eat it at the Lido restaurant on Friday night. Snookums still enjoyed her two scoops of Ben & Jerry's Cherry Garcia ice cream, though, that she ordered instead of the Ben & Jerry's Cherry Garcia baked Alaska. (She was going to have two desserts – the ice cream AND the chocolate volcano cake.) Filbert didn't think his chocolate soufflé with Grand Marnier sauce was very flavorful so he didn't eat it. So, the meal was pretty good but took 2.5 hours! Eating once per cruise in Pinnacle Grill is enough.
November 21 (Friday, Day 67, At sea) -
Snookums woke up and worked out for 30 minutes and then did the Dam Dollars event before going back to the gym. We ate lunch and then Filbert went to the Crow's Nest to work on the journal. Snookums started to organize her clothes into "Cancun vs. shipping home" piles and then went to the 2:30 Dam Dollars event. Then she went to the Dam Dollars redemption event and turned in 21 Dam Dollars for a navy blue T-shirt. It "cost" 25, but on the last day the staff was generous.
Filbert worked out and showered and Snookums went to the Photo Shop to find out if Filbert's photos won. They didn't. Snookums didn't think they counted the online votes since she knows that SDSUFans.com and medary.com readers voted for Filbert's pictures. Oh well, the gift was probably a DVD of the cruise that is being sold for $198!
We met Gary and Charlotte in Lido for our formal night dinner. Filbert wore shorts and Snookums wore her HAL jogging suit. The Pinnacle Grill made up for the dessert snafu last night and Snookums's chocolate volcano cake, minus any Grand Marnier, was delivered as promised and she enjoyed every last bit of it.
We returned to our room to find two more serving trays painted by some Dutch artist. We now have six of this pattern, two each of three different sizes.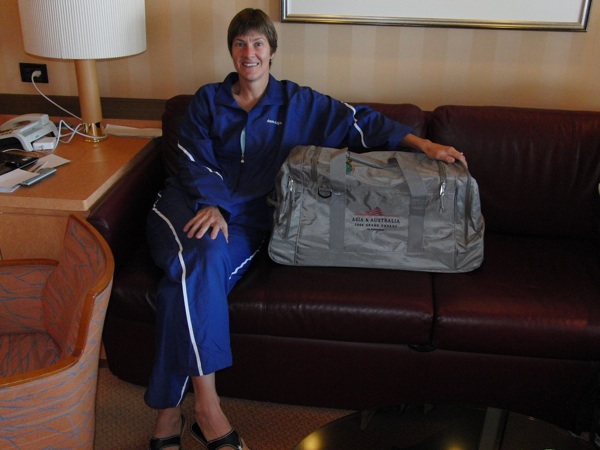 Jogging suit and HAL rolling duffel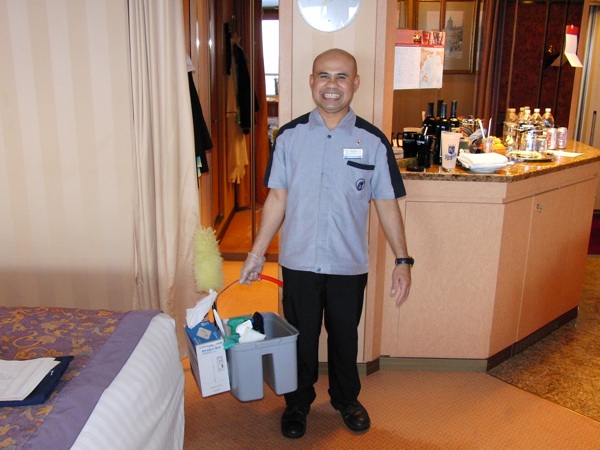 Mulkan, our room steward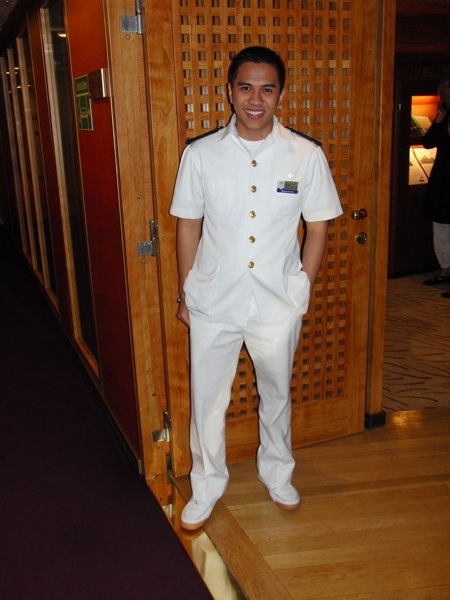 Photo Title
The Neptune Lounge: