The Grand Asia & Australia Voyage, part 45
Monday, November 24 2008 @ 12:38 PM CST
Contributed by:

filbert

Views: 3,067
The Grand Asia & Australia Voyage - Holland America Amsterdam, September 19-November 23, 2008
Text by Snookums, Pictures by Filbert
Part Forty-five
(Remember to click "read more" if you're looking at this from the main medary.com page to get the whole article!)
November 11 (Continued) -
We left Samoa around 4 PM and Snookums laid on the verandah and read her book and Filbert was inside on the computer. Around 5 PM the captain came on the PA system explaining that we were turning around since we passed what appeared to be a fishing vessel flying a red flag and waving to us which means distress. That got everyone excited and we went to the front of deck 6 to watch the action.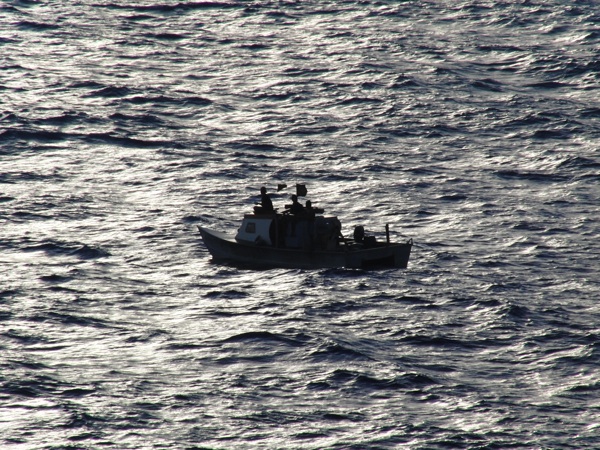 Mystery boat
More after the jump . . .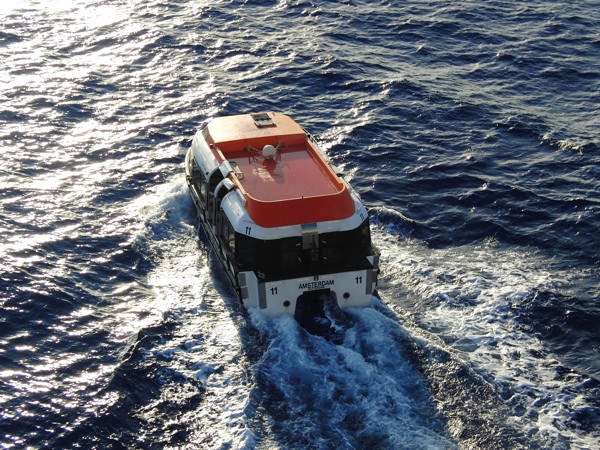 Tender to the rescue!
We got closer to the fishing boat and a tender was lowered from the ship but it came back almost right away and then the fishing boat started its outboard motor and came towards our ship. It looked like it was an aluminum catamaran (strange) with two outboard motors and it was just sitting in the water and the three guys were drinking beer. Two black flags were flying and the guy that was on top of the 'wheelhouse' was wearing a red baseball cap which is what the Amsterdam's lookout must have seen. They were just waving to say 'hi'. So, after doing that for about 45 minutes, we got underway again and the captain came on the PA and announced that everything was fine and maybe someone needs to give the 3 guys different color ball caps!
We caught ourselves a cruise ship! Woo-hoo!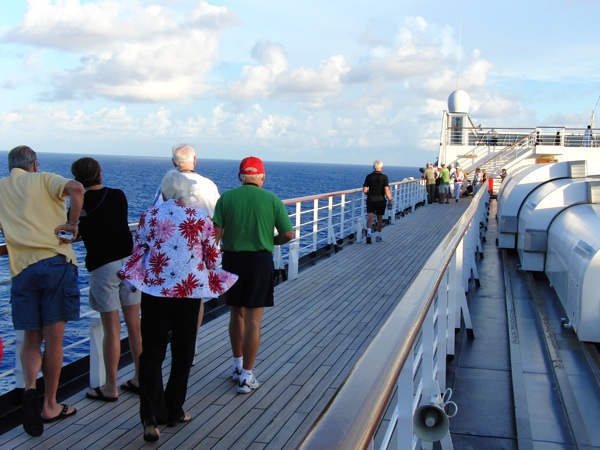 The 'cargo' enjoys the impromptu entertainmente
While we were at the front of deck 6 it started sprinkling and was slippery. People were saying 'Don't slip and don't hit your head' and that's when we found out about the Bright Star call from a few days ago. A man fell while on a tour in Fiji and hit his head. He came back to the ship and went to the doctor and everything was fine. However, the next day he died and was taken off in Samoa (and his wife accompanied him and was hoping to get him cremated in Samoa).
Snookums was really looking forward to dinner since she saw the chef earlier today and asked about getting skim milk in Honolulu. He looked kind of puzzled and said that they got some in Sydney. Well, she had been told that none was purchased in Sydney since skim milk in Sydney isn't really skim (i.e. 0% fat). The chef said that was incorrect information. As a result, Snookums hasn't had any skim milk since about Day 15 since the skim milk that came in Singapore was boxed skim milk product and she didn't even feel like trying that!
Gary and Charlotte didn't come to dinner since Gary had been battling diarrhea the entire day (and got Imodium for $8 from the doctor). He was happy that he hadn't thrown up since if he had, he (and Charlotte) would have been quarantined for four days. And his tablemates (us!) might have been quarantined, too. Anyway, Yvan, Alice and we had a nice dinner (and Snookums got her milk) and we fell asleep soon after getting to our room.
November 12 (Wednesday, Day 58, At sea) -
We slept until 12:45 PM when the 'Voice from the Bridge' announcement woke us up. The heat of Samoa really took it out of us. We had lunch and went to the 2:30 Dam Dollars event. Later on, we hit the Viennese Kaffee Klatch that the ship was having rather than its normal afternoon tea. The trio was playing in the Queen's Lounge and the typical tea pastries were served along with coffee, unsweetened whipped cream and powdered chocolate. It was nice. Tea is normally held in the dining room so the trio in the Queen's Lounge and the addition of coffee was different. We worked out for an hour right before dinner, showered and ate. Filbert watched the 10 PM television movie 'X Files: I Want to Believe' while Snookums read and then fell asleep.
Next: Poseidon's Revenge!