The Grand Asia & Australia Voyage, part 44
Sunday, November 23 2008 @ 12:30 PM CST
Contributed by:

filbert

Views: 4,006
The Grand Asia & Australia Voyage - Holland America Amsterdam, September 19-November 23, 2008
Text by Snookums, Pictures by Filbert
Part Forty-four
(Remember to click "read more" if you're looking at this from the main medary.com page to get the whole article!)
November 11 (Tuesday, Day 57, Apia, Upolu, Western Samoa - 2.80 Samoan tala to the dollar) -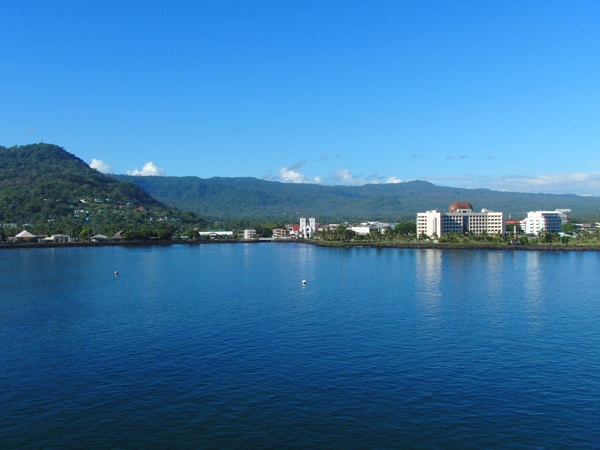 Apia
We woke up early in order to snorkel right away. According to the Lonely Planet info on Apia (population 44,000) that Snookums brought with her, a great snorkeling spot was near the ship but it was shallow and high tide was the best time to enter the water. We had looked at the tide information and found out that high tide was at 4:56 AM and low tide was at 11:10 AM. So, we wanted to get off the ship right away.
More after the jump . . . Snookums got $15 worth of tala money from the ANZ bank desk that set up shop on deck 4 and then we left. Another couple was about 20 feet in front of us, but otherwise, we were the first ones off. We entered the gate of the Palolo Deep Marine Reserve and paid our $1 each using tala (so the entry fee was 3 tala). The couple in front of us didn't have tala so we paid for them since the woman was going to charge them $3 each if they used US currency.
We got ready and decided to go for it. The water was very shallow (about 2 feet deep) for about 100 yards until the drop-off was reached. It was kind of weird swimming in water that shallow when there was coral and sea grass on the ocean floor as well as fish swimming all around. We stopped several times and stood up since it was so 'strange' and then decided that the dark water in the distance was where we needed to get to so we kept going. We finally found our way over the edge of the coral drop-off and were rewarded with a very deep ocean with a reef wall around us.
Apia snorkel pictures:
We saw lots of fish and a beautiful bright purple sea star. It was vivid, deep, royal purple and was just sitting on top of coral. It was probably two feet in diameter and the arms looked like large hot dogs. (We learned later that Filbert's camera wasn't working after the first bunch of photos in the shallow sea so we didn't get the picture of the bright purple sea star.) After about 30 minutes in the warm, deep water we decided to head back to shore. Low tide was definitely approaching since the water was now about 1 foot deep. At one point Snookums panicked and stood up and waited for Filbert. He stood up and we decided to walk in. However, somehow Snookums tumbled back down and realized she was floating and everything was fine so she continued to swim in. Filbert, though, walked the rest of the way to shore since his knee, hands and stomach were getting coral scrapes.
We went back to the ship and showered and then walked the mile or so to 'downtown'. Filbert went to the air-conditioned internet cafe and Snookums went in search of postcards. The weather was sunny, 88 degrees and probably 90% humidity and we were both soaked by the time we got to the internet cafe. Snookums finally found a store that sold postcards and also bought a bottle of Samoan beer (Vailima - $1.05) and a McDonald's ice cream cone ($0.70) to use up the tala. (Yes, Apia had a McDonald's. So far the only two ports that we've been to that didn't have any fast food chains or anything like that were Da Nang in Vietnam and Padang Bai in Bali. A lot of the ports had Gloria Jean's Coffee, if nothing else.)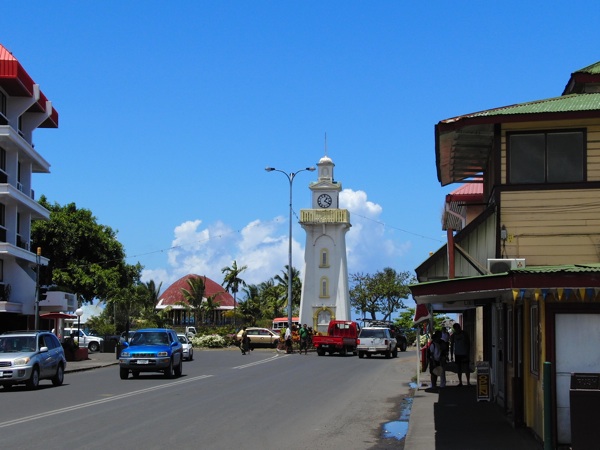 Apia clock tower
Since our tala was all gone and we didn't have any small US currency with us, we walked back to the ship rather than taking a $3 cab. It was still hot and humid and Snookums gave our last two tala 'nickels' to two 3rd grade girls walking home from school.
We showered again and Snookums got a sandwich (to go) and hustled to the 2:00 Samoan Folkloric Show. It was a children's Methodist Choir and they put on a skit that was the legend of an eel and a girl and now every coconut looks like the head of an eel. At the end of the performance, Bruce (the cruise director) announced that the group was doing this on a volunteer basis and Holland America felt that it was important to thank them so he presented the choir director with a check for $1,500. That's a lot of money in Samoa and the choir director was stunned. Snookums had been wondering about the other folkloric shows and whether they got paid or not. They must have been since no donation was ever presented at the end of their shows.
While we were out, the French Navy had pulled into the dock right behind the Amsterdam--the Vendemiaire.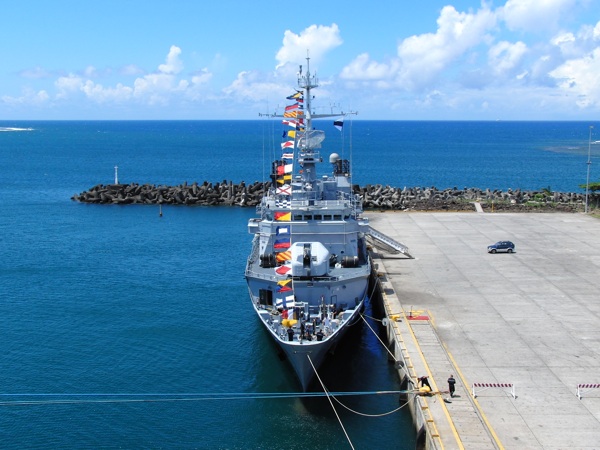 The Vendemiaire
Next: Fishing for cruise ships!