The Grand Asia & Australia Voyage, part 34
Thursday, November 13 2008 @ 05:13 PM CST
Contributed by:

filbert

Views: 3,369
The Grand Asia & Australia Voyage - Holland America Amsterdam, September 19-November 23, 2008
Text by Snookums, Pictures by Filbert
Part Thirty-four
(Remember to click "read more" if you're looking at this from the main medary.com page to get the whole article!)
October 29 (Wednesday, Day 43, Fremantle, Australia - Continued) -
Last post, we were in the kangaroo feeding areat--but weren't quite done feeding kangaroos: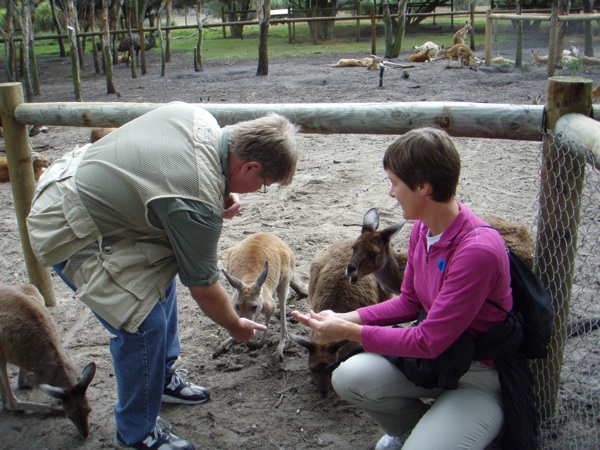 The adventurers attract a mob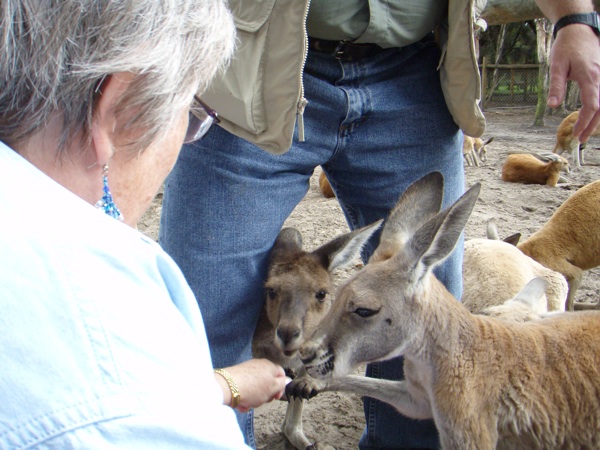 Look out below!
It was time to leave, so we wandered back to the entrance and loaded onto the bus. We got back to the ship and we immediately got on the free shuttle to downtown Fremantle. The rain had stopped and the sun was shining. We were once again blessed with a beautiful day in port. We got off the tram and found an ATM and then Snookums decided that her breakfast of chocolate chip pancakes had worn off so we needed to eat. We found a pasty shop (pasties are meat pies) and Snookums had a curry pie and Filbert had a steak and mushroom pie. Each cost $2.66 (U.S.) and they were a good snack although Snookums's was tastier than Filbert's was. We found the main post office and Snookums bought postcard stamps since they were $0.35 cheaper than what the ship was charging. The Fremantle post office looked more like a retail shop. It sold DVDs, cell phones, books, stuffed animals and all sorts of other items. Luckily it sold stamps, too.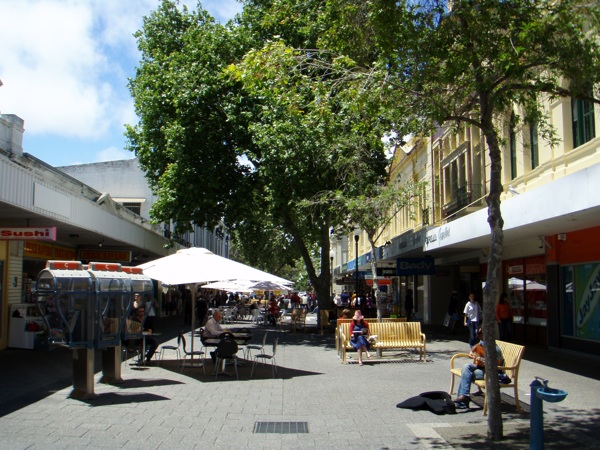 Fremantle's little pedestrian mall
We went to the grocery store and saw that there was an area for "home brew" that sold the yeast and various beer mixes. Otherwise, the grocery store was very similar to ones in the U.S. Liquor was sold in a store separate from the grocery store. We found some wine produced by one of the vineyards we passed on the way to the wildlife park so Filbert bought some. We walked back to the shuttle stop and piled on for the ride back to the ship.
The ship left Fremantle at 5 PM and by dinner we were rocking and rolling again but not as bad as the previous night. At dinner Charlotte gave Snookums and Alice a small clip-on stuffed koala holding an Australian flag and we all told our stories about our activities. Alice informed the table that the lady that fell the day before on the basketball court was taken off the ship this morning with a broken hip. Other than that, it was a quiet dinner since everyone was tired from the poor sleep from the night before as well as the busy day in port.
October 30 (Thursday, Day 44, At sea) -
We decided that today would be very casual. Lots of reading and blogging and watching movies on tv. We even told our tablemates that we would not be at the formal dinner. We did leave our cabin for lunch, working out and Dam Dollar activities. We also wandered to the Neptune Lounge and found a willing audience to watch the Bali underwater photo slideshow that Filbert put together. Everyone was very impressed with his pictures.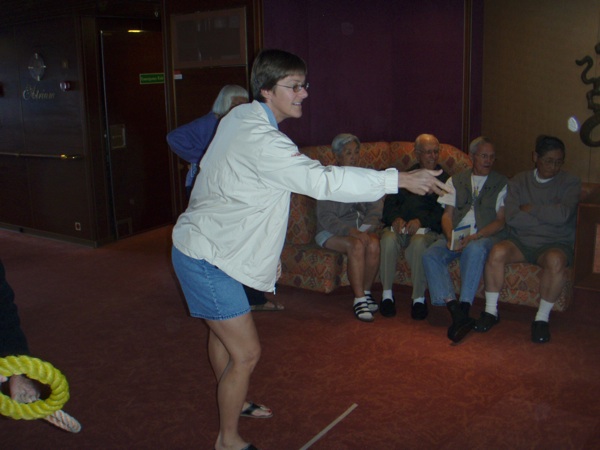 Earning Dam Dollars
Snookums watched the floral demonstration on TV and learned that the flowers on the ship had been coming from Holland but now the shipments were from Australia and when we get to Hawaii they will come from Hawaii. It's impressive to think that for the past 35 days or so, the different flowers all came from Holland (by way of Seattle and Singapore).
Snookums watched "A Bug's Life" on DVD and by the time our dinner arrived, we were watching the movie "Cloverfield" on tv. (Snookums was in her pajamas for dinner.) The movie was billed as "a heavily anticipated picture revolving around a monster attack in New York as told from the point of view of a small group of people". It was basically "Blair Witch Project" meets "Godzilla". It was 1 hour and 15 minutes of utterly wasted time. It was the movie that was shown in the ship's theatre the day before so we thought it would be good. We were wrong.
October 31 (Friday, Day 45, At sea) -
Snookums worked out before lunch and was rewarded with seeing a large pod of dolphins. We got more Dam Dollars by going to the three activities and enjoyed the Mongolian BBQ that was set up by the retractable roof pool for lunch. It was chilly so the roof was only open about a foot in order to let the cooking smells go outside. We filled our plates with various raw vegetables and then told the chef our meat choice(s) and our seasoning choices and stir fried it all together. It was very tasty.
Costumes were encouraged for dinner so we wore the Renaissance costumes that Snookums's mother made. Everyone thought they were beautiful and we made a special trip to Yvan and Alice's to trick or treat since they weren't going to attend dinner. They were very impressed and insisted on taking our picture. Alice had feathered masks that she gave us since they weren't going to use them and the colors of Snookums's matched her costume perfectly. After leaving their room we went to the special VIP opening (for suite guests) of the Faberge Egg exhibit. Free champagne was being given out, too. Filbert liked the egg that had to do with the new world, but at $26,000 we decided to pass. (The salesman told us they go up 12% each January, though, and that the man had just passed away and only his daughter is left to make them so maybe they are a great investment!! The ship has at least 12 on display, for sale.) We sat in a bar, Filbert drank his free champagne and we watched the costumes go by.
At dinner the waiters were in different costumes and the dining room was decorated with all sorts of cobwebs, pumpkins and mummies. The crew has done a fabulous job decorating the ship for the various special events we've had. The amount of "stuff" that is on board for one-time use is amazing. On some formal nights we were served food on dishes that we hadn't seen before and haven't seen since. Plus at both entrances to the dining rooms are huge Buddhas or elephants or Chinese lanterns, depending on the theme of the dinner. And, when the black and white ball and the black and red Oriental ball were held, the Queen's Lounge was decorated to the hilt.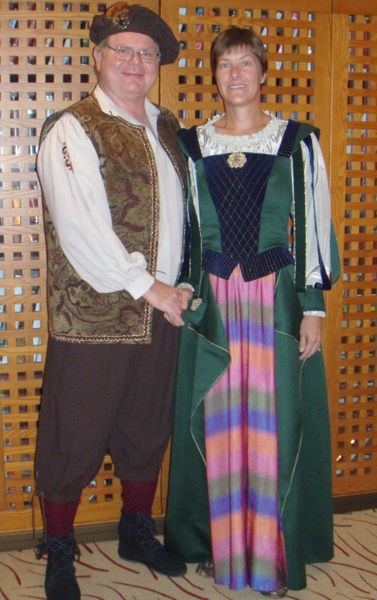 In Halloween costume
After dinner we went to the Crow's Nest for the Halloween Boo Ball. Prizes were awarded but we didn't win any. It was very crowded and Snookums didn't think that the judges got a good look at our outfits.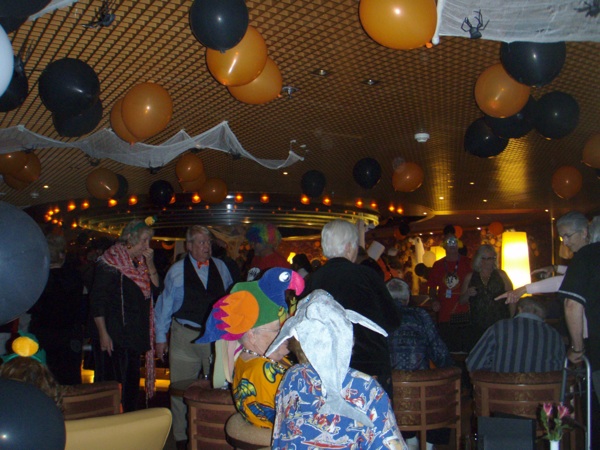 The Halloween Boo Ball
November 1 (Saturday, Day 46, At sea) -
Snookums slept until 10:45 and read in bed until 11:45 when she showered. She woke Filbert up at 12:15 and after he showered we ate lunch with Gary and Charlotte. We went to the 2:30 beanbag toss and Gary showed up, too. Gary managed to win two Dam Dollars for Snookums and each of us won one. Today's tally was four Dam Dollars which wasn't too bad since we slept through the first two activities. (The current total is 29.) Filbert spent the rest of the afternoon getting caught up with the blog and photos and Snookums wrote in the journal. The sky was overcast and the seas were relatively calm with just some little swells. The temperature was in the mid 50s.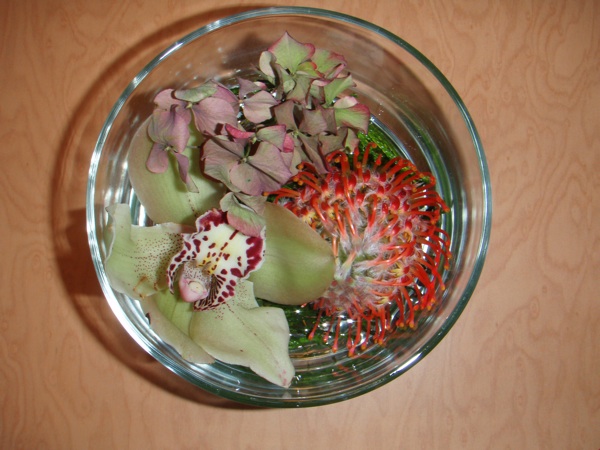 Snookums wanted a picture of this flower display
While Snookums worked out, Filbert saw a 5-foot shark. He was on the verandah and happened to look down at the right time and saw a shark just lazily swimming along.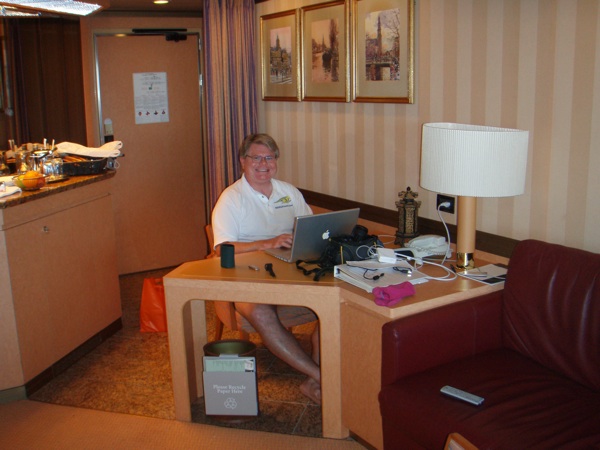 Catching up on posting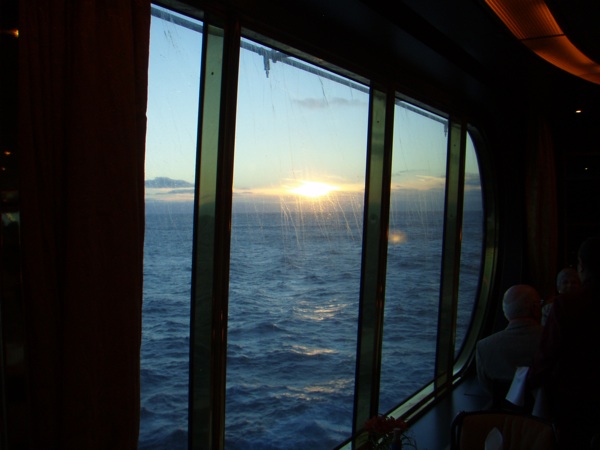 Sunset from the dining room