The Grand Asia & Australia Voyage, part 31
Monday, November 10 2008 @ 12:12 AM CST
Contributed by:

filbert

Views: 3,099
The Grand Asia & Australia Voyage - Holland America Amsterdam, September 19-November 23, 2008
Text by Snookums, Pictures by Filbert
Part Thirty-one
(Remember to click "read more" if you're looking at this from the main medary.com page to get the whole article!)
October 26 (Sunday, Day 40, At sea) -
Snookums woke up and decided to work out and then went to the mandatory Australian passport check by 10:30 AM while she was still all sweaty. Filbert had woken up and showered in the meantime and also went to the passport check. Since we skipped breakfast, we were ready for lunch around noon and decided to enjoy the poolside special "Around the World" feast. Filbert enjoyed some Chinese, German and Indian foods while Snookums stuck to the Indian curries.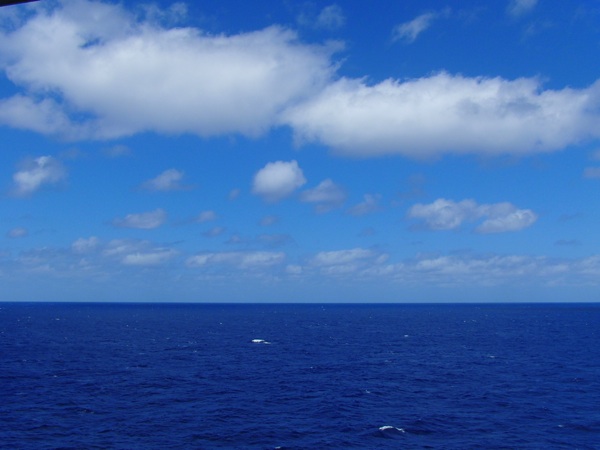 At sea again
More after the jump . . . After lunch we decided to perfect the art of relaxing on the verandah. At 3:00 we decided to attend Yvan's "Democracy and the Public Interest" lecture. About thirty people showed up and he had more questions from the audience than at his first lecture so it was a good showing.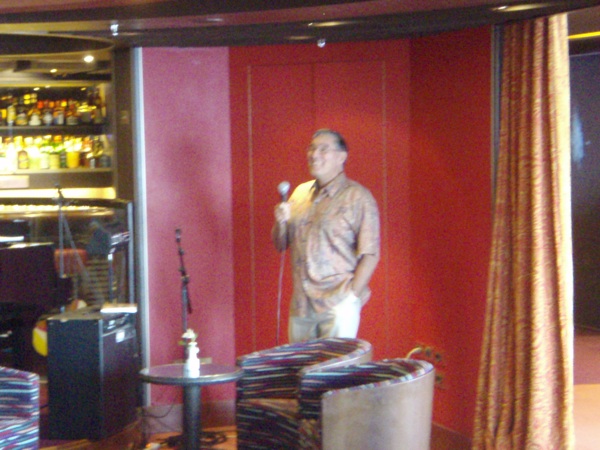 Professor Yvan holding forth
We saw two huge schools of flying fish today. There were probably 100 fish out of the water each time. But, we only saw them two different times. The Indian Ocean seems to be a lot like the South China Sea as far as not having any sea life that we can see!
Tonight was the black and red Oriental ball so we put on our formal black and red outfits and enjoyed dinner and then the ball. Snookums's outfit was a black oriental style dress of Judy's that Judy then added red piping and red buttons to. It received lots of comments, but maybe that was due to the slit up to the middle of her thigh! The large theatre was very well decorated in a red and black Oriental theme and 95% of the guests were wearing red and black outfits. Many people bought silk Oriental jackets from Vietnam, Shanghai or Hong Kong that were very appropriate for tonight's festivities.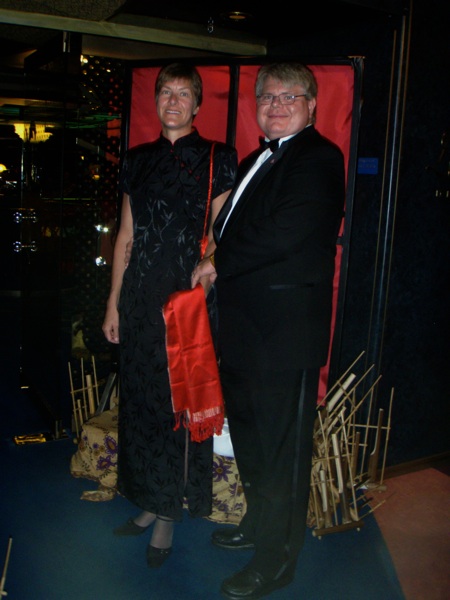 Black and Red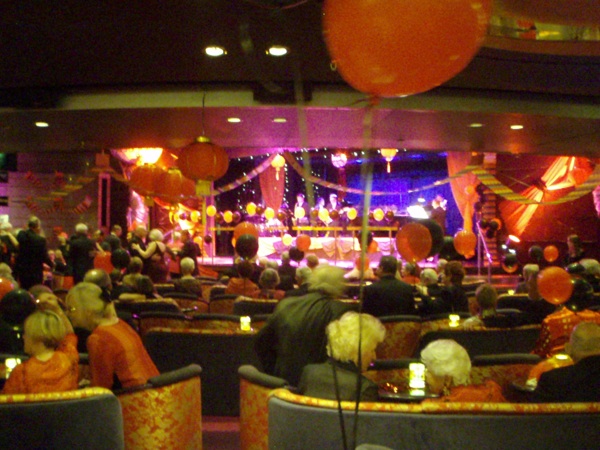 The Ball
October 27 (Monday, Day 41, At sea) -
Snookums woke up in time to make the 9:30 AM Dam Dollar ring toss and then managed to go to the 10:30 Dam Dollar hockey slapshot. She earned one Dam Dollar at each event. Filbert was up by the time she returned to the cabin around 11:30 AM and then it was time for lunch. We both decided that taco salads eaten by the pool would be nice and found a table somewhat protected from the winds. We explored the ship after lunch and managed not to get blown overboard.
Snookums found an area in the sun and laid out for about 1-1/2 hours and finished another paperback but didn't put her swimming suit on since it wasn't that warm to her. She returned to the room and convinced Filbert to join her at the Dam Dollars volleyball serve activity. It was really an activity that involved tossing a volleyball over the net to hit a life preserver. Snookums's two tosses hit the preserver so she won three Dam Dollars. Filbert participated and won one which he then gave to Snookums.
Both of Snookums's flowers (pansy, impatiens) are now growing but are a long ways from blooming.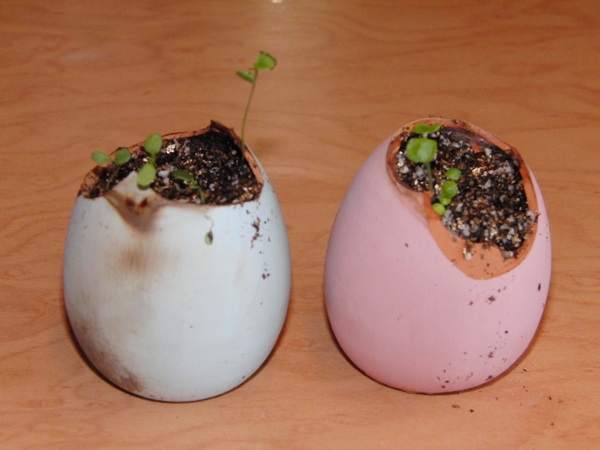 Snookums' Egg Plants
Upon returning to the room, Filbert sat on the verandah and listened to an AM radio station from Perth, Australia while continuing to write his novel and Snookums stayed inside and updated the journal. It soon got too windy and blustery for Filbert (even when wearing a fleece jacket) and he came inside. At some point during the day a fly came in our room but after about 5 minutes of hunting, Filbert was able to smash him.
Dinner was good, as usual. We ordered Soupe a l'Oignon, Cream of Chicken Curry Soup, House Salad, Roast Rack of Port with Caramelized Apple and Chicken Cordon Bleu. Dessert was Queen Elizabeth Cake and Sugar Free Chocolate Decadence Cake.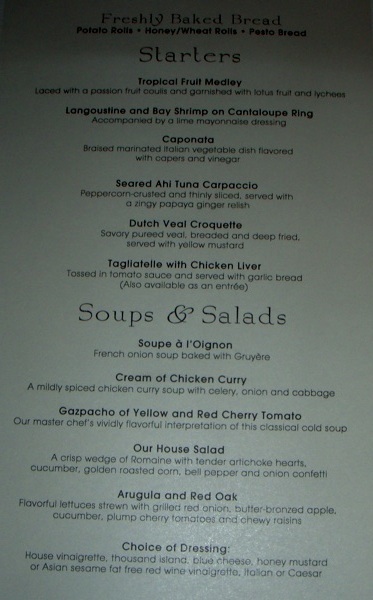 Starters and salads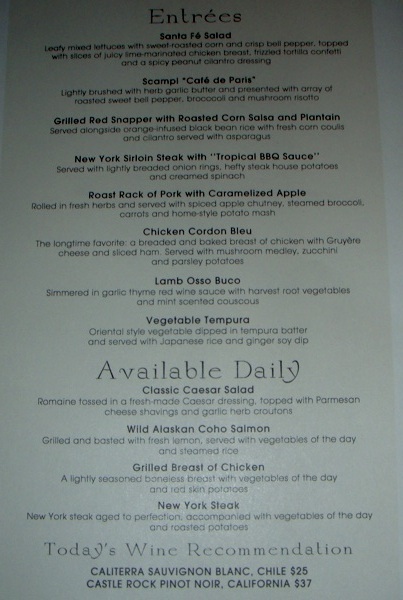 Entrees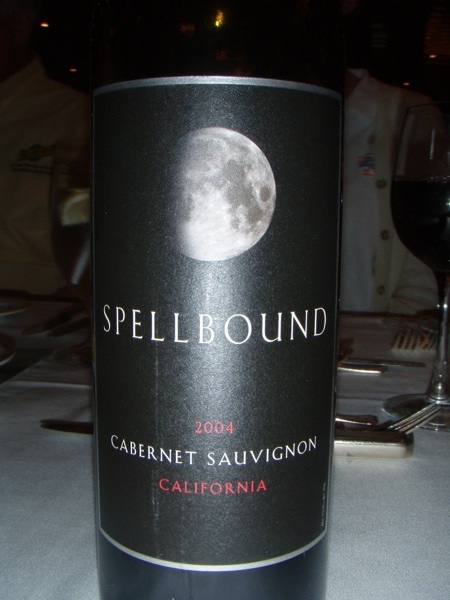 The wine of the evening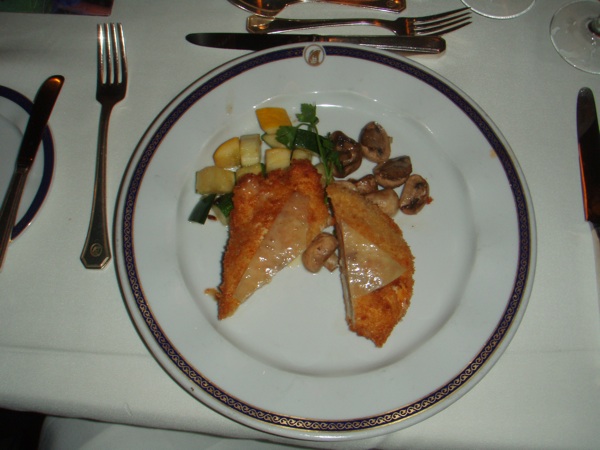 Filbert's chicken cordon bleu
Photo Title
Next: Australia, here we come!