The Grand Asia & Australia Voyage, part 25
Monday, November 03 2008 @ 11:50 PM CST
Contributed by:

filbert

Views: 3,711
The Grand Asia & Australia Voyage - Holland America Amsterdam, September 19-November 23, 2008
Text by Snookums, Pictures by Filbert
Part Twenty-five
(Remember to click "read more" if you're looking at this from the main medary.com page to get the whole article!)
October 21 (Tuesday, Day 35, At sea) -
Today we lost an hour for the first time on this cruise so our night was short. And, to make it worse, Filbert set the alarm for 8 AM in order to wake up to watch the Denver Broncos on ESPN Sunday night football. Denver ended up losing big time so he got up early for nothing. While Filbert watched the game, Snookums mended the hem of his T-shirt. The laundry mark stickers are sometimes put on the hem stitching and when they are removed, the stitching breaks. We have told them numerous times (and write it on the laundry form every time) to please put the stickers on the fabric and not on the stitching, but they just don't get it!
We went to the guest talent show since Yvan, our Canadian tablemate, was in it. It was the best guest talent show ever and everyone that saw it echoed that opinion. Yvan sang "Edelweiss" and was part of a barbershop quartet (which he had never done before this cruise) and was part of the HAL Chorale. The cruise director, Bruce, is a Julliard graduate and decided to start a choir, so the choir rehearsed on most sea days and then performed two songs for the guest talent show. Other performers included a cowboy poet, an Irish comedian, an elderly female singer who was fantastic, a banjo playing male singer and a ukulele-playing female singer. Of all the acts, there was only one that was so-so (a male singer) and the rest were really outstanding.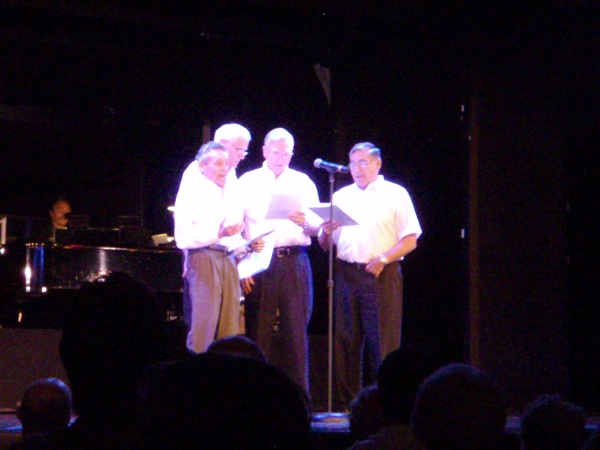 The barbershop quartet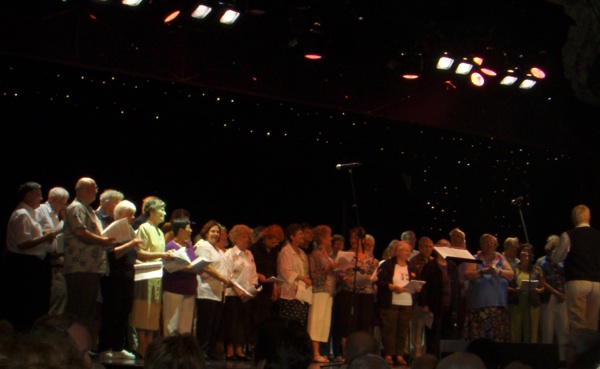 The HAL Chorale
More after the jump . . . When he wasn't watching football or the guest talent show, Filbert spent the day putting photos in the journal from Day 16 through Day 34 since he was so far behind. Snookums read books out on the verandah. We still haven't seen any sea creatures.
Tonight was Jae and Bari's last supper with us since they are getting off the ship tomorrow in Singapore. We pointed out the moldy flower centerpiece to the maitre 'd and he was embarrassed and we were all laughing. He told us that there would be 11 containers from the US waiting to be loaded on the ship in Singapore. Snookums hoped that skim milk would be in one of them since it's been since around Day 10 since skim milk has last been on the ship. The ship didn't want to buy any milk in China due to the melamine scandal and we all thought that was a good idea.
October 22 (Wednesday, Day 36, Singapore – 1.48 Singapore dollars to the dollar) -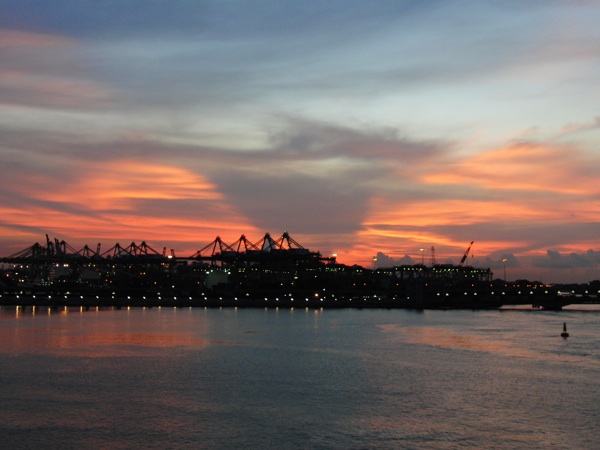 Singapore Dawn
We sailed into Singapore and Filbert enjoyed listening to the local radio station giving the morning traffic commute and weather information and playing songs from the 80s. It sounded like a morning radio show that any big city would be airing.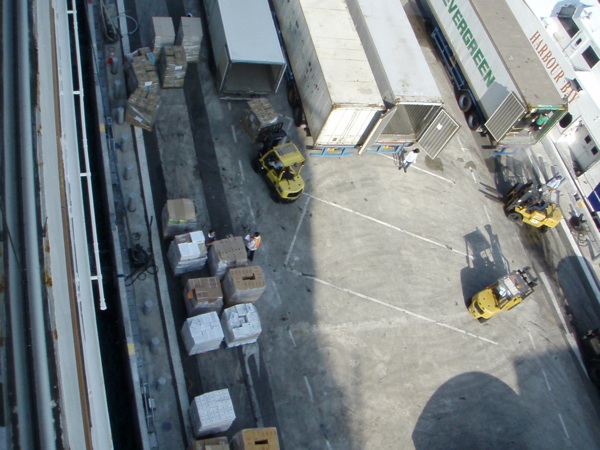 Reprovisioning
We met Gary and Charlotte for breakfast around 8 and planned our day. We all decided to get off the ship and check out the terminal right away to see the shopping, wifi and anything else it had to offer. The stores didn't open until 10 AM but we had to deal with passport control and immigration so we just stayed off the ship until they opened rather than returning for 30 minutes or so. When the grocery store opened we went in and Filbert bought a 6-pack of Anchor beer which is made in Singapore. Gary bought some Singapore cookies and potato chips. The men decided to check out the bookstore and Snookums and Charlotte returned to the ship.
We left the ship "for real" around 11:45 and took the subway to Orchard Road to go a "big bookstore" that various people told us about. It was a Borders! Snookums bought two Beijing travel maps for our May, 2009 trip since they were cheaper here than in the US. Filbert bought a book on the history of words and Gary bought a book about logistics in Singapore shipping. (Gary is into railroading and shipping freight and stuff like that, just as a hobby.)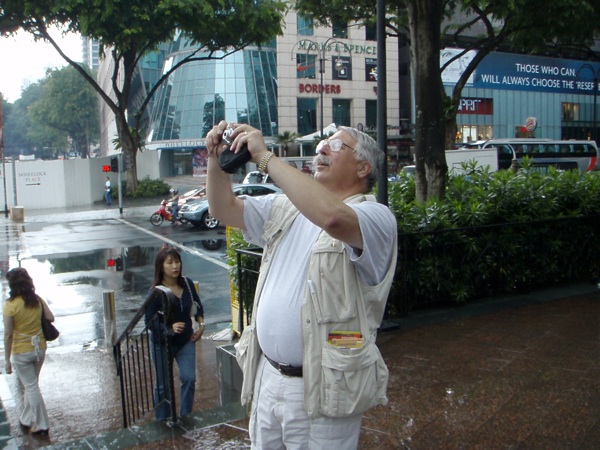 Gary in Singapore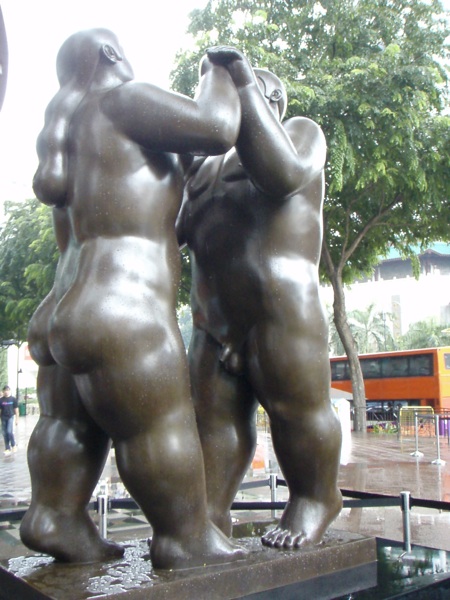 Anatomically correct statue on Orchard Road
Singapore is an easy city to get around in. Everything is in three languages – English, Chinese and Malaysian. The city is very clean and crime is almost non-existent. There are fines for littering and spitting and we noticed that the subway showed videos on what to do in case of terrorist attacks. It's hard to believe that such an orderly city could have terrorists, but anything is possible nowadays.
After leaving Borders we saw an Isetan department store across the street. Isetan is a major Japanese department store so we decided to see if it had a food hall in the basement like all other Japanese department stores. It did but we did NOT buy anything. Instead we decided to take the subway to Chinatown to look around and get some lunch.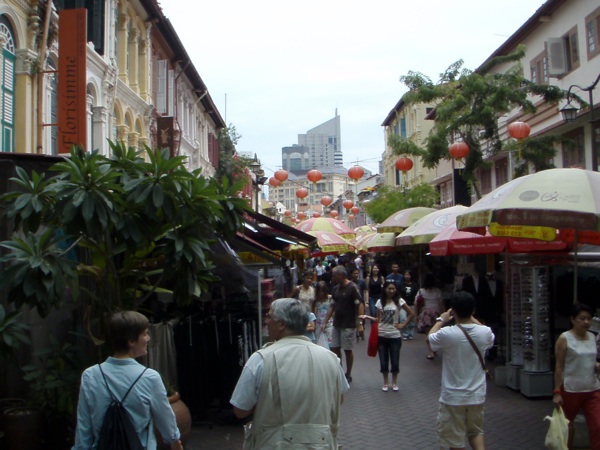 Snookums and Gary discuss Singapore's Chinatown
We ate at the Wang Tang Eating House which was an open air restaurant (like the others we passed). We ordered sambal asparagus, Thai spicy chicken, fried salted silver fish, three 600-ml Tiger beers, one soda, and two rice orders for $65.18 for the three of us. The fried salted silver fish were whole fish that were the size of French fries. They had eyes and tails and everything and were in a light batter that was seasoned with star anise. They were crunchy and okay. During lunch we commented that we hadn't seen anyone from the ship, whether we knew the people or not. It was strange since we usually run into a lot of passengers in our wanderings. Today, though, if we saw Caucasians, they were young people from Australia.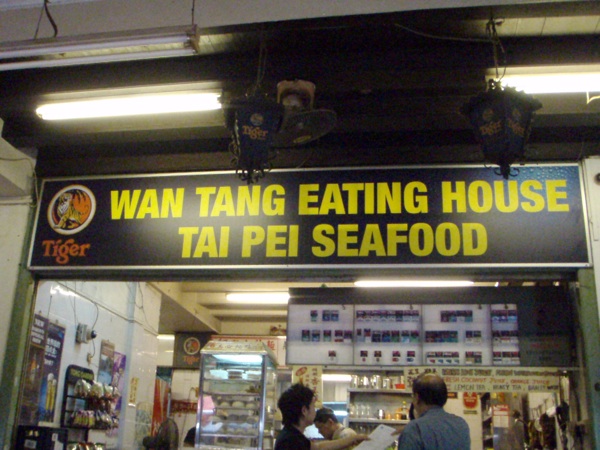 The Wang Tang Eating House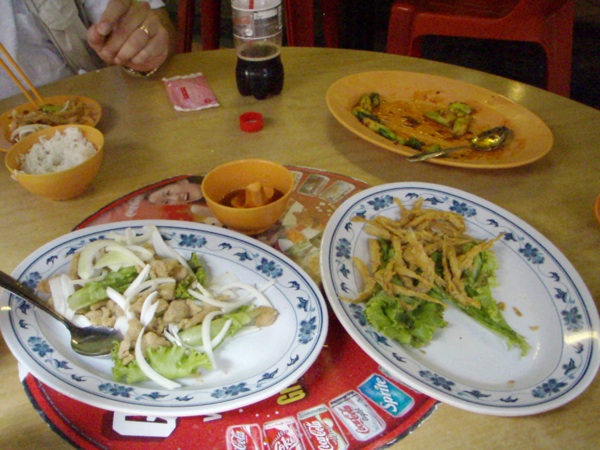 Filbert finally remembers to take a picture of the food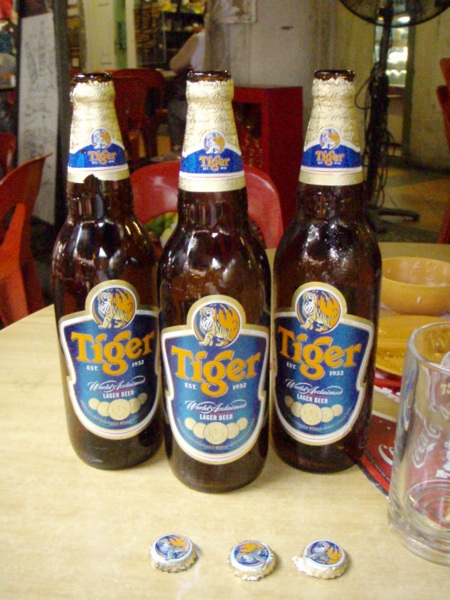 . . . and the beer (three tigers)
More of our Singapore outing in the next post . . .