The Grand Asia & Australia Voyage, part 20
Thursday, October 30 2008 @ 09:09 PM CST
Contributed by:

filbert

Views: 3,369
The Grand Asia & Australia Voyage - Holland America Amsterdam, September 19-November 23, 2008
Text by Snookums, Pictures by Filbert
Part Twenty
(Remember to click "read more" if you're looking at this from the main medary.com page to get the whole article!)
Happy Halloween to everyone back home!
October 14 (Tuesday, Day 28, Da Nang, Vietnam - 16,500 dong to the dollar) -
We docked and took the free shuttle to downtown Da Nang (population 750,000). We didn't bother getting Vietnamese currency since we were told that U.S. currency was okay. Gary served here in the Navy so we walked around with him and Charlotte. We walked to the local two-story market.
Han Market
More after the jump . . . The first floor was for produce, fish and meat and the second floor contained many shoe stalls, clothing stalls and silk stalls. Snookums bought a piece of decorated red velvet dress material and later found out that the Chinese symbol on it is for wedding. So she bought a wedding dress!! She figures her mom and sister will figure out how to make it into a formal for future cruises. It was $15.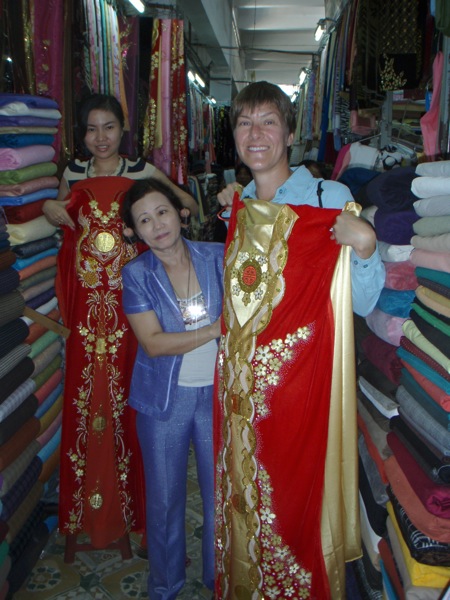 Vietnamese dress fabric
The streets of Da Nang are full of motorcycles, some bicycles, a few work trucks, and two passenger cars. Everyone has a motorcycle or a bicycle and no one has a car. The sidewalks are used for parking lots and the stores have open fronts. The streets are paved and there appears to be some sense of traffic rules. It wasn't as buy as Snookums expected it to be. Every now and then we saw an elderly woman carrying a wooden yoke across her shoulder that had bundles on each end. A lot of people wore the conical hats, too. Many of the women wore the traditional outfit of the silk pants under the matching silk knee-length blouse that had slits on both sides. Many of these were solid white, too, and the women were on the motorcycles or bicycles. We don't know how they managed to keep them clean. Snookums wanted to buy an outfit but the pants were too short. Maybe they'll have longer ones on Thursday in Ho Chi Minh City. We saw school kids in their uniforms of navy blue pants, white shirts and bright red neckerchiefs. Boys and girls wore the same uniforms.
After about 30 minutes Charlotte and the men were soaked so we stopped in the Com Nieu restaurant--air conditioned, much to the delight of the menfolk.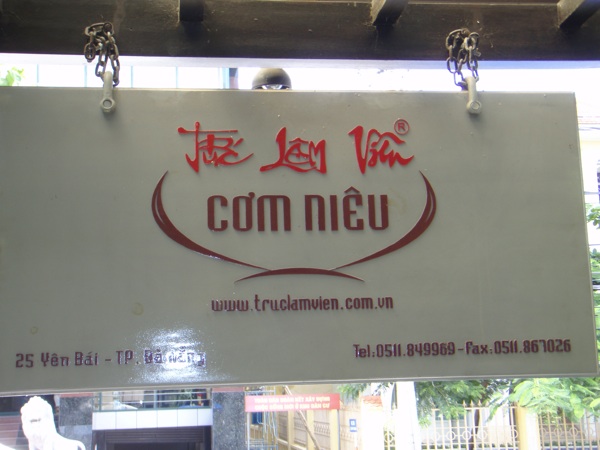 Com Nieu restaurant (a free plug for them)
Another couple walked in a few minutes later that Gary and Charlotte knew so we six shared some dishes. Our table of four ordered fried squid, fried shrimp and pork with lemongrass and shrimp sauce. The fried squid and fried shrimp were what we expected. The pork dish was served in a very little dish, probably about 1/2 cup total, and was very fishy from the shrimp sauce. But, it was only $1.25 so we shouldn't have expected a large quantity. Each fried dish cost $2.50 and the portions were generous. We also ordered one clay pot baked white rice for $0.63. The other couple ordered green vegetables (morning glory), a pot of baked rice and a dish of bean curd with eggplant. At least four beers were ordered, too, and the total bill was less than $18.00 for the six of us (Gary paid for everyone). There were also free "condiment" items for us including incredibly spicy coleslaw, normal salted cocktail peanuts and a bowl of pickled things that looked like lychees or water chestnuts but definitely were not. We enjoyed the air-conditioned break before we continued to walk around Da Nang.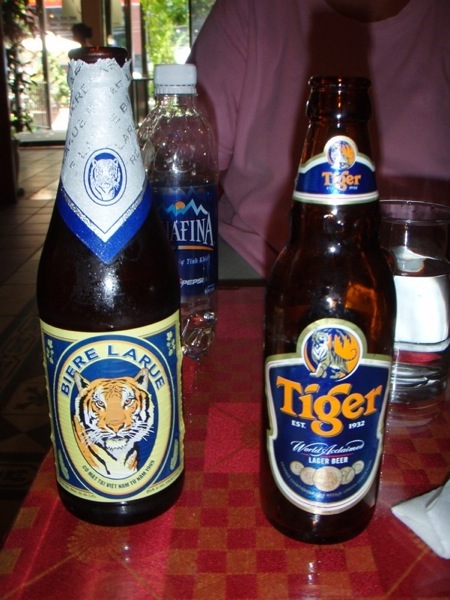 Beer, two tigers
We turned a corner in the middle of Da Nang and saw Alice and Yvan on the backs of motorcycles!! It's a small world since we were not in any kind of tourist area at all. They hired their guides earlier in the day and were just being taken here and there. It was pretty hilarious seeing them on the backs of the motorcycles. They appeared to be having fun even if Yvan's helmet chinstrap didn't close.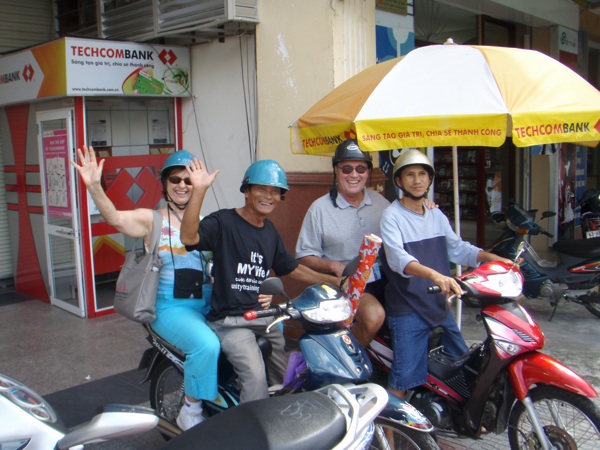 Two mad Canadians and their Vietnamese guides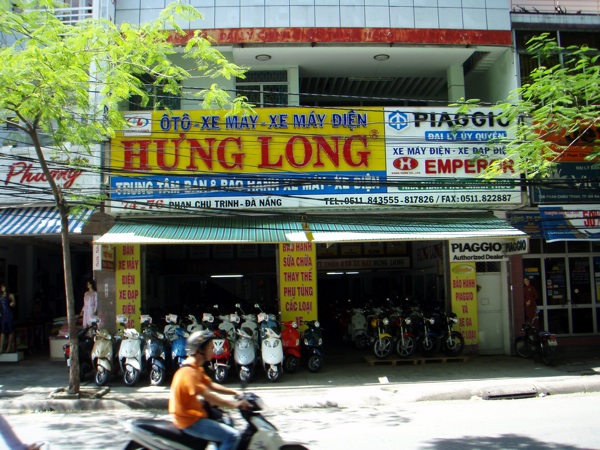 Scooter store--we think
We decided to hire a cab to take us to China Beach. On the way there the driver stopped at his "cousin's" marble factory. Da Nang is known for Marble Mountain and the local people quarry it for huge hunks of marble that they then make into knick-knacks, jewelry, vases, statues, tables, stools, etc. We bought an intricate marble candleholder that kind of looks similar to a pagoda where you put the candle inside and let the light shine out for $50. The saleswoman also gave Snookums a 500 dong coin which is equivalent to about $0.03 since Snookums keeps a coin from every country she's ever visited. Then we went to China Beach for 10 minutes. It was a beautiful beach but only had four people enjoying it. Da Nang is not yet on the tourist track.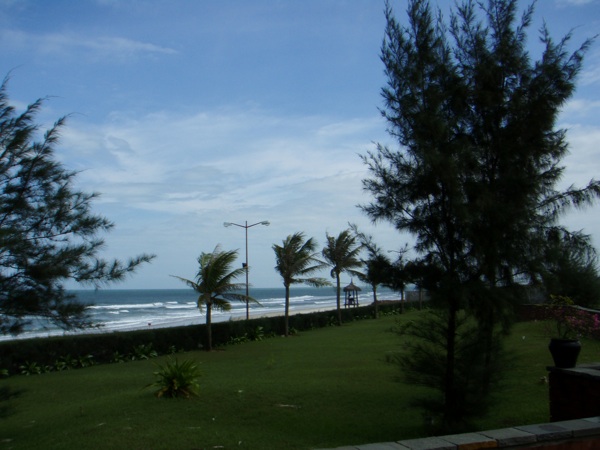 China Beach
We got back to the ship and Gary pointed out the big concrete things that look like children's jacks on the other side of the breakwater barrier and said that was his contribution to Da Nang. When he was here with the Navy, one of the things the U.S. did was to build a breakwater barrier by piling up concrete "jacks". Since then the Vietnamese added a concrete wall but the "jacks" are still there doing their job. He didn't remember much Vietnamese other than how to say "Don't shoot" and how to order the local beer (333 is the brand). He had pretty good memories of his time here in 1972 and 1973 and never saw any action and stayed out of trouble.
Later that day we got a phone call saying that our reservation at the $20 per person restaurant (Pinnacle Grill) for tomorrow night would not work since the menu was going to be a $65 chef's tasting menu. Snookums asked the woman why we were just notified of this when we made the reservation about three weeks ago in honor of our anniversary. The woman apologized and said that her boss would talk to us later. We'll see what happens when Jason, culinary operations manager, calls.
We went to dinner and shared stories of Da Nang. We found out that Yvan and Alice hired these two guys on motorcycles who aren't even guides and didn't speak English and hadn't done this before. They ended up being with them (and their motorcycles) for 7 hours and Yvan even got a fabulous $20 one-hour massage at one stop they went to. They ended up giving them $100 but the Vietnamese guys didn't want to take U.S. currency (which really does mean that they hadn't done this before!) so they had to drive around and try four ATMs before Alice found one that worked and then they finally gave them 1,560,000 Vietnamese dong! Filbert left the table prior to dessert (as did Gary and Charlotte) since he was so tired.
After dinner Snookums returned to the cabin (and saw that Filbert was sound asleep) and read the next day's daily program to see about the chef's tasting dinner at the Pinnacle Grill. There was nothing in it so Snookums decided to visit the Pinnacle Grill in case she misunderstood something on the phone call. She spoke to Kim and Kim verified everything that she told Snookums earlier and offered to let us come for $20 each. Snookums accepted and also wrote a letter to Jason expressing her displeasure with the late notice cancellation.
October 15 (Wednesday, Day 29, At sea) -
Filbert slept until 10:30 AM. It was hot and humid outside so Snookums loved it but Filbert started sweating the minute he went outside. For lunch he had taco salad which is served by the outside pool and by the time he came back inside, he was sweating. During the noon report, the captain said that the temperature was 85 degrees F and the water temperature was 82 degrees F. That's pretty warm ocean water.
After lunch Snookums got caught up writing the journal on the verandah while Filbert went to the air-conditioned Exploration's Cafe to add the photos since the Crow's Nest on the top deck was too hot with all of its windows.
We received a letter from Jason, culinary operations manager, informing us that tonight's Pinnacle Grill dinner was free as well as another night that we wanted to dine there. We thought that was very nice and we are very satisfied with the response.
We went to the Pinnacle Grill for our anniversary dinner. It usually just serves very, very nice cuts of beef, lamb and fresh seafood but tonight was Guest Chef James Mazzio's special dinner. The set menu (with wine pairings) consisted of Smokey Fall Tomato Soup with a sunken goat cheese souffle and basil oil (Cloudy Bay Sauvignon Blanc, Marlborough, New Zealand), Watercress and Arugula served with roasted beets, haricot verts, toasted pine nuts and lemon vinaigrette (Lanzerac Chardonnay, Stellenbosch, South Africa), Pan Seared Swordfish accompanied by crispy herb risotto cake with garlic spinach, roasted tomato jus with olives and capers (Conundrum, Rutherford, California), Peach Bellini, Sesame Soy Glazed Beef Tenderloin with potato gratin with a coconut curry sauce (Erasmo Meritage, Chile) and Molten Chocolate Cake with Chambord macerated raspberries and raspberry coulis (Castello Banfi, Brunello di Montalcino, Italy).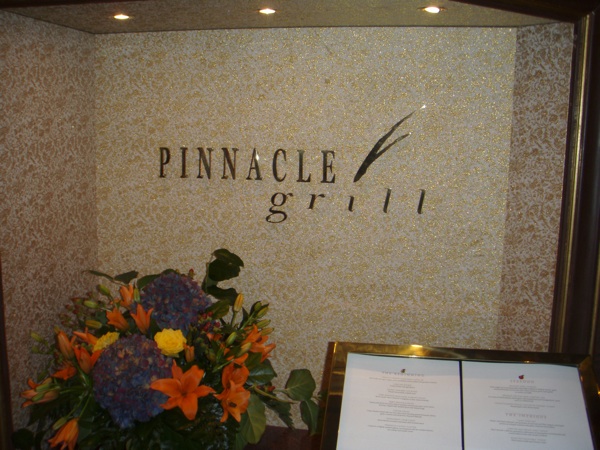 Pinnacle Grill
We didn't think the dinner was worth $65 per person, but since it was free for us, we thought it was great. Everything was very good except the molten chocolate cake that Snookums was really looking forward to. It had Grand Marnier in it so she didn't like it. The Pinnacle Grill announced our anniversary to the thirty or so people attending and gave us an anniversary cake. It was a chocolate cake layer topped with chocolate mousse and then whipped cream so after scraping off the top two layers, Snookums ate the chocolate cake instead of the molten chocolate cake and was quite pleased.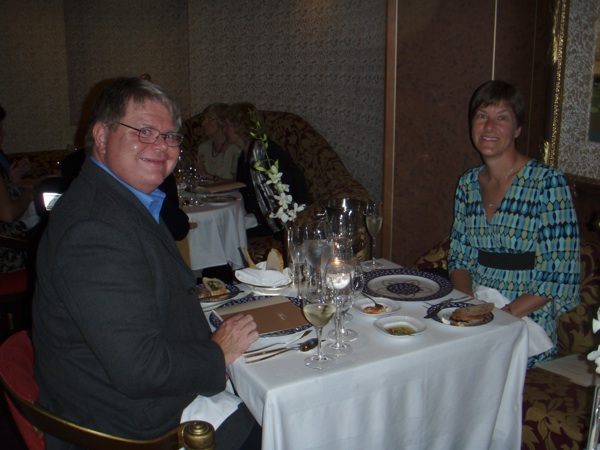 At supper
Next: Saigon. ("I can't believe I'm back in Saigon!" Filbert doesn't remember what movie that line is from, unfortunately . . . )