The Grand Asia & Australia Voyage, part 10
Thursday, October 23 2008 @ 01:47 AM CST
Contributed by:

filbert

Views: 3,924
The Grand Asia & Australia Voyage - Holland America Amsterdam, September 19-November 23, 2008
Text by Snookums, Pictures by Filbert
Part Ten
(Remember to click "read more" if you're looking at this from the main medary.com page to get the whole article!)
Hi, everyone! It's been a long time since our last post--we've been busy! Port day after port day, with precious few of the days both Snookums and Filbert really like--SEA DAYS!!! But finally, we're through the really intense stretch of port days, and have some time to catch up on posts. So here's what we've been up to:
October 2 (Thursday, Day 16, At sea) -
We woke up around 7:30 and realized that the sun was peeking through the curtains. Sure enough, it was bright and sunny and HOT!!! It was around 75 degrees F so we decided to take advantage of our verandah and ordered room service.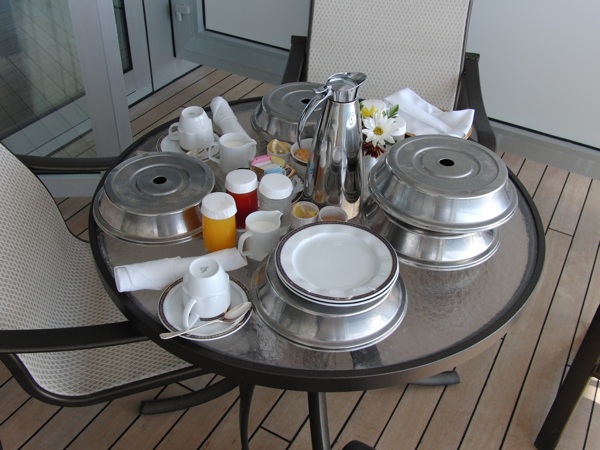 Room service on the verandah
More after the jump . . .
Filbert had a fee acupuncture consultation at 11 AM for his heel so he went to that while Snookums chatted with people in the Neptune Lounge since our room was being cleaned. Filbert found Snookums in the lounge and said he wasn't going to do acupuncture since the waiver he had to sign was going to release Holland America from absolutely everything up to and including being thrown overboard by the Spa staff. Snookums tried to convince him that it was just a normal waiver (and that acupuncture doesn't cause problems) but he was adamant about not wanting to be thrown overboard. He also didn't appreciate the fact that he was told 11 AM (via a call to Snookums) but when he showed up they said it was for 1 PM.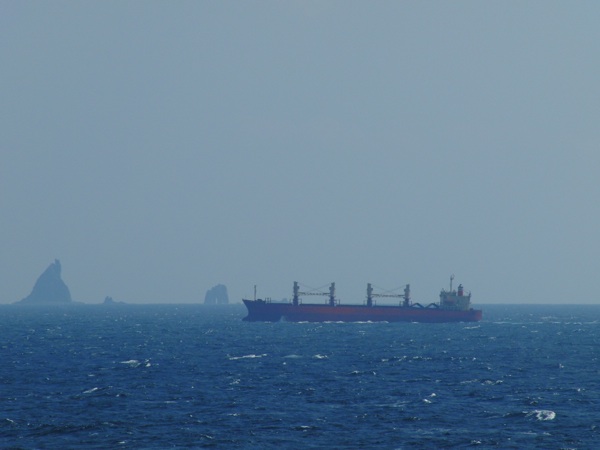 Rocks and a ship off of Japan
At noon we went to the wine and cheese party for the suite guests. It was an odd time for wine and cheese, but it didn't seem to stop any of the suite guests from attending! When we returned to our cabin we had a nice thank you card waiting for us from Jae and Bari for the party last night.
The rest of the day was spent lounging around. Filbert wrote his book and Snookums attended the movie "No Reservations" and enjoyed munching good popcorn. We both worked out and then met our tablemates for dinner.
October 3 (Friday, Day 17, Kobe, Japan) -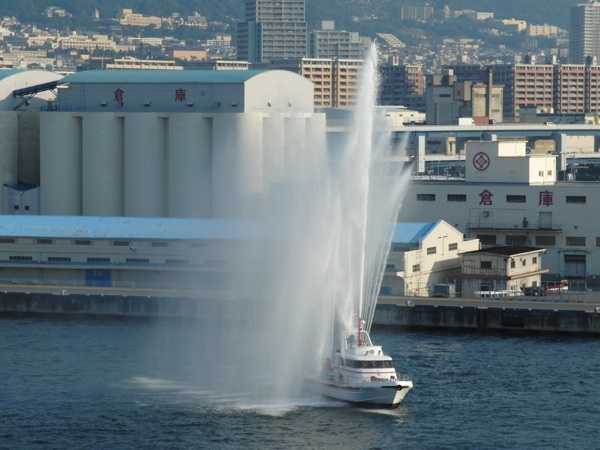 Kobe's fireboat--no colors, though, just white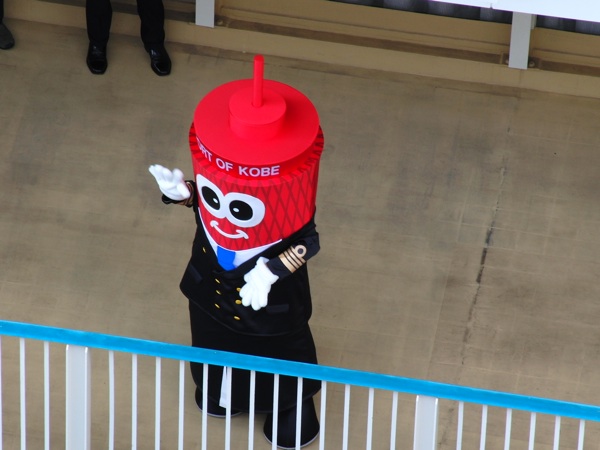 The Kobe Ketchup Dispenser (ok, it's probably a firecracker)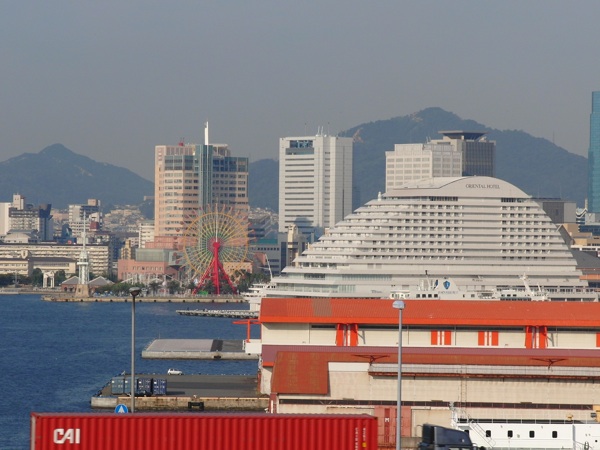 The wonders of Kobe lay before us
Filbert woke up early to watch us dock and after breakfast we got off the ship to go to the huge port terminal's information desk to get maps and stuff to plan our day. The young woman spoke flawless English and even told us that people don't bother going to certain parts of Kobe which meant we shouldn't waste our time, either! (As a rule, Japanese don't say "no" so her telling us that they don't go to certain suburbs to see the temples and shrines was the same as saying "no". We appreciated it a lot, but it definitely went against her Japanese upbringing.)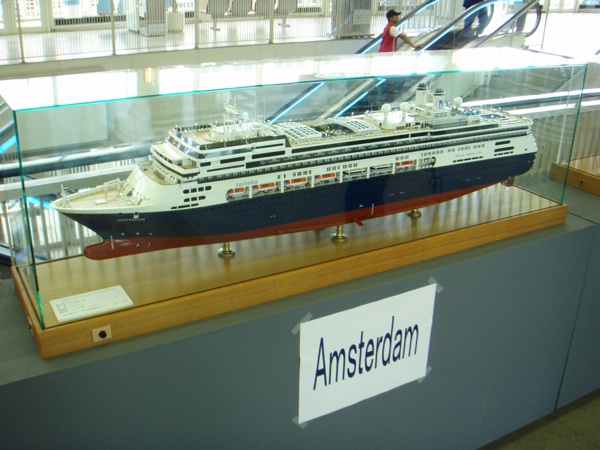 At the Kobe terminal, a model of the Amsterdam
After spending about an hour planning our day, we took the Port Liner (elevated subway) to Sannomiya Station where a lot of the action is. Kobe is a very large city and was totally different from the previous three Japanese ports we had been to. It's not as big as Tokyo but is very similar. It is prettier than Tokyo, though, since the water is on one side and there are mountains on the other.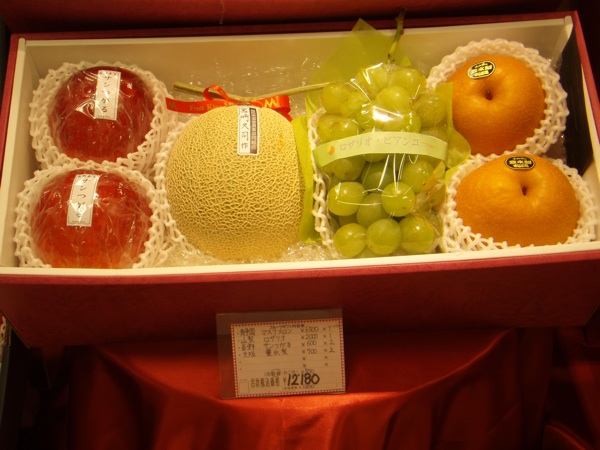 Expensive fruit at the Sogo Department Store
We found the "hop on/hop off" bus but decided not to get on since it was standing room only. We saw Sogo Department Store and decided to visit its food hall (where else would we go??!) Filbert bought yakitori (meat on a stick) from two different vendors and Snookums bought a tonkatsu bento box. Filbert thought he was buying a selection of chicken and beef "kebabs" but ended up with two chicken ones (very good), a liver one (not so good), a fish one (not so good) and a chicken/tofu meatball wrapped in a celery leaf (excellent). It was kind of funny that what we both thought were two beef ones were actually liver and some kind of fish part!
While walking around outside looking for a bench to sit on to eat, we saw Gary coming out of McDonald's. We couldn't believe that in a city the size of Kobe we would run into Gary. (No, he wasn't eating in McDonald's--he was using the bathroom.) He told us that he just put Charlotte and two other women in a cab back to the ship. Charlotte does beading and most beads are made in Japan so they went to a bead store and one of the women fell and scraped her arm. Anyway, Gary left them so that he could take the Shinkansen to Kyoto in order to just ride the Shinkansen since he's into trains.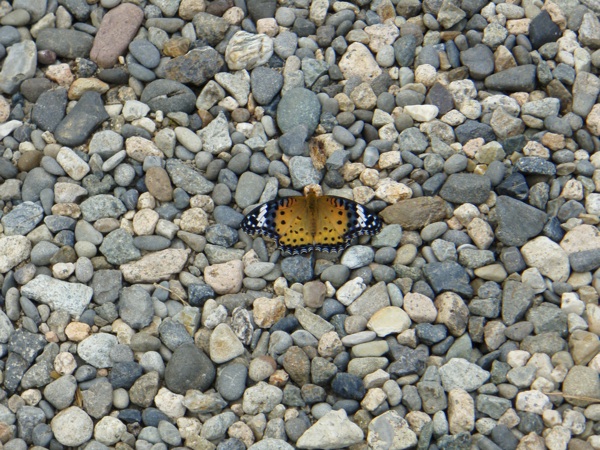 Kobe butterfly
The Kobe adventures continue in the next post . . .