The Grand Asia & Australia Voyage, part 2
Sunday, September 21 2008 @ 08:12 PM CST
Contributed by:

filbert

Views: 3,590
The Grand Asia & Australia Voyage - Holland America Amsterdam, September 19-November 23, 2008
Text by Snookums, Pictures by Filbert
Part Two
September 19 (Friday, Day 4, Boarding ms Amsterdam, Seattle, WA) -
We woke up at 6 AM in order to see our ship come into port at 7 AM. But, it came in early so we got up for nothing. Oh well. Another excuse to be tired and grumpy later.
We walked to Pike Place Market for breakfast with a view of the waterfront and on the way back to the hotel. Snookums stopped to get a pedicure. The day was cool and overcast, like yesterday, but we didn't care since we would be getting on our ship today.
Filbert suggested that we take the public bus to the ship and Snookums readily agreed. This meant that we walked about 1/2 mile to get the bus and then about 1 mile after getting off with our two rolling suitcases. It cost a total of $3 and we're sure that we were the only people that took public transportation to the 65-day cruise!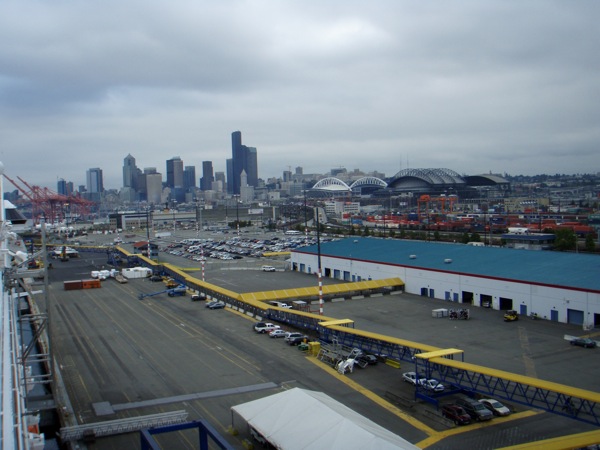 We walked from the nearer stadium (the darker arches) to the near end of the Terminal building in the foreground.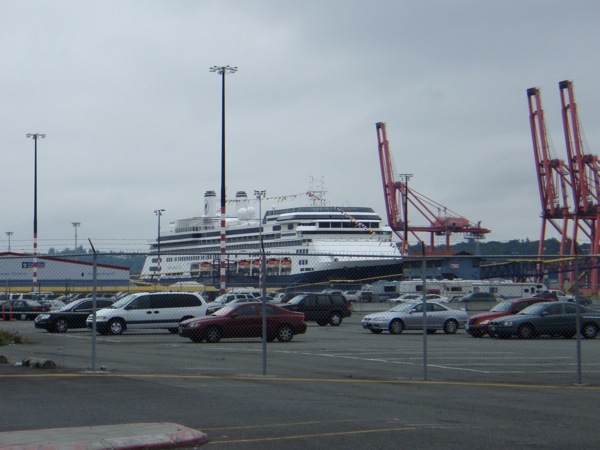 The Amsterdam in port at Seattle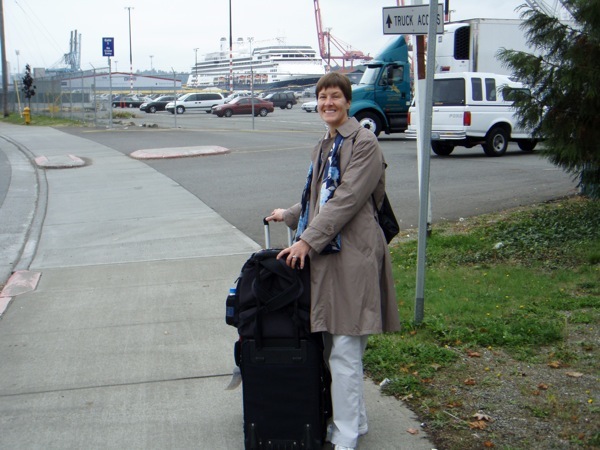 Snookums on the trek to the ship (Filbert's behind the camera)
We got to the check-in terminal and got into the registration line, which moved quickly. The woman handed us our keys and stuff and that's when we realized that we had been upgraded. We started doing a happy dance right then and there. We told the woman that we had called Holland America less than 48 hours earlier and had been told that our cabin number was the one that we booked 2.5 years earlier. Someone must have cancelled at the last minute which was our good fortune.
Our new suite number is 7040 and it is 556 sq. ft. with veranda compared to 292 sq. ft. with veranda for the one that we paid for. (According to the price list, suite 7040 costs 80% more--which is why we did NOT buy the bigger suite to begin with!). We also get free laundry ($250 value), free dry cleaning ($275 value) and free pressing ($100 value) and access to the Neptune Lounge. The Neptune Lounge is a quiet oasis in the middle of Deck 7 that is reserved for suite guests. There are 45 suites so the Neptune Lounge is never very crowded. It has snacks, newspapers, magazines and WiFi connectivity (for a fee) as well as a full-time concierge.
The suite has a huge leather sofa in it, a bar, a desk, one flat panel swivel tv and a king-size bed. (The cabin we paid for had a queen-size bed in it.) The veranda has a round dining table, 4 chairs, 2 chaise lounges and a side table and still has plenty of room to maneuver around.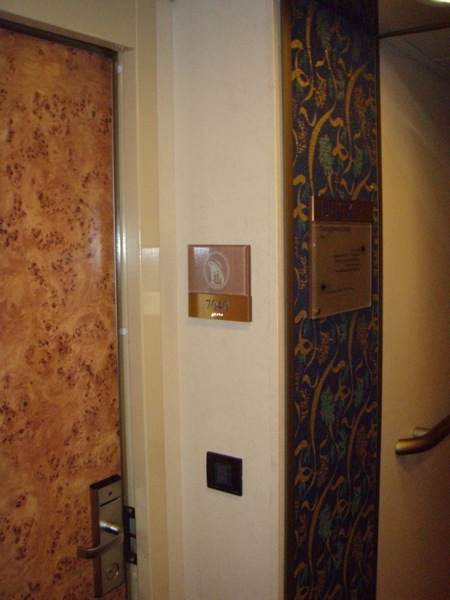 Our new home for a couple of months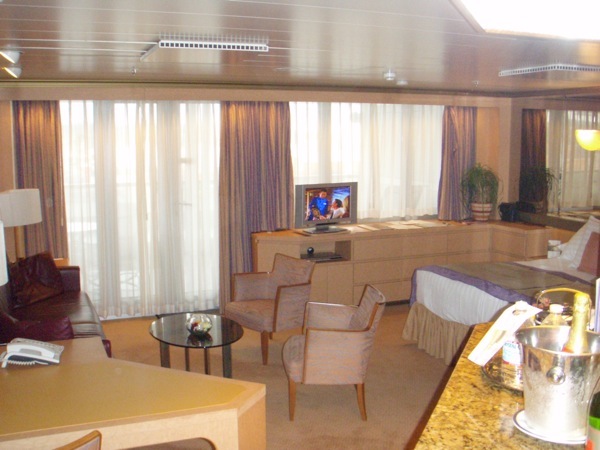 It was pretty big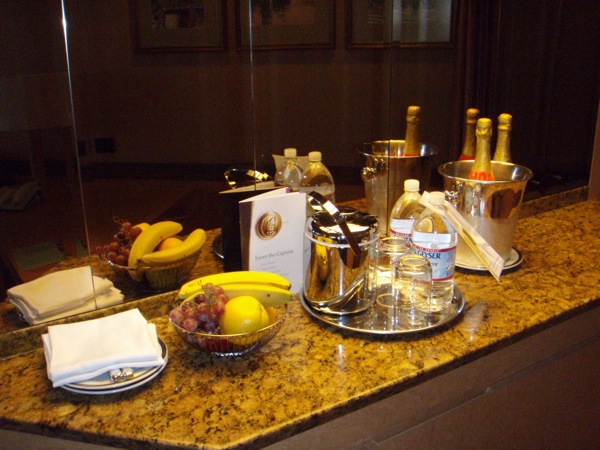 The bar was well-stocked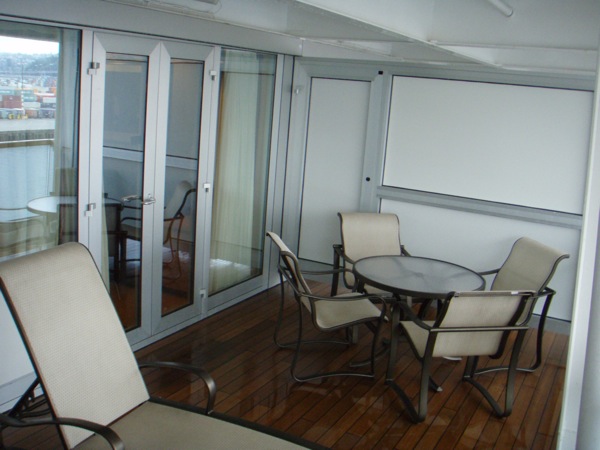 The deck was nearly as large as the one at our house
Our 8 pieces of Fed Ex luggage/boxes that were picked up from our house were delivered to our suite and we spent the afternoon unpacking. One of the boxes was split open towards the bottom and was wet so we were very apprehensive. Snookums gingerly unpacked it and finally found the 50 oz. bottle of liquid laundry soap that was leaking. All of the cans of diet soda immediately went into the whirlpool bathtub for rinsing off and the ziploc bag with the leaking laundry soap went in the trash. It was kind of a pain to rinse off 75 cans of soda, but not that big of deal. We were very thankful that our luggage arrived in one piece (well, basically in one piece).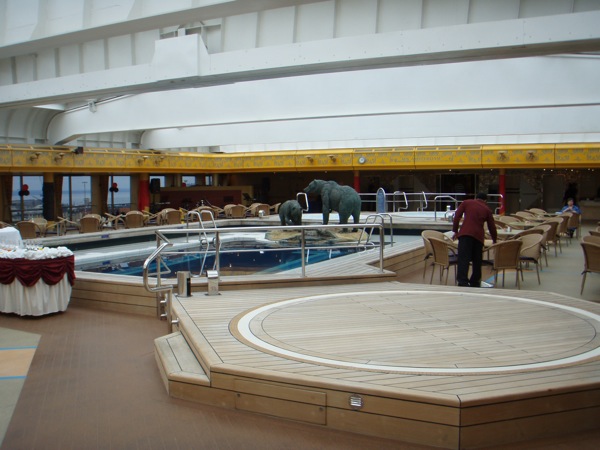 The Lido Pool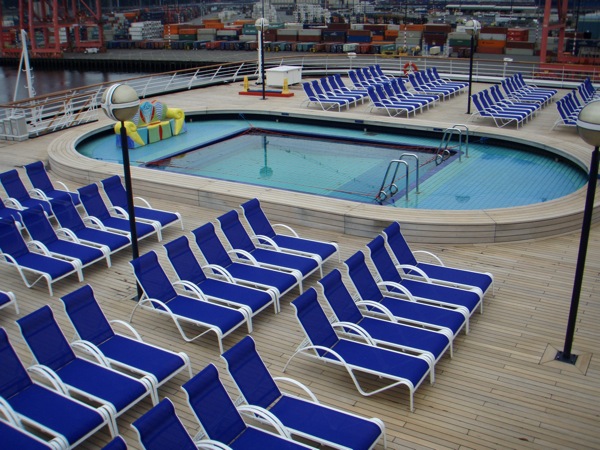 The Seaview Pool
We went to dinner and met our tablemates. Two of the couples are on the cruise for the entire 65-day period and one couple is getting off in Singapore after 35 days. It appears we got a good table.
After dinner we returned to our suite, turned our clocks back one hour and went to sleep with the fog horn blowing every few minutes. The sea has been very calm and we're hoping it stays that way.