The Grand Asia & Australia Voyage, part 1
Thursday, September 18 2008 @ 05:31 PM CST
Contributed by:

filbert

Views: 4,106
The Grand Asia & Australia Voyage - Holland America Amsterdam, September 19-November 23, 2008
Text by Snookums, Pictures by Filbert
Part One

September 16 (Tuesday, Day 1, Flying to Seattle, Washington) –

Departure day!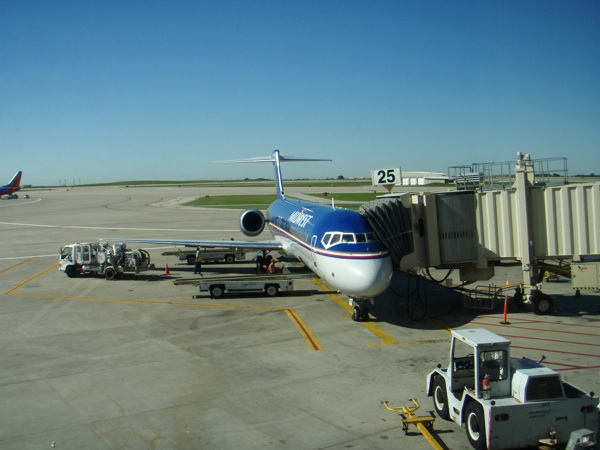 Midwest Airlines at KCI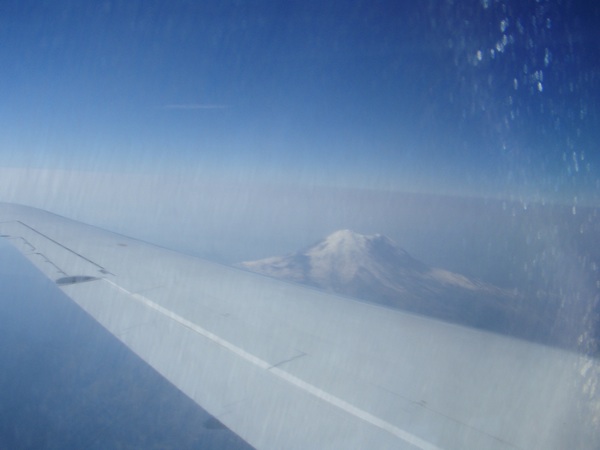 Flying over Mt. Rainier
We had a very uneventful flight to Seattle and took the public bus for $1.50 each for the 40-minute trip to the Grand Hyatt rather than paying $35 for a cab. The bus stopped about 2 blocks away and since it was a warm and sunny day, it was no problem with our rolling luggage. The Grand Hyatt upgraded us to an Emerald Suite on the corner of the 29th floor. It is 823-square feet with views of Puget Sound to the west and the Space Needle to the north and two flat-screen TVs. The best rate for it is $419 but we're paying $179 and getting upgraded for free! We have Macy's, Nordstrom's, Tiffany's, Barnes & Noble and a host of other major stores within one block of us, too.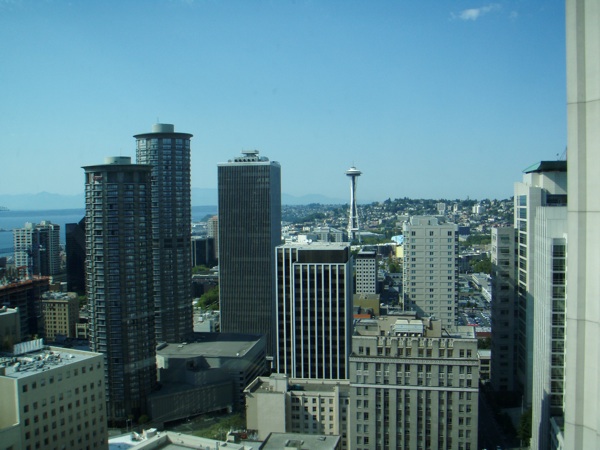 Room with a view – 1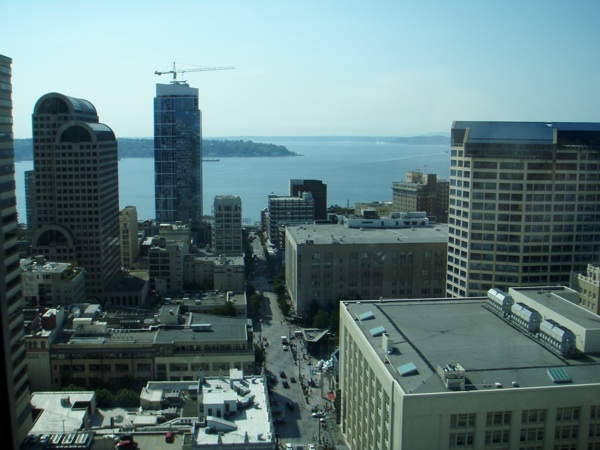 Room with a view – 2

After freshening up we walked the six blocks to Pike Place Public Market. We didn't see any fish being thrown around, but we did see vendors selling fresh seafood, gorgeous $5 bouquets of flowers, fresh produce and various arts and crafts. We ended up eating a late lunch at "Saigon" which was touted as being a cheap and tasty restaurant. It was! Snookums had the $4.75 Vietnamese sandwich that was a French baguette with BBQ pork, carrots, cilantro, cucumbers, radish and a tasty mayonnaise-type sauce on it and Filbert had the $6.75 lemongrass beef hot entrée. We learned that "thank you" in Vietnamese is "cam on" [pronounced: caam-ungh] which will come in handy for our two ports in Vietnam. We wandered around some more before heading back to the Hyatt.

Upon entering our room we were surprised to see a bottle of sparkling wine and ½ pound of chocolate covered dried cherries. This "treat" was NOT the one that you get to choose for having Diamond status so it was a bonus. (We still have two coupons to use for our Diamond amenity.) And, we called and asked if they would waive the $5/day charge for a refrigerator and we were told "sure" so we had one delivered.

We turned on the local Fox Sports TV channel in order to watch the Seattle Mariners play in Kansas City. (We had tickets to that game and obviously didn't attend but did ask for our free long-sleeve t-shirts since Snookums's family was still going to go.) We wandered up to the Regency Club and stuffed ourselves on crab claws, Greek salad, cheese, crackers, raw vegetables and various cold meats for dinner while also watching the game there. The Royals won 6-3 and we saw Snookums's father in his wheelchair in the stands so that was neat.

Filbert has been battling tendonitis in his left heel since mid-July from cleaning our carpets and it was hurting him due to the walking so he iced it a lot tonight before going to sleep. Other than that, it's been a great start to our trip.

Oh yeah – We received a call on Saturday informing us that our first port stop in Petropavlovsk, Kamchatskiy, Russia had been replaced with Aomori, Japan. Those darn Russians! If they would play nice with the Georgians we would have been able to visit their country. Oh well, it's their loss.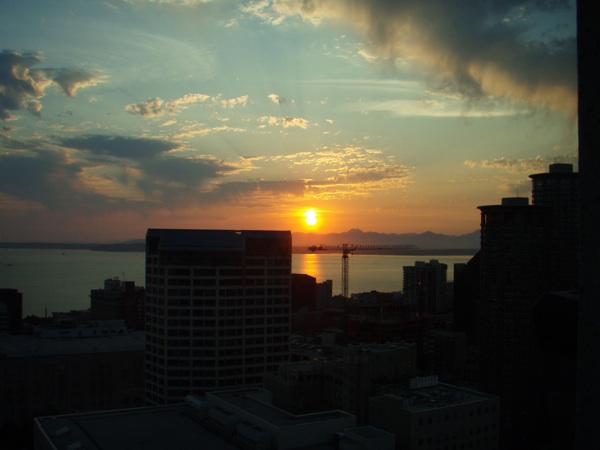 Seattle Sunset 1


September 17 (Wednesday, Day 2, Seattle, WA) -

We woke up and went to the Regency Club for breakfast. Snookums enjoyed a high-carb breakfast of cereal, fresh fruit and banana bread while Filbert drank coffee (Starbucks – they are everywhere in Seattle since this is its birthplace). We then walked to Seattle Center where the Space Needle is located. By now Filbert was starving so he had a taco salad, without the shell, from a fast food joint.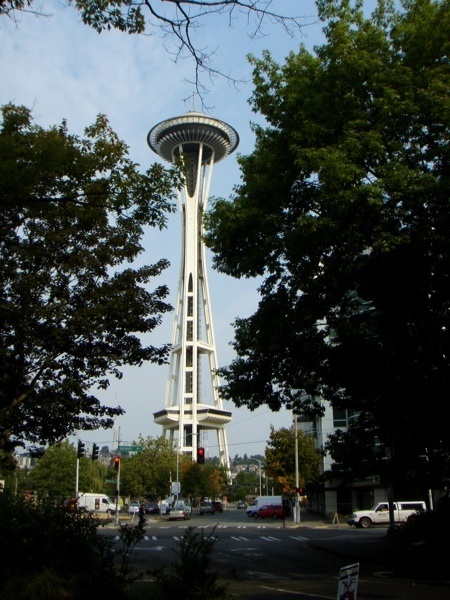 Space Needle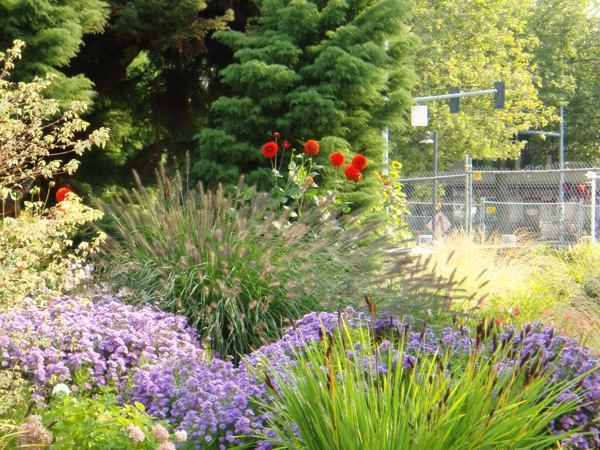 Flowers in Seattle Center

Filbert wanted to visit the Science Fiction Museum that we eventually found. Snookums left him there and walked 6 blocks to the waterfront to the Olympic Sculpture Park to read her paperback since she knew she didn't want to visit the Science Fiction Museum. The sculptures were modern ones that didn't impress her. She was on page 3 of her book when her cell phone rang and it was Filbert saying he was done!

They met up and decided to walk to the free bus zone in order to take a city bus to Pioneer Square that is on the other side of downtown. (City buses are free within the downtown area.) Filbert decided he needed a coffee so he bought one from a "Java Girls" kiosk. On the way to the bus stop we passed Top Pot doughnuts and had to stop so Snookums could have a chocolate cake doughnut. It was very, very good.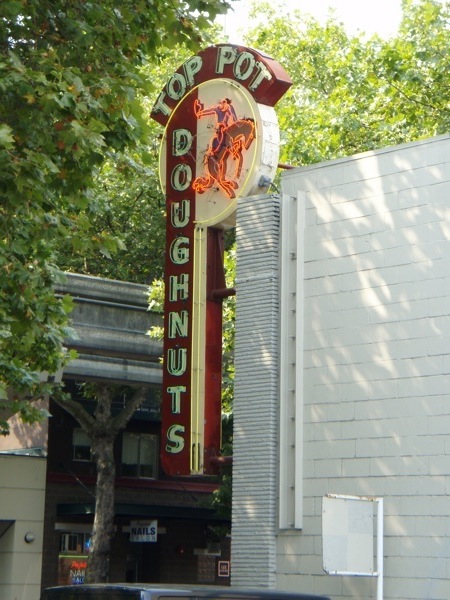 Top Pot Doughnuts

While walking around the Pioneer Square area we happened upon Waterfall Park and learned that this little park marked the birthplace of UPS. The UPS founder or someone connected to the original family commissioned this Japanese-type garden in the 1980s to commemorate the beginning of UPS. There was a full-time security guard there to chase out the homeless. Most benches were occupied by office workers eating lunch while enjoying the sunny 74° day. It was a very nice small oasis (and looked very expensive).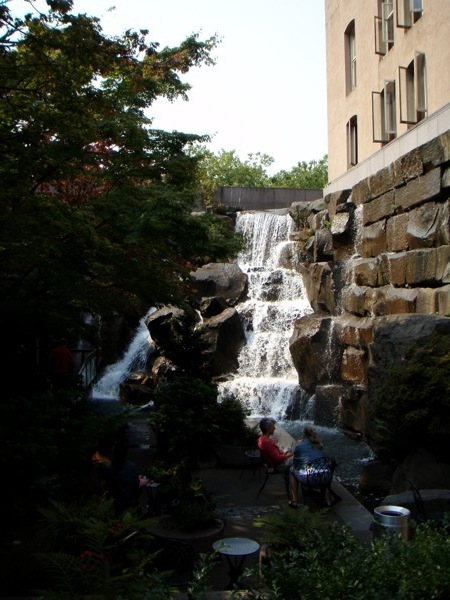 The UPS Waterfall

We found the world-famous Elliott Bay Book Company in Pioneer Square and Filbert bought two books while Snookums read up on the places in Vietnam, New Caledonia and Samoa that we'll be visiting soon. Snookums also called the Grand Hyatt to order the Diamond Amenity so that it would be waiting for us when we returned.

We rode another bus to Pike Place Market and then walked the six blocks to the Grand Hyatt. Before going to the hotel we stopped at Phiten which is a Japanese store that sells the titanium infused necklaces that just about all the baseball players wear. Filbert let the Japanese woman put some titanium tape on his arthritic knee and bad heel so we'll see if he notices anything.

We got to the room and crashed for a few minutes before realizing we were hungry (and Filbert wanted beer). There was a Gordon Biersch Brewery Restaurant across the street so we broke down and went there even though it's a chain restaurant and we like to try local places. Microsoft was having a post-scavenger hunt party there, too, so it was pretty funny watching a bunch of male geeks (and they were definitely geeky!) have fun.

After dinner we settled in for the night to watch the Royals beat the Mariners. We munched on the Diamond Amenity gift of dried fruit and nuts and Filbert enjoyed the bottle of Cabernet.


Seattle Sunset 2