The 2011 Ultimate Northern Discovery Cruise, part 7 of 9
Monday, December 19 2011 @ 11:52 AM CST
Contributed by:

filbert

Views: 8,414
The 29-Day Ultimate Northern Discovery Cruise, Holland America Eurodam
Text by Snookums, Pictures by Filbert
Part Seven
(Remember to click "read more" if you're looking at this from the main medary.com page to get the whole article!)
August 28 (Sunday, Day 21, Dublin, Ireland; €1 = $1.43; $1 = €0.70) -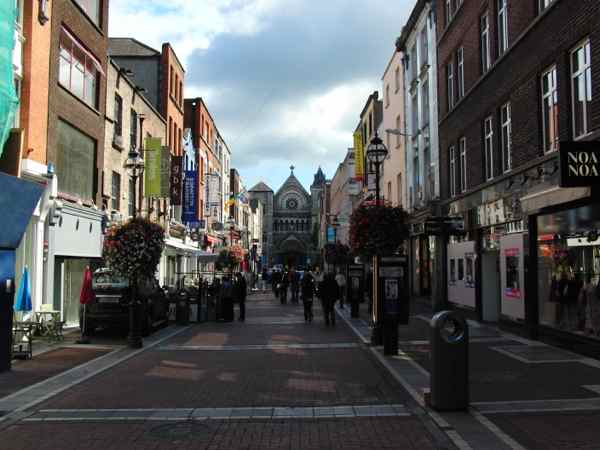 Dublin
Since the ship was docked in Dublin until 11 PM and the stores didn't open until noon, we decided to leave the ship around 11:30. That meant that Snookums had plenty of time for the 7:30 "Circuit Training" class. It was sunny and around 62 but Filbert's Dublin radio station said storms were expected. We decided to not take any umbrellas with us. We took the $5 per person 20-minute shuttle each way and Filbert immediately knew where we were when we got off the shuttle bus. As soon as Snookums saw St. Stephen's Green, she knew where she was, too. We walked through St. Stephen's Green and then started heading for a bookstore. The only agenda we had was to go to three bookstores. Along the way, we passed Avoca. The last time we were in Dublin we took a day-trip to the little village of Avoca where the oldest weaving mill in Ireland is located. The Avoca store sells a bunch of hand woven items and other interesting items. It has a great café, too. Snookums decided she needed a bakewell (a large bar cookie/cake-like thing with a small layer of raspberry jam towards the bottom and sliced almonds on top) and Filbert had a sausage, apple and sage roll that was heated. It came on a plate with a nice green salad, too, as well as some tomato chutney.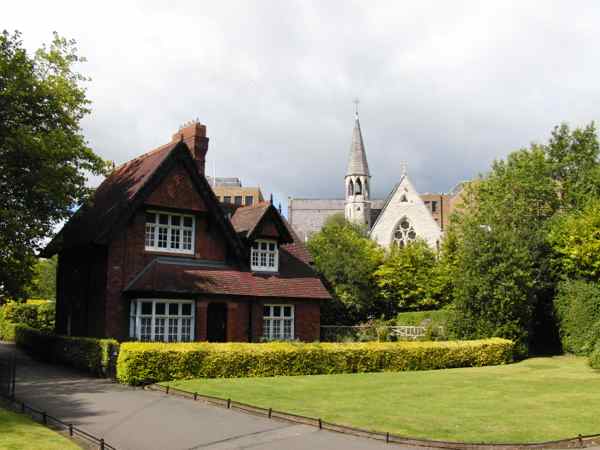 St. Stephen's Green
While we were eating we met a girl from Idaho who is starting her sophomore year at Trinity College in Dublin. (She was treating herself to her favorite lunch spot, Avoca.) She left Boise after she graduated from high school and started her university education at Trinity College. It costs $23,000 per year and that is what she was going to spend at some college in Oregon so she decided to go to school in Dublin. She is majoring in European Studies – Italian and French languages. She's hoping to get a scholarship based on a test score and if she does, she'll have 75% of her costs covered for five years so she'll be able to get her masters at Trinity College, too.
After our snack, we went to three different bookstores. Filbert bought two books about the origin of languages. He's such an intellectual! Then we saw a hair salon/internet café (most of the signage was in Chinese) and Filbert wanted a haircut so that's what we did. #3 clipper all the way around for €8. Snookums used the internet café which cost €1 for 30 minutes. Neither place was busy and Snookums guesses that most customers are illegal immigrants! It was kind of seedy and dirty, but Filbert's hair looks nice. While we were using the PC, it started pouring rain. But, by the time we left, it had stopped. It also rained while we were in one of the bookstores. We didn't even know it but the sidewalks were wet when we left the bookstore. That's kind of normal for Dublin this time of year – major rain for a bit and then it stops.
We rode the shuttle back to the ship after our own 3½-hour shore excursion. That's when Snookums started feeling sick to her stomach. She napped and read and didn't go to dinner. Filbert ate on Lido with Gary and Charlotte. After dinner Filbert bundled up with two jackets, scarf, hat and gloves and sat on the balcony listening to Dublin radio stations while waiting for the ship to leave at 11 PM. He finally called it quits around 10:15 PM and went to bed.
August 29 (Monday, Day 22, Cruising the Atlantic) -
Filbert went to the lecture on "The Faroe Islands & Viking Discovery of the North" and enjoyed it a lot. Snookums went to the cupcake tea and enjoyed the chocolate cupcakes the most. Then she went to the 5:00 session of "Circuit Training". She thought that eating cupcakes at 3:30 was early enough before working out, but she felt like she was almost going to throw up during the hard 30-minute session. However, she rode the bike for another 25 minutes after the class.
Rather than going to formal night dinner, Gary, Charlotte, Filbert and Snookums dined on Lido and really enjoyed it. We had a very relaxed dinner and paced ourselves between the self-serve courses. No one was thrilled with the desserts and Snookums returned to the cabin and ordered the "crisp of the day" which happened to be rhubarb cranberry. It was almost too tart to eat, but she managed.
For those of you wondering what there is to do during a day at sea, the following activities happened between 11:00 and 1:30 today:
11:00 – Future Cruise Presentation, The Mainstage
11:00 – Eurodam Olympics: Golf Chipping, Lido Poolside
11:00 – That's Souper: Chilled Soups, Culinary Arts Center
11:00 – Secrets to a Flatter Stomach, Greenhouse Spa
11:30 – Introductory Photo Editing, Digital Workshop
12:00 – Blackjack Tournament, Casino
12:00 – The History of Fabergé, Queen's Lounge
12:00 – Singles & Solos Meet for Lunch, Rembrandt Dining Room
12:30 – Name that Motown Tune, Northern Lights
1:00 – Eurodam Olympics: Bean Bag Toss, Northern Lights
1:00 – The Art of Ice Carving, Lido Poolside
1:00 – Texas Hold'em Tournaments, Casino
1:30 – Creative Photo Editing, Digital Workshop
1:30 – Team Trivia, Crow's Nest
August 30 (Tuesday, Day 23, Tórshavn, Faroe Islands, 1 DKK = $0.19; $1 = 5.21 DKK) -
We docked at Tórshavn, a town of 18,000 and the capital of the Faroe Islands. An announcement was made that there would be singing at the town hall at 10 AM so we made that our goal. We caught the free shuttle to the town center and walked in right as the director was introducing the group. Snookums asked a woman what it was all about and was told that retirees get together every Tuesday at 10 AM and sing. It's not religious and it's not a choir. It's just for fun. And, since today was Tuesday and it was 10 AM, we were the recipients of this local gathering.
There was also a handicraft fair and many women had booths and they were selling lots of hand knitted woolens (and they were also knitting why manning the booths). There were also carved items from sheep horns since sheep graze all over the volcanic hills of the Faroe Islands. Snookums and Filbert spent $4 on a hunk of dried fish, $4 on a package of homemade hard candy that the woman didn't know the flavor of (but it wasn't mint since she knew that flavor), and $4 on a cup of coffee and a plate of homemade waffles with whipped cream and red jelly. The singers also paid $4 during the break for their coffee and waffles. Snookums also bought three postcard stamps for $2.25 each. (Things in Tórshavn aren't cheap!) While the singers were singing and the waffle was being eaten, Filbert commented that he felt very comfortable in this small town atmosphere.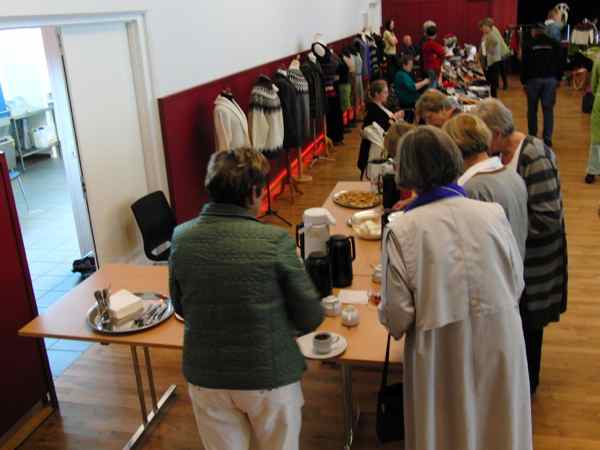 Waffle & coffee table
Snookums gave the woman that explained the singing one of her US flag pins and the woman was very happy and made a point of finding Snookums later on and showing her that she also was given a maple leaf pin, too, from a Canadian.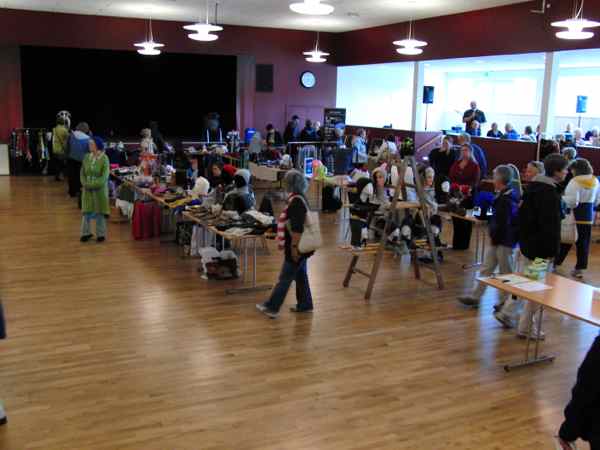 Torshavn town craft fair
After the singing, which included the English song "You are my sunshine", we started on our walk. We found the brand new soccer stadium, as well as the old one. Given that 18,000 people live in Tórshavn and that there are 16 other populated islands, but probably not too populated, it was a very nice stadium. When we were in London we actually heard the score of the Faroe Islands soccer match against some U.K. team. We walked by a bus stop and since all buses are free and since the tourist information said that Bus 1 was a good tourist route, we waited one minute for the bus. We enjoyed 40 minutes on the bus. When we were near the top of the island and the bus driver stopped the bus for his short break, we decided to walk down to the "downtown" area and the ship. We enjoyed seeing the houses with grass growing on the roofs. All of the houses were painted bright colors with windowpanes painted in a different bright color. We came upon a grocery store and since we had 11 Danish krone still to use (or about $2.10), we used them. A small bottle of Coke Zero was 35 krone. Candy bars were 10 to 15. Snookums finally bought some Haribo gummi things ($1.65) and one piece of bubble gum ($0.40 – yikes!!). She didn't get any change back although she should have gotten .05 krone. They don't have .05 krone and she knew that. Nothing was cheap. We found out later that produce is shipped in every Monday. We noticed that the fruits and vegetables looked very fresh.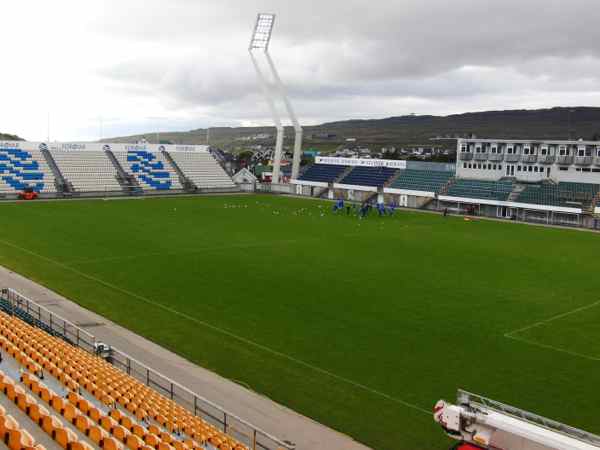 Torshavn's football stadium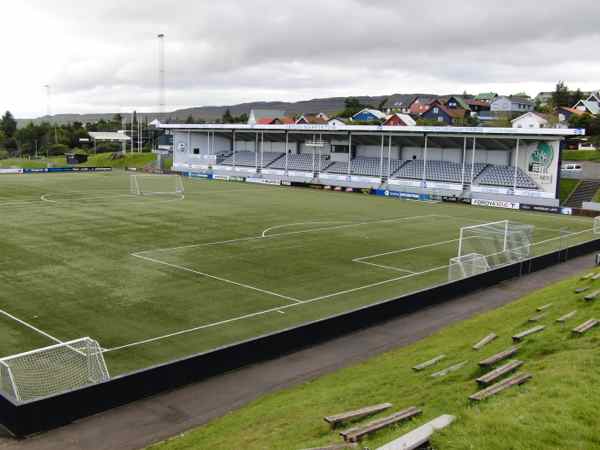 Torshavn's other football stadium
We got back to the ship around 1:30 and made sure to get to the Lido buffet before it closed at 2. After that Filbert sat on the deck just watching Tórshavn life. Snookums watched the movie "The Accidental Husband" on TV.
The ship left at 5 PM and although it was a bit rainy and overcast, one man on the end of the pier launched about five minutes worth of fireworks to send us off. It wasn't really dark enough to fully enjoy them, but it was the thought that counted! Then we had scenic cruising through the fjords of the Faroe Islands. There are 18 islands and 17 are populated. Most cruise ships don't go the way we went since it does require more fuel. However, HAL's head office allows its captains to veer off the official course for these types of purposes. Seven power lines are strung between two islands. Had the ship cruised exactly in the middle of the two islands, there would have been two feet of clearance under the power lines. However, the ship stayed closer to the island on the starboard side in order to have more clearance! That was smart of the captain.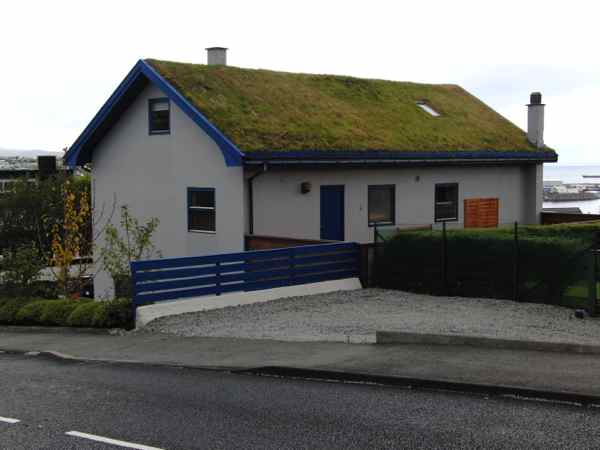 Why yes, that is grass growing on my roof. Why do you ask?
Tomorrow's daily program says that there might not be satellite TV until September 5 since the ship will be cruising in waters off the beaten track. We'll just have to wait and see.
August 31 (Wednesday, Day 24, Cruising the Atlantic) -
Snookums woke up and decided to attend "Circuit Training". However, the instructor said that it (and the 5 PM class) was cancelled since neither of them were listed in the daily program. She explained that on August 14 he had said to go with what was listed in the fitness class schedule and not what was listed in the daily program and the instructor said that was for the last cruise but this cruise was different. He could see that Snookums wasn't too happy and he went ahead and taught the class. One other woman attended it.
After her breakfast of oatmeal and large raisins, Snookums wrote a letter to the spa manager and the onboard marketing manager (the person in charge of the vendors, which includes the spa) explaining what had happened. Both letters were delivered before noon. Only time will tell what the result is. While Snookums was being a rabble-rouser, Filbert attended the lecture "Iceland: The Land and its People". After that we met Gary and Charlotte and went to the Mariner Society Reception to see medals awarded to cruisers for 100, 300 and 600 days. (We already have our 100-day medals.) There is a couple on board that has cruised with Holland America for 1665 days. That is a lot of time on cruise ships and they didn't even look that old! We enjoyed our free drinks and then went to the Mariners brunch. We sat down and looked at the menu and decided we wanted to eat in Lido. We took our tiles (HAL gives each Mariner a Delft tile every cruise) and the four glasses of champagne and had a very nice lunch in Lido.
Filbert attended the port lecture on Reykjavik while Snookums napped, read and watched TV. Around 4 PM the fitness instructor called for Snookums and Filbert took the message that she was invited to the 5 PM fitness class. The letter had some impact after all!
On prior HAL cruises we have had many difficulties with Pinnacle Grill. Therefore, Snookums received a letter from HAL in March, 2011 stating that HAL would be pleased to make free Pinnacle Grill reservations for us, Gary and Charlotte (they had problems with us on the Alaska cruise). In June she contacted Seattle and made reservations for August 31 so we ate at the $39 per person (but free for us) Le Cirque at the Pinnacle Grill. The menu was basically a set menu except for the entrée and dessert and we started with Lobster Salad "Le Cirque," followed by Sweet Corn Soup. Snookums and Filbert ordered the Côte de Boeuf and it was a great ribeye steak, cut off the bone table-side. Gary had the wild halibut and Charlotte had the lamb. The waiter brought Charlotte Côte de Boeuf by mistake so while she was waiting for her lamb, she ate some of that and gave some to Gary, too. They both said it was the best entrée. Gary's halibut was the whitest piece of fish that Snookums had ever seen. It almost looked like a slab of tofu! Gary said it was prime fish and he enjoyed it, but he said the beef was even more superb. The chocolate soufflé for dessert was awesome and Snookums had the crème brûlée, too, but the soufflé was much better. We all agreed that it wasn't worth $39, but for free it was fine. And, we all preferred the normal Pinnacle Grill menu with its options to the set Le Cirque one.
After dinner we turned our clocks back an hour and went to bed.
September 1 (Thursday, Day 25, Reykjavík, Iceland, 1 ISK = $0.01; $1 = 114 ISK) -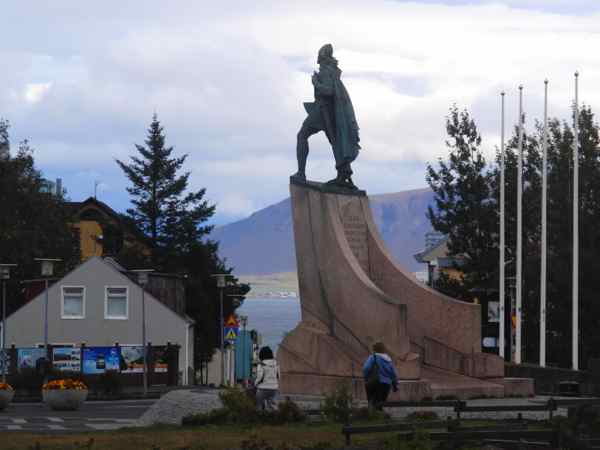 Leif Erikson statue in Reykjavik
Snookums attended "Total Body Conditioning" at 7:30AM. The day was rainy, windy and cold (52°) and we saw out the window that the Hop on/Hop off bus stopped at the port. The ship was offering a shuttle to downtown for $9 roundtrip. The Hop on/Hop off bus was $26 per person (3,000 ISK) so we figured we would take that. The ticket seller even gave Snookums a krone (worth less than one cent) so she even had her souvenir. The bus left the port at :37 after the hour. While we were waiting, we shopped in the souvenir shop. Filbert found some wool gloves (made in Iceland) without the fingertips but there was also a mitten flap to put over the fingers and decided he wanted them. Now we had a mission!
Reykjavík has about 200,000 people in it and there are only 300,000 people in all of Iceland. Iceland is the size of Ohio. And, in Icelandic, the word "Iceland" is spelled "Ísland". We stayed on the Hop on/Hop off bus for the hour-long circuit. It started pouring rain about ½ way through the tour but we did manage to see the small white wood house (Höfoi House) where President Reagan and Gorbachev supposedly stopped the Cold War. We also saw Hallgrímskirkja which is the immense concrete church that took 34 years to build and was completed in 1974. Its tower is 250 feet tall but since it was raining we didn't go up. The church has a 5,275 pipe organ in it.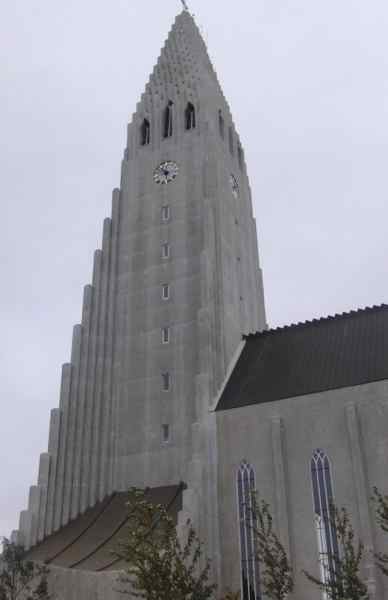 Hallgrimskirkja
We decided to brave the cold, wind and rain and got off in the downtown area. Snookums was wearing tights under her pants and had three layers on top under her winter coat and windbreaker. Filbert wore his waterproof windbreaker that he had from his motorcycle days. Due to the wind, we didn't bother with umbrellas. We survived quite nicely. We had been told where two grocery stores were located and where a liquor store was. (Only 3.5% beer can be sold in grocery stores.). We found the first grocery store which was more like a convenience store. The sales tax (VAT) is 25.5% and it is built into the prices. So, paying $1.25 for a candy bar at a convenience store didn't seem too out of line. Everything looked very fresh and the product selection was as vast as what we have in the U.S. at a large convenience store.
We then went to the liquor store and Filbert enjoyed looking at the different kinds of Icelandic beer. He bought six. Then we found the real grocery store. It was good, too, and the meat section was dominated with lamb and some pork. We did see hamburger and it was very expensive, around $10/pound. We actually didn't see any fresh fish, but found frozen and dried. We were told that the main proteins are lamb and fish. One thing that was odd was that both stores sold both Coke Light (what you find in Europe) and Diet Coke (what you find in the U.S. and in Asia). However, Diet Coke was about $0.50 more expensive for a 2 liter bottle. Even Coke Zero was in stock at the "cheaper" price.
We went into a couple of Icelandic stores and found the same gloves that we saw at the souvenir store and for the same price. We ran to catch the Hop on/Hop off bus back to the port and Filbert purchased the $20 gloves/mittens and a matching $15 headband to keep his ears warm at the souvenir store. (There is only one Hop on/Hop off bus and it comes to each stop once an hour.)
All in all, we weren't too impressed with Reykjavík. If we make it back to Iceland, we'll have to take a tour outside of the city since it seems like the neat stuff is the nature of Iceland. The city itself didn't have much character. A letter from the Onboard Marketing Manager was waiting for Snookums and it said that the fitness class schedule is the accurate schedule and that he would make sure that the daily program had them printed in it as well. Fitness class problem resolved!
[image10_left]
Iceland. Geyser. There you go.
We had commentary from the Icelandic lecturer on board as we cruised out of Reykjavík. He said that for the next two hours while we were in Faxaflói Bay there would be a possibility of seeing minke and fin whales. Filbert sat on the balcony, bundled up, but didn't see any during the entire time.
We attended the 4-star Mariner cocktail reception prior to dinner and made sure that Roger and Margaret came, too, for the free liquor. We left the cocktail reception carrying our free alcoholic beverages and went to Tamarind for our free dinner since we were on a Collectors' Voyage. Snookums ordered the Thai beef salad (again) and the green papaya salad. The green papaya salad wasn't anything to write home about but the Thai beef salad was as tasty (and spicy) as last time. The consensus at the table was that the tempura shrimp and satay are the best appetizers. The pho soup is good, too, but too hard to eat with the porcelain spoon/ladle. Margaret said the wonton soup was good, but it looked like she got two shrimp filled wontons in a brown broth.
Snookums and Filbert again ordered the red chicken curry (without the eggplant) and ordered all of the side dishes and dumped them in. It made a great stew. Roger ordered the mint lamb and said it wasn't minty at all and was salty. Charlotte ordered the vegetable tempura and it looked good, but not too substantial. Snookums saw the snapper in rice paper at the next table and it looked very good.
The only dessert that no one ordered last time was the tempura ice cream. Four people ordered it and all liked it. The coconut ice cream was better than the coffee ice cream. And, the "dish" that the two fried ice cream balls were served in was the tastiest thing. Filbert said it was like peanut brittle without the peanuts. Charlotte thought she tasted coconut in it. Snookums and Margaret just loved it and ate it. This time the wasabi sorbet was in stock and Gary said "WOW" when he tried it and his face really puckered up. He convinced Margaret to try it and she had the same reaction. He enjoyed it. We had another great dinner in Tamarind and all agreed that this is THE best restaurant on the ship and well worth the $15 per person surcharge (or $7.50 if you are a 4-star Mariner or free if the ship gives it to you!). We staggered out of the restaurant and moved our clocks back another hour and went to sleep.
September 1 (Thursday, Day 25, Reykjavík, Iceland, 1 ISK = $0.01; $1 = 114 ISK) -
[image11_left]
September 2 (Friday, Day 26, Cruising the Atlantic)
Snookums and Filbert woke up around 7 AM and it was kind of sunny. The seas are still calm (yippee!). We ordered room service and Filbert had his normal high protein instant oatmeal and coffee but Snookums splurged and ordered pancakes with fruit sauce (it was strawberry) and bacon. The ship's bacon is really good and her pancakes were okay, too.
Filbert went to the Greenland lecture and Snookums got caught up with the journal. Then she went to the 5 PM Total Body Conditioning class.
It was formal night and we dressed up and went to dinner. Gary was under the weather, though, so neither he nor Charlotte attended.