The 2011 Ultimate Northern Discovery Cruise, part 5 of 9
Thursday, December 15 2011 @ 11:46 AM CST
Contributed by:

filbert

Views: 3,089
The 29-Day Ultimate Northern Discovery Cruise, Holland America Eurodam
Text by Snookums, Pictures by Filbert
Part Five
(Remember to click "read more" if you're looking at this from the main medary.com page to get the whole article!)
August 19 (Friday, Day 12, St. Petersburg, Russia) -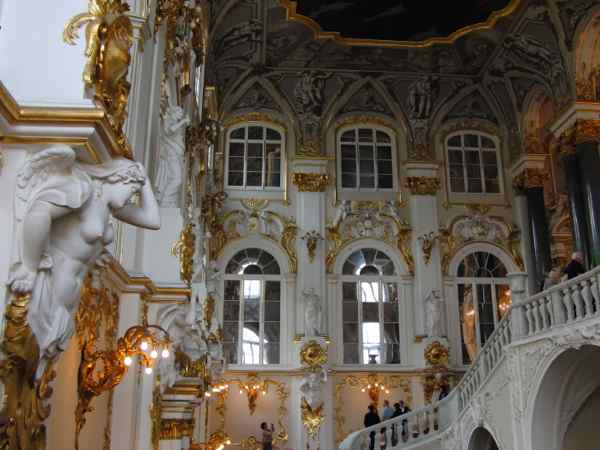 In the Hermitage
The tour group met at 8 AM. The day was sunny and looked 100% different than yesterday. We drove to a boat for an hour-long boat ride along the rivers and canals with room temperature champagne and chocolates. Filbert joked that in Russia the vodka is cold and the champagne is room temp. (That didn't stop him from drinking several glasses of it, though!) We passed most of the places we drove by yesterday, but today we could actually see them. Snookums found a 10-kopek coin on the boat, too, keeping intact her skill of finding money in foreign countries. After the boat ride we went to the Hermitage Museum for a 2-hour tour. The Hermitage, or Winter Palace, was built for Elizabeth, one of Peter the Great's daughters, but she died before the lavish mansion was completed. The gold-trimmed, green and white palace houses one of the world's most massive art collections (more than 2.7 million works) and our tour ended in the French Impressionists' area, which is considered to be unmatched by any other museum.
We ate lunch at a different restaurant and had a tasteless salad that was made of mushrooms and diced chicken in mayonnaise, followed by a broth-based mushroom soup and chicken Kiev (with white rice and raw cabbage). Dessert was two crepes with strawberry sauce. Snookums noticed a lot of signs that said "pectopah" and asked Olga what it meant. Snookums thought she was kidding when she said "restaurant" and pronounced the Russian version like "restora" but then realized that a "p" in Cyrillic is like our "r" and a "c" is like our "s".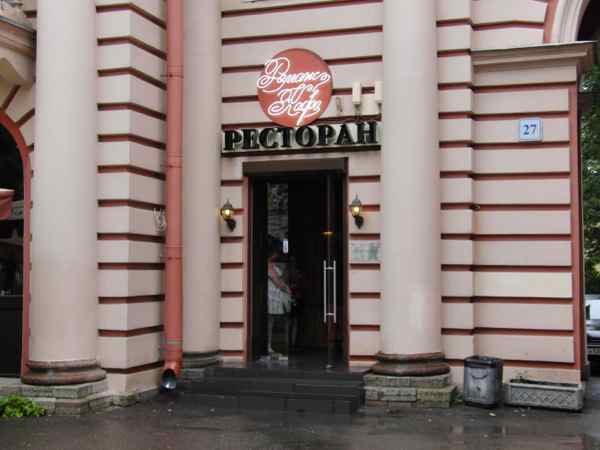 Pectopah
We drove to Peter and Paul fortress and toured the cathedral. At the end of our tour, Olga rushed into a room and then five Russian men sang a church song for us in order to try to sell their CD. It was a nice and very unexpected finale. Peter and Paul fortress was the first building in Peter's capital, built in 1703 (when St. Petersburg was founded).
The next stop was Yusupov palace. By now Snookums and Filbert were totally tuned out and Snookums only remembered seeing a square room that was decorated to make it look round and she also remembered the home theatre, a 100-person theatre complete with stage, orchestra pit and royal boxes.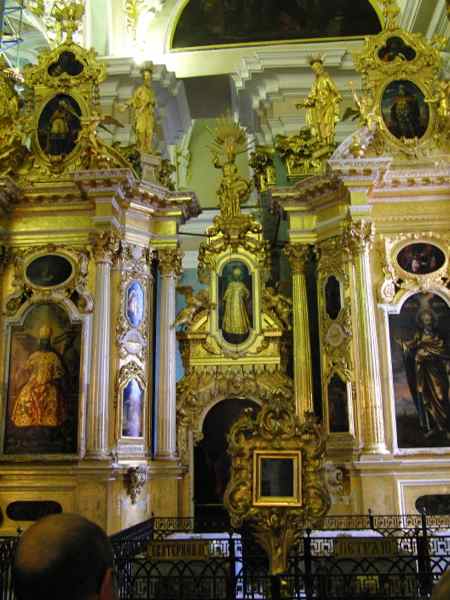 Another extravagantly gilded and decorated room. Yawn.
We were given 40 minutes to shop at a souvenir store and this is where we also paid for our tour when the boss of the tour company showed up. (Yes, the tour was paid for at the end of the two days and credit card information was never requested. No one knows what would have happened to someone that only made the first day!) U.S. dollars were the preferred payment method and cash meant a 5% discount. No problem, cash it was. When Snookums paid, the woman asked how things went and Snookums told her that she was a bit disappointed since via email Snookums was told that Filbert would receive a typical Russian birthday cake on August 18 (two days after his birthday). The woman said that the office realized their mistake and she apologized and kept going on and on and Snookums finally said, "Please just let me pay." Snookums was disappointed that the cake never happened, but that was that. When everyone was done paying, we got on the minibus and that's when Olga said "It's Filbert's birthday and here are some presents for him from the tour company." She gave him a bottle of vodka and a set of three St. Petersburg shot glasses. Both items were sold at the souvenir store and Snookums knows that the boss bought them right then and there. Filbert was very happy since this was a much better birthday surprise than a cake! (The vodka is as of this writing several months later, still chilling unopened in our refrigerator. How much longer this unusual state will persist is anyone's guess.)
We got back to the ship around 5 PM and decided to order room service for dinner. Snookums was starting to come down with a cold (compliments of Gary and Charlotte, she thinks!) and after turning the clocks back one hour (yippee!), ended up falling asleep well before 10 PM.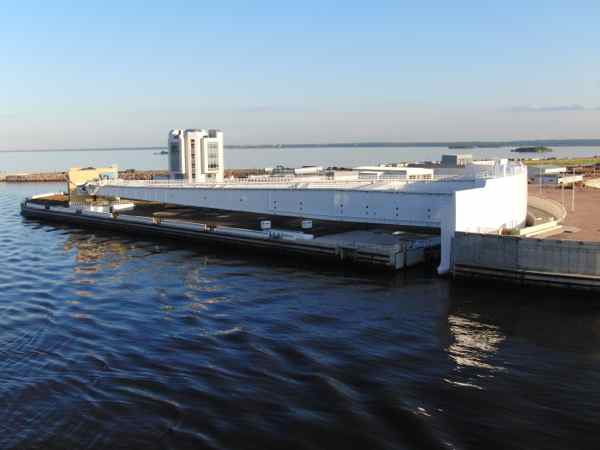 Enormous flood gates protecting St. Petersburg
August 20 (Saturday, Day 13, Helsinki, Finland; €1 = $1.43; $1 = €0.70) -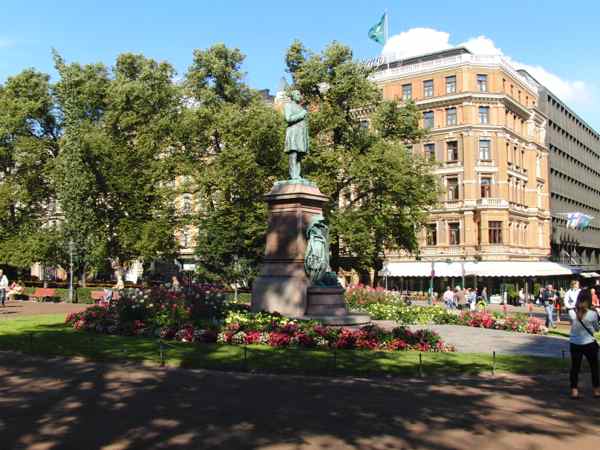 Downtown Helsinki park
We took the $10 per person round-trip shuttle into Helsinki and walked around. It was very windy and around 70 degrees and sunny. The last shuttle to the ship was at 3:30 since most of the streets of downtown Helsinki were closing at 4 PM due to the marathon. First we had to deal with the triathlon in Copenhagen and now we had a marathon in Helsinki! We had plenty of time, though, to wander around. After we looked at the farmer's market near the harbor area, Uspensky Cathedral, and Senate Square and Cathedral, we stopped at Stockmann, one of Helsinki's two flagship Finnish stores. We enjoyed browsing in the large grocery store in the basement. We bought Puffs Plus for Snookums's nose (54 total tissues in six pocket packs for $2.75 and Snookums could not find a box of tissues at all. Only pocket packs are sold!), canned reindeer meat ($10.18), canned reindeer soup ($7.12), 1.5-liter Coke Zero ($2.14 plus $0.58 deposit) and four cans of Finnish beer (around $3.60 per can plus $0.22 deposit).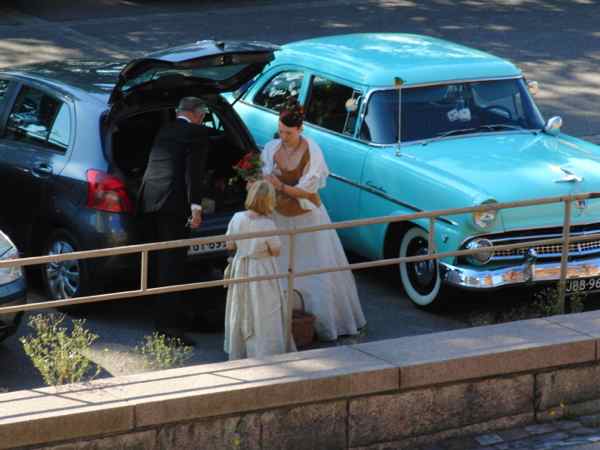 Helsinki wedding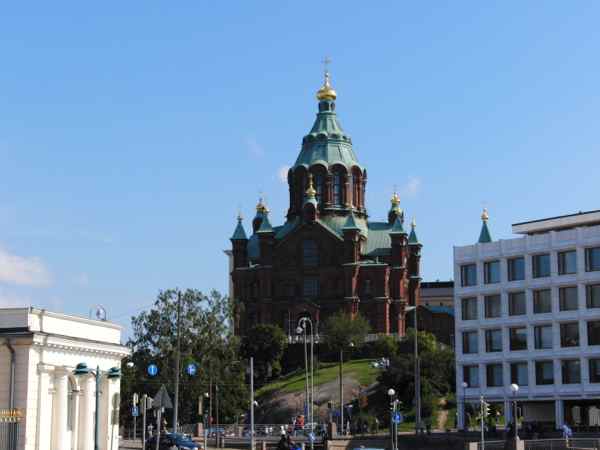 Cathedral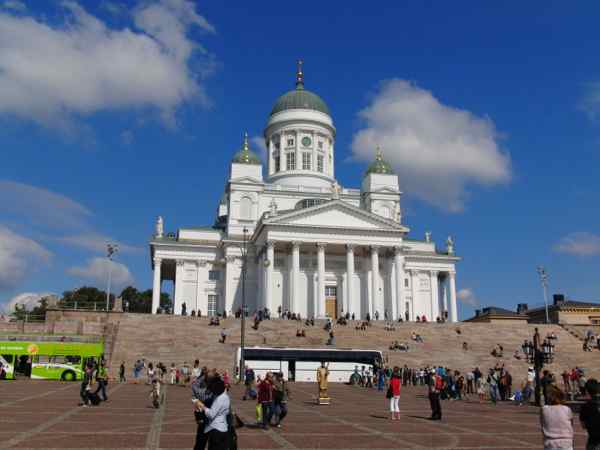 Senate Square
We were invited to a Cocktail Reception before dinner. We think we were invited since we are 4-star Mariners. Anyway, it meant shaking about 35 hands (way too many people were in the receiving line and it should have just been the captain, hotel manager and a couple of more people) and getting free drinks. Snookums walked away with two unopened cans of soda and Filbert walked away with a very full glass of red wine. Even Gary enjoyed a Coors Light.
August 21 (Sunday, Day 14, Nynäshamn, Sweden; 1 SEK = $0.16; $1 = 6.41 SEK) -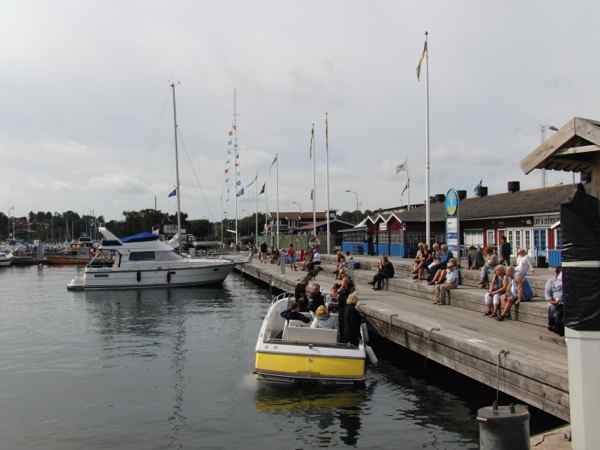 Sittin' on the dock of the bay
We woke up and Filbert had an idea that we should eat breakfast on the local economy. That sounded good so we took the tender in and walked 15 minutes to town. (Nynäshamn was a 70-minute train ride to Stockholm.) Unfortunately, in Nynäshamn on a Sunday things don't open until 11 AM, noon or not at all. At 11 AM we decided to buy a picnic lunch from the grocery store. Filbert bought a chicken wrap, a Coke Zero and two individually wrapped packages of Wasa crackers with pasteurized process cheese in the middle of them and Snookums bought a ready-to-eat salad and a savory cheese roll from the bakery. The grocery store had more varieties of Wasa (dry, flat crackers) than any stores at home have. But, Sweden is the land of Wasa! Our picnic lunch cost $22 which wasn't too bad, considering we were in Sweden. (Bing cherries were $10/pound and some kind of meat [probably a pork loin] cost $20/pound.) We took our lunch to the harbor and ate it while sitting on the harbor wall. The rest of the town (population 20,000) seemed to be there, too. It was a sunny day and in the low 70s which is probably a hot day for Sweden.
Filbert didn't buy any beer at the store since all of the Swedish beer was only 3.2% alcohol. (Okay , he said he didn't buy any since we were still going to walk a long ways!) On the plus side, while checking out with her credit card, Snookums asked the cashier to charge her for the cheapest currency coin and the woman gave her a Swedish krona and didn't charge her for it. Snookums did see a coin on the ground on the walk to town, but it was behind a chain link fence and she couldn't get to it.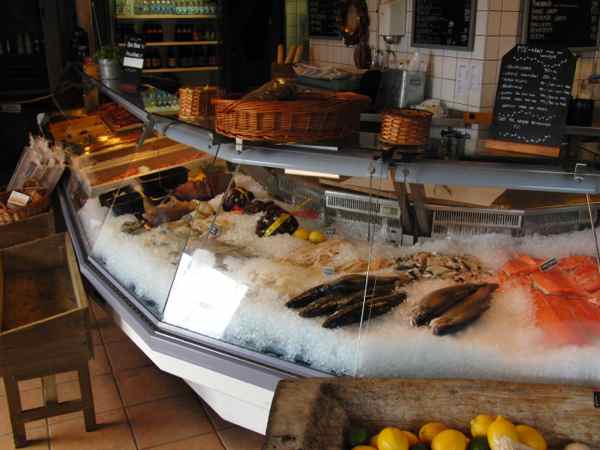 Swedish fish
August 22 (Monday, Day 15, At sea) -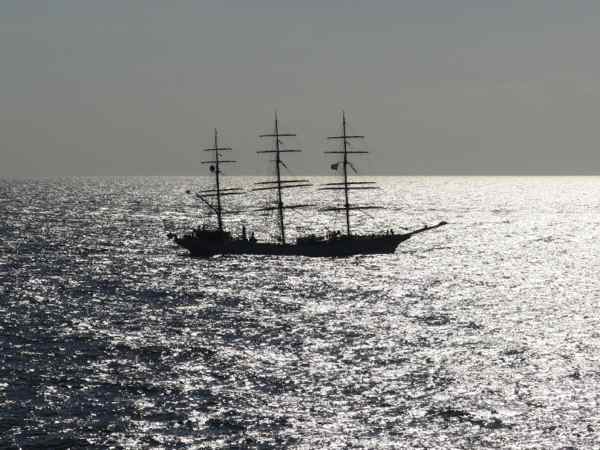 Vikings! Pirates! (eh, probably not . . .)
At last, a sea day! We both woke up kind of early and enjoyed a room service breakfast – two pots of coffee and a pot of hot water for Filbert (for his high protein instant oatmeal) and two raisin buns for Snookums. Holland America makes the best raisin buns and this ship uses the largest raisins Snookums has ever seen. She has been eating oatmeal from the buffet for most breakfasts since she can put the huge raisins in it.
Filbert went to the 30-minute morning lecture about the history of Nelson and Trafalgar and also the afternoon one about the history of the Vikings.
Around 12:30 we entered an area off the coast of Copenhagen that is very shallow. A pilot came on board and we traveled six knots for about two hours. At one point the bottom of the sea was just two feet under our keel. That is very shallow! The day started cloudy and foggy, and the ship even blew its foghorn several times, but by the time we passed by Copenhagen, it was sunny.
1,800 of the 2,100 passengers are getting off in Dover on Wednesday. The 300 that are staying on to New York are doing what Holland America calls a Collectors' Voyage. HAL puts some cruises back-to-back and prices them a bit cheaper and calls them Collectors' Voyages. We got an invitation today for a free dinner in Tamarind, the pan-Asian restaurant, since we're on the Collectors' Voyage. We weren't expecting that so it was a nice surprise.
Snookums spent most of the day reading, watching TV (Shanghai Noon, Black Swan, Duke vs. China basketball live from Beijing) and Filbert spent most of the day on the balcony before napping around 4 PM. He might be catching Snookums's cold.
Tonight the six of us enjoyed dinner at Canaletto. This is Holland America's free Italian restaurant on the Lido deck. It is formal night but on Lido formal attire is not required so we made reservations especially for tonight for this restaurant. It was very good and we all agreed to eat here again during two of the remaining five formal nights.
August 23 (Tuesday, Day 16, At sea) -
Filbert's cold is pretty bad but Snookums's seems to be getting better. However, we're both having an enjoyable time, but don't necessarily have a lot of energy. We did manage to attend the 2 PM Collectors' Voyages presentation. We received an invitation for this and since it wasn't in the daily program, we decided to attend. It was a brief overview of what would happen tomorrow as all but 370 of us would disembark. We learned that a special gangway was being set up for us so that we wouldn't have to stand in line like the others getting off for the last time. We also found out that a shuttle bus would be available to go into Dover's town center for $6 roundtrip. Free champagne and mimosas were handed out so it wasn't all bad.
Tonight's dinner was the "Master Chef's" dinner where the waiters do a bit of singing and dancing. None of us really cared for it and the food wasn't that good, either. On the way out Snookums asked the maitre 'd the date of the dinner on the upcoming segment and was happy to be told that there wouldn't be one. In fact, the maitre 'd said that the ship hadn't had one of these dinners for a couple of months. We had one on our Alaska cruise and would be happy to never have one again!
When we got back to our cabin we were disappointed that we hadn't received the daily "Explorer" (the daily program) or the Dover map that we always get at night and the night before a port. Snookums called to the front desk to make sure that they knew that we were on the ship for the next 17 days and they said that the papers would be delivered right away.