The 2012 Grand Asia & Australia Voyage, Part 13
Friday, October 16 2015 @ 07:00 AM CST
Contributed by:

filbert

Views: 2,723
The 2012 Grand Asia & Australia Voyage, Holland America ms Amsterdam
Text and pictures by Snookums, webification by Filbert

Part Thirteen

(Remember to click "read more" if you're looking at this from the main medary.com page to get the whole article!)

November 24 (Saturday, Day 66, At Sea) -

Snookums went to Total Body Conditioning and then had a 75-minute massage that was concentrated on her left shoulder. After the massage she signed up for two more. Filbert spent part of the morning in the library doing his research on Honolulu until it was time for Team Trivia. Since Snookums filled in on Filbert's team yesterday, she had to fill in on Sharie's team today. Each team member earned one Dam Dollar and neither team placed.

Immediately after trivia Snookums had her third $29 floral arranging class and made a flat, round arrangement using dried leaves that the florist has only ever seen in Fiji. We each got five orchids, three roses, five stems of baby carnations and a few stems of mums to go with the greens and the dried leaf that was woven into an abstract design. After the flower class, Snookums and Sharie hurried to crafts and made a Hawaiian door hanger. It was the lamest craft to-date, but considering Nancy's other crafts have been really nice, that's okay.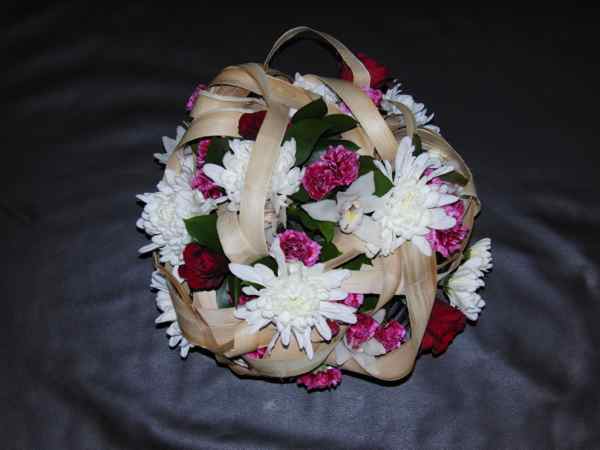 Floral Arrangement, Another One
Snookums went to 5 PM Abs Class, but Kristina was nursing a very sore back and since Snookums was the only one attending, Snookums told Kristina to take care of her back and not worry about teaching a class and Snookums rode the bike for 20 minutes instead.
We got dressed up and went to the 6:45 PM medallion ceremony and wore our silver medallions that we were just awarded for reaching 300 actual days on a HAL ship. (Snookums was actually awarded hers in July on the Alaska cruise but HAL obviously forgot and gave her another one which meant another free photo with the Captain.) The six of us from dinner sat together and had a good time and even had a group photo taken (for free!) since all of us were medallion awardees. The dining room was full of star shaped brightly colored helium balloons and each place setting had a shiny pointed party hat. Shiny streamers were piled in the middle of the tables, too, adding to the festive atmosphere. It was called "Celebration Day" and HAL created it to celebrate the special moments in our lives with shipboard family and friends. Our table definitely celebrated and even took a lot of the decorations since we are going to surprise our waiter, Arya, on his November 30th birthday with a party after dinner.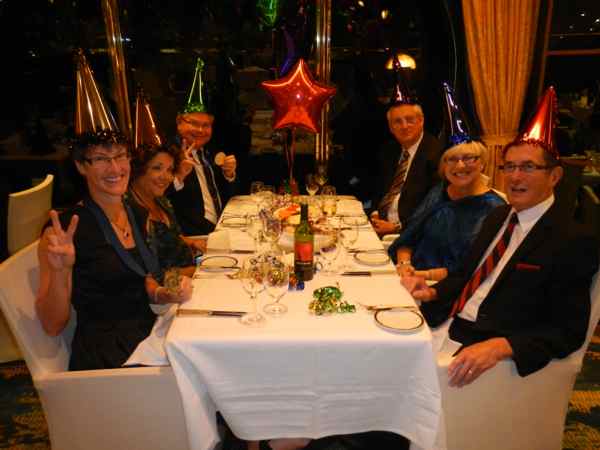 Pointy Hats
Since we have the largest cabin we volunteered to hold all of the decorations. We returned to our cabin carrying eight party hats (two of which were filled with table streamers) and 20 helium balloons. People laughed when they saw us. For the formal night gift, there were two identical serving plates on our beds showing our itinerary.
After that quick stop, we went to the 9:30-10:30 PM Dessert Extravaganza held on the 3rd, 4th and 5th deck Atriums. It was the typical "Midnight Dessert Buffet", but having it spread around the three atriums was a great idea and caused people to mingle more (in a good way – there were tables and chairs tucked here and there in order to sit and enjoy dessert before wandering to the next floor). We really enjoyed the peanut butter pie!
November 25 (Sunday, Day 67, At Sea) -
Snookums went to Fab Abs and was surprised to find Filbert already showered when she returned to the cabin at 8:15. After her own quick shower, we enjoyed breakfast in Neptune Lounge which we hadn't done in a few days. Then it was on to Barbara's lecture, "Things to See & Do in Hilo".
Snookums checked email after that and was very saddened to learn that the dear friend that we met on the Asia/Australia 65-day cruise four years ago (and had cruised with him and his wife three other times since then) had passed away. Gary and his wife returned home in mid-August from a HAL cruise and he was diagnosed on August 31 with pancreatic cancer. He passed away on October 13. Gary's enthusiasm for life will be sorely missed.
Filbert went to Team Trivia and got second place and two Dam dollars. Snookums attended crafts and made a floral fabric shoe bag that only involved threading the drawstring through the casing. She likes those kinds of crafts. Snookums also learned that the crafts instructor is given a budget of $0.20 (yes, 20 cents) per student per craft. Today's craft involved a large piece of cotton fabric, 18" drawstring and three felt flowers as decorations. It was definitely more costly than $0.20. And let's not even talk about the amethyst and rose quartz necklaces… Crafts Instructor Nancy Grace is great.
There was not a 5 PM fitness class. It was replaced by "Evening Stretch Class" since a passenger requested it so Snookums didn't go. Supposedly it will alternate with a "sweaty" class every night from now on.
At dinner we each hoisted a glass in memory of absent friends (Gary).
November 26 (Monday, Day 68, At Sea) -
Snookums went to Total Body Conditioning and then she and Filbert ate breakfast in Neptune Lounge. Yesterday Snookums told Sari (Pinnacle Grill steward who works in Neptune Lounge) that today it was Roberta's birthday. Sari had a cake made and Snookums brought a helium balloon from the 20 in our cabin. Roberta and Larry showed up for their breakfast and we sang "Happy Birthday" and "Panjang Umurnya" to Roberta and then had some cake. Snookums then had to go to her 10:15 AM massage. Brigitte kept her for 90 minutes although the massage was only supposed to be 75 so Snookums was happy! Filbert went to Team Trivia and won another Dam dollar and got one of the questions right for the team (and would have had another one right but no one listened to him). The photos from the medallion ceremony were delivered to our room. The photo of the six of us is great whereas in the photo of the two of us, we both look scared to death or pyscho.
Snookums made a flower lei at Crafts and then went to the Hawaiian High Tea but didn't see anything different and left. The entrance to the Dining Room was decorated in a Polynesian motif, but the display of tea-time foods wasn't very unusual. Snookums took a 2-hour nap (one of her few on this cruise) since the 5 PM class was once again a stretch class. Tomorrow it definitely is a sweaty class since Snookums talked to Kate (Neptune Lounge concierge) about it and had already written a complaint letter but Kate showed Snookums the Honolulu Daily Explorer and it says "Fab Abs" at 5. Filbert spent most of the afternoon on the verandah listening to Honolulu radio. It is supposed to only be in the mid-70s tomorrow.
November 27 (Tuesday, Day 69, Honolulu, Hawaii) -
Snookums was the only person at Fab Abs and then we took our passports and went through U.S. Customs. After a quick breakfast, we left the ship and decided to ride the Waikiki Trolley for $30 per person. We got off at the Honolulu Zoo and spent a few hours wandering around. It's a nice small zoo and Filbert found an eCoupon that saved us each $6 so our admission was only $8 per person. It was definitely worth that. The zoo had a Komodo Dragon and several Japanese tourists stood in front of the window and took photos. However, it was small compared to the ones we saw in the wild so Filbert didn't bother taking a photo.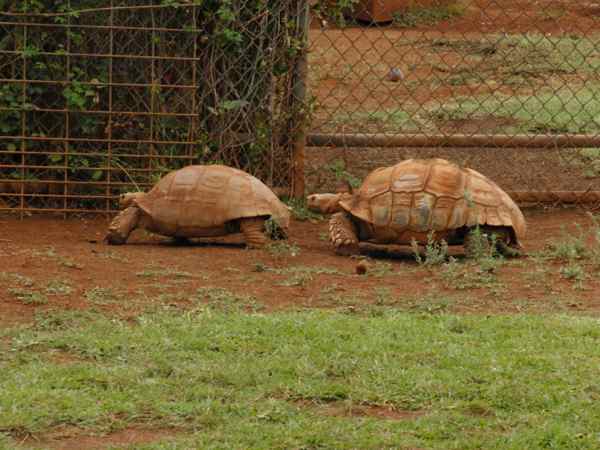 Rush Hour at the Honolulu Zoo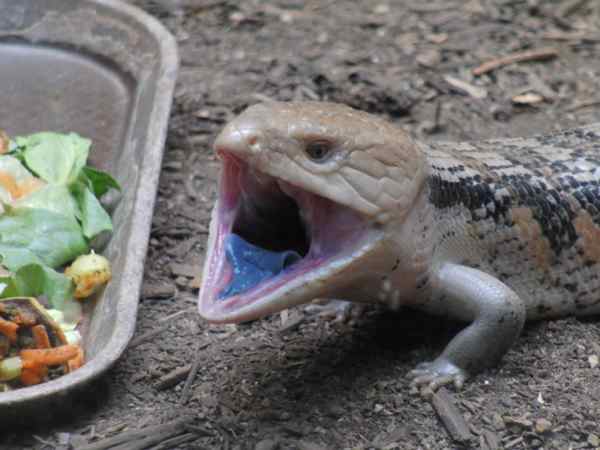 Blue Tongue
We asked the zoo cashier for a plate lunch recommendation and she directed us to the 51-year old Rainbow Drive-In about 1 mile away. It was a nice walk, although we were starving, and we each ordered the mixed plate for $7.25. It came with two scoops of white rice, mayonnaise-based macaroni salad or vinegar-based coleslaw and a thin piece of tasty soy/teriyaki marinated beef, a breaded chicken cutlet and a piece of lightly breaded mahi mahi. It wasn't healthy, but it sure hit the spot and filled us up. Snookums then got a slush float for dessert which was a bright red (cherry?) Slurpee-like frozen drink with a huge scoop of vanilla ice cream in it. We walked back to the trolley stop and when we were less than one block away, we saw it drive off. We sat on a stone wall in the shade with Waikiki Beach at our backs and waited 35 minutes for the next trolley. It was a nice wait and we used the internet on our iPhones and also made some calls. The temperature for the day was in the high 70s and just perfect.
When the next trolley showed up we finished our scenic Diamond Head sightseeing tour and saw the Diamond Head lighthouse, some overlooks and the inside of Diamond Head crater, a 760-foot tuff crater. We got back to the ship around 5 PM and showered for our dinner on the verandah.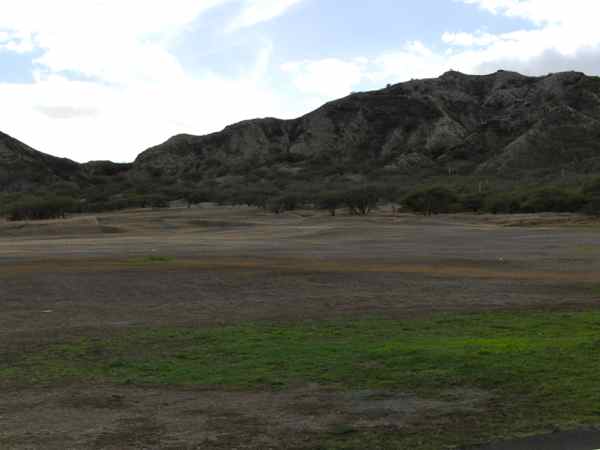 Inside Diamond Head Crater
John and Sharie came to dinner at 7:30 after being onboard for only around 20 minutes. They stopped at the Hawaiian Luau BBQ on Lido and got the free fresh orchid leis. The four of us enjoyed a nice view of the harbor and good weather while eating our dining room dinner. Laura and John stopped by at 8:15 and said "hi" before going to their cabin to relax from their full day which included hiking Diamond Head. The four of us went to the "Drums of Polynesia Cultural Show" at 9:30 PM and quickly decided that the Maori Cultural Show was much better. We stayed for the entire show though.
Sometime during our dinner, our neighbors, Phil and Flory, disembarked the ship due to Flory's pneumonia. The ship's doctor determined she needed to be hospitalized so the ship's staff helped Phil pack up and they departed earlier than their December 5 planned disembarkation date. Prior to her pneumonia, they were an independent 88-year old couple. Her pneumonia, though, weakened her and Phil was not able to help her as much as he wanted. We hope she makes a full recovery in the Honolulu hospital.
Snookums went to bed while Filbert stayed out on the verandah listening to Honolulu radio until he could no longer get a station after our 11 PM departure.
November 28 (Wednesday, Day 70, Lahaina, Hawaii) -
Snookums went to Total Body Conditioning and did a calisthenics-based circuit workout with the other two passengers there. She worked up a good sweat and got her heart rate high, too. After a quick shower and a quick breakfast, we went to Queen's Lounge to wait for our 4-hour West Maui Snorkel Cruise ($144.95 per person) on a Trilogy Catamaran. We took the tender to the pier and soon boarded the catamaran. There were only 20 or so passengers so luckily it wasn't too crowded. Before we even left the harbor (and before the safety briefing was given) we saw a pod of spinner dolphins. The captain gave the safety briefing and we were able to watch the antics of the many spinner dolphins spinning and flipping for us. It was amazing. People on the ms Amsterdam and in the tenders were enjoying the show, too. The crew of the Trilogy served us various fruits and sweet breads for a light breakfast.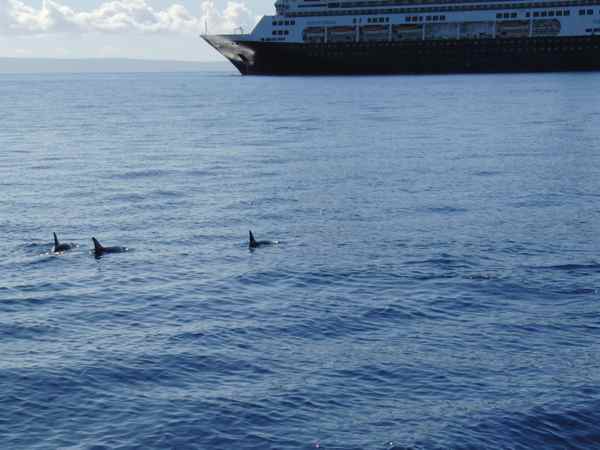 Dolphins just off the Amsterdam
We got to the snorkel spot and jumped in the frigid 78° water. Snookums was freezing, even in her wetsuit, and Filbert was fine. We saw a lot of lava-based corals and various fish (not many, but a good variety in very, very clear water) and the highlight was seeing two big turtles at two different times. We followed the first one for awhile and then saw a second one surfacing and watched it until it dove and hid under some rocks. Then it was time for Snookums to return to the catamaran since her teeth were chattering.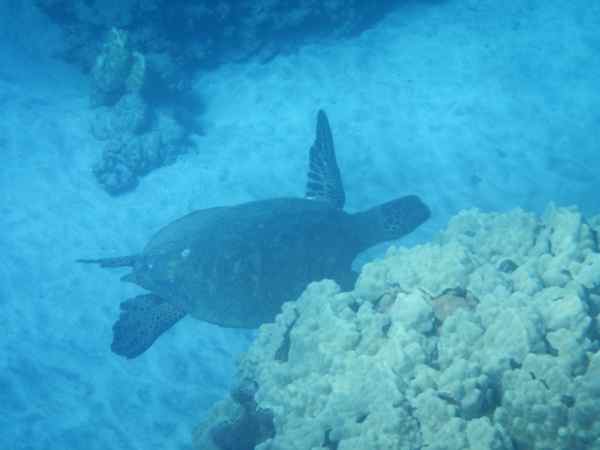 Turtle
There were chips and homemade salsa waiting for us and plenty of sunshine in the 80° warmth. Lunch consisted of various wraps and just like always after a snorkel, they tasted great. The chocolate chip cookies for dessert were also very good. Snookums finally warmed up prior to the catamaran returning to the pier although she kept her black fleece sweatshirt on the whole time while lying on the trampoline part of the catamaran.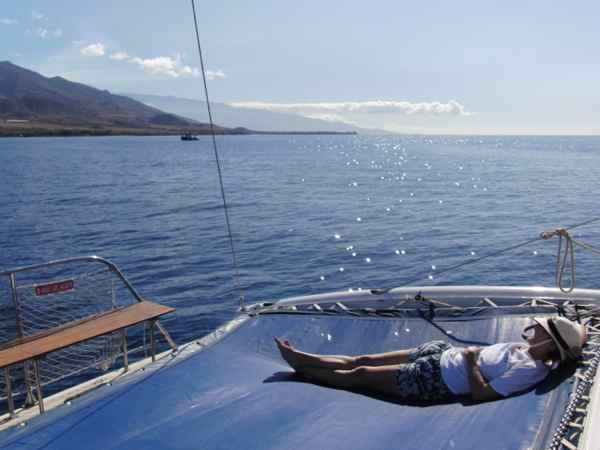 Sunning Snookums
On the way back to the pier we spotted two Hawaiian humpback whales. The migration just started and the Trilogy captain had only seen one prior to today so it was neat that we saw two. They surfaced a few times and we saw the flukes when they dove back down.
After we returned to the pier we walked around Lahaina for about an hour. We bought Maui Brewing Co. Coconut Porter beer for Filbert, Spam flavored macadamia nuts for a Christmas gift and a Hawaiian shirt for Filbert. We finally got back to the ship around 3:45 and were pretty tired and felt sunburned, but we weren't.
Prior to dinner we saw the full moon rise over the mountains of Maui (or maybe it was the island of Molokai?).
November 29 (Thursday, Day 71, Hilo, Hawaii) -
Snookums left the ship as soon as it docked at 8 AM to get the rental car. Soon after, she picked up Filbert, John and Sharie and headed for Hawaii Volcanoes National Park, 4,000 feet above sea level. It was around 72° and sunny in Hilo (population 42,000) and we were hoping it would be like that at the top. (The last time we were in Hilo we rented a car and about 10 minutes before we got to the national park, it started raining and visibility was bad so we only visited the visitor center.) After an uneventful 40-minute ride, we paid our $10 per vehicle entrance fee and parked at the visitor center for information. After a few minutes we decided what we wanted to see. It was still sunny and only 60° due to the altitude.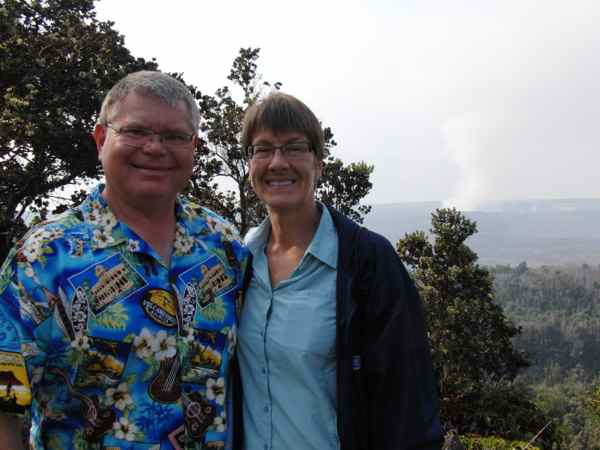 At the Volcano
Our first stop was just to walk across the street and go behind Volcano House (a lodge that is closed for renovations) to see Kilauea Caldera and its lava from as recently as 1982. We were the only people there and it was neat. Large plumes of smoke were coming from Halema'uma'u Crater and there were even places that looked to be very close to us that were sending up plumes. We didn't smell any sulfur but Filbert and Sharie could taste it in the back of their throats. Visibility was not crystal clear since the trade winds weren't blowing. As a result, the plumes of smoke were going straight up and just kind of hanging in the air and not blowing away. We also saw four kalij pheasant walking across a trail. We were hoping to see the endangered Nene (Hawaiian goose) but we didn't. Luckily Filbert and Snookums saw them at the Honolulu Zoo.
We got back in the car and drove to the Thurston Lava Tube but first stopped at the Kilauea Iki overlook and looked at the Kilauea Iki Crater which is a hardened lava lake still steaming from the 1959 eruption. People were hiking across the 2.4-mile lake, too, but we didn't have the 2-3 hours to spend doing that. We finally made it to the Thurston Lava Tube which is a 500-year old lava tube formed when an underground channel of molten lava drained from its cooled walls and formed a massive hollow chamber. To see it we had a short 0.4-mile walk through a lush rain forest.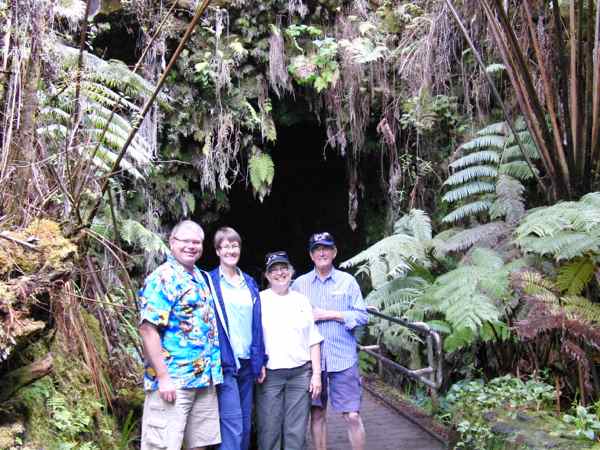 At the Lava Tube with John and Sharie
We got back in the car and decided we had time for one more stop and went to the Pu'u Pua'i Overlook and saw another view of the Kilauea Iki Crater as well as a lava mound. Several parts of the national park were closed due to high amounts of sulfur dioxide gas (Kilauea produces 250,000 to 650,000 cubic yards of lava per day) but we were very happy with what we saw.
We got back in the car and our next stop was Akatsuka Orchid Gardens and Sharie bought some hermetically sealed live orchids that she'll "smuggle" into Canada. (It is legal to bring them into mainland U.S.)
We drove to Hilo Bay Café since Diane Fast, the Amsterdam's pianist, said it served the best hamburger in the world. Well, the burgers were good, but not great. It was a nice lunch, though, and since it was located in the same strip mall that contained WalMart, we were able to do last minute shopping. Sharie purchased a Hawaiian baby outfit for a baby that was born while she was on this cruise. The WalMart didn't have any local beer, though, so after we left WalMart we drove to the grocery store across the street and Filbert found some Hilo-brewed beer and John found Rolling Rock (which isn't available in Canada) and everyone was happy. The line at WalMart for the free shuttle back to the pier was long since there was a 5,000-passenger Princess ship in port today, too. We were very happy to have a rental car.
After filling up the car and returning it to Alamo (intermediate car for a total of $45.42), we made it back to the ship around 3 PM. All aboard was 4:30 and two passengers (Peter and Kendra) and a crewmember (Christopher, the acupuncturist) were late and boarded the ship at 4:46. It's a good thing the ship waited for them since the next port is San Diego on December 5. The three of them also rented a car and went to the volcano and obviously did more hiking than we did!
November 30 (Friday, Day 72, At Sea) -
Snookums went to Total Body Conditioning at 7:30 AM and then Filbert and Snookums ate a leisurely breakfast in Neptune. Around 9:15 AM there was an announcement for a specific guest to call the Front Desk. Snookums asked Kate what that could be about since Snookums never remembers hearing an announcement like that while the ship is at sea. Kate explained that the guest was supposed to be quarantined in her room but was walking around the ship! At that point, Snookums realized who the guest was (and her cabin number).
Filbert left in order to go to Merryl Kafka's lecture, "Fish Diversity and Adaptations" and he said it was dry, but okay. Snookums went to Travel Guide Barbara's "Spamming with the Travel Guide" and learned that SPAM stands for Spiced Ham and that Polynesia citizens consume 16 cans per person annually. In the U.S. it is produced in Austin, Minnesota and Fremont, Nebraska and the SPAM Museum is in Austin, Minnesota. There is even Turkey SPAM (and there used to be a kosher SPAM product) and there is also a SPAMMobile (like Oscar Mayer's WienerMobile). It was a silly lecture and cooking demonstration, but fun. Barbara grew up eating SPAM and still buys it. She had never heard of SPAM flavored macadamia nuts and plans on buying some the next time she is in Maui.
Snookums returned to the cabin prior to Filbert. When he came back from Team Trivia, he was not happy since they finished out of the money for the first time ever. Lunch was a special Indonesian lunch by the pool and it was very good and the servers were wearing their Indonesian clothing and looked very nice. Due to the quarantined guest wandering around the ship earlier in the day, the whole ship was put in "Code Orange". This meant that no guests were allowed to serve themselves and not even salt and pepper shakers were on the tables. At night the menus are sanitized after each guest uses them and the entire ship gets extra sanitization (like the fitness center being fogged and the floors and handrails on every deck sprayed with disinfectant). All because of one or two stubborn guests…
Clocks were again set forward and then Snookums went to crafts to make "bath fizzies". They have to dry overnight so Snookums's team (and she volunteered to be the team leader) won't get to find out if they worked until tomorrow's craft class. While Snookums was at crafts, Filbert went to Jon Bailey's 3 PM lecture, "Another Op'nin' Another Show: The Broadway Stage – Mirror of our Lives". He left after 20 minutes since the topic didn't interest him. (Tablemate John F. said it was a great lecture, but John F. is a Broadway buff.)
When Snookums returned to the room she found Filbert mopping up a broken bottle of Hawai'i Nui Brewing Hapa Brown Ale that fell out of the refrigerator when he opened it. The ocean swells are big and the ship is doing a lot of rocking and rolling. No one seems to be getting sick, but there is a lot of slow and steady motion. Snookums went to the 5 PM Fab Abs and there was one other man there. Kristina was also doing a personal training session for a crewmember so Fab Abs consisted of various ab exercises performed for two minutes at a time. When she finally said "One minute for this one", we both rejoiced. That's sad when an exercise for one minute seems like an easy thing!!
At 7 PM we took 21 helium balloons that we absconded with after the Celebration Day formal night to Mr. K (Assistant Dining Room Manager) for him to hide until our surprise 29th birthday party for Arya, our waiter. Dinner was uneventful until the birthday cake and balloons came out. Snookums pulled out the leftover Celebration Day party hats and streamers and passed them around. Mr. K made Arya sit down at the empty table near the three tables that he served and the entire 5th floor dining room staff came over to sing Happy Birthday (and Panjang Umurnya in Indonesian) to him. Arya was very, very surprised and neither Snookums nor Filbert had ever seen a waiter have a guest-organized celebration like this. At the end of the singing, some of Arya's fellow workers smeared frosting on his face and then doused him with water! It was all in good fun. Mr. K thanked our table for showing such support to one of his employees. Our three tables pitched in to buy Arya the $29 photo that was taken of him at one of the Australian ports when he was working the tenders. We also gave him a 2012 Grand Voyage green messenger bag, $60, a bottle of champagne, a 6-pack of soda, a bag of Moroccan lemon chicken potato chips (that Filbert and Snookums bought in Auckland and decided that neither of their diets needed) and a bunch of HAL milk chocolates that are left on every bed pillow nightly. It was basically a party in a bag. There was a karaoke pajama party occurring in the Crow's Nest until 10:15 but by the time we left the dining room it was 10 PM and we called it quits. We had a fun night.
December 1 (Saturday, Day 73, At Sea) -
Snookums went to Fab Abs and upon returning to the cabin, was happy to find Filbert ready for HAL's 9 AM "Walk for the Cure" 3.1-mile walk around Deck 3. Filbert and Snookums led the whole way and finished in 47 minutes and probably did 13 laps rather than the official 12. After the walk Snookums enjoyed her piece of white cake with pink frosting (but didn't like the pink frosted spice cookie) while Filbert drank two glasses of water. We went to Neptune Lounge for a late breakfast and since the ship was still in Code Orange, Kate and Sari had to serve the coffee and food.
Filbert went to Team Trivia and his team got 2nd place, the bonus question and an additional dollar since Gene Young screwed up a question and gave everyone in attendance a dollar because of it. After lunch we moved the clocks forward an hour for the last time, and Snookums went to crafts to stake out her spot in order to make an elegant glass pendant necklace. (When jewelry is the daily craft, the spots fill up at least 45 minutes prior to the start of the class.) When the glass pendants were distributed, Sharie was very happy with her blue one and Laura, who came to her first crafts class, was thrilled with her purple one. Normally Snookums doesn't care, but today she traded her green one for a blue and yellow one so that she can wear it to South Dakota State University basketball games. Everyone was happy. Crafts Instructor Nancy had a dolphin quiz prior to the class and our team came in second. However, everyone at crafts got a prize of a silver polishing cloth so all was well.
Too soon it was time for Snookums's 5 PM Total Body Conditioning. She was the only one that showed up and Kristina worked her hard. With two fitness classes and the walk, today was an extra-active day.
Snookums spent most of her down time today writing the journal. She still has many port days that are just in note form and need to be flushed out. With only three sea days left, she has her work cut out for her in order to get the text done prior to leaving the ship. Filbert hasn't spent much time choosing the photos for this journal so he'll be extra busy when he gets home.
Right before dinner the Captain made an announcement that due to so many cases of GI illness (around 15), the ship is in Code Red which means that the library and Jacuzzis are closed and waiters will be serving the bread and butter at dinner along with salt and pepper. (Anything that can be handled by passengers is no longer allowed.) He announced that there would be no Fall Ball tomorrow night and Snookums bets that there will not be the Sunday morning market (with popcorn and cotton candy) that she heard about this morning from Randall, the onboard marketing manager.
December 2 (Sunday, Day 74, At Sea) -
Snookums woke up at 9:40 in order to make her 10:15 massage. Filbert slept until 10 AM and Snookums and Filbert didn't see each other until they passed each other as Snookums returned to the cabin and Filbert went to noon Team Trivia. Snookums showered and then it was off to a celebratory lunch since Filbert's team won trivia and got the bonus and therefore he got 4 Dam dollars. After lunch Snookums sat and talked to Laura until it was time for crafts where she made a Christmas card using the technique of iris folding. Filbert attended John Pippenger's Public Forum on "Trade Deficits". A Public Forum is where a guest can sign up to give a lecture. He and Big John discussed it at dinner and other tablemates joined in.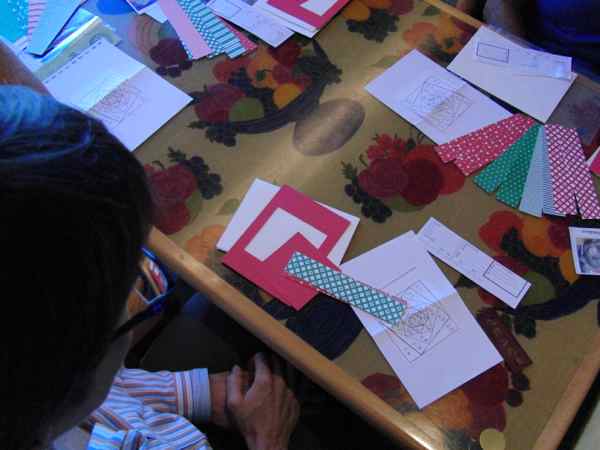 Crafts
When Snookums went to the 5 PM Fab Abs class, the ocean was like glass and it was sunny and 70°. She was the only one there so Kristina had her use the Pilates Reformer machine. Once again, a 30-minute abs class made her entire body feel like jell-o.
Formal night dinner was fun especially since there was free wine, beer and sodas due to the Code Red cancellation of the Fall Ball. Our table was louder and more raucous than usual and even the Captain looked at us (twice!). That made us laugh even more and Laura actually thought she hurt her side laughing so much. We took the fall-themed centerpieces and Sharie really wanted the garland in order to decorate her front door at home since it matched the fall flag that she has so Arya got her some of it from the entrance.
December 3 (Monday, Day 75, At Sea) -
Snookums went to Fab Abs and was the only one there. People must be sick, tired or packing since the morning class usually has at least four people in it. She worked hard, but only burned 89 calories since abdominal exercises don't seem to burn too many calories even though the abs "burn"!
Filbert went to Team Trivia and although his team got third for the day and one Dam dollar, they finished first for the segment so each team member got $50 shipboard credit which is a whole lot better than getting Dam dollars!
The Grand Show Buffet was in Lido and it was a nice buffet with crab claws and other pricey things. Snookums had beef stroganoff but really enjoyed her pieces of pecan pie and carrot cake. Snookums and Filbert sat with Laura, Big John and the other two women from their winning trivia team. While eating lunch by the pool, they saw the shipbuilding sea trials. Four guests (or four groups of guests) made model ships out of material found on the ship. They had to float and hold 24 cans of soda. All four of them were seaworthy and there was a 4-way tie for first so each participant was awarded 100 Dam dollars. However, one of the boats was head and shoulders above the other ones and HAL actually "bought" it for 200 Dam dollars and will display it during the 2013 World Cruise that starts this January.
Snookums, Sharie and Laura went to crafts (Sharie always did crafts and this was Laura's second time) and made holiday stickpins and earrings. Sharie and Snookums then went to the guest talent show which was not too bad. After that it was time for bingo ($20 for 3 cards) with the winner getting a 7-day cruise so Snookums and Sharie stayed for that (and Laura came for it). Laura had won two other Bingos during the cruise but most days there weren't the necessary 15 participants so a cash Bingo wasn't held and a Dam dollar Bingo was played instead. Snookums and Laura stood up since each only needed one more number, but as they were standing, a woman yelled, "Bingo". The woman's card was verified and she won and then Kevin, the Assistant Cruise Director called one more number just for fun and Snookums would have won. Oh well. The "Win a Cruise" lottery was also picked but the winner wasn't present. Snookums spent $20 on that, too. It was a good thing that Filbert won $50 earlier in the day since Snookums just spent $40 of it!
After Bingo Snookums had just enough time to get ready for Total Body Conditioning. As frequently happened, she was the only participant so Kristina did a kick boxing class. In 30 minutes Snookums burned 325 calories so it was a great workout.
At 7 PM we had our last Deluxe Verandah Suite event which was a "Sweet" Champagne Farewell. There were probably only around 32 guests in attendance since several got off in Honolulu and others didn't want to possibly get exposed to the Code Red germs. It was a "Sweet" champagne farewell since Mumm's champagne was being served. Snookums enjoyed two different non-alcoholic drinks – one was grapefruit-based and the other was raspberry and they were both quite good. Luckily at just a few minutes after 8 PM, Filbert realized it was time for dinner so our party of six left and went to the dining room.
There was a poem on the table explaining that wine, beer and sodas were free tonight (again) since it was a near-final culinary civility. Filbert and Laura have nine bottles of wine left from their shared wine package of 24 bottles and only one more dinner (tomorrow night's) so seven bottles are going to be delivered to cabin 7028, our cabin.
December 4 (Tuesday, Day 76, At Sea) -
Snookums woke up and went to Total Body Conditioning and was the only one (again). Filbert was ready for breakfast when she returned so after a quick shower it was off to Neptune Lounge. After breakfast we (Filbert) finally started to pack. Snookums filled out the guest satisfaction surveys and gave top scores to just about everything except for some of the lecturers. There was even a rainbow outside.
At noon Filbert went to Team Trivia and his team won today but since it was the final day, Gene gave all participants 20 Dam dollars. After lunch, Filbert returned to packing and Snookums went to crafts and made sun, moon and star earrings (and Laura was there for a third, and last, time in a row). At 4 PM we went to redeem Filbert's Dam dollars. Laura and Sharie gave Filbert many more so his own pile of 70 or so grew to around 150. He picked out two HAL coffee mugs, an 8MB flash drive, a mini-Maglite, and a nifty daypack (that he gave to Snookums). Snookums wanted the HAL silk scarf and Cruise Director Gene Young gave it to her since the guest satisfaction surveys had been turned in. Both Filbert and Snookums were happy with the prizes.
Snookums was hungry around 5 PM so we went to Neptune Lounge. The morning's disembarkation presentation was on TV and Snookums watched it. It was pretty good since Gene made around ten funny (and very creative) videos. Gene also asked Nestor (wine steward) to sing "Imagine" in Tagalog and he was very good. Finally it was time for the crew farewell and most of the crew seemed to fit onstage. It was a very nice disembarkation and crew farewell lecture.
From 4:30 – 7 PM there were complimentary drinks in all of the bars for the "After Party", but Filbert finished up his final glass from a box of wine and Snookums didn't want anymore non-alcoholic drinks so HAL saved money on us.
Big John didn't make it to dinner since he was quarantined as of around 5 AM today. Hopefully he'll feel better tomorrow. Laura figures he got it from all of his time in the casino playing poker. He even played last night from 9:30 until around midnight.
December 5 (Wednesday, Day 77, San Diego, California) -
We got off ship at 9 AM and took the airport shuttle for $7 per person. We were at our Southwest gate by 9:35 AM which has to be some kind of a record. We got to our house at 6:30 PM. It was a great trip home after our best cruise ever. We traveled 22,218 nautical miles or 25550 statue miles and averaged 17.7 knots.
We were saddened to learn a few days later that Flory, our 88-year old suite neighbor, passed away on December 5 in Seattle after surgery. Her husband Phil still plans on taking a March, 2013 Mediterranean cruise. As recently as five years ago, the two of them took self-directed bicycle trips across Europe so cruising was their answer to easier travel. They were a delightful couple and enjoyed every day to its fullest.
This cruise was our best ever for several reasons:
- We really enjoy having a Deluxe Verandah Suite for Grand Voyages due to the Grand Voyage perks like the hosted mini-bar and special suite events.
- Neptune Lounge is a family all its own and we enjoyed meeting several great friends there every day.
- Our tablemates were fantastic and we'll definitely see each other again.
- HAL crew members on Grand Voyages are more relaxed and even friendlier, if that is possible.
- The fitness and crafts instructors were great.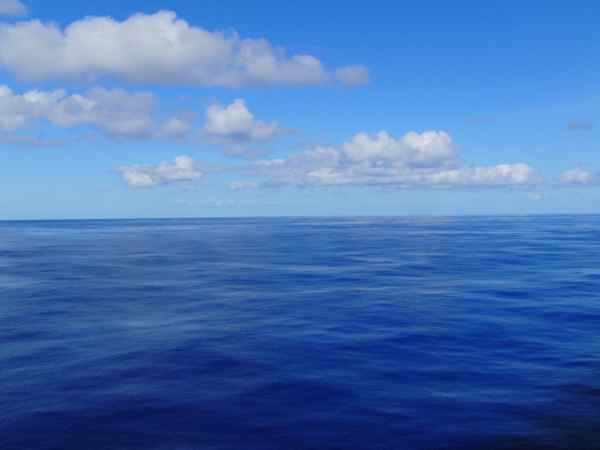 We wish smooth seas to everyone!