The 2012 Grand Asia & Australia Voyage, Part 11
Friday, October 16 2015 @ 06:50 AM CST
Contributed by:

filbert

Views: 2,042
The 2012 Grand Asia & Australia Voyage, Holland America ms Amsterdam
Text and pictures by Snookums, webification by Filbert

Part Eleven

(Remember to click "read more" if you're looking at this from the main medary.com page to get the whole article!)

November 14 (Wednesday, Day 55, At Sea) -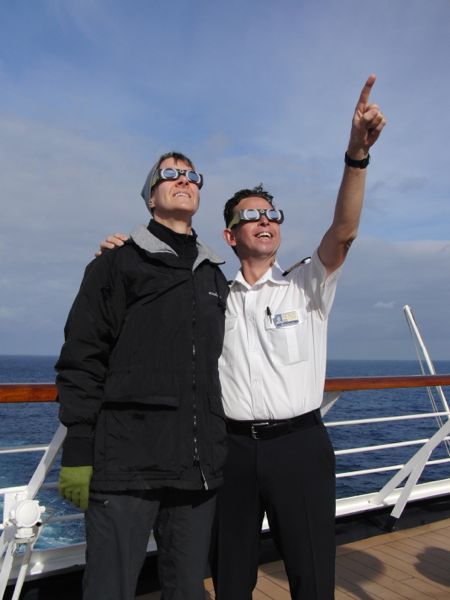 Look! Up in the Sky!
Filbert set the alarm for 7 AM and we got dressed and went outside to the aft pool on Deck 8 for the eclipse. It started out cloudy, but it seemed like the captain was trying to take us to the sun. Around 7:30 we were able to easily see the eclipse using Filbert's pinhole telescopes. (The paper glasses also worked, but the pinhole telescopes were easier to use.) Around 8:05 AM the maximum coverage occurred of around 60%. A solar eclipse occurs when the moon passes between the earth and the sun, casting a shadow over the earth. After that scintillating show, we ate breakfast in Neptune.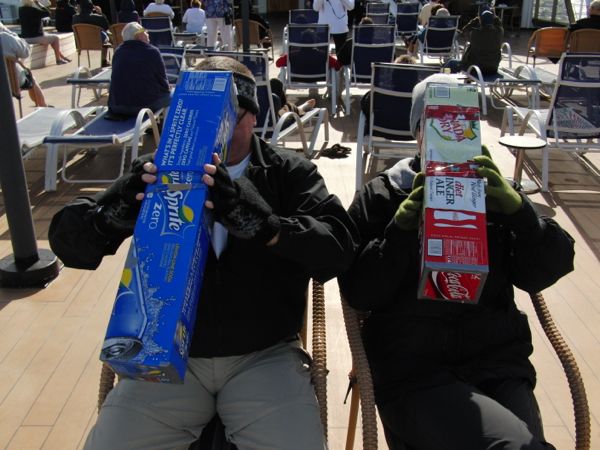 Eclipse-watching
The Eclipse
After quick showers, Snookums went to the 10 AM Shore Excursions overview only to learn that it had been canceled. So, she went to the Shore Excursions desk instead and asked her Fiji snorkel question. Follow-up is required and an answer will be forthcoming. Then she attended the 11 AM "New Zealand Overview & Things to See & Do in the Bay of Islands".
While Filbert's team was earning second place at the noon Team Trivia Challenge, Snookums and Sharie planned their day in Hilo, Hawaii. Snookums has a rental car reservation and Sharie and John will join Snookums and Filbert for the day.
The ship's clocks were moved forward at 2 PM and then Snookums made an island beach greeting card in Crafts class and Filbert attended Beth Foggin's "Canadian and American Exiles". He was not impressed with this Exploration Series speaker and hasn't been impressed with any of the speakers on this cruise. Filbert spent the rest of the day on the verandah writing his book, even though it was cloudy and a bit chilly.
Snookums attended Total Body Conditioning and Laura was the only other attendee. Kristina still managed to work both women very hard.
Snookums and Filbert got dressed for the "Medieval Night" formal night in their Renaissance Festival costumes that Snookums's mother made and everyone loved the outfits. After dinner they could have attended 1982 Grammy Award winner Melissa Manchester's concert, but instead went to the "Medieval Night & Jousting Competition" in the Crow's Nest. However, the jousting was pretty lame and no other passengers wore costumes so they went to the Melissa Manchester concert. Her adult daughter even joined her on stage for one song which she didn't do for the 8 PM show.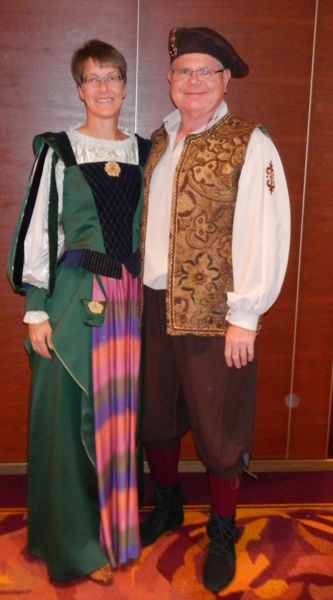 Medieval Night
November 15 (Thursday, Day 56, At Sea) -
Snookums went to Total Body Conditioning and learned that Fitness Instructor Hamish is leaving the ship tomorrow, prior to his contract being up. He lives 30 minutes from Waitangi and is basically "jumping ship"! This means that Kristina will have to teach all the classes every day which isn't fair, but that is how it is on a ship. Snookums later learned that Hamish will lose the $500 in his shipboard account, and a $500 balance is required in order to prevent crew from leaving, and he will never be able to work on cruise ships again. He will also lose his last paycheck, but they don't get paid much so that won't be too much. He was also responsible for his own transportation back to his home, but since he lived in Waitangi, that cost was zero. Hamish is only 21 and has a lot of life to learn!
Snookums and Filbert ate breakfast in Neptune Lounge and Filbert had a lively political/General Petraeus discussion with Dave and Ralph. (Ralph and his wife, Kathy, were on the 2008 Asia/Australia cruise with us but it took us about 20 days on this cruise to realize that!) Everyone had a good time. Then it was time for showers and both went to "Things to See & Do in Auckland". Filbert stayed for the first part of the "Sir Peter Blake" lecture before going to his Team Trivia Challenge. Filbert's team got second place (and one Dam dollar) and today Sharie joined a team for the first time and her team got first place!
Snookums was busy investigating what to do in Apia, Samoa and Honolulu and even had the front desk make free copies for her of parts of Frommer's Honolulu.
The ship lost another hour at 2 PM and Snookums took a quick 30-minute power nap before making a rose quartz gemstone chip bead necklace in Crafts. Filbert wrote more of his book on the verandah on the sunny, but cool, day. Snookums went to Fab Abs and only two others were there (Laura - tablemate and Sue from crafts). Kristina managed to find all sorts of great ab exercises using the stability ball and at the end of the class Snookums's entire body felt noodle-like and worn out.
November 16 (Friday, Day 57, Waitangi, Bay of Islands, New Zealand; 1 NZD = $0.82, $1 = 1.23 NZD) -
Snookums went to abs class and then we left the ship as soon as it dropped anchor and and tendered to Waitangi around 11 AM. The Treaty of Waitangi was signed here in 1840 between 46 Maori chiefs and the British and it granted the Maori citizenship and land rights while accepting British governorship. The Bay of Islands is dotted with nearly 150 islands that have escaped development and the townships are all on the mainland. It was around 60° and partly cloudy.
We took the shuttle to Paihia, about one mile away. Paihia was settled in 1823 by the Europeans as a mission station and is now a vacation base for people exploring the Bay of Islands. We climbed a few steps up to an overlook. At the base of the overlook was a nicely decorated public toilet, too, with plants growing from the roof and artsy pieces here and there. Then we went in search of lunch. We decided to have fish and chips ($6.50 per person) but it ended up not being that tasty since there was a lot of batter and it wasn't flavorful. But, it was lunch. Then we went to the craft market on the Village Green. There wasn't much there so we started to walk to the overlook hike. We stopped at the small grocery store and identified things we would buy later in the day but Filbert went ahead and bought some Coke Zero. A 660 ml bottle cost $4.19 while a 1.5 L bottle cost $3.19. Both were cold so he bought the 1.5 L bottle. Australia and New Zealand must have some kind of high tax or surcharge on individual-sized bottles since water and sodas are very expensive in small bottles.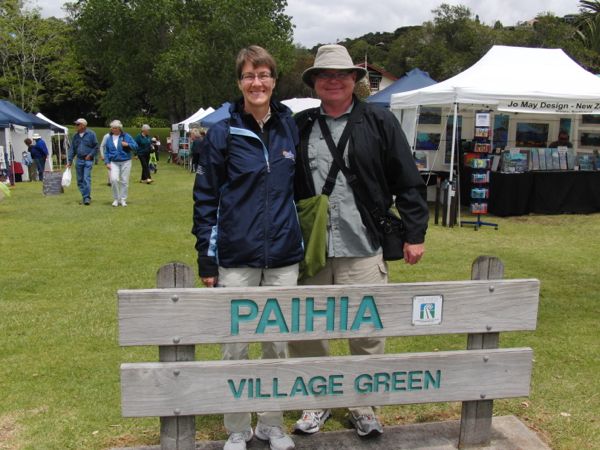 Paihia Village Green craft market
We continued walking to the end of School Road and found the hiking trail. We walked uphill for about 40 minutes in a New Zealand rain forest. We made it to the overlook and had a clear view of Russell, the first national capital until 1844, as well as Paihia and the surrounding "towns" of Opua and Okiato and Waitangi. It only took around 25 minutes to walk down. It was a great workout and the temperature warmed up to around 65 and was now mostly sunny (although we were covered by the tree canopy) and was a perfect day for a hike.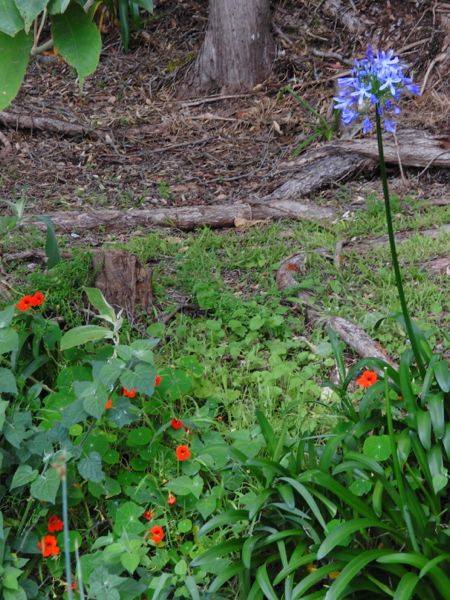 New Zealand flowers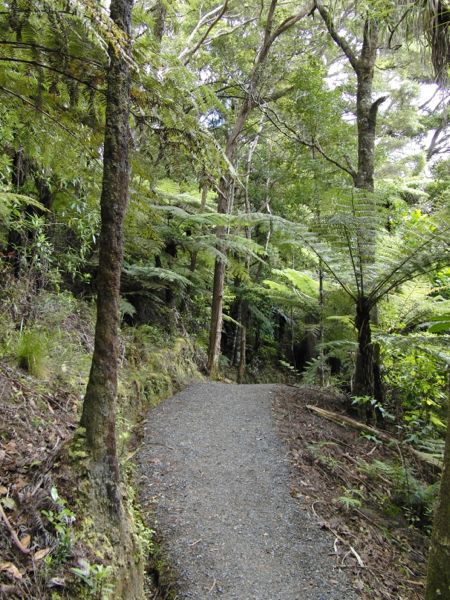 Rain forest path
We walked back to the ship and stopped at the full-size grocery store and bought beer, New Zealand licorice for Mom, pineapple lumps (New Zealand candy that is pineapple flavored marshmallows covered in milk chocolate) and milk chocolate Hokey Pokey mini candy bars. Hokey Pokey is kind of like the middle of a malted milk ball in texture but without the malt. Snookums loved it! (The pineapple lumps and Hokey Pokey are for sharing with our tablemates so we also bought some New Zealand-made low carb/diabetic bars for the diabetic at our table so that person wouldn't feel left out.) Filbert also bought a $7.30 1.25 liter bottle of Scrumpy (hard cider) since he had never seen it in that size before. There were several kinds to choose from so he went for the 8.2% alcohol rather than the 5% alcohol.
We got back to the cabin around 5 PM and Snookums took a nap. It was our neighbor's 63rd wedding anniversary and we gave them a card earlier in the day. At dinner, Filbert and Snookums received an anniversary cake and Snookums thought maybe it was for the couple in the cabin next to us. Mr. K, assistant dining room manager, showed us the work order that listed our names, November 16 and our cabin number for our anniversary. Now we know why we didn't get our cake on October 16 – someone wrote down the wrong date. Mr. K thought it was strange that we were having a second anniversary and we assured him that we had nothing to do with it and that no singing was required. Our table enjoyed the cake, though!! Snookums also brought the pineapple lumps and shared them although it appeared that only Snookums and Filbert tried them. Snookums thought they were good, but she likes just about any kind of candy. They were pineapple-flavored marshmallows covered in milk chocolate. The rest of the bag was given to Arya, our table waiter.
November 17 (Saturday, Day 58, Auckland, New Zealand; 1 NZD = $0.82, $1 = 1.23 NZD) -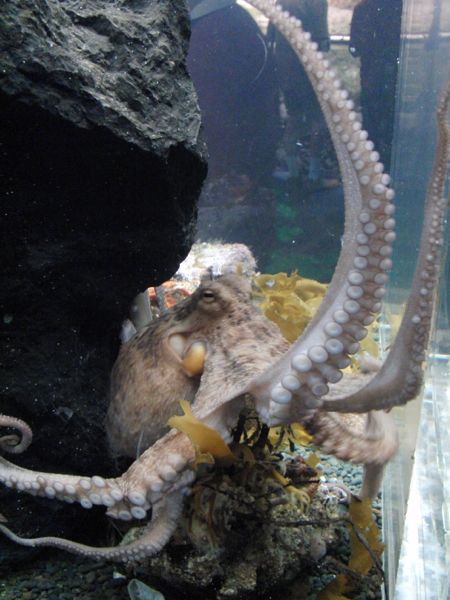 Welcome to Auckland, ye of too few limbs
We docked at 7 AM in Auckland, population 1.4 million. Auckland is known as the "City of Sails" and there is an average of one boat for every three households. But, since it was rainy there weren't a lot of boats out and about. Snookums went to the fitness class but there was only one other passenger there and Kristina was going to be the HAL escort on a shore excursion so we both told her that we didn't need class today and she left the gym to get ready.
It was only 59° and still rainy so Snookums and Filbert decided to do something inside. We chose Kelly Tarlton's Underwater World and Antarctic Encounter and used its free 9:30 AM shuttle to get us there. We spent about an hour inside and enjoyed the world's largest Antarctic penguin colony, seahorse exhibit, various fish tanks and the transparent tunnel with four species of sharks, fish and rays swimming overhead. It was still raining when the shuttle returned us near the ship and we decided to walk along Queen Street. We stopped to sample Manuka honey which is native to New Zealand and has antibiotic healing properties. It tasted caramel-like. We ended up at a grocery store and bought a 1.25 L bottle of feijoa hard cider ($9.75) since that is a new fruit to us. We also bought Greek tzatziki flavored potato chips and Moroccan lemon chicken flavored potato chips. Snookums spent $0.12 for a single piece of Hokey Pokey the size of a large marshmallow covered in milk chocolate. Had Snookums not purchased the milk chocolate Hokey Pokey mini candy bars yesterday to share at the table, she would have bought five more of this version of Hokey Pokey since each one was a very large piece of Hokey Pokey rather than little bits of it in a milk chocolate mini candy bar. We had $9.50 in New Zealand currency left and needed to spend it.
The grocery store had a coffee shop with free WiFi (with purchase) so we purchased two meat pies for a total of $9.60 NZD ($7.80 USD) in order to use up our New Zealand currency. We spent an hour using the WiFi and then headed back to the ship in the rain.
Thirty minutes after we returned to the ship, the 3 PM New Zealand Cultural Arts Show took place in Queen's Lounge and we attended. Eight Maori men and women did various dances to show off weapons and movements. The Haka dance was the final performance and that is the dance that the Maori warriors used to do prior to a battle. Each man slapped himself in the chest and thighs many times as well as showed his tongue and made his eyes pop to look more ferocious. By the time it was over, it really did appear that they were ready for battle.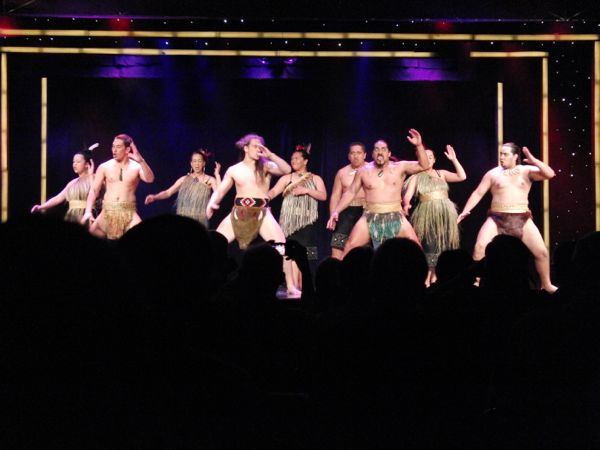 Haka dance
After the scintillating show, we both read and ultimately took two-hour naps and woke up in time for dinner. After dinner Snookums shared the milk chocolate Hokey Pokey mini candy bars (along with a low carb/diabetic bar) with the tablemates.