The 2012 Grand Asia & Australia Voyage, Part 7
Friday, October 16 2015 @ 06:30 AM CST
Contributed by:

filbert

Views: 1,822
The 2012 Grand Asia & Australia Voyage, Holland America ms Amsterdam
Text and pictures by Snookums, webification by Filbert

Part Seven

(Remember to click "read more" if you're looking at this from the main medary.com page to get the whole article!)

October 29 (Monday, Day 39, Semarang, Java, Indonesia; 10,000 Rp = $1.04, $1 = 9,610 Rp) -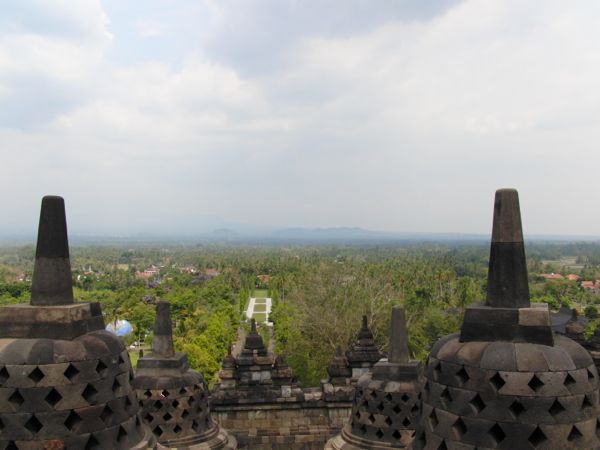 View from Borobudur
Today was an exciting day since Semarang is very close to where a lot of the Indonesian crewmembers live. Over 800 family members were visiting the ship today to see their loved ones. HAL's crew contracts are ten months long so the few hours that the family members could spend were very meaningful.
Filbert and Snookums purchased the $249.95 per person 9.5-hour Borobudur by Train shore excursion. John & Laura and John & Sharie were on it, too, so we arranged to be on the same bus. As the bus left the pier, we saw lots of excited family members waiting to enter the restricted port area. They all waved to us and we waved back. We later learned that each family member only had to wait in line around five minutes to get his or her security check processed since so many non-Indonesian crewmembers volunteered their time to help with the check-in process. The 2014 World Cruise will stop in Bali, Indonesia and Manila, Philippines so most of the other crewmembers will get to see their families during those two stops.
The bus convoy had a police escort, with lights and sirens running, for the 56-mile trip to Borobudur and it's a good thing. Traffic was awful and the police would force vehicles off the road so that the buses could get through at a good clip. In towns with a divided street, the police would switch to the oncoming side and force traffic to stop as we passed through. We saw terraced rice paddies as well as flat ones. The ride was "exciting" and not many people slept.
After about an hour, two of the buses pulled into the Ambarawa Railway Station and everyone boarded one of the three remaining steam locomotives in the world. (Per the guide, the other two are in Switzerland and India.) Although this was only a 25-minute ride, it was neat to be off the road and actually "in" the country. Many people were working in the rice paddies and digging up the sludge from the river that is used as fertilizer. All too soon it was time to get back on the buses for the rest of the journey to Borobudur.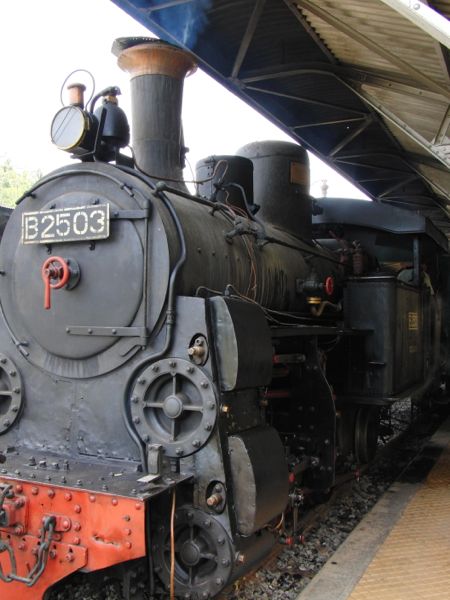 Locomotive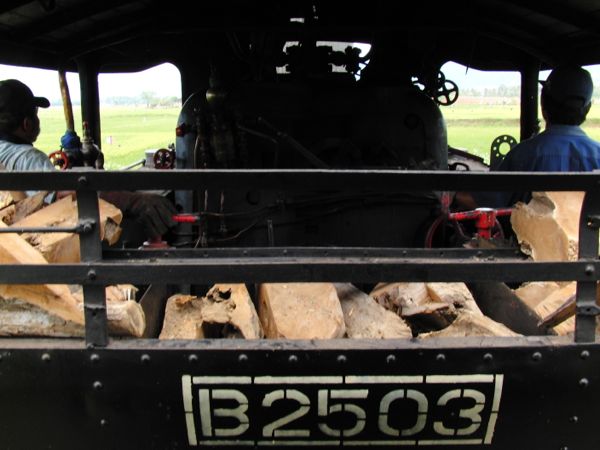 Wood-burner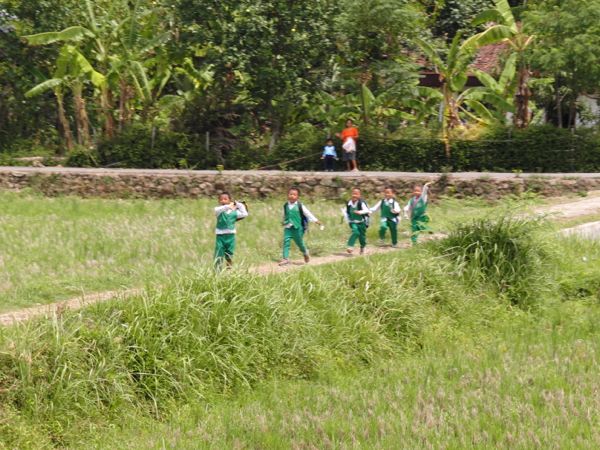 Schoolkids
The inspiring Borobudur is unique among Buddhist temples, and its creation, without the use of modern engineering and technology, remains a mystery even today. It was built by the Buddhist kings of the Sailendra Dynasty, possibly to enhance the image of Buddhism when Hinduism was growing in strength across the Indonesian archipelago. For more than 1,000 years, it lay hidden under dense jungle vegetation. Borobudur, the largest single monument in the Southern Hemisphere, was covered by jungle until its rediscovery in 1814 by Sir Stamford Raffles. Over the next century, Borobudur was cleared and the process of restoring the two million pieces of andesite stone began.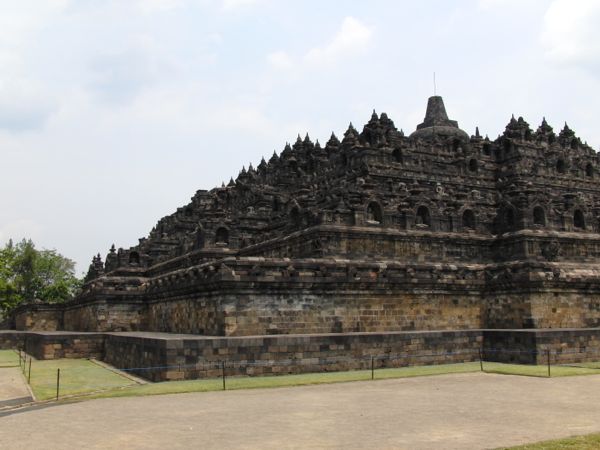 At the Foot of Borobudur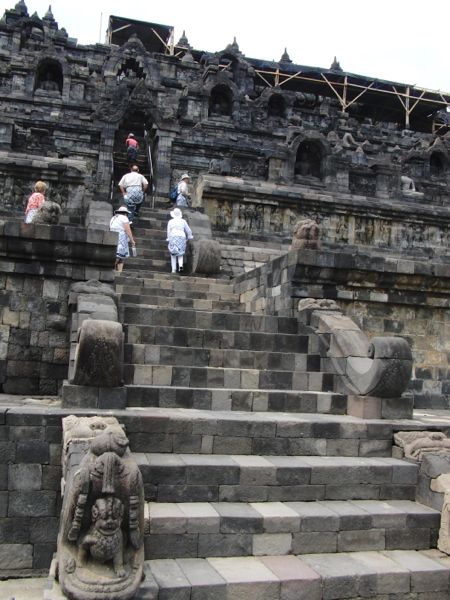 Steps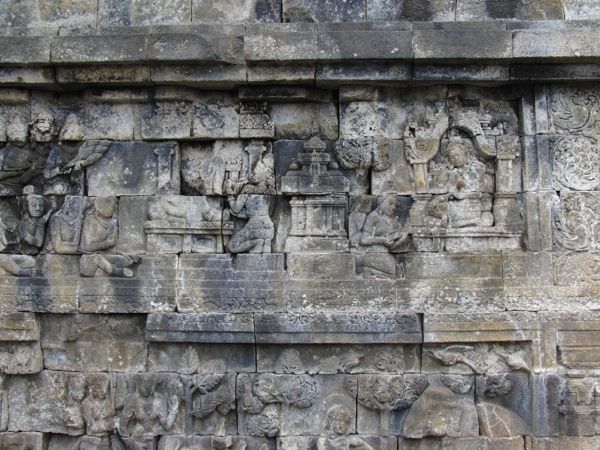 Detail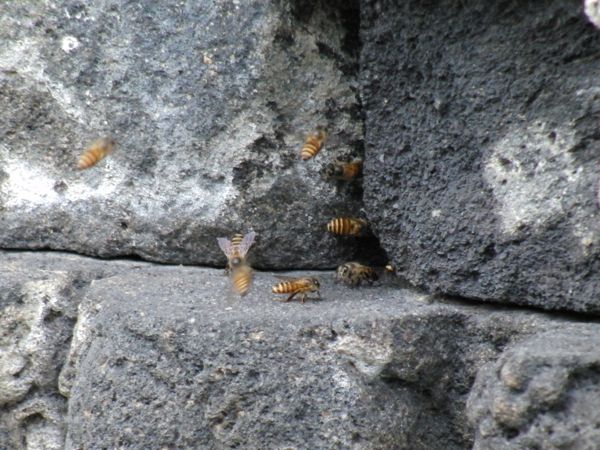 Beehive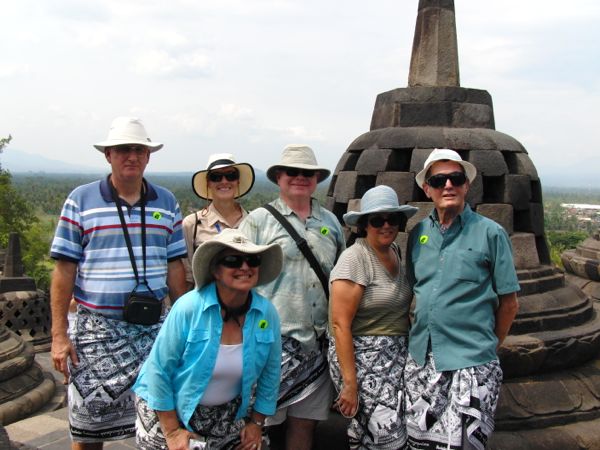 Borobudur Expedition Party
Lunch was a tasty Javanese buffet lunch served adjacent to the temple. But, there was no sambal! Snookums asked for it and the servers were surprised that Westerners wanted sambal (very spicy sauce that Indonesians love). Soon a bowl of it was delivered to our table and all six of us enjoyed it. John, Sharie and Filbert also bought bottles of Bintang beer and thoroughly enjoyed it on such a hot day.
After lunch it was time for the 2.5-hour bus ride back to the ship. Halfway there, in order to let us stretch our legs, the two buses stopped at a traditional Javanese handicrafts center for 20 minutes and there were finger bananas, peanut cakes (almost like the inside of a Butterfinger candy bar) and cashews for free. John and Filbert bought Bintang beer, too, but it ended up being kind of "skanky" since it was probably old or had been in the sun. As we pulled out of the rest stop, we rejoined the convoy of six other buses and its police escort. We don't know how that worked so well as it did, but the timing was perfect.
We all met again at dinner to relive our day and to hear from various crewmembers how their family reunions went.
October 30 (Tuesday, Day 40, At Sea) -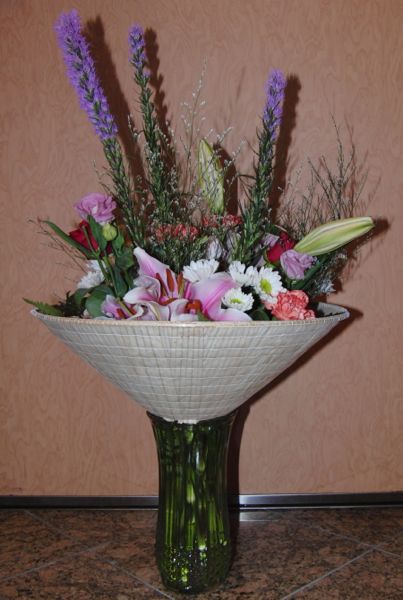 Floral arrangement
Snookums went to her 10 AM acupuncture session for her neck and then the "Australia Overview & Darwin" lecture. For lunch, young coconuts were being served poolside and Snookums and Filbert enjoyed the coconut water and then the empty coconuts were cracked in half and the coconut meat was easily scooped out and enjoyed.
At 1 PM Snookums went to her second $29 flower arranging class. Edy, the florist, had a lot of flowers leftover from the most recent arrangements for the ship since the pumpkin containers were so big and didn't need as many flowers in them. As a result, we got a lot of stems to use in our bouquets and also got a Vietnamese hat to use for the container. It looked (and smelled) great! At 2 PM the ship's clocks were moved ahead one hour. Only on Grand Voyages does HAL handle losing an hour in the afternoon. It's actually much nicer than losing an hour at 2 AM which is what happens on regular cruises. After losing an hour, Snookums went to crafts and made a greeting card. After that, it was time for a nap!
Prior to dinner Snookums and Filbert enjoyed the 4-Star Mariner wine and cheese social.