The 2012 Grand Asia & Australia Voyage, Part 6
Friday, October 16 2015 @ 06:25 AM CST
Contributed by:

filbert

Views: 2,065
The 2012 Grand Asia & Australia Voyage, Holland America ms Amsterdam
Text and pictures by Snookums, webification by Filbert

Part Six

(Remember to click "read more" if you're looking at this from the main medary.com page to get the whole article!)

October 21 (Sunday, Day 31, Hong Kong, China; 1 HKD = $0.13, $1 = 7.75 HKD) -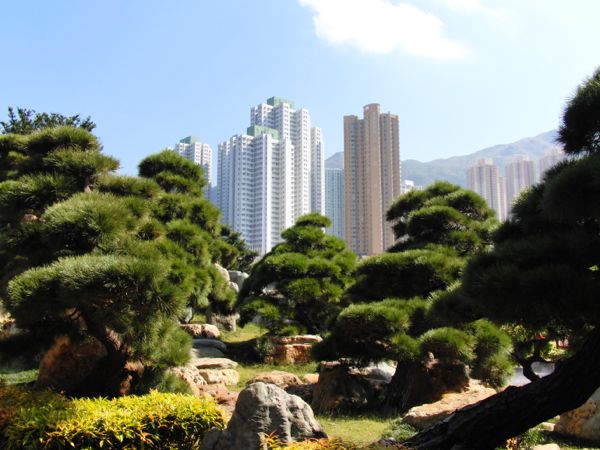 Nan Lan Garden, Hong Kong
Snookums was the only person at the 7:30 AM fitness class so Hamish had her do a 23-minute "drop set" circuit on five machines. It was an absolute killer workout and although it only involved weights (and no specific cardio exercises), she burned 350 calories and was dripping wet by the time it was over.
We took the metro ($1 per person) to Nan Lian Garden. On the way there, two uniformed women approached a rider and gave her a ticket for eating (maximum fine is $250!). Then the metro police got off at the next stop. It was all very low-key. They got on at a stop, approached the seated woman (who put her food away), wrote the ticket and handed it to her and then got off at the next stop. There must be cameras on the metro and when an infraction is seen, these "metro police" obviously get on the metro to hand out a ticket.
Tranquil Nan Lian Garden is surrounded by high-rise apartments. Nan Lian Garden is an 8 ½ acre public park built in the style of the Tang dynasty which means that it has a one-way route through it and that every hill, rock, body of water, plant and timber structure has been placed according to specific rules and methods. It was very peaceful and beautiful.
Nan Lan Garden, 2 more pictures
Across the street was the Chi Lin Nunnery. It was established in 1934 and is a large temple complex of elegant wooden architecture, treasured Buddhist relics and soul-soothing lotus ponds. The complex also includes a series of temple halls, some of which contain gold, clay and wooden statues representing divinities such as the Sakyamuni Buddha and bodhisattvas. No nails were used in any of the buildings.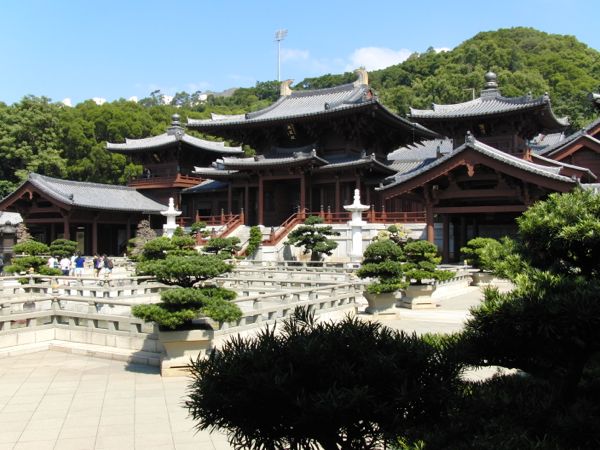 Chi Lin Nunnery
We then went to a grocery store in the metro station and bought Hong Kong beer. And, since we spent at least $5 on beer, the grocery store was giving, for free, one can of $1.15 beer. (Most of the beer was priced in the $0.75 range so the store was giving away an "expensive" beer.) We took the metro back to the ship, ate lunch and then went back to the cruise terminal to use the free WiFi.
All aboard was 4 PM and Snookums managed to get back a little before then. Then we had the lifeboat drill at 4:15. Snookums's legs were absolutely dead from the 23-minute morning workout and all she wanted to do was sleep. She finally did after the drill but then the ship's horn woke her when we were sailing away at 5. Luckily we got to turn our clocks back one hour after dinner.
October 22 (Monday, Day 32, At Sea) -
Snookums went to the 7:30 total body conditioning class (and got the trophy on her watch for achieving last week's goal) and then the "Things to See & Do in Singapore" lecture. At 10 AM Filbert and Snookums went to the "Meet & Greet" for the new cruisers that read CruiseCritic.com but the only people that attended were about 40 of us that boarded in Seattle – no new passengers showed up! Snookums hurried back to the cabin and put together a birthday gift for Sari, a 28-year old Pinnacle Grill woman from Bali that works in Neptune Lounge. (Her husband, Benny, is a room steward from Java.) Snookums was able to give her a KC Royals baseball hat, Royals t-shirt and candy corn in a Japanese gift bag along with a Japanese greeting card. Snookums then took it to Sari in Neptune Lounge and sang "Panjang umurnya" and Sari was really surprised. Then it was time for a short nap on the verandah in the hot, humid weather.
Snookums went to crafts and made a beaded circle that can hold a scarf or be worn as a ring. The craft kits ran out extra fast since a lot of the new passengers showed up. Sharie saved Snookums a place since Sharie showed up at 1:15. Snookums showed up at 1:50 for the 2:30 class and by 2:15, all the craft kits were gone.
After crafts Snookums went to the "Oriental High Tea" in Queen's Lounge. It was also the "World's Largest Cruise Event" since HAL kicked off a weeklong sale today so the Future Cruise Consultant gave a sales pitch. Queen's Lounge was decorated with red lanterns and the food display looked great. Each place had a ceramic Oriental tea cup (like a tumbler), too, which was a nice touch and free champagne was handed out. Snookums didn't eat or drink anything since she weighed herself yesterday and gained a little weight so she is not going to eat sweets for a week.
Filbert spent most of the afternoon either on the verandah listening to shortwave radio (and only got Chinese stations) or in the cabin on his computer playing his simulation game. Snookums went to the 5 PM Fab Abs class and for once Snookums wasn't the only attendee. Five other people were there. Three were new passengers along with Laura (tablemate) and Brooke (she comes most mornings). It was still very hard since doing 30 of ten or twelve different ab exercises is hard whether or not you're the only one doing them. And, a two-minute plank is still 120 seconds long regardless of the number of participants!
Dinner was "Oriental Formal Night" and once again Snookums wore her kimono and Filbert wore his outfit from India. After dinner the crew sang to us and presented us with a delicious anniversary chocolate cake that everyone really enjoyed.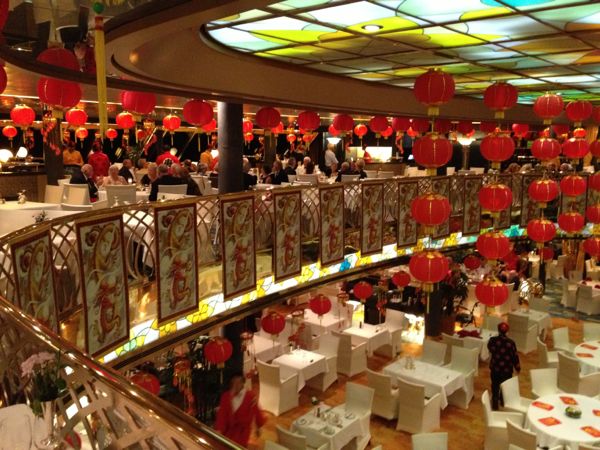 Oriental Formal Night dining room decorations
October 23 (Tuesday, Day 33, Nha Trang, Vietnam; 10,000 VND = $0.48, $1 = 20,831 VND) -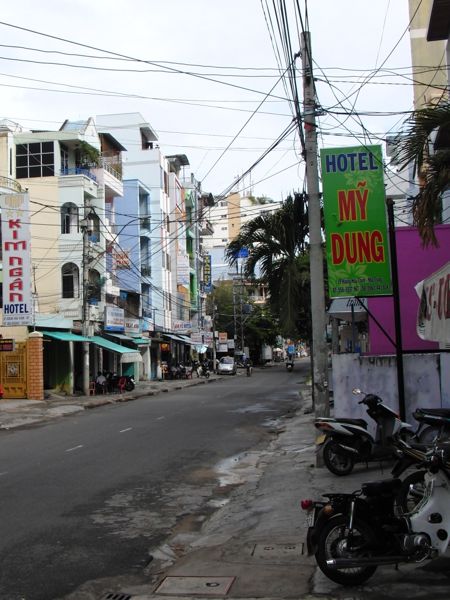 Ah, Vietnam
We took the first shuttle to town in order to try to see most of the sights before the heat of the day hit. We walked to Cho Dam Market which is an open-air market selling souvenirs, fish, meat and produce. Like most third-world markets it was hot and humid and walkways were not obvious (and were not flat and smooth). In fact, scooters often drove down the aisles which was a bit unnerving. After we had our fill there, we walked to the supermarket identified on the map, but it was out of business. We continued walking back to the shuttle stop and managed to buy two kinds of beer ($1 and $.75 each) at two liquor stores. We also walked by the Nha Trang Cathedral or the train station. We weren't sure which it was, but it was a very nice French colonial building. Given that it was October in Vietnam, it was actually bearable. There seemed to be a slight breeze and it was partly cloudy.
We found a high-end air-conditioned mall with a supermarket and bought $0.62 chili sauce to share with our tablemates, $1.00 fish sauce to take home and more Ha Noi beer (and it was cheaper at $0.40/can!). Snookums had the equivalent of $0.55 left in Vietnamese dong and went back in the store to spend it. She bought three packages of cookies ($0.08, $0.21, $0.25) and was a little upset that she left a penny (or 200 VND and this small of denomination is not available) on the table. (One of the prices was printed higher on the shelf than what the product rang up for.) She could have spent it all, but that's life.
Due to construction we had to walk on the beach and then it started raining. It was a warm rain and our Tilley hats provided all the protection we needed. The shuttle took us back to the ship. Filbert immediately returned to the cabin while Snookums shopped at the vendors on the pier and bought three greeting cards for $1 total after bargaining from a starting price of $1 each.
Around 4 PM there was a knock on our door and an amuse bouche of gazpacho was delivered. (Tonight is a Deluxe Verandah Suite dinner event.) Snookums went to Total Body Conditioning at 5 with Laura and two others and took a quick shower prior to the 6:00 suite cocktail party in the Culinary Arts Center. The nouveau dinner followed in Pinnacle Grill and we sat with another couple from Deck 7 and with 1st Officer Leon and his Shore Excursions girlfriend, Leondra. We started with apple rutabaga soup and then had an endive salad with pomegranate vinaigrette. Next up were glazed oysters and the entrée was a boneless rack of lamb. Dessert was a delicious raspberry, lemon and basil millefeuille. The Pinnacle Grill servers wore sleek black silk pants and black turtlenecks. Captain Eversen referred to them as "ninjas" in his speech and they looked like that. Their uniforms were new since this was a brand new event that Henk Mensink (Hotel Director) came up with. It was a rousing success. When we returned to our cabin, there were two chocolate bowls with chocolates in them waiting for us along with a thank you card.
October 24 (Wednesday, Day 34, Phu My, Vietnam; 10,000 VND = $0.48, $1 = 20,831 VND) -
Snookums went to Total Body Conditioning and stayed scummy. The ship docked at a factory area and the closest town was 45-minutes away. Most people went to Ho Chi Minh City (at least 90 minutes away) but we stayed on the ship since we were in Ho Chi Minh City in April. Snookums played the daily quiz and the topic was Ho Chi Minh City. She also managed to take two 2-hour naps during the day and the first nap was on the verandah and she woke up drenched in sweat.
At dinner Snookums found out that she missed yesterday's crafts class which involved making a greeting card from cancelled stamps. The class was at 2:30 which was also the "all aboard" time. Snookums never reads the detailed events for a port day but will from now on! She never thought there would be a crafts class on a port day.
October 25 (Thursday, Day 35, At Sea) -
Snookums went to Fab Abs and later went to the lecture on "Indonesia and Things to See & Do in Semarang", She also picked up her daily quiz prize of a deck of HAL cards since she won the Ho Chi Minh quiz. She was able to squeeze in a morning nap on the verandah, too, prior to the Mongolian BBQ lunch by the pool.
She finally bought a pair of black capris for $16.77 that have been 50% off since the first day on the ship. We had to turn our clocks back an hour at 2 PM. Filbert went to the "Singapore – Secrets of Success and Vulnerabilities" lecture while Snookums made a Halloween fabric necklace at crafts class.
We went to the $69 per person (including wine) Vietnamese Dinner in Pinnacle Grill and we were seated with Dale and Jane from Australia. Other than the boring entrées (a pork stew with coconut juice and a steamed barramundi with ginger sauce), the other courses were excellent including the shrimp toast, grilled beef roll, prawn and green mango salad and chicken pho soup. None of us could figure out why the two entrées (served family style) were bland and tasteless. The desserts of banana sago cream and coconut and a four-colored drink were good although the bottom color of the drink was mashed green lentils and they were chalky! Each guest was given a Vietnamese conical hat, too. It was a nice evening and well worth the price.
October 26 (Friday, Day 36, Singapore; 1 SGD = $0.82, $1 = 1.22 SGD) -
Without having breakfast, we got off the ship at 8:30 and took the subway to Bugis. We had our subway card leftover from our April visit so that was very handy. We walked to Arab Street and the Sultan Mosque but everything was closed due to the Muslim holiday, Eid al-Adha (Festival of Sacrifice). It was also a Singapore public holiday even though only 14% of its population is Muslim. For breakfast we ate $5 Singapore chicken curry. It wasn't very big and wasn't that good, but it was the only restaurant that was open and it had a very limited menu due to the holiday.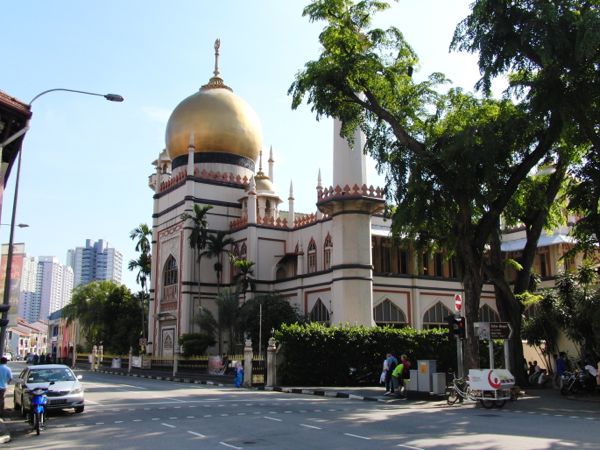 Sultan Mosque
Then we walked to Little India. Filbert had the best haircut for only $10 and Snookums had her eyebrows threaded for $5. It was the Festival of Lights and there was a large street fair with all sorts of Indian merchandise for sale. Snookums looked for more mojari shoes like she bought in Mumbai in April for ~$10, but they were $60 here!
We left Little India and wandered to Bugis Street. It was a festival, too, and had vendors like at the Missouri State Fair selling pots and pans and mini-washing machines. Snookums had a delicious slab of purple yam ice cream between two wafers. She could have had it on white bread, like Wonder bread, but opted for the more normal ice cream cone wafers. Filbert went to a bookstore while Snookums shopped Bugis Street. Neither one bought anything, but each had fun. Snookums got her hair cut for $33 and the stylist shampooed it after the dry cut. Interesting! We wandered back to the ship for a leisurely, but late, lunch.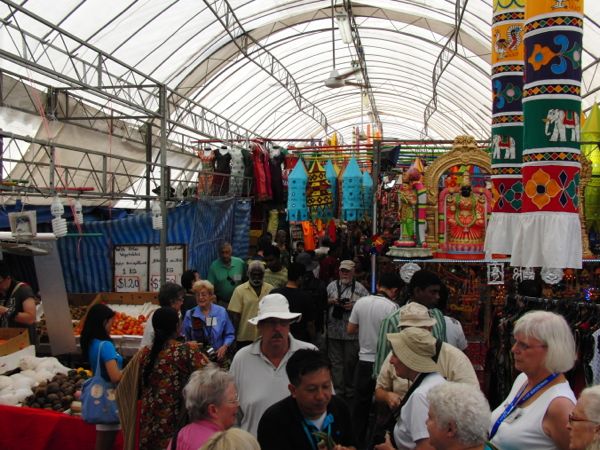 Festival in Little India
We had a restful afternoon in preparation for our HAL excursion to the Night Safari. The Night Safari is the world's first wildlife park purpose-built to be viewed at night. It is not an ordinary zoo simply illuminated by night or a modern version of nocturnal houses found in many zoos. Set in 98 acres of dense secondary forest, the Night Safari offers the unique experience of observing wildlife in a tropical jungle at night. Through the use of subtle lighting techniques, guests are able to view the 1,000 nocturnal animals of 100 species in vast natural habitats. Snookums has wanted to see the Night Safari since first visiting Singapore in the late 1980s (?) while with her family on a trip to South Korea for her father's "Revisit Korea Program" due to his service during the Korean Conflict. In fact, on that trip to Singapore, Snookums and her sister were actually riding on a Singapore public bus to the Night Safari when they found out that the public bus stopped running earlier than when they would be done at the Night Safari so they got off and returned to their hotel!
Our tour bus left 10 minutes late since a passenger was late. Snookums didn't know that tours actually waited for people and would have preferred the bus to have just left, especially since no one really knew the status of the person that we were waiting on. The bus finally pulled up to the Night Safari and our tour guide said that since today was a public holiday, it would be crowded. He was right! HAL had no business selling tickets to the Night Safari on a public holiday. While we stood in line to get on the tram, our guide kept saying that he didn't think we would have time to do the tram since the line was so long. He even went and bought bottles of beer and water for everyone since it was so hot and so crowded and the line was so long. We did manage to get on the 40-minute tram ride which is the main highlight of the Night Safari. After the tram ride, those people that were physically able quickly followed the guide along some of the walking trails to see more animals. This was one of the few HAL excursions we bought and once again, there were too many people on it that couldn't walk well enough to be on it. HAL really needs to figure out how to say "no" to people or how to put less able-bodied people on a slower tour. All in all, it was a great night after the first few minutes of panic when the guide said that he didn't think we would get on the tram due to the length of the line.
October 27 (Saturday, Day 37, Singapore; 1 SGD = $0.82, $1 = 1.22 SGD) -
Snookums' neck really, really, really hurt her when she woke up. No alarm was set to wake us and we left the ship around 10 AM. We had to be back by 2 PM so we decided to have an easy day and just go to one of Filbert's favorite bookstores, Kinokuniya. While he was browsing, Snookums went searching for an acupuncturist or chiropractor. She didn't find one. Filbert bought a book about Scotland's history and one about the history of half-forgotten Europe. We got back to the ship and Snookums went to crafts to make a flower postcard. Considering we were in port, it was a very low-key day for us.
October 28 (Sunday, Day 38, At Sea) -
Snookums' neck still hurt so she didn't go to the gym. Filbert and Snookums attended the "Things to See & Do in Lombok & Komodo Island" lecture and followed that with the "Semarang, Jogjakarta and Borobudur" lecture. We were hoping to learn more about Borobudur, but didn't. The lecturer, Jim Placzek, is not good and was one of those presenters that shows ten year old data and he prefaced many slides with "I'm sorry you can't see this slide…". Filbert also attended Richard Ojakangas' afternoon lecture "Geology of Indonesia and Papua New Guinea: The Most Volcanic & Seismic Region on Earth" and he said it was only slightly better.
While Filbert was at the afternoon lecture, Snookums went for her first acupuncture treatment for her neck and then immediately went to crafts to make a capiz shell pendant necklace. Although she was 25 minutes early, she got one of the last two necklace kits. The jewelry crafts classes "sell out" very fast! The acupuncturist recommended using the sauna and staying away from the gym for another day. Snookums followed both recommendations.
Dinner was another formal night – Movie Star Night. Snookums wore her brightly printed long dress with a beaded neck strap and Filbert wore his suit. The dining room was decorated with various movie theme decorations. Once again HAL did a great job decorating.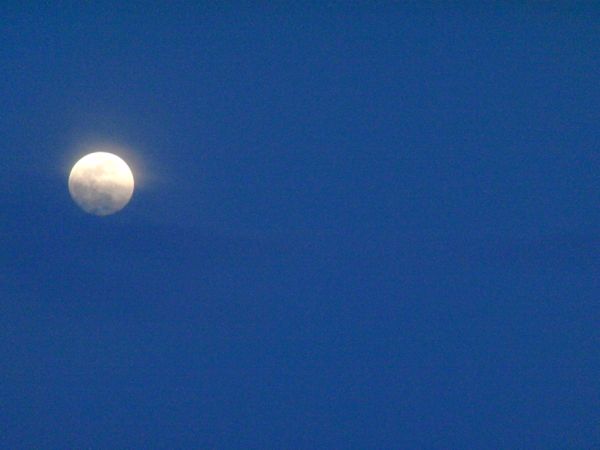 Moonrise, October 28