The 2012 Grand Asia & Australia Voyage, Part 2
Friday, October 16 2015 @ 06:05 AM CST
Contributed by:

filbert

Views: 2,007
The 2012 Grand Asia & Australia Voyage, Holland America ms Amsterdam
Text and pictures by Snookums, webification by Filbert

Part Two

(Remember to click "read more" if you're looking at this from the main medary.com page to get the whole article!)

October 3 (Wednesday, Day 13, At Sea) -

Snookums went to the fitness class and then Snookums and Filbert ate breakfast in Neptune. It was rainy but around 68° outside. After that Filbert and Snookums went to the "Things to See & Do in Jeju" travel lecture and then stayed for "The Aleutian Islands" lecture. Then Snookums picked up her prize of a deck of Holland America playing cards for winning Monday's daily quiz. It's the same prize every time so she won't bother with the daily quiz again.

Snookums went to the crafts class and made a beaded keycard lanyard although she doesn't have a need for a lanyard. Later on she went to the "Fab Abs" class.

Tonight was formal "Kimono Night" and Snookums looked elegant in her men's kimono that she bought at a thrift store when she worked in Tokyo and Filbert looked dashing in his Indian outfit that he purchased to wear at a wedding in India. We went to the Ocean Bar before dinner and saw the five gentlemen hosts onboard dancing with single women. We also noticed that not many men wore any kind of ethnic attire. Filbert was unique, and comfortable, in his!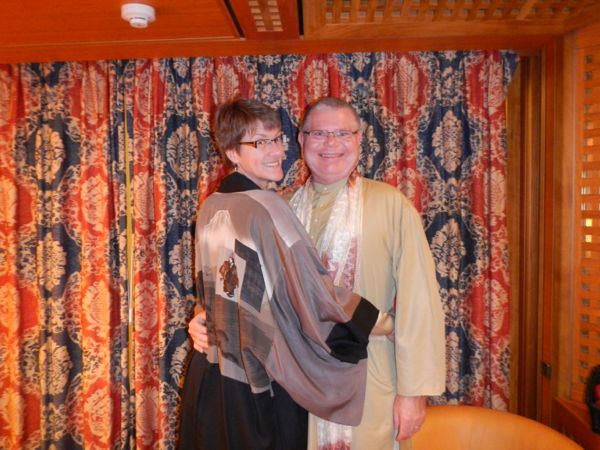 Kimono Night
At dinner we saw that Sharie wore a beautiful Korean kimono – solid black heavy damask with a starched white collar and a bow tied off to one side under her chest. She bought hers at a Vancouver thrift store for $20 and definitely got her money's worth. There were three Japanese dinner selections – yakitori chicken appetizer, sukiyaki soup and tempura entrée – and all were enjoyed although the tempura was rather greasy and heavy. Even the dessert menu had two Japanese choices – green tea ice cream and green tea cheesecake with adzuki bean sauce. Filbert was the only brave person at the table to order them. He didn't care for the cheesecake and said the bright green ice cream did taste a little bit like green tea.
October 4 (Thursday, Day 14, Yokohama, Japan; 100 JPY = $1.28, $1.00 = 78 JPY) –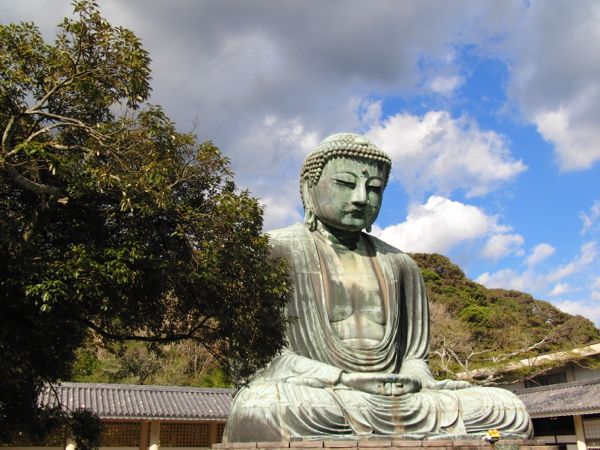 Buddha, Hachimangu Shrine, Kamakura
Filbert and Snookums went to the 7 AM "Early Morning Stretch" class followed by the 7:30 AM fitness class. Yesterday Snookums asked Filbert to attend so that there would be enough people for the class to be held and he said "yes". There were actually six people so he didn't need to attend, but he stayed.
At 10:20 we met Snookums's co-worker from when Snookums worked in Tokyo. Alisa-san looked the same and it was a great reunion. We took the train to Kamakura which was the Japanese capital from 1185 to 1333 and still retains more than 70 historic temples and shrines. We enjoyed Japanese curries for lunch ($11 and $12) and Filbert enjoyed a glass of Kamakura beer ($7) that he said was "beer". We walked along Komachi Street and tasted various Japanese pickles at one store, including a very crisp one made from burdock root. We also saw soap made out of konnyaku which is a traditional Japanese jelly-like health food. Konnyaku is full of fiber and has zero calories and is made from a kind of potato and it has been eaten for almost 1,500 years in Japan. Alisa-san never saw it used in soap before. We also learned why some sake shops have a very large ball hanging in front of the store that looks like a huge moss ball. The ball is made from cedar leaves and when the sake is new, the ball is green and when the sake is aged, the ball becomes brown. It was very nice to have a private tour guide/translator and the day was a partly cloudy one.
Then we walked to Hachimangu Shrine, which is considered Kamakura's most important shrine. It was established in 1063 and enlarged and moved to its current site in 1180. We walked up all of its steps and enjoyed the architecture and the gardens. Filbert spent 100 yen for his fortune which was written in poor English, and tied it to a rope for the gods to bless it. We also saw a 5-year old girl dressed in a kimono getting her blessing since it is customary for girls to go to a shrine on their third and fifth birthdays for blessings. Then we walked back to Kamakura Station and caught a bus to see the Big Buddha. The 37-foot bronze figure was cast in 1292 and we paid the extra 20-yen per person to walk in its belly.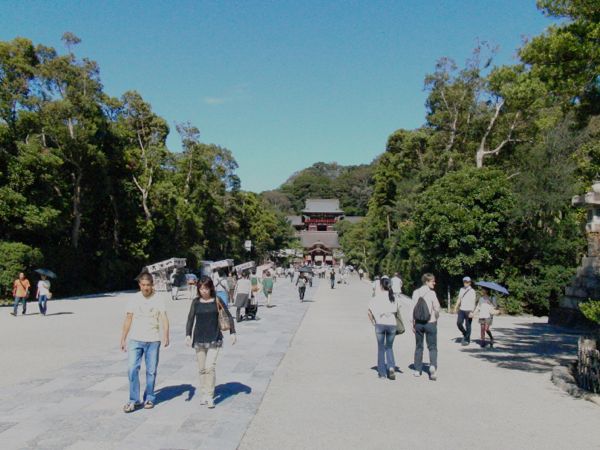 The way to Hachimangu Shrine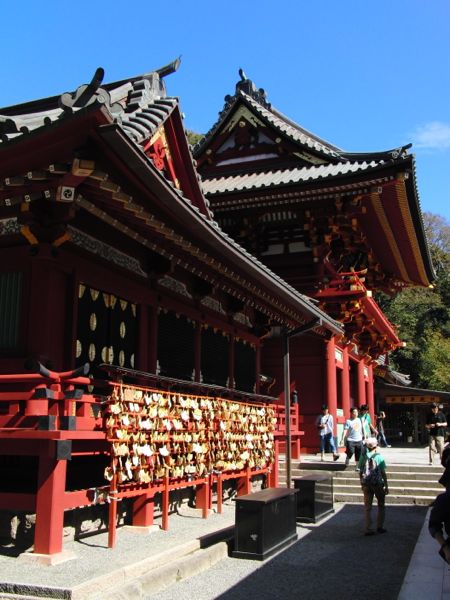 At Hachimangu Shrine
After that we took the train back to Yokohama Station and enjoyed browsing the food hall in the basement of Sogo Department Store with Alisa-san. For part of her and her husband's dinner, she bought some shrimp and avocado soy rolls that looked like off-white spring rolls but they were wrapped with soy wrappers. She also bought a soy gratin for tomorrow's dinner that looked like mashed potatoes with a few mushrooms in it. After she made her purchases, we said goodbye. We'll see her again in Nagasaki since she is going to fly there to see us!
We got back to the ship using the free shuttle service and one of the Japanese volunteer helpers was wearing a Sturgis, SD t-shirt and we found out that she spent her senior year of high school as an exchange student in Sturgis. She enjoyed it a lot since Sturgis was so completely different from Yokohama and recently went back for her 50th high school reunion. After we got back to the ship we decided to order room service and eat dinner on our verandah. Our side of the ship faced Yokohama Bay and the other side of the ship faced Yokohama, its skyscrapers and its colorful ferris wheel.
At 8 PM, the Presidential Debate replayed on CNN and Filbert watched it while Snookums dozed on the verandah and then updated the journal. It was a great day.
October 5 (Friday, Day 15, Yokohama, Japan; 100 JPY = $1.28, $1.00 = 78 JPY) -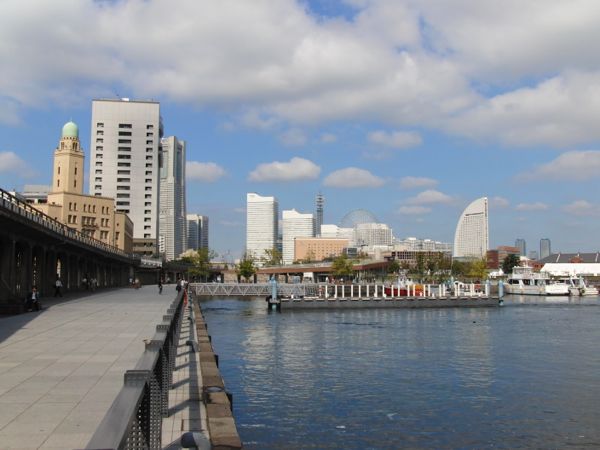 Yokohama
Snookums woke up and attended the fitness class. We left the ship around 9:15 AM in order to walk around Yokohama, the second largest city in Japan, by population, after Tokyo. We saw Landmark Tower, the 70-story hotel and office building that is Japan's tallest building. It is also one of the two Accenture locations in Tokyo. (The other one is in Tokyo near the American Embassy.) When Snookums worked in Tokyo in 2000, there were 2,000 Accenture employees. Now there are 5,000!
We also saw the Yokohama Oktoberfest. It closes every night at 9 PM and German beer costs $16.50 for a normal size glass and $29 for 33 ounces (1000 ml). And, there was an admission cost. It hadn't opened yet so even if he wanted to, Filbert couldn't go in!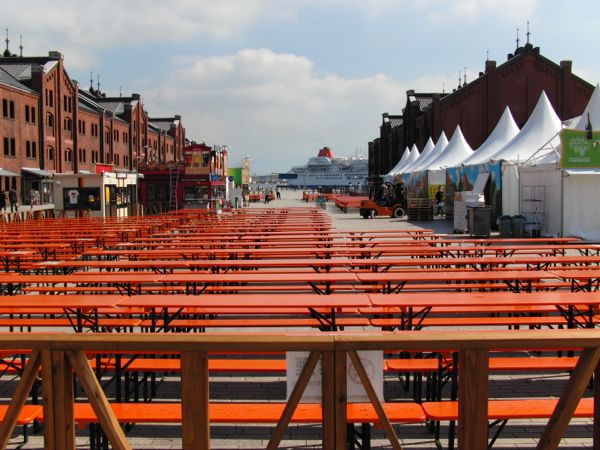 Yokohama Oktoberfest
We walked through Chinatown, one of the world's largest, and it draws 18 million visitors a year. We tried a roasted chestnut that a vendor was nice enough to give free. A very small bag, holding 10 or 15 roasted chestnuts, cost $13.50. Snookums also managed to find two 10-yen coins during the Chinatown walk. We stopped at a grocery store and bought a can of ice beer and sour preserved plums (a traditional Japanese beer snack) for a Christmas gift.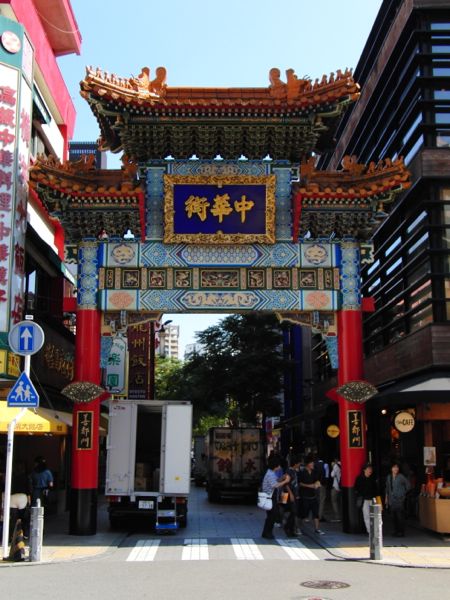 Yokohama Chinatown
On our way back to the ship we saw some kind of formal gathering in Yamashita Park that involved speeches and five men in full dress uniforms, like military or police. There was a banner that appeared to say something about 25 years so it was probably some kind of anniversary event. There was a red carpet, too. We made it back to the ship at 11:25 with five minutes to spare before the "all aboard" time.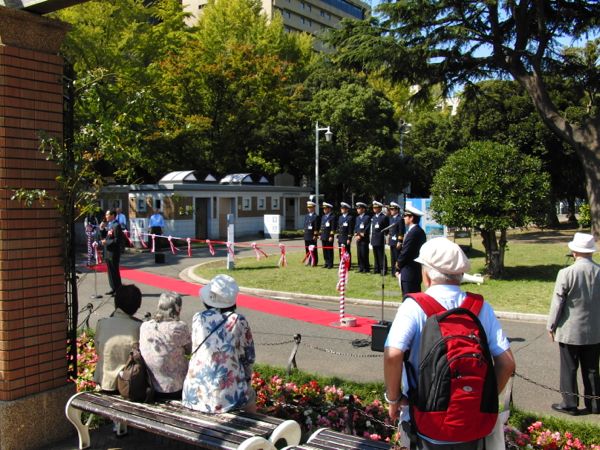 Ceremony in Yamashita Park
Snookums went to the sail-away but the shore-side entertainment was a loud jazz band. She didn't stay too long since she would have rather seen some kind of Japanese entertainment. As our ship pulled away at noon, we were given a lengthy water salute by a fireboat.
Around 1:45 PM we noticed 15+ Japanese warships, including four submarines, returning to their base after apparently performing amphibious assault exercises in Guam with U.S. forces based in Yokosuka and Sasebo, possibly as a prelude for Japan's land disputes with China and South Korea. Snookums was up on Lido when she first noticed them and invited John and Laura (tablemates) to our verandah since their room is on the other side of the ship. It was pretty neat seeing the ships and subs. Snookums quit watching the naval display and went to crafts class and made a charm that looked like a good fortune book. She'll probably use it as a Christmas tree ornament.
JSDF returning to port (5 pics)