The 2013 Alaska HAL CruiseTour, Part 7
Sunday, January 03 2016 @ 04:00 AM CST
Contributed by:

filbert

Views: 6,475
The 19-Day Holland America Line Alaska CruiseTour, Holland America ms Statendam
Text and pictures by Snookums, webification by Filbert

Part Seven

(Remember to click "read more" if you're looking at this from the main medary.com page to get the whole article!)

August 4 (Sunday, Day 16, Train to Seward and the ms Statendam) -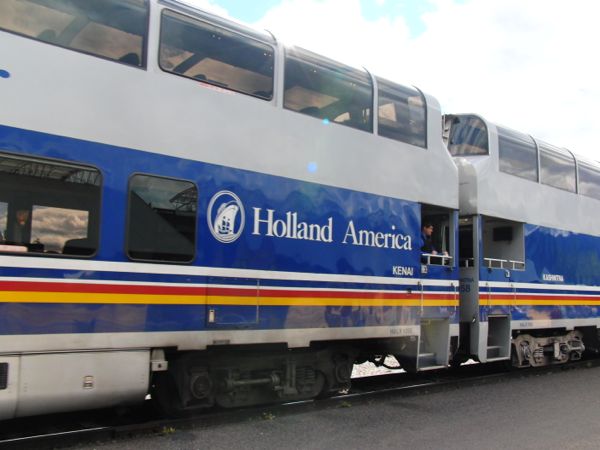 All Aboard Again
Our luggage had to be out at 8 AM which allowed us to sleep in later than usual. We are all looking forward to getting on the ship and being able to sleep in tomorrow! We enjoyed breakfast at Snow City Café which was voted Anchorage's best breakfast for the last umpteen years. Snookums, Laura and John really enjoyed their breakfasts but Filbert's salmon cakes weren't spiced at all and his over medium eggs were sunny side up. And, the first pitcher of cream he was given for his coffee curdled it since it was soured! The rest of us, though, enjoyed it and everyone except John ordered a "to go" lunch to eat on the train.
We walked back to the Hilton and dropped off our lunches and got ready for the next excursion to the Anchorage Market & Festival which occurs every Saturday and Sunday in the summer. It's a combination crafts fair, farmer's market and festival food row. We found art for our travel wall which is made from torn pieces of washi paper fashioned to look like a mountain scene with a foil bronze colored bear glued at the base of the mountains. It's a $5 greeting card and will look great in a frame on the wall as a souvenir of our Alaska cruisetour.
The market officially opened at 10 AM and it started with the singing of the national anthem. It didn't take too long to walk through the four rows of vendors (the website said 300 vendors, but there were several empty spots and some hadn't opened yet) and after that we went in search of Coke Zero for Filbert. A few blocks away we found some that was cheaper than what was being sold at the market so we stocked up for the cruise.
We boarded the bus at 11:45 and then got on the train just a few blocks away. We arrived in Seward 5 hours later which meant the cruise now started!! The train ride was great since our train car was only half full. The car bartender was expecting a full car, like always, but an excursion was running late and had to take the bus to Seward rather than the train. This train required four people sitting at a small table, two people facing each other, with no legroom so with it only being half-full we were able to spread out. Snookums and Filbert each sat at separate tables and Laura and John shared a table.
The views were great and included an Anchorage subdivision that had a landing strip in the backyard of 20 or so very average looking houses (the landing strip was grandfathered in since there is now a law that prohibits landing on grass in Anchorage), glaciers, waterfalls, fireweed, spawning salmon (and many dead ones). And, with around 30 minutes to go, we saw two moose in a field! The scenery made it by far the best train ride of the three we had, and having so much room made it even better. At one point Filbert spilled some of his Coke Zero but even that couldn't dampen everyone's enthusiasm!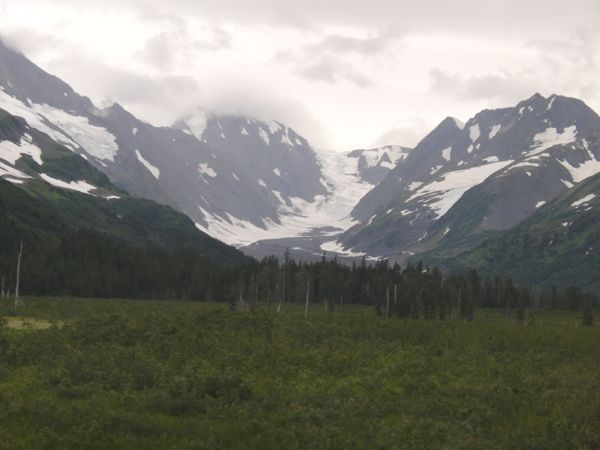 Classic U-shaped glacier valley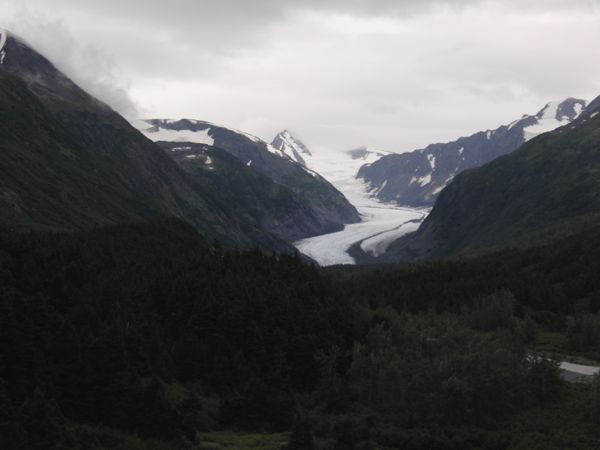 Glacier behind the trees
With our lofty HAL Mariner Society status, we were able to cut in line and got on the ship immediately (5:45 PM) and were able to unpack prior to the 7:30 PM safety drill. It was very nice to have our entire suitcases unpacked and put away since we had been living out of them for the last two weeks or so. As soon as the drill was done, the four of us went to dinner. We shared the first night's dinner with another couple and that was okay, but we wanted to sit with just us four. It felt great to go to bed without having to set any alarm.
August 5 (Monday, Day 17, At sea) -
We woke up and had breakfast in Lido and didn't do much after that and then had lunch. We took naps in the afternoon and explored the ship. Exploring the ship is usually an embarkation day activity, but we didn't have any time on Sunday and postponed it until Monday. It is very similar to the ms Amsterdam which we had spent 75 days on in late 2012 so it didn't take too long to figure it all out. We went to Lido for dinner since it was formal night and none of us brought anything formal. Laura wanted to see what the after-dinner cordial was and Snookums wanted to see what dessert was served in the dining room so off they went to get those two items "to go". The maître 'd insisted that they sit in the dining room and enjoy them and although they weren't wearing anything remotely formal, he told them that for women it didn't really matter and only the men had to follow a dress code that required a jacket! We sat in a corner table and enjoyed our post-dinner treats a lot!
Filbert decided to set his alarm for 6 AM since he didn't have to wake up. (This made no sense to Snookums, but lots of things that Filbert does don't make sense to her!) Snookums did not set her alarm.
August 6 (Tuesday, Day 18, Cruising Glacier Bay) -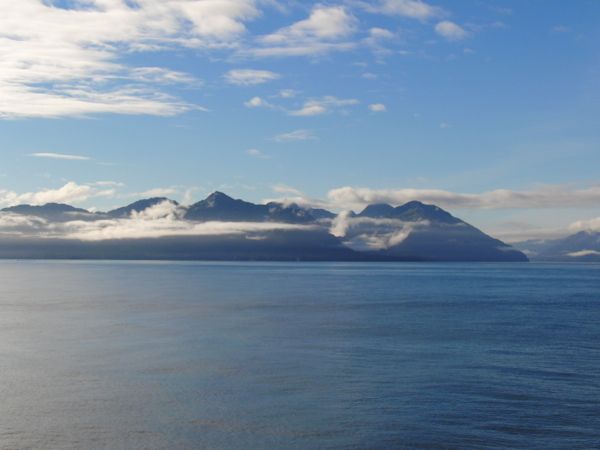 Morning on the water
Filbert was up around 5:45 AM and Snookums managed to wake up off and on during his first three hours of being awake and getting his breakfast delivered. She finally got up and showered and had fruit and raisin buns in Lido before joining Filbert outside on the bow of the ship around 9:30 AM. It was sunny and not too windy.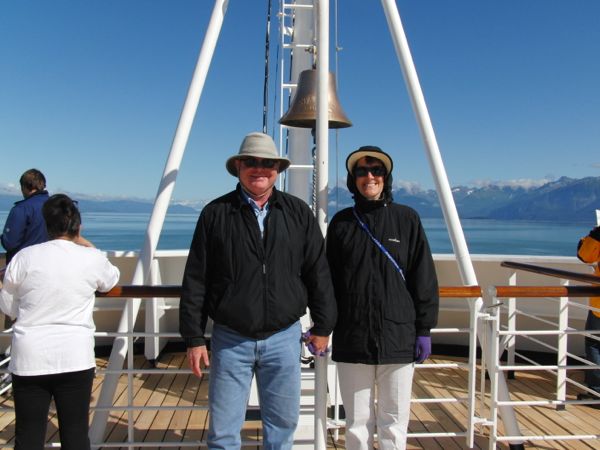 A perfect day for glacier viewing
At 10 AM wine (for sale) and cheese was brought out and at 10:30 AM the famous HAL Dutch split pea soup was served on the outside decks. Laura found us prior to the split pea soup showing up and she was very excited when it was served. We were looking for whales and did see a few spouts and some backs. We also saw some seals, but not many. The highlight of the day was seeing Margerie Glacier but Snookums and Filbert decided that Hubbard Glacier is a lot more impressive. After a quick lunch it was definitely time for a nap due to the early morning.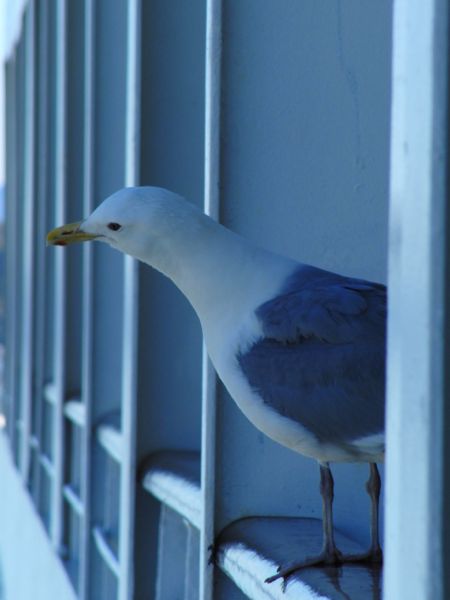 A Visitor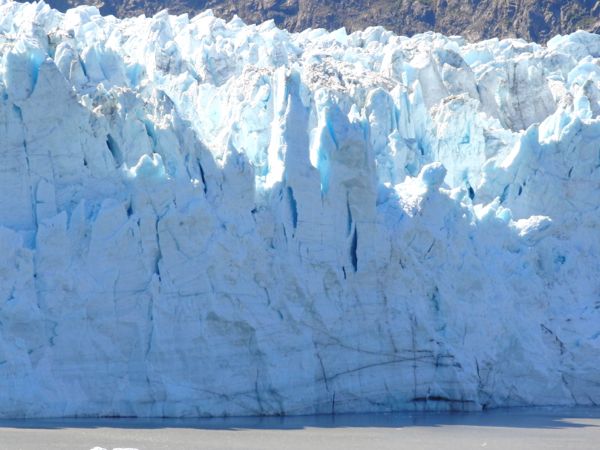 The Glacier
Dinner was just the four of us and we had a good waiter, Donny. (The waiter we had the first night did not impress any of us.) After dinner the wait staff brought a cake out and sang the Indonesian celebration song to Filbert and that was fun. He took the cake back to the cabin at 8:45 PM and we saw some more whales and went to bed.
August 7 (Wednesday, Day 19, Haines, Alaska) -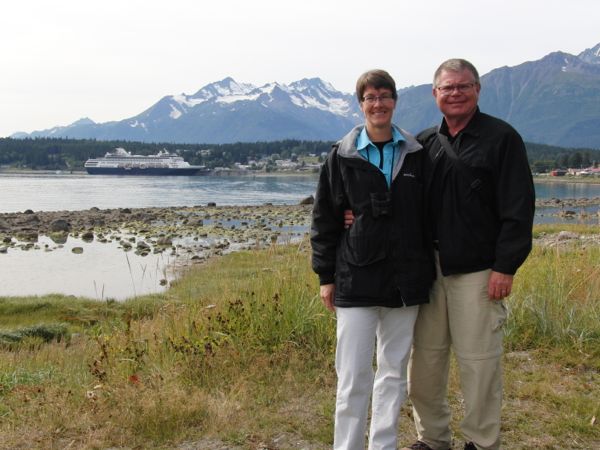 At Haines
Haines, Alaska was a great port. Its population is 2,400 people and it rarely gets cruise ships so its summer population is the same. Between September and December around 3,500 bald eagles migrate through Haines.
We met our Rainbow Glacier Adventures tour guide for our $95 per person Chilkoot Lake Nature and Bear Viewing tour. The salmon hadn't really started to spawn yet so our guide wasn't sure we would see any bears. But we were hopeful. We piled into the van and she drove to Chilkoot State Park. We saw a nest that had a baby eagle in it and a bigger eagle. We also saw the salmon weir and the sign said that 26 were counted that day. That's not much during the height of spawning which obviously hadn't started yet. We DID see a bear across the river so that was neat. It was closer than any bear we saw at Denali.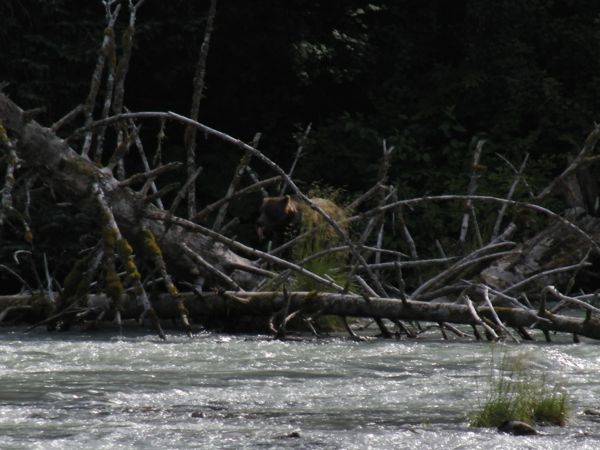 Bear!
Next we stopped at Garbage Point which used to be a dump but is now a nice place to view the dock and the cruise ship. After a quick stop at the Visitors Center for a bathroom break, we headed to Chilkat State Park for our box lunch. It was absolutely beautiful and we saw two glaciers and a waterfall while we were enjoying our lunch. On the way back to the ship we stopped to see the cannery. It's no longer in use but is still picturesque.
After our four-hour tour, we walked around Haines. We saw Fort William H. Seward and then walked to Dalton City. Dalton City is the movie set that was used to film "White Fang" in 1991. It has now been turned into a old-time "strip mall" and contains the SE State Fair (not in session during our visit), some boutiques and Haines Brewing Company. Filbert enjoyed for beer tastings of Spruce Tip and Lookout Stout and settled for a pint of Lookout Stout while Snookums had some homemade root beer. We drank it in front of the brewery while sitting on a bench on the wood sidewalk. It was a gorgeous day.
While we had a wonderful day, Laura and John had a worthless excursion to Skagway and its railway tour but they did stop in Effy to get Snookums two free necklaces! (Haines had no tourist stores which is another reason Snookums enjoyed it so much. It was just a beautiful town with magnificent scenery.)
August 8 (Thursday, Day 20, Juneau, Alaska) –
We were supposed to have a Bear Island Wilderness Tour so we went to the base of Mt. Roberts Tramway at 9 AM to meet our pilot. Well, he never showed up. A local person knew of him and actually tried to find him (and call him) but came up empty. Snookums called his cell but it was out of service. He finally called around 10:45 AM and said that due to the weather, he wouldn't be able to fly us to Bear Island. (It was raining and yucky.) We weren't too disappointed since the weather was so bad, but it was a bummer to wait for around two hours, in the rain and cold, while trying to find him just to find out that it was cancelled.
Filbert went back to the ship and Snookums went to the Juneau library which was next to the ship to use the WiFi on her phone. Then she went back to the ship and got Filbert and the laptops to really enjoy the free WiFi. After we had our fill of WiFi, Filbert returned to the ship and Snookums went to a few of the stores that were giving away the free charms and necklaces. This was our third time in Juneau so we were okay with a day on the ship, especially since the weather was crappy.
Earlier in the day we were invited to cocktails for tonight. We also found out that John and Laura were, too. None of us could figure out why we were invited but assumed it was because of our Mariner status. We were also surprised when each of our cabins was called to find out if we were attending since the invitation didn't say RSVP. We showed up for cocktails with Capt. Jochem Bakker and Hotel Director Bert Van Mackelenbergh and buzzed through the receiving line in order to get our free drinks. There were probably 30 or 40 passengers there. Snookums managed to order two different non-alcoholic specialty drinks and a can of Coke Zero while Filbert and Laura enjoyed their glasses of wine and John ordered his Coke Zero. The Captain spoke a few words and then the Cruise Director started to talk about people with the most nights on this cruise. All of a sudden he said something about "Filbert and Snookums" (well, he used our real names, actually) and that got our attention. Then he said that "John and Laura" had a lot of nights, too. Sure enough, the four of us had the second and third most nights on this 7-day cruise and since we were going to be singled out, our cabins were called to see if we would actually attend. We'll always show up for free drinks!