The 2013 Alaska HAL CruiseTour, Part 4
Thursday, December 31 2015 @ 04:00 AM CST
Contributed by:

filbert

Views: 2,710
The 19-Day Holland America Line Alaska CruiseTour, Holland America ms Statendam
Text and pictures by Snookums, webification by Filbert

Part Four

(Remember to click "read more" if you're looking at this from the main medary.com page to get the whole article!)

July 29 (Monday, Day 10, Motor Coach to Fairbanks, Alaska) -

Our luggage had to be out at 6 AM and the bus left at 7 AM making it another early morning. For breakfast Filbert ate some of his high protein bars while Snookums went across the street to pick up her pre-ordered breakfast box from Belinda's. The bus got on the ferry to cross the Yukon River and a little before 9 AM we were at the border. The border crossing opened at 9 and our driver wanted to be there when it opened.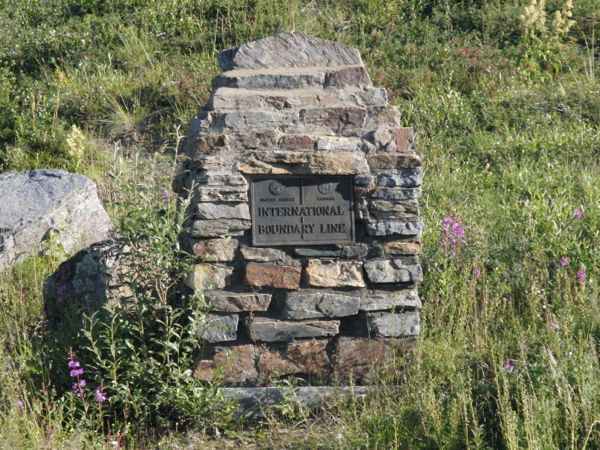 The Border
We stopped at Davis Dome, a scenic spot with long drops, and saw five caribou, probably members of the Pioneer Herd. They weren't in any hurry to leave and everyone was able to get good photos.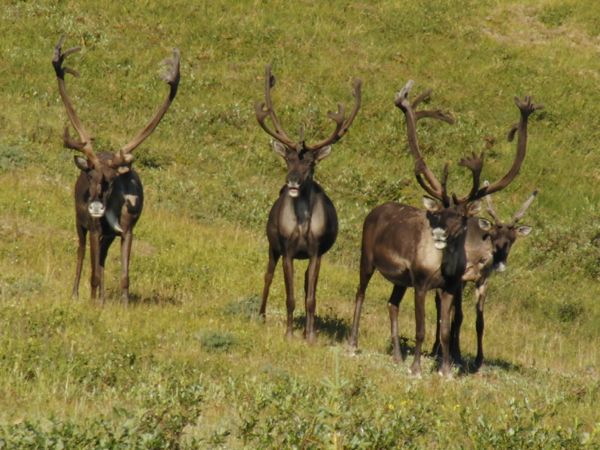 Caribou
We boarded the bus and started our journey and a few minutes later had to stop since there were three more caribou on the road. They ambled off the road after awhile. The fields were full of fireweed, a weed that blooms beautiful pink flowers. The story of fireweed is that when the last bloom opens, winter is next.
Our next stop was in Chicken, Alaska. Snookums bought a so-so blueberry scone and used the long drop. Filbert enjoyed a cup of the free coffee. Chicken consisted of the gift store/rest stop and a few other buildings. It was a typical "town" in the interior of Alaska! They say that the town is named "Chicken" because the settlers couldn't decide how to properly spell "ptarmigan."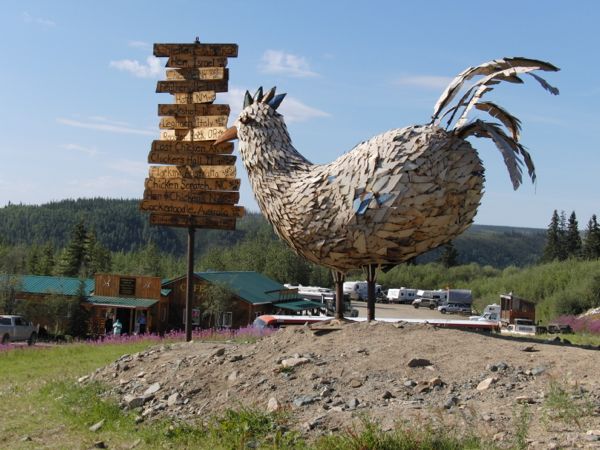 Chicken, Alaska
Our next stop was in Tok, Alaska. We were immediately served our turkey sandwiches but had to wait for the bumbleberry crisp (blueberry, blackberry, strawberry) hot from the oven. Snookums ate both hers and Filbert's and ended up with a bright blue tongue and teeth. More importantly, there was cell phone service!
Our final stop of the day was at Rika's Roadhouse which is an historic sight in Big Delta State Historical Park. People lined up for the strawberry-rhubarb pie, but Snookums brushed her teeth in order to see if the blue stains would disappear. Luckily, they did! Rika was a woman that settled there and ultimately opened up a roadhouse to serve the traveling gold stampeders, hunters, traders and freighters.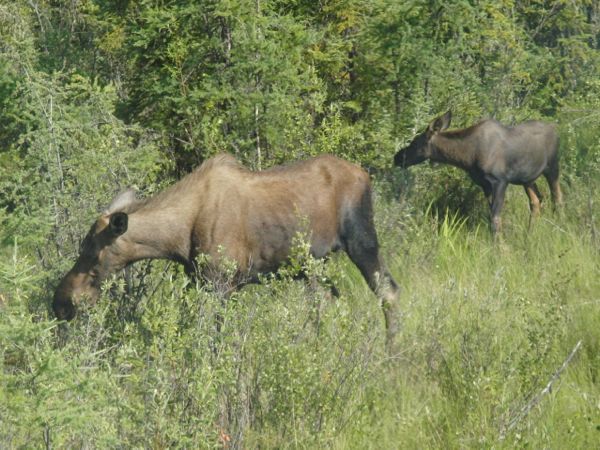 Moose and calf
Finally we pulled up to the Fairbanks Westmark and got our room, the Fairbanks Suite! Laura and John were next door, like always, in a normal room. Somehow we were lucky and got the suite. It was just a normal hotel room with a living room attached, but it was more than a normal room so we liked it. We hustled to a Thai restaurant a few blocks away and had a tasty dinner before returning to the hotel for an early bedtime. It's a good thing that Alaska hotels have blackout curtains since the sun was still bright at 10 PM.
July 30 (Tuesday, Day 11, Fairbanks, Alaska) -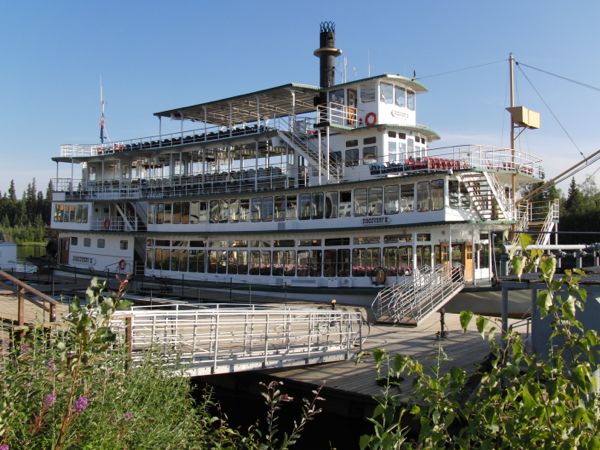 Riverboat Discovery
Laura was sick and didn't leave the hotel. Filbert, Snookums and John boarded the bus at 10 AM for a 3-hour cruise aboard the authentic sternwheeler Riverboat Discovery. We expected it to be another worthless boat ride like we had in Dawson City, but this one was great. The captain was very enthusiastic and knew everyone that lived along the river. Susan Butcher, the late Iditarod champion, lived there and her family still does and trains sled dogs. While we were on the boat, her widow gave a demonstration. After about an hour we reached a reenacted Chena Indian village and had three different interesting lectures/demonstrations. Then we enjoyed a hearty family style lunch of cheddar cheese soup and miner's stew that was served incredibly fast.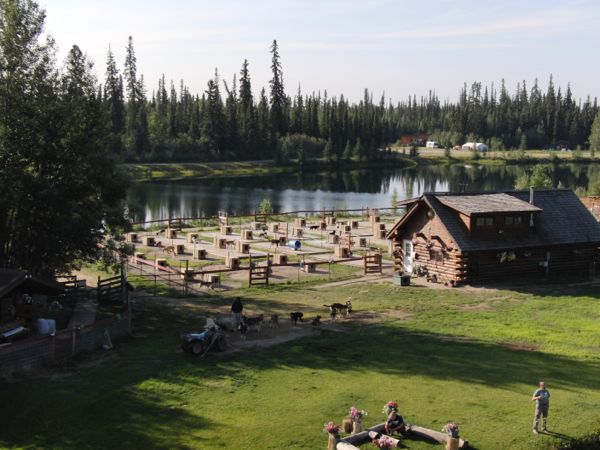 Sled Dogs
After the riverboat tour we got back on the bus and went to Gold Dredge 8. We had a close-up view of the Trans-Alaska Pipeline, an open-air ride on a replica of the Tanana Valley Railroad, exploration of Gold Dredge 8, and then we got to pan for gold after each of us was given a little bag of dirt and stuff. Snookums let the bus driver, who pans for a hobby, pan for her gold and her baggie produced $14 in gold. Filbert panned his own gold and discovered $19 in his. John found $10 in his. We combined all three gold flake amounts and John bought a very nice pendant for Laura that contained all of the flakes.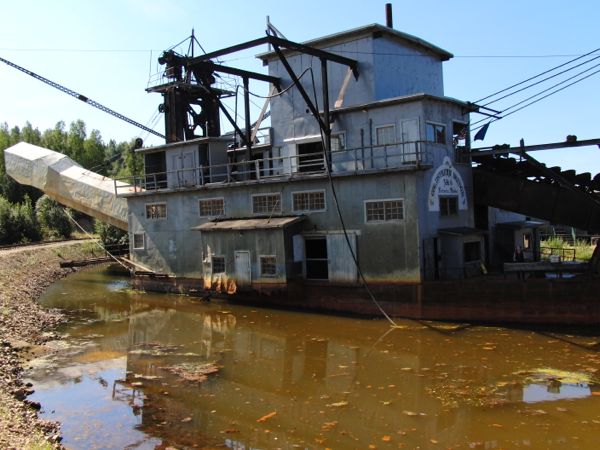 Goldstream Dredge No. 8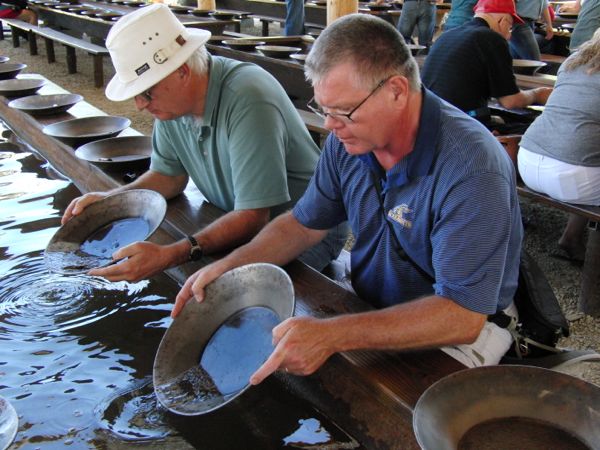 Panning for gold
Dana, a woman that Snookums knew from work and went on a 2-week African safari with 25 years ago, picked us up and we drove by University of Alaska-Fairbanks and saw musk oxen in the distance at its Large Animal Research Station. Then we went to dinner at The Pump House and had a very enjoyable night.
July 31 (Wednesday, Day 12, Train to Denali National Park) -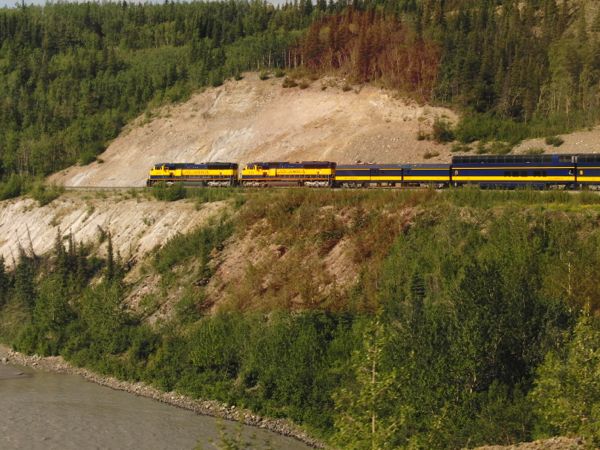 Alaska Railroad
Our bags were outside our hotel door at 6 AM and we met in the lobby at 7 AM. The early mornings are starting to get old. We got on the train at 8:15 and had already decided to enjoy breakfast on the train. That was a mistake. Snookums's food was wrong and Filbert's was cold. After some other mistakes, including getting a hash brown with a bite out of it, we were done and our meal was free. We returned to our seats and shared our experience with John and Laura who were smarter and did not plan on eating on the train. The train ride itself was uneventful and we didn't see any wildlife but did see lots of trees.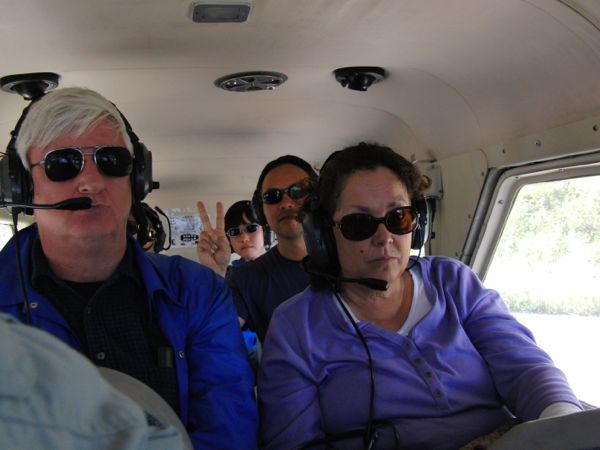 Flying to the Glacier
We got to McKinley Chalet Resort at 12:30 PM and we were shuttled to our building. There are a lot of housing units in this "resort" so a shuttle is needed to get people from their units to the main lodge where the restaurants are and where are tours start. We quickly unpacked a little bit and went to the main building for a quick lunch. Then the four of us were picked up at 2:30 for our Fly Denali glacier landing flight ($359.25 pp).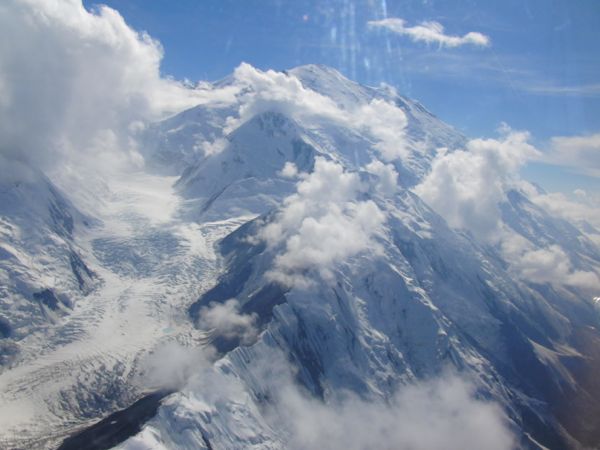 Mt. McKinley (Denali) from the air
We had about 100 minutes of flying time and Snookums was in the cockpit seat. None of the passengers, including Snookums, had much room and Filbert seemed to be really squeezed in his seat. Snookums was not allowed to move her feet since there were pedals down there. Anyway, the pilot flew us directly towards Mt. McKinley and it scared Snookums since it seemed like we were so close. We also flew over the great gorge of the Ruth Glacier. After seeing that spectacular scenery, we landed on Pika Glacier for about 20 minutes. It was pretty neat. Too soon it was time to bundle back into the plane. We saw Mt. McKinley on the way back, too. Many times people that visit Denali don't get to see McKinley due to cloud cover so the fact that we got to fly right up to it and see it was pretty cool.
On the Glacier
At 7:15 the four of us went to "Cabin Nite" dinner theater for dinner and a show. We knew it would be corny but Snookums had a "buy one, get one free" coupon so dinner for the two of us was $63 which is a bargain in Denali. The food was pretty good and it was served family style and the show was okay. It was over at 9:30 PM and our long, but good day finally ended.