34.9 pounds
Friday, October 09 2009 @ 02:26 PM CST
Contributed by:

filbert

Views: 3,627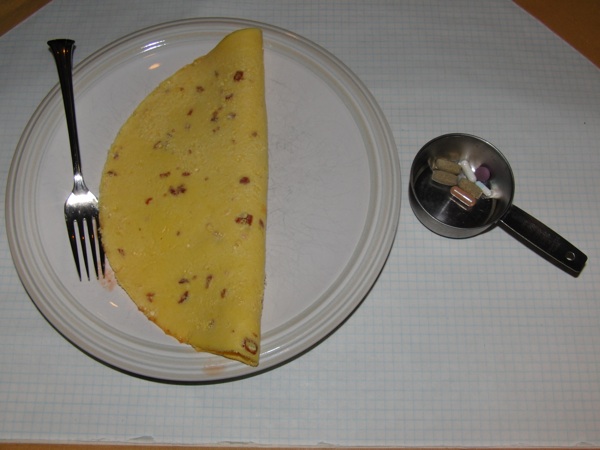 Bacon and cheese (flavor) omlet
I'm going backwards again--on the scale, at least. After last week's 0.7 pound weight gain, I clocked in again with another 0.7 pounds gained. At least I'm consistent.
But, there are other indicators of progress besides the scale. My new belt, which I started at the very last hole, is now tighter by two holes. And I visited my regular doctor on Monday to update her on my weight loss progress. She responded by reducing two of my prescriptions by half--Vytorin (cholesterol) and lisinopril (blood pressure), and stopping two others--hydrochlorothiazide (blood pressure) and gemfibrozil (triglicerides).
That makes me quite happy, as you can imagine.
Still, I'm sitting at 244.1 pounds, with my Halloween goal of 230 14.1 pounds and only 24 days away. The pressure is on!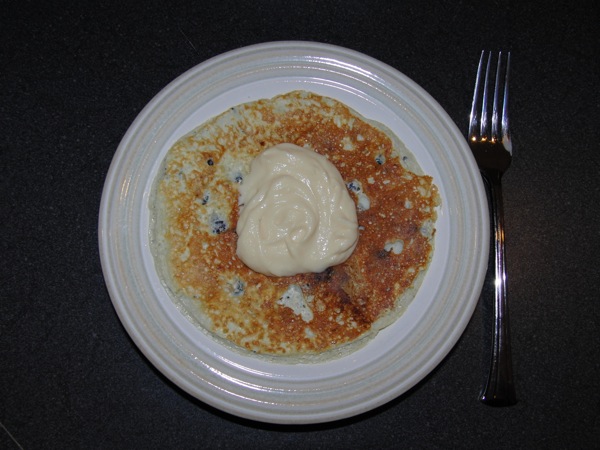 Pancake topped with vanilla pudding
We have house guests this weekend, so as usual the challenge will be to stick to the diet and exercise while being a proper host. Speaking of which, I need to go clean up the downstairs and scrub some toilets.