36.3 pounds
Thursday, September 24 2009 @ 09:02 PM CST
Contributed by:

filbert

Views: 3,330
Another week, another 7.3 pounds lost. 36 days, 36.3 pounds. 242.7 pounds, according to the fancy-schmancy scale at the weight loss clinic. At this rate, I'm looking at 205 by Halloween--and my actual target weight is 209.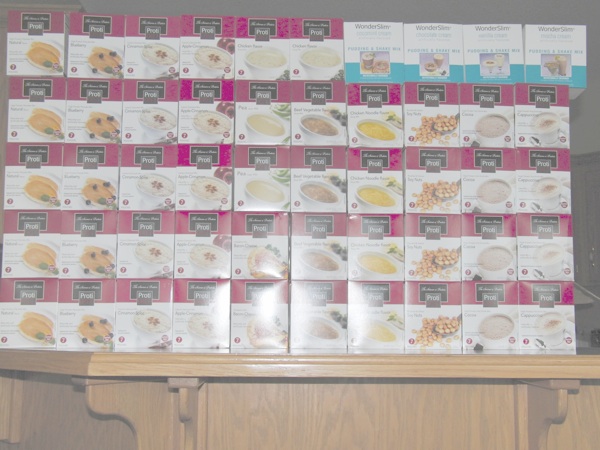 The new shipment of meal replacements
That's the good news. The bad news is that my body composition analysis done last week was screwed up--the dietician entered my height wrong--6'3" instead of 6"0.3". Big oops. That messed up a lot of the numbers and made it look a lot better than it was, causing the nearly miraculous numbers that I had last week. This week, it was back down to Earth a bit.
My real numbers are 242.7 total pounds of which 162.5 was lean muscle mass, 119.1 was water, and 80.2 pounds of fat. The difference of those numbers from the first body composition analysis are: -36.3 pounds total, -14.5 pounds lean muscle, -10.8 pounds of water, and -17.3 pounds of fat. Still really good numbers, but not fantastic. And, I had a bit more muscle loss than the physician assistant I saw today wanted to see, so I get to hit the weights a bit more in the gym. More reps, not more weight, don't ya know.
At this rate, I just might be within shouting distance of my goal weight by the end of October. I said last week I was shooting for 230 by Halloween--that's only 12.7 pounds away, now. And I'm over half way to my overall goal of 209--that's only 33.7 pounds away.
I think I'll make it, but I'm gonna need a whole closet full of new clothes.