Contributed by: filbert Friday, October 16 2015 @ 06:55 AM CST
The 2012 Grand Asia & Australia Voyage, Holland America ms Amsterdam
Text and pictures by Snookums, webification by Filbert
Part Twelve
November 18 (Sunday, Day 59, At Sea) –
Snookums went to Total Body Conditioning this morning and also went to "Things to See & Do in Lautoka". Filbert played Team Trivia and he and Laura got the bonus question for the team so every team member won a Dam Dollar. (What is the largest mammal to make a nest? Gorilla.) Three teams tied for first and they got second but didn't get any Dam Dollars for second since there were so many teams in first. Sharie's team got first again for the second time in a row, though, and she has only played the last two times!
After lunch we looked at the art displays created by the passengers attending the watercolor classes. They are being auctioned off and HAL is going to triple the amount of money raised by the passengers and all of the money will go to the Educational Outreach Youth Program of Apia (Samoa). Snookums was really hoping to find a painting of Borobudur, but settled on being the $3 winning (and only) bidder for a "picture within a picture" of Macchu Pichu since that is on a future cruise itinerary. The talent of the artists on this cruise is outstanding.
Snookums went to crafts class and made a tapa cloth greeting card and later on went to "Fab Abs" and Laura and Sue (crafts classmate) were there, too. When she got back, she laid out on the verandah and read from 5:30 until 7:15 PM and enjoyed the bright sunshine. Filbert spent most of the afternoon writing inside although it was in the low 70s, sunny and calm. Tomorrow's forecast at sea is for the mid-70s.
At dinner, Mr. K (our assistant dining room manager) gave us a jar of sambal. We still have the Korean chili sauce and the Vietnamese chili sauce in our room refrigerator (and have been bringing one or both of them on most nights) but now our waiter can be responsible for putting the jar of sambal on our table every night. Yum!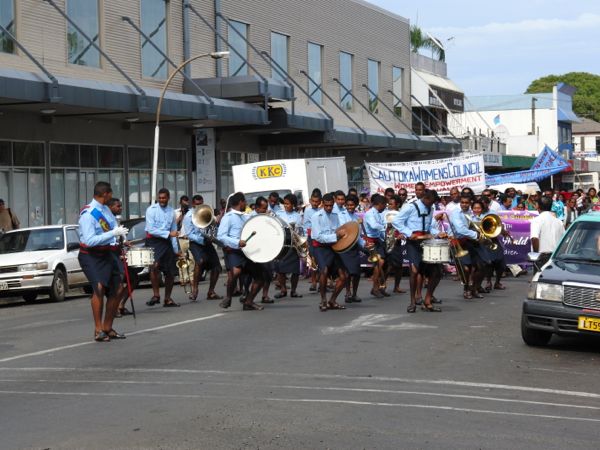 Dancing band, Lautoka, Fiji
November 19 (Monday, Day 60, At Sea) –
Snookums went to Fab Abs (and was happy to see that she met last week's goal and got a trophy on the face of her watch) and after a leisurely breakfast with Filbert in Neptune Lounge, went to "Things To See & Do in Apia". Snookums filled in for a missing player in the noon Team Trivia and the team got second place (but not due to her help).
Filbert watched three NFL games on TV throughout the afternoon while Snookums was at lunch and then at crafts where she made a crochet and wood bead necklace. Nancy, the crafts instructor, said it takes her about six to eight weeks of full-time work (or more) to prepare for a 75-day cruise. In today's craft, for example, each of the fifty participants received homemade kits that contained seven crocheted balls and wood beads. Nancy did the crocheting and prepared the necklace holders so that all that was left was to thread the items onto the necklace holder and then crimp one end. No wonder it takes her at least six to eight weeks to get all the kits ready. After crafts Snookums splurged on the goodies in Neptune Lounge. She had a piece of chocolate cake, a chocolate chunk cookie and two dark chocolate nut clusters and then wrote the journal on the verandah (although it was cloudy and only in the high 60s). Then she went to the fitness class and was the only one there so Kristina put her through a hard workout on the weight machines.
Filbert did take a break from watching NFL games and went to Cluny Macpherson's lecture on "New Zealand's Past" and said that finally there is a good lecturer on board the ship. Then he got a salad from Lido for a very late lunch.
Prior to dinner there was a wine and cheese soiree in the Crow's Nest for suite guests and Snookums enjoyed a free virgin skinny cosmopolitan that had freshly squeezed grapefruit juice in it and it was very good. We talked to Roberta and Larry and then Adelle, the social hostess, joined the four of us. She told us about how she supports a youth center for 15 5-7 year olds in Ethiopia with the money she earns on the ship and how she goes to it during her "vacation". The children spend most of the day there and get three meals and education before returning to their homes at night. The parents try to eke out a living selling coffee beans and things like that on the street and are too poor to afford school for their children. Once they reach primary-school age, the children go to boarding schools.
November 20 (Tuesday, Day 61, Lautoka, Fiji; $1.00 FJD = $0.57, $1 = $1.77 FJD) –
Snookums went to Fab Abs and was the only one there so Kristina put her through the paces and made it hard. At 8 AM we docked in Lautoka, population of 52,000. Lautoka is the second largest city in Fiji and four years ago we were at Suva, the largest, and didn't care for it. Lautoka is in the heart of the sugar cane growing region, and sugar is the second most important industry behind tourism. Lautoka is considered to have the best climate in Fiji. Most snorkeling is not actually done on either of the two large islands where 80% of the population lives, but rather boats go to the other 298 islands or so. The beautiful pictures that are shown for tourism are mostly on the much smaller islands. Fiji is the first country on the face of the earth to see the sun rise since it is located on the 180th meridian. Postcards mailed from the ship were a bargain at $0.60 each (although they were probably much cheaper at Fiji Post).
When we got off the ship at 9 AM, we were surprised to find that there were tours that could be purchased right then and there. This was the first port that we had seen on this cruise that had tours to easily buy off the ship. There was a nice information tent, too, but nothing was being sold (other than tours). It was strange that there weren't any vendors at the port. Rather than waiting for the next free shuttle, we walked to town (about 20 minutes) and saw a bunch of people, mostly women, lined up for the "Stop violence against women and children" rally. We kept walking and soon after that we heard the local band and saw the rally people marching behind it. Traffic was stopped at the intersections where the band did some dancing while playing. It was fun and a lot of the participants in the rally were waving at us.
We went to the Central Market and all of the produce looked very nice and the prices were clearly displayed. There were only two items that we had to ask about – taro root and kava. Kava looked like dried ginseng or ginger with long branches coming out. They looked root-like. They were expensive, too, at around $10 per pound. (Kava is a ceremonial drink that supposedly has narcotic-like properties.) Snookums bought four heaps of three different varieties of hot peppers to share with the Indonesian staff in Neptune Lounge and Arya, our Indonesian table waiter. The hot peppers cost a total of $1.70 and had she been thinking, Snookums would have bought some for the room stewards (Fausi and Suan), too. We bought canned corned mutton ($1.60 for 7 ounces) at one of the many, many grocery stores. Filbert bought Bounty (rum and cola ready-to-drink bottle for $1.60) and two cans of Fiji Gold beer ($1.25 per can) at one of the many liquor stores. Most of the liquor stores were actually in cages and the customer stood outside of the cage and told the caged clerk what was needed. The clerk then put the items through a little opening in the cage. Crime is on the rise in Fiji. At this point there was nothing else we wanted to buy but we still had Fijian currency left. Filbert found an air-conditioned coffee shop (no Wi-Fi available) and bought a $3.35 iced coffee (very, very expensive since it was in a new air-conditioned shop) while Snookums went off in search of souvenirs to spend the remaining $10.50. She bought a cannibal fork (yes, Fijians were cannibals until the late 1800s), a kava bowl and a very small tapa cloth purse. (Tapa cloth is a non-woven fabric made by beating a paper mulberry tree's inner bark to reduce its thickness.) She probably could have spent less than the $10.50, but she was done and felt good helping the Fijians.
Fiji was very nice in that everyone spoke English and everyone greeted us with "Bula" for hello. Vendors did not try to get you to buy their items. They left you alone. Taxi drivers did, too. It was not a high-stress day like Vietnam where you practically had to beat the vendors away. In fact, Sharie told us that she was going to buy a $6 sarong but the vendor suggested that she just buy two yards of the fabric (at $1/yard) instead since it was the same thing! When we were outside the Central Market and were looking for the souvenirs a woman actually led us to the crafts market. That hadn't happened in any other country. Snookums really enjoyed the day, but Filbert was sweating profusely and wasn't too excited about another market. It was 90° and cloudy for most of the morning but the humidity was quite high. We took the shuttle back to the ship at 1 PM and Filbert immediately showered the sweat and grime away. Snookums went to Neptune Lounge and gave the peppers to Sari who was absolutely thrilled.
Snookums went to the 5 PM Total Body Conditioning class and Laura was the only other guest. Kristina now knew us well and told us that per the HAL/Steiner Spa handbook, she is required to wear a full face of makeup, including foundation, and bright red lipstick. She teaches fitness classes and sweats. Making her wear makeup is ridiculous! (Kristina wears minimal makeup, like eyeliner, and her boss on this cruise doesn't mind. On a different HAL ship, though, her boss made her follow the rules.)
Snookums decided that our dinner tablemates needed to try the three different kinds of peppers so she cut up one or two of each kind and put each in some sweet soy sauce (per Sari's advice). She took the three condiment cups to dinner and various crewmembers wanted to know what they were. (She also had the bag of chilies for Arya and the crew was jealous of those.) The largest pepper was a habanero pepper and it seemed to be the hottest but it also had the largest quantity of pepper per sauce. The medium-sized pepper was more like a Thai chili. The smallest chili was shorter than a matchstick and the vendor insisted that it was lethally hot, but it really wasn't. Everyone at dinner enjoyed the taste test and put the various strengths on their appetizers, as a dip for raw vegetables and on the entrees. It was a great evening. The reports back from the crewmembers were that the medium-size pepper was the hottest followed by the largest pepper and the tiny pepper wasn't hot at all. Some of the crew ate all three sizes raw, in one bite!! Our waiter said that he was going to cut them up and share them with his friends, probably in sambal or some other Indonesian dish.
November 21 (Wednesday, Day 62, At Sea) –
Snookums woke up and worked out. After a leisurely morning, we both went to Team Trivia since Snookums told Sharie's team that she would play on it for one day. Snookums got one answer correct, but her team didn't win any Dam dollars. Filbert's team tied for first and he won two Dam dollars. After that (around 1 PM), Snookums decided to spend the day on the verandah, including ordering a club sandwich from room service. She slept and read and read and slept and used a beach towel for a blanket since it was only 82° (and humid and windy which was why she was just a tad chilled). Filbert listened to his shortwave. After Snookums woke up the last time she finished her book and then decided to use the hot tub since she was pretty sore from her most recent workouts. Much to her surprise, it was 6:30 PM and dinner was in thirty minutes at Canaletto for the six of us since we wanted to skip a formal night. The ship did lose an hour at 2 PM, but it still didn't seem possible that Snookums spent 4.5 hours on the verandah. Snookums skipped crafts but told Sharie that she wasn't attending. Sharie was going to miss it, too, since Sharie was helping with the arts and crafts silent auction (similar to the watercolor one the other day). Snookums even missed the 5 PM exercise class but learned that Laura attended which meant that Laura had a one-on-one Abs session with Kristina. (And Laura had already paid for 12 60-minute personal training sessions with Kristina and had one more left.)
When we returned to our room after dinner, and since it was a formal night, (but Filbert wore shorts to Canaletto), we were happy to see presents on the bed. We received two packages of Reidel red wine tumblers, two wine aerators and two copies of a $14.99 2012 pocket wine book. Filbert spent an hour or so paging through the book and learned that fresh watercress makes any wine taste "revolting". So, don't bother pairing any wine with a watercress salad.
Today's Explorer had the biography for Executive Chef Ed Sayomac in it. Ed, from the Philippines, started with HAL in 1981 as a General Purpose Assistant Pantry which meant that among other duties, he served food in Lido, prepared room service short orders, cut fruit and served ice cream. He accepted the Executive Chef position in 2000. That is some success story.
November 22 (Thursday, Day 63, Apia, Samoa; 1.00 WST = $0.44, $1 = 2.29 WST) –
Snookums went to Fab Abs and then the morning went by slowly since the ship didn't dock in Apia until noon. Apia has around 50,000 residents and is literally the only "town" on the island of Upolu. It is the capital of Samoa. Writer Robert Louis Stevenson spent the last four years of his life here.
We left the ship around 12:30 and walked five minutes to Palolo Deep Marine Reserve. We paid our $2 per person (4 Tala per person) and went snorkeling in the 85° water. It was fabulous and we saw a lot of blue tipped coral that actually looked like it was under a black light since it was so bright. (Naturally it didn't photograph well.) We also saw a lot of bright blue starfish and lots of colorful fish. We saw large schools of little light grey fish that looked bright blue. The water was so warm and it was so nice that we were there for almost 2.5 hours.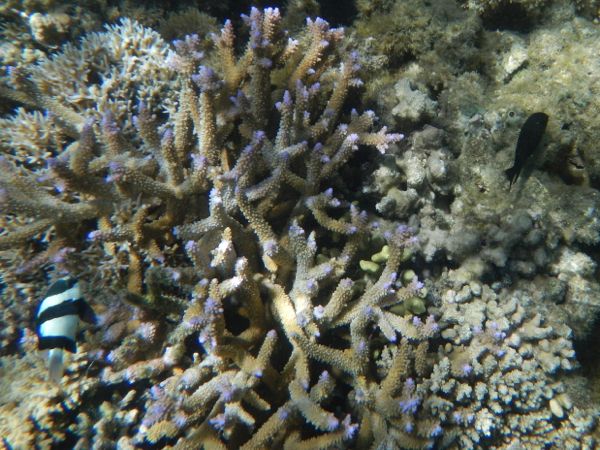 Blue tipped coral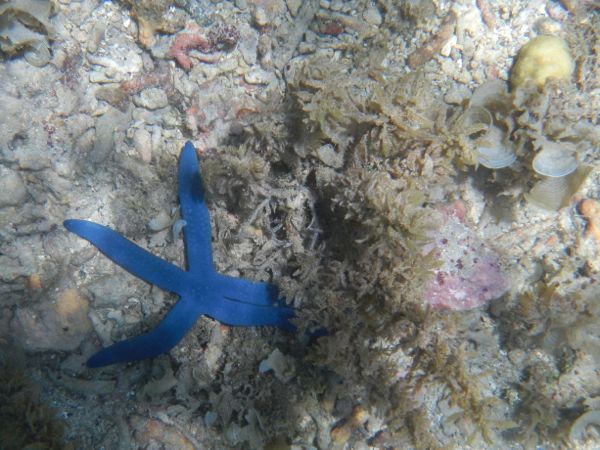 Blue starfish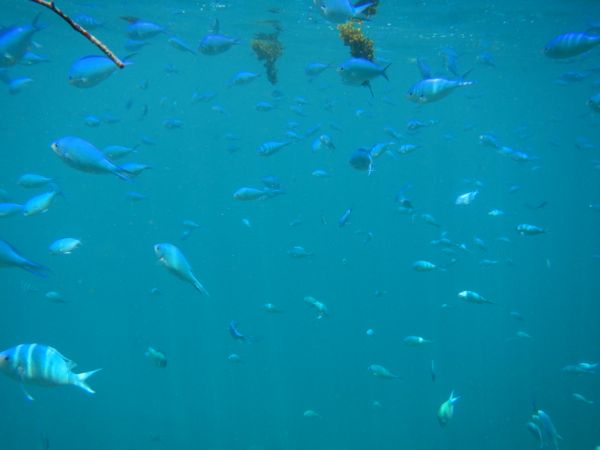 Little gray fish
We walked back to the ship and took off our wet bathing suits and dropped off our snorkel equipment and walked to town. We stopped at the post office to mail three postcards to the U.S. but they didn't take credit so we went to the bank across the street and used the ATM. Then we mailed the postcards ($1.15 each) and kept walking and found a grocery store. Several $1.40 bottles of Vailima lager beer, a Samoan daily paper ($1.10), a can of Coke Zero ($1.10) and $2.50 Samoan-made bars of soap later, we took a cab back to the ship for $3 and didn't try to bargain for the fare. The internet's weather forecast was for a heat index of 111° at 1 PM and it sure felt that hot at 4:30 PM! We got back to the ship a little before 5 PM (darn, too late for Total Body Conditioning…) and showered the day's grime away. Snookums had a ridiculous looking sunburn from her wetsuit. She had definite lines between pale white skin and bright red skin on the backs of her legs and arms. That's what happens when you are facedown in the water for a couple of hours without sunscreen!
At 4 PM there was an island dance show in the Queen's Lounge put on by Apia Outreach Program. The monies raised by the two silent auctions from the watercolors and arts and crafts was tripled by HAL and then donated to this group that helps orphans and underprivileged children. It amounted to $10,000 which was the most ever and a HUGE amount in Samoa. (The average personal income is around $8,000.) Four years ago on this same cruise, the donation was $1,500 and that seemed like a lot of money. So, $10,000 was certainly not expected by the group leader. Snookums heard that there were around 100 people on the ship that gave monetary donations that had nothing to do with the silent auction and that's what helped get the total so high.
For people wondering what a typical HAL dinner might be, Snookums ordered an appetizer-size portion of the pasta entrée (Marco Polo Pasta – penne with tomato sauce, broccoli, mushrooms, artichoke hearts and grilled chicken) followed by a Boston and romaine lettuce salad (with kidney beans, tomato, radishes, onion rings, bell pepper, and cucumber) and Yankee beef pot roast for her entrée (with root vegetables, topped with frizzled onions and served with mushroom medley and mashed potatoes). For dessert she ordered all three regular desserts (excluding the non-sugar added offering and the various ice creams, fruit and cheese offerings): chocolate raspberry bash pie (a chocolate, cream cheese and raspberry pie), "DAM" devil chocolate cake (a chocolate cake) and a cappuccino bomb (rich coffee ice cream encased in a decadent dark chocolate shell). Snookums typically orders ONE dessert or even orders the fruit item listed as the first starter on the dinner menu for her dessert, but when she saw three chocolate desserts on the same menu, she went for it and enjoyed all of them. (The chocolate raspberry bash pie was the best followed by the cappuccino bomb. The "DAM" devil chocolate cake was filled with too much chocolate mousse-like filling for Snookums's taste but she ate it all.)
Our waiter also gave us some homemade sambal that was made from the Fijian chilies. Among other things, it consisted of chilies, lots of olive oil, onions and lemongrass. Filbert and John F. enjoyed it and said it was very spicy.
November 22 (Thursday, Day 64, At Sea; Cross International Dateline (Thanksgiving)) –
Snookums woke up and went to Total Body Conditioning and worked up a good sweat. She showered and ate breakfast and Filbert was still asleep. Around 9:45 AM Filbert showed up in Neptune Lounge and he was showered and ready for the day. At 10 Snookums was invited to a special invitation suite-only event with three other women to see Edy's flower storage area and workshop. It is tiny. A new shipment of flowers arrived yesterday in Samoa from New Zealand which meant that they were more expensive than normal so the quantity was smaller than normal for the $5,000 spent. It was still a lot of flowers, though.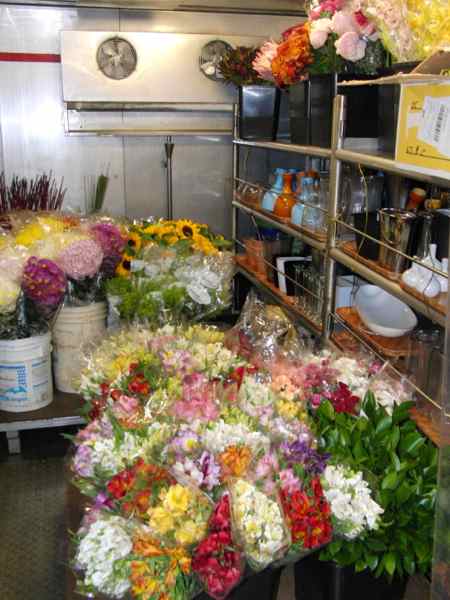 Flowers
Since the International Dateline was passed, complimentary Borderline drinks (champagne mixed with pineapple juice) were served during breakfast hours in the dining room and Lido (but not in Neptune Lounge). The ship is back to being on the same day of the week as the U.S.!! The ship is still four hours behind central time, though.
While Snookums was touring the floral areas on Deck A, Filbert attended the "Hawaii Overview & Things to See & Do in Honolulu" lecture and then stayed for the "Some Legacies of Colonial History 1: Troubled States" lecture by Cluny Macpherson.
Snookums then shopped the "Black Friday" sale. (The International Date Line must have screwed up the store employees since the ad that was delivered to each cabin last night talked about Black Friday although the sale was today, Thanksgiving Day and the ship's second Thursday). Snookums bought five lottery scratch cards from the casino since she wants to win a woman's polo shirt in the losing ticket raffle. For her $5, she also got two used decks of cards and two $5 match play certificates as part of the Black Friday bonus. One of the scratch cards was a $2 winner that Snookums turned in for $2 cash.
Snookums returned to the cabin and watched NFL Thanksgiving football on TV while Filbert stopped by for a quick five minutes before leaving again for his noon team trivia commitment where he won three Dam dollars since his team won the whole thing and got the bonus question correct. It's sunny and 85 and there are a few tiny whitecaps on the water.
Snookums went to crafts and made an amethyst necklace and Nancy Grace (the crafts instructor) even gave everyone matching earrings that she already made. Stringing the amethyst on the beading wire didn't take too long so Snookums then updated the journal for a few hours prior to going to Fab Abs at 5 PM.
The dining room was decked out in red, white and blue streamers and U.S. flags to celebrate Thanksgiving. We found out that our waiter (Arya) and another waiter worked from midnight until 4 AM putting up all of the decorations. Luckily he was given breakfast and lunch duties off! Mr. K even gave the two men at the table red, white and blue flag bow ties. (John F. didn't come to dinner since he ate a bad hamburger at lunch and was feeling its effects. The five of us, though, managed to have a good time anyway.) Most of us ordered turkey dinners and we were sharing the foods from our plates that we didn't like with the people that did like those things (just like a family does!). And we all made pigs of ourselves by ordering seconds on dessert – excellent pumpkin pie and average pecan pie.
As we were leaving the dining room we decided to take some of the decorations for Filbert's sister who LOVES the 4th of July. (HAL throws most of the decorations out and we only took those that were destined for the trash.) Filbert and Big John started taking them down from the ceiling. We also saw Arya stand on a chair to take some down. When Big John saw this, he went ahead and took 2/3 of all of the decorations down since he could just stand on the ground and reach up and take them down. He didn't need a chair to stand on. Waiters were coming up to Laura to thank her for her tall husband since he was saving them so much clean up time. (Most Indonesians are shorter than Americans and they are definitely shorter than Big John. ["Big John" is Snookums's name for John M. since we have two John's at our dinner table.]) Filbert walked away with ten streamers and six American flag posters and everyone was happy and Filbert's sister will be very, very happy!
During dinner Sharie told us about her tour of the bottom three decks of the ship. She got the tour since her travel agent belongs to a special group and this was a perk. She learned that towels last around three months each and that the linens are weighed before washing since each load can be 100 pounds. The dryers can hold 150 pounds and those loads are also weighed. The laundry room staff is made up of the newest Indonesians on the ship. After they work ten months in the laundry room, they'll be "promoted" to working in Lido. Sharie said that she was sweating after just a few minutes in the laundry room. She saw the Morgue (which is currently empty) and it is next to the "Thawing Room" (and she thought this was hilarious). Both of these rooms are across from the all important "Ice Cream" room.
November 23 (Friday, Day 65, At Sea) –
We both woke up around 9:30 and made it to the 10 AM King Neptune ceremony. It was held today since we were going to cross the equator around 10 PM. This was the best King Neptune ceremony we've seen. The theatrics and script were very funny. Rather than smearing food on the offerings (crewmembers who crossed the equator for the first time) to King Neptune (Poseidon), pastel colored meringue or mousse was smeared on them. Passengers were served Equator Slings (rum, vodka, gin, and yellow fruit punch) and everyone had a good time.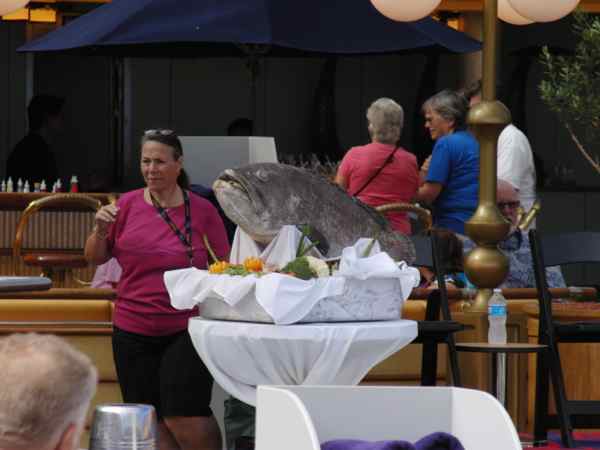 The Fish. Kiss It.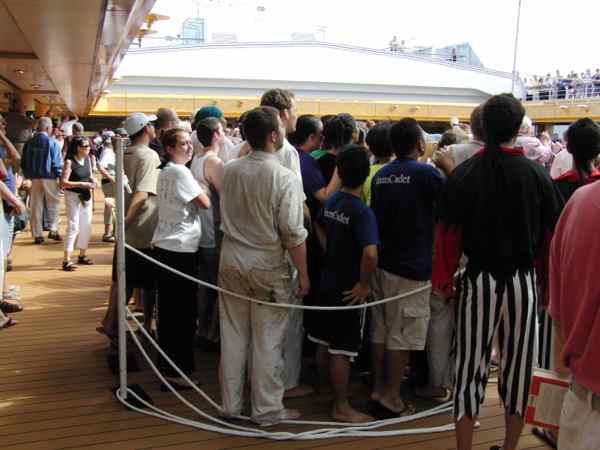 Pollywogs
Initiation
Snookums and Filbert both played Team Trivia since Snookums filled in for John F. since he was sick. The team got first place, too. Snookums attended crafts later and made a kukui nut necklace and Nancy gave everyone matching kukui nut earrings, too. Snookums was the only one at Total Body Conditioning and had a good workout.
We ate dinner at Pinnacle Grill with our tablemates, minus John F. who didn't want to push his luck. We had a good time and Big John and Filbert each ordered the 22 oz. porterhouse. Snookums really enjoyed the Steak Diane (without the cognac) and two of her three desserts. (The day before she special ordered the chocolate lava cake without Grand Marnier and also requested plain Ben & Jerry's Cherry Garcia ice cream without the Baked Alaska part.) We spent three hours there and had a good time although neither Snookums nor Filbert thought the fresh raspberry cheesecake had any cheese in it.