Contributed by: filbert Tuesday, January 22 2013 @ 01:57 PM CST
The 2012 35-Day Hong Kong-Athens Cruise, Oceania ms Nautica, 1 of 6
Text and pictures by Snookums, webification by Filbert
Part One
April 6 (Friday, Day 1, Flying to Hong Kong) –
Snookums woke up feeling better than yesterday when she had a temperature of 99.5°, felt nauseous and had a headache for most of the day. Super Shuttle picked us up around 9 AM and we got to the airport and enjoyed sitting in the American Airlines lounge for a few minutes before boarding the flight to Chicago. We ate our Target salads that we brought with us and the flight went by quickly. We had to clear security again at O'Hare since our Cathay Pacific flight to Hong Kong was flying out of the international terminal. We spent about one hour in the Swiss Air Lounge since we were flying business class. We used American Airlines miles for our one-way tickets from Kansas City to Hong Kong. Economy class was going to require 40,000 miles per person and business class was 55,000 so we went with the 55,000 mile option (plus $30 per person for taxes). Had we purchased the ticket, it would have cost $3756.90 per person. Flying business class also meant we had lounge access. It was too bad we ate on the flight to Chicago since the spread in the Swiss Air Lounge included oven fried chicken, hot pasta, salad, fresh fruit and packets of Oreos and Fig Newtons. We boarded the flight and immediately got giddy seeing the business class "pods" with the fully-flat reclining seats. The non-stop flight was scheduled for 15 hours and 35 minutes so the extra space was going to be great. The flight attendants came through and handed out toiletry bags and bowls of mixed nuts. Soon it was time for dinner. The starter was seared ahi tuna with shiso pesto and semi-dried tomatoes and there was also a seasonal mixed green salad with portabella mushrooms and sesame oriental dressing. Flight attendants came by with various drinks and breads, too. Filbert enjoyed red wine and Snookums ordered the made from scratch non-alcoholic kiwifruit drink with coconut juice and a touch of fresh mint.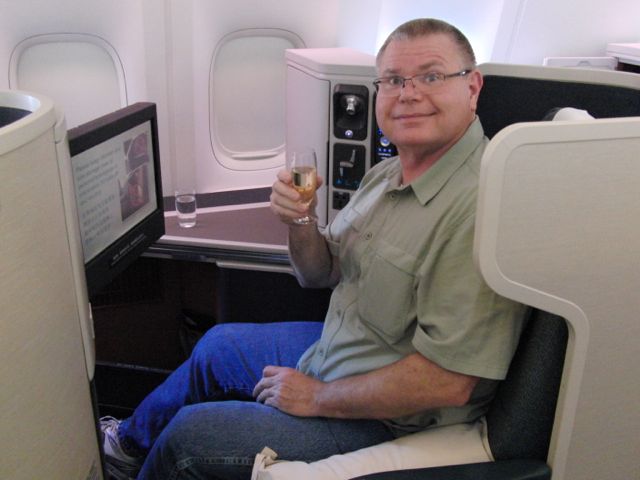 Cathay Pacific's Business Class pod (with occupant)
After the starter, Filbert and Snookums both chose the braised chicken with dark soy sauce and basil, egg fried rice, kalian (Chinese kale), mushroom and carrot. Other entrée choices included beef tenderloin, sea bass and pasta. It was very tasty and both plates were clean by the time the flight attendant came by to pick them up.
The fruit and cheese cart was wheeled out and the Danish blue and cheddar were good. Filbert enjoyed port wine, too. After the fruit and cheese, we were served marble cheesecake with berry compote and then Godiva chocolates.
While eating dinner, Snookums enjoyed watching the movie "Tower Heist". Then she watched "The Help" and "Source Code". On her February cruise she wanted to see "Tower Heist" and "The Help", but never managed to make it to the theater at the right times (and never managed to see the movies when they replayed on television the next day). Then she watched "We Bought a Zoo" followed by "Margin Call". During the zoo movie she tried the spinach and feta cheese pizza (it was not heated all the way through so she didn't eat it) and then the wontons in noodle soup (good wontons and broccoli and broth, but way too many noodles). Other snacks were available, too, throughout the flight, including a chicken breast with Brie and pesto sandwich and Häagen-Dazs ice cream, but she didn't order them.
April 7 (Saturday, Day 2, Flying to Hong Kong) –
The next movie that Snookums watched was "Carnage" followed by "The Descendants" with George Clooney. During "The Descendants" the refreshment was served. It started with fresh fruit and then we had a choice of an herb crusted guinea hen paillard with Madeira sauce, creamy Parmesan polenta, asparagus and patty pan squash or stir-fried egg noodles with shredded pork and choy sum. Snookums ordered the guinea hen and Filbert had the shredded pork dish. Dessert was raspberry mousse cake with chocolate whipped cream. By now we were on track to land 30 minutes early and Snookums and Filbert had done a good job of staying awake the whole time in order to try to be asleep as soon as possible upon arriving at the hotel around 10 PM Hong Kong time.
About 30 minutes prior to landing the pilot announced that we would be in a holding pattern. We ended up landing around 8:15 PM, which was only 15 minutes late. The last 45 minutes or so of the flight Snookums dozed sporadically.
We were almost the first people through immigration so there was no wait there. By the time we each went to the bathroom our two pieces of luggage had arrived so we then headed to the train. We had to wait five minutes for the next train but then got on it and rode to Kowloon Station in about 25 minutes. We easily found the free shuttle bus to the Hyatt Regency Hong Kong, Tsim Sha Tsui and arrived at the Hyatt by 9:45 PM. After a quick check-in at the Regency Club, we got to our room. We used two free nights and had been upgraded to a harbor view room. All we cared about, though, was showering and then bed.
April 8 (Sunday, Day 3, Hong Kong; 1 HKD = $0.13, $1 = 7.77 HKD) –
We woke up around 7 AM and immediately went to the Regency Club for breakfast. Aside from pastries, fruits, cereals, salmon, and green salad fixings (we are in the Asia!), they offered a hot entrée consisting of a bacon and onion quiche with sausages, bacon and a broiled tomato. It hit the spot. (We could have ordered chicken congee, too, but didn't.) We ate a leisurely breakfast, went back to the room and finally showered around 10:30 AM. It was overcast outside and 70° and we were kind of in a fog (both literally and figuratively – the weather was foggy and our brains were in a jetlag fog) and weren't in too much of a hurry to do anything. We've been to Hong Kong before and didn't feel the need to explore. We finally left the hotel around 11 AM and just wandered the streets.
Filbert recently purchased a new underwater camera and needed a camera case so that was our mission. Camera stores are everywhere in Hong Kong so we stopped in one and found a case that worked but the salesman wouldn't budge from 80HKD ($10.30) so we kept walking. At least we now knew the price. We went into another store and the saw the same carrying case and this salesman wanted 120 HKD ($15.45). We offered 60 and he came back with 80 and we settled on 70 HKD ($9.01). Snookums did all of the bargaining and felt good with the price. Our mission was now complete and we wandered back to the hotel.
The Hyatt Regency Hong Kong, Tsim Sha Tsui is located on the top of a nice mall that has a full size grocery store in it. Filbert purchased "Bota Box" California wine for the cruise (equivalent to $5.76 per bottle) and then we went back to the hotel room. After a while Snookums was hungry so we went to lunch in a Shanghai-style Chinese restaurant in the mall, Xia Fei. We watched a man make some noodles before we decided to eat there. Watching him turn a lump of dough into a rope that contained around 50 strands of noodles six feet long, all with just his hands, was fascinating.
When we were in Shanghai before we missed out on eating Shanghai dumplings (or xiao long bao). These are dumplings with smooth, translucent skin with pork filling that surrounds soup. When you bite into it, the soup squirts into your mouth and it's delicious. The dumplings are created by wrapping solid meat aspic inside the skin alongside the pork filling. Heat from steaming then melts the gelatin-gelled aspic into soup. For an appetizer we ordered four of these for $3.86 and Snookums ordered $6.70 rice noodle soup with minced pork with spicy sesame sauce. She received a huge bowl that contained a ton of rice noodles (like really long spaghetti) in a red sauce with a scoop of minced pork on the top. She stirred it all together and ladled it in to her bowl and was delighted to find that it also had peanuts in it. It was very spicy, but just right. Filbert ordered the $11.33 braised beef soup in a spicy chili sauce even though the waitress told him it was very, very hot. He was up for the challenge. It came in a different type of bowl and was a dark brown soup that had at least 12 little red chilies floating on the top. There appeared to be chili oil sheen on the top, too. His soup had bean sprouts, onions and large pieces of beef in it. He ladled it in his bowl and took a taste and immediately told Snookums it was way too spicy for her. He ate all the beef from the soup but didn't eat too many of the bean sprouts or the broth since it was so spicy. Tears were running down his face as he was eating, but he enjoyed it. He did admit that Snookums's soup was better (his was just way too hot) and that the dumplings were fantastic. Filbert decided he needed some beer to cool the burn so we stopped at the grocery store in the mall and he bought two cans of Gold King beer for a total of $0.76. We waddled back to our room and did some light snoozing (jet lag!). We thought it was Hong Kong beer, but later saw that it was brewed in Vietnam. It wasn't the best beer Filbert had ever had, but he drank it.
Dinner was eaten in the Regency Club and the hot items were samosas and dumplings with shrimp and chives. The dumplings didn't even compare to our lunch ones since the Hyatt's were rather doughy and tough, but they were free and food so we ate them. While in the Regency Club we met Nancy and Bill who are on our cruise, too. We ended up talking until around 8:30 PM when Snookums decided it was time for bed.
April 9 (Monday, Day 4, Boarding Nautica) –
We woke up at 5:30 AM to a very rainy day. We showered and went to the Regency Club and our entrée choices were either pork and thousand year egg congee or boiled egg, sausage, bacon and tomato. We chose the boiled egg option. Filbert ate his, but Snookums doesn't care for soft-boiled eggs so she ate the rest of the items on the plate and had various pastries and a nice green salad, too.
After a relaxing breakfast, we packed up and then just lounged around for awhile. Around 10:45 AM we caught a $6.75 (52 HKD) cab for the ¾-mile trip to the port. Embarkation started at 11 AM so we had to wait for a few minutes. Our cabin wasn't ready until 1 PM (and we knew this) so we ate lunch at the buffet since it was the only dining option.
We dropped off our carry-on luggage in our cabin and took some photos of it. Cabin 7019 is a Concierge Level Stateroom in a preferred forward location on deck 7. It is a 216-square-foot stateroom (VERY SMALL!) with a private teak veranda, flat-screen television, small loveseat and spacious closet. The "Concierge" designation means that the cabin comes with an Oceania tote bag, bottle of champagne, six dinner reservations at the two free specialty restaurants and full room service breakfast. We spent more for the concierge cabin for its location so that we didn't have a lifeboat under us. There is better sea viewing from the concierge cabins.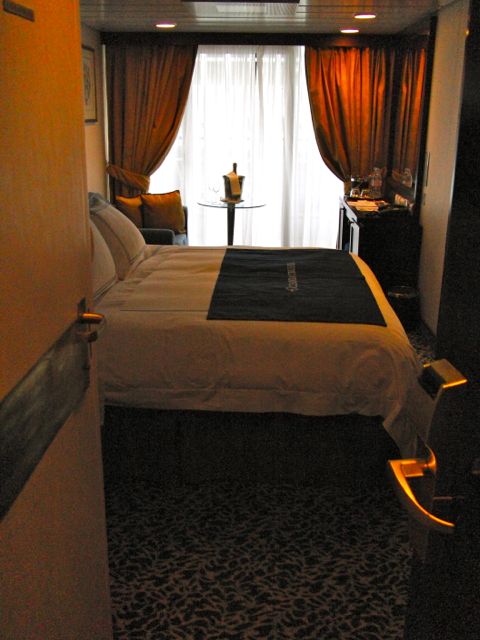 Cabin 7019
Our luggage wasn't in the cabin yet so we went exploring. The Nautica, captained by Leo Strazicic, is a small ship so it didn't take very long. The main showroom lounge is only one level. The library is very nice and has a fake fireplace in it. There is one swimming pool with two hot tubs right next to it. The gym is pretty nice given the small size of this ship. The casino is tiny.
When we got back to our cabin the luggage was there and we were able to unpack prior to the 5:15 lifeboat drill. After the lifeboat drill we decided to order room service for dinner (grilled ham and cheese for Snookums and a hamburger for Filbert) and turned in early. Jetlag!
April 10 (Tuesday, Day 5, Cruising the South China Sea) –
Snookums slept most of the day. Really, she did. She would read and then fall asleep for a couple of hours. One of her naps was four hours long! We were still waiting for our special request beverages to be delivered. Oceania provides free sodas and water and we ordered Caffeine Free Diet Coke and Coke Zero more than six months ago and it seems that no one knows about it. Hmmmm.
We went to the main dining room for dinner and chose to eat with others and were seated at a table for 8. Oceania has an open dining policy and you can eat whenever you want and with whomever you want. We enjoyed dinner, but eating with new people every night will get tedious. Filbert did have to wait for more than two courses to get his water glass refilled so we weren't too thrilled with the service. And, food is supposed to be top-notch on Oceania, but we aren't impressed with that, either. Snookums ordered four side dishes for her dinner (fried rice, couscous, risotto, green beans) since she didn't see any entrée that looked too good. Filbert had the prime rib and he said it was good, but horseradish was never offered which seemed strange.
April 11 (Wednesday, Day 6, Chan May, Vietnam; $1 = 20,810 VND) –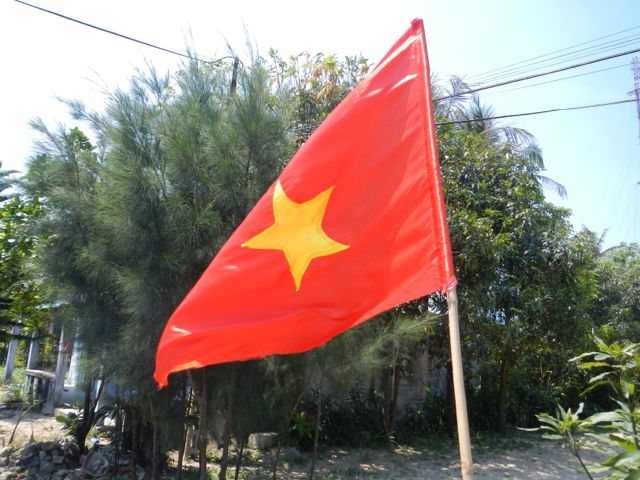 Vietnam
We took the free shuttle to the small town of Chan May. Most people took tours to Da Nang or Hue. We visited Da Nang in 2008 so we didn't need to go again. There wasn't much to see in Chan May but we walked up one side of the busy main street and down the other. (There didn't seem to be anything on the side streets. They were just alleys that went to the water.) There were a lot of open-air "restaurants" and most of them also seemed to be selling their own bottles of fish sauce. There weren't any stores, just lots of these restaurants and hotels. One of the restaurants had some souvenirs for sale so we went in and Filbert bought a beer for $1 since he felt we needed to buy something. Snookums didn't have that same feeling, but whatever. It was actually a pretty nice day for Vietnam since there was a breeze and we often walked under trees so it didn't seem too hot. Then we caught the shuttle back to the ship and spent the rest of the day watching the comings and goings of the industrial port from our veranda.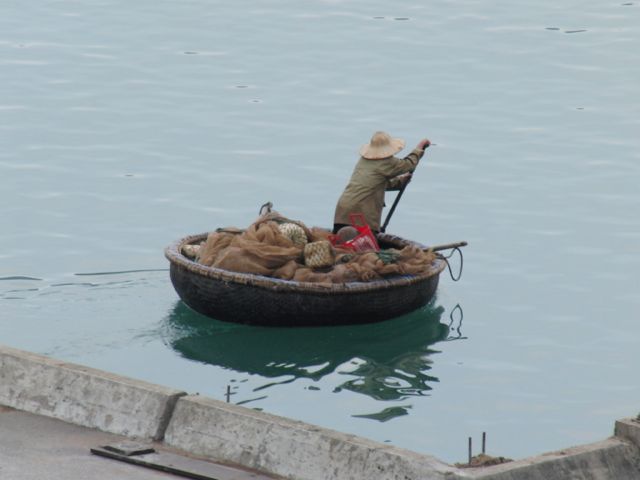 Vietnamese round boat
Filbert had a headache but we had a reservation for Toscana, the Italian restaurant, so we went to dinner at 7:30. Snookums thought her entrée of spinach pasta with chicken and fontina cheese sauce was greasy and wasn't pleased with it. Filbert enjoyed his chicken breast entrée and we both ate various appetizers, too. Filbert's fried calamari seemed to be the best offering of the night. Snookums's apple crumb pie was soggy and Filbert's dessert was too sweet for his tastes. We have two more dinners at this restaurant to get it right.
April 12 (Thursday, Day 7, Cruising the South China Sea) –
Filbert's headache lasted throughout the night and he took at least four showers trying to get rid of it. At 5 AM he threw up. At 8 AM he decided to see the ship's doctor (from the US) since he didn't sleep at all (and Snookums didn't sleep much, either). The doctor drew blood and realized that Filbert was dehydrated. Filbert was given two injections, one for his headache pain and one for nausea, and was told to drink a lot, especially Pellegrino water (free) since it has minerals in it. The doctor wanted Filbert to come back at 6 PM, too.
We got back to the cabin by 8:45 AM and Filbert continued to toss and turn but finally went to sleep until 1 PM. He felt much better and we went to lunch which was a good thing since Snookums was starving from her lack of dinner the night before and since she didn't go to breakfast. Our refrigerator had Caffeine Free Diet Coke in it when we got back, but no sign of Coke Zero.
More reading and sleeping was done during the afternoon and we went back to the doctor at 6 PM to tell him that everything was okay. We also got the $631 bill for the doctor visits and are glad we have cruise insurance since we'll get reimbursed for the $631 minus the $50 deductible.
We decided to order room service for dinner again. On Oceania you are not allowed to order room service from the dining room menu during dinner hours so you are limited to the ten items or so on the 24-hour room service menu. Filbert ordered the strip steak and a chef's salad and Snookums ordered the spaghetti, a salad and French onion soup. Her spaghetti was way overcooked and oversalted and her salad was literally just mixed greens (no other vegetables, just a variety of lettuces). Her French onion soup was good, though. Her dinner consisted of lettuce and French onion soup. The room service dessert offerings didn't impress her, either, so she didn't even have any dessert!
We watched the movie "Moneyball" with Brad Pitt, too, and thought it was pretty good although it dragged a bit at one point. Filbert was cured so it was a good day!
April 13 (Friday, Day 8, Saigon, Vietnam; $1 = 20,810 VND) –
We started our twisting and turning journey on the Mekong Delta around 7 AM and docked in Saigon at 10 AM. We took the first shuttle at 10:30 AM. We were less than a mile from the shuttle drop-off spot (the Rex Hotel, right in the heart of downtown Saigon), but we figured we would save our walking for when it counted. It was hot and humid, but there was a breeze.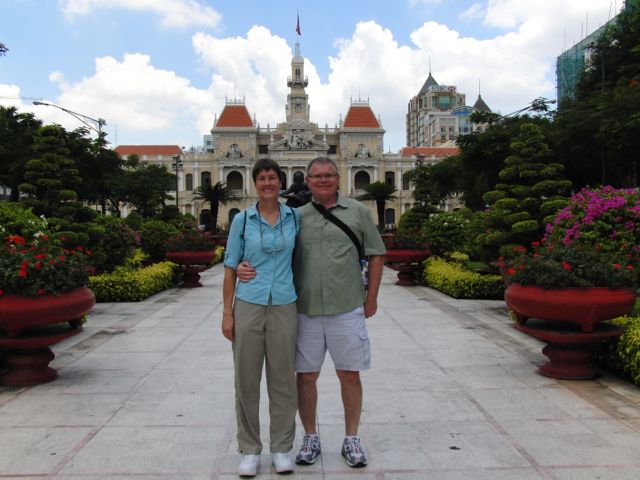 In Saigon
We went to the Ben Trahn market and walked around all of the stalls but didn't buy anything. It is a covered, open-air market that sells everything – clothing, luggage, spices, coffee, souvenirs, plus fresh fruits and vegetables, a "food court" where diners sit on little plastic stools and may or may not get something to use as a table, and a fish market. It was hot and stuffy and we were there in October, 2008 so we didn't stay too long. We continued wandering around outside and made our way back to the Rex Hotel and sat in the lobby and used our iPhones and the free WiFi to check email. We also used the bathrooms since we knew they would be clean and Western!
We got back to the ship around 2 PM, cleaned up just a bit and went to lunch. Unfortunately, the only thing open was "Waves Grill" which is the outside hamburger and hot dog place. We got our burgers and took them inside to the closed "Terrace Café" (the buffet restaurant) since it was just way too hot to sit outside. The Terrace Café had already been transformed for dinner with tablecloths and extra stemware, but we had to eat somewhere. One of the waiters was a bit surly, but Snookums sat down anyway. After another five minutes or so, four other groups of people were bringing in their hamburgers to eat in air-conditioned comfort.
On the way back from our late lunch we went by the laundry room and all four of the washing machines were available so we both stripped and Snookums put on her robe and took our large load of dirty laundry and got it started. She went back and put it in the dryer and when she went to get it out of the dryer, she was just about done folding everything when the ship's power went out! Another woman in the laundry room called the front desk and was told that the engineers were working on it, but it was odd that there was not an announcement made about it. They can announce that Bingo is starting in 10 minutes, but they can't make an announcement that the ship lost power! The power was off for around 10 minutes. Snookums was just happy that she was done with the laundry.
One of the annoying things about Oceania is that there is NOT food available all of the time, other than room service. For example, breakfast is from 7-10AM. The lunch buffet is from noon-2PM. Waves Grill (with its outside seating) is open from noon-4PM. Dinner service starts at 6:30 PM. On Holland America, you can eat lunch until 4 or 5 PM and it consists of the Wave Grill-like place PLUS a full salad bar and a sandwich station and you can eat inside or outside. Another difference on Oceania is that room service is just from the room service menu. HAL lets you order room service from the dining room's dinner menu rather than the limited room service menu from 6-9:30PM. On Oceania, though, if you want to eat dinner in your cabin, you are stuck with the limited room service menu. And, if you are in a normal cabin (and not a Concierge cabin or a suite), your breakfast room service choices are limited to a continental breakfast with no hot food options.
We went to the main dining room for only the second time and enjoyed our dinner for two. The entrée of Chinese beef stir-fry was the best thing Snookums had tasted since coming on board. Oceania has always gotten very good reviews for its food, but most of it seems bland, fried or heavily sauced.
April 14 (Saturday, Day 9, Saigon, Vietnam; $1 = 20,810 VND) –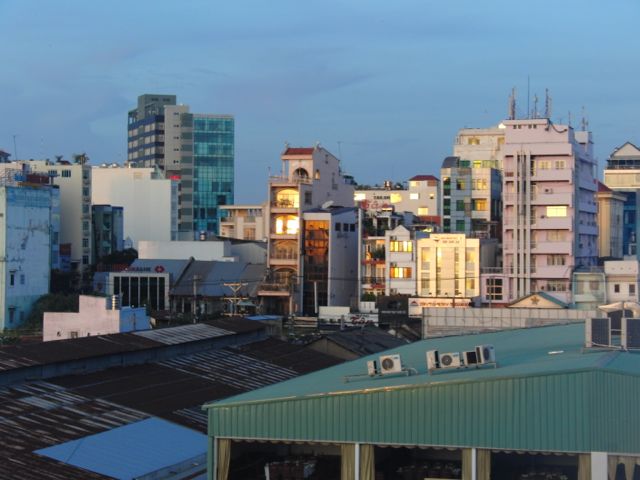 Sunrise off the buildings of Saigon
Filbert woke up around 6 AM and when Snookums woke up around 6:30, we decided to get on with the day. After showers and a buffet breakfast (omelet for Filbert, oatmeal, a bowl of fresh blueberries and strawberries and two sticky buns for Snookums), we decided to catch the 8:00 AM shuttle to town. We took our laptops, too.
We walked the few blocks to Notre Dame that was supposed to have been inspired by the cathedral in Paris. The post office was across the street in a building that looked like a train station. Snookums went into one of the stores and bought a card for Mother's Day. It was $0.75 and she gave the woman a $1 bill and didn't expect any change since it was priced in Vietnamese currency. However, the woman gave her 5000 back (or $0.25) so she was very pleased. We continued just walking around. The temperature was around 88° with 65% humidity and we were sweating, but there was a breeze which helped. We walked by the Opera House and a very loud electric keyboard performance was being given on the steps by a young woman to promote a future performance. People on their scooters were just stopping in the street to listen. We listened for a few minutes and then it was over and all of the scooters went on their way.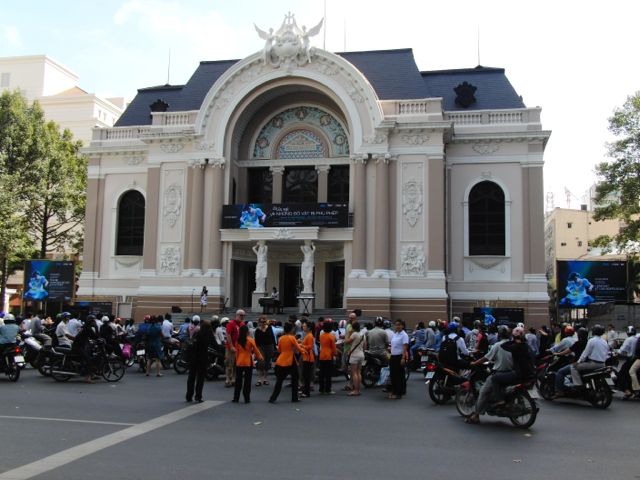 Outdoor concert
We ended up at the Rex Hotel to use the free WiFi. We decided to sit in the coffee shop and buy some beverages. Filbert ordered "freeze coffee" (which was sweetened iced coffee) and a can of Coke Light and Snookums ordered young coconut juice. Snookums was served a carved coconut full of coconut water. It was icy cold and hit the spot. She used the spoon to dig out the coconut, too. Each drink was $3.36 plus a 5% service charge and 10% tax. It was the most refreshing $11.60 we spent (and probably the equivalent of a couple of days' wages for a Vietnamese worker!).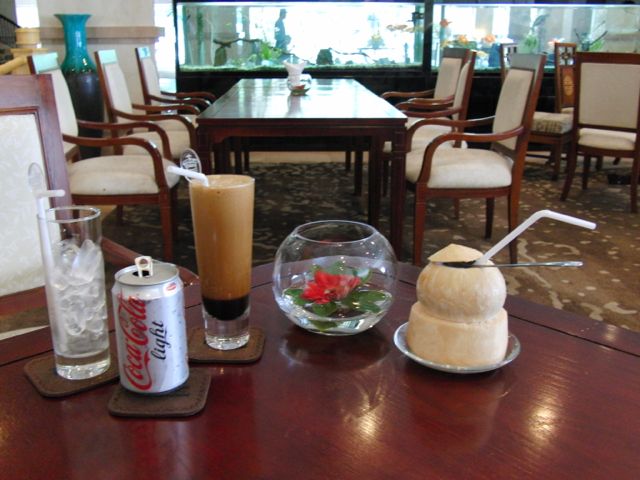 In the Rex
We took the 10:30 AM shuttle back to the ship and after cleaning up a bit, went to Horizons (the bar on the top deck at the front of the ship) to watch what was going on outside the ship. While there we also put together a list of items that have gone wrong on the cruise for our meeting with the Executive Concierge, Diego Coletti, later today. The lunch buffet opened at noon and we went there since Snookums was famished.
We left Saigon at 2 PM and cruised along the twists and turns of the Mekong Delta until we got to the South China Sea around 5:30 PM.
We had received a letter from the Executive Concierge yesterday asking us to meet with him so we met with him at 6 PM and went over our list of problems (no Coke Zero, place settings are often set with dirty dishes, when the ship's power went out there wasn't an announcement but bingo is always announced, wrong food delivered for room service, etc., etc.). He thought we were only meeting him about the lack of Coke Zero, but we thought that he had read our comment cards from the prior day and wanted more information. He was shocked to hear our list of complaints and had no answer for any of them. He did say that the main office realized that the Coke Zero request had been made at least six months ago and that there was a mistake and he was hoping that Coke Zero would be delivered when we get to Singapore. Otherwise, he had no comments other than incredulity at our experiences. We do NOT try to find bad things, they just seem to find us!!!
We went to dinner and Snookums's Dover sole was full of bones so she didn't eat it. This was even after the waiter deboned it (although not very well). Filbert's lamb curry was tasty. We didn't see any desserts we liked so we left.
We started watching the movie "Anonymous" at 8 PM, but it seemed to be a Shakespeare-era movie and Snookums fell asleep. The TV channels that we are getting are Fox News and three ship's movie channels. The other satellite channels, like Sky Sports, are not working due to our position.
April 15 (Sunday, Day 10, Cruising the South China Sea) –
We woke up around 8 AM and decided to go to the gym (a first!). Snookums joined the 8:15 Cardio Combat class and Filbert rode the bike and lifted weights. Then we went to breakfast. The coffee cup at Snookums's place setting was dirty…. After quick showers we went to the lecture on Bangkok. We learned that it is also called "City of Angels" which neither of us had ever heard.
Snookums read while enjoying the breeze (and heat) on the veranda and Filbert wrote his book. We went to lunch at 1 PM and Snookums was handed a bowl of risotto and on the rim of the bowl was dried "crud" from a prior service. (It was not recently spilled crud that dried. It came through the dishwasher with the crud on it.) She pointed it out to one of the dining room managers and let him know that she was sick and tired of getting dirty dishes. It should be interesting if we ever hear anything from the Executive Concierge from our meeting last night. (And the meeting was one that he requested.)
Snookums continued to read all afternoon and Filbert continued to write. Snookums has read at least five paperbacks since leaving home on April 8. And, she has napped probably as much, or more, as she has spent time reading! Cruises are good at encouraging you to do absolutely nothing at all.
We had dinner at Polo Grill, the steakhouse on the ship.
April 16 (Monday, Day 11, Bangkok, Thailand; 1 THB = $0.03; $1 = 30.81 THB) –
We decided to walk to the MRT station at Khlong Toei and take it to the shopping center, MBK. On the way we would also pass the Khlong Toei "fresh market". We got a map from the tourism woman that boarded the ship (Oceania makes you stand in line to get a map from the local tourist board rather than passing them out the night before with the port info) and she told us how to get to the MRT station from the port by taking a left at the Tesco sign for a 10 minute walk. After 30 minutes of walking in a very hot and humid 85° we stopped at a 7/11 to buy some Gatorade for Filbert so he didn't dehydrate again. We also found the fresh market soon after that and saw lots of vegetables and fish and even one woman who was gutting live frogs to prep them for sale. We had seen both live and dead frogs being sold at other markets around the world, but this was the first time we had seen a vendor gut one every 15 seconds or so and then throw it in the bin for sale! We finally found the MRT station. Today was a public holiday and it was deserted but very clean and modern. We bought our $0.58 tokens (each) and waited just a few minutes for the next vehicle. Then we transferred to the SkyTrain ($0.65 each) which stopped at MBK.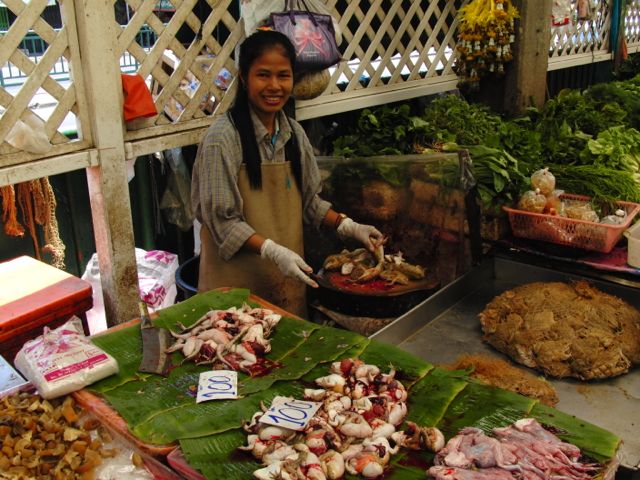 Frog, anyone?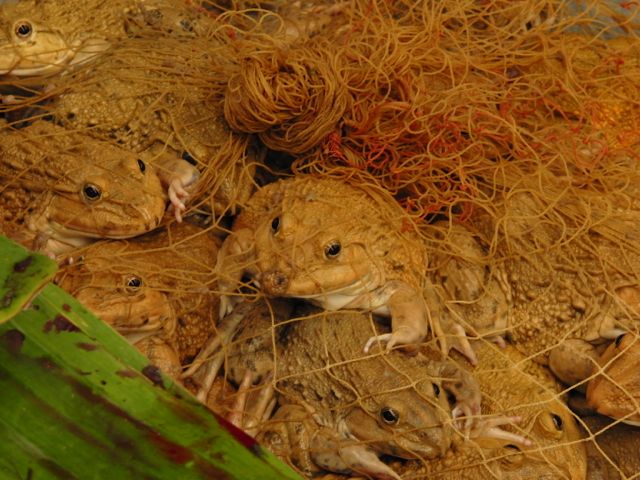 Help me!!!!"
MBK was billed as a 7-story air-conditioned shopping mall with souvenirs and other shops in it. It was HUGE. We started on the first floor and we walked the entire mall. Snookums needed new athletic socks since the brand news ones she brought fall down her heels so that was our goal for the day. There were stalls/kiosks selling socks, t-shirts, souvenirs, luggage, shoes and normal stores selling furniture and clothing. There were at least four food courts, too, on various floors, including one that was probably for locals since it was very cheap as compared to another one that was nicer and a bit pricier.
When it came time for us to eat, we asked at the mall information booth where we should go for Thai food and one of the women immediately pointed to a restaurant down the hall. On the way to the restaurant, we stopped at the bathroom ($0.06 per person and no change given by the attendant, but we had the right amount – 2 baht each).
The sit-down restaurant had a lot of options and some of them had three chili peppers next to them while others had just one and a lot of them had zero. We ordered larb (minced pork salad) and Filbert ordered fish curry and Snookums ordered chicken curry. All three menu items had one chili pepper next to them and they were plenty hot! Filbert was sweating and Snookums's lips were numb but it was really good. Filbert ordered two beers, too, which cost more than the three entrees we ordered.
After a leisurely lunch we continued on our shopping trip. Snookums found socks that fit and bought three identical pairs for $3. Filbert also bought a $5 headphone extender so that he could more comfortably listen to his shortwave radio on the veranda. While Filbert was looking at all of the electronics stores on the fourth floor, Snookums sat in a coffee shop and drank a can of $1 Coke Light to give her feet a break. We both enjoyed a break in a coffees shop on the first floor and Filbert had iced coffee and Snookums had a delicious lychee slushee and we used its free WiFi for an hour or so. iPhones are great when traveling since we can surf the internet and access email and everything!
We thought about eating dinner at the mall but instead went to the grocery store on the way out and bought some Coke Zero for Filbert and some dried durian and jackfruit to take home. We were even able to use our "10% off tourist card" that we got at the information desk earlier in the day on our groceries! Since our morning walk to the MRT station was a longer one (we got lost), we had already decided to take a cab back to the ship. We found the taxi stand and had the port info written in Thai to show the taxi dispatcher. We got in the next cab that pulled up and were whisked all the way to the ship in about 20 minutes for 77 baht total. We gave the driver 80 ($2.60). Our public transportation in the morning cost a total of 76 baht ($2.50). This was one case where a taxi was basically as cheap as public transportation (and certainly much, much cooler!). But, we were able to see the Khlong Toei fresh market in the morning which we would have missed by taking a cab directly to MBK. When Snookums got back to the ship, she did notice that she had a huge bug bite on her ankle and one on her knee. They both swelled up to be the size of golf balls but they didn't itch that much.
When we looked in our cabin's refrigerator, we were surprised to see Coke Zero in it. We weren't the only ones that bought Coke Zero in Bangkok! Oceania finally delivered, albeit seven days late.
April 17 (Tuesday, Day 12, Cruising the South China Sea) –
Today was a typical sea day. Snookums read and Filbert wrote. Cruising is great!
April 18 (Wednesday, Day 13, Cruising the South China Sea) –
April 19 (Thursday, Day 14, Singapore; 1 SGD = $0.80; $1 = 1.25 SGD) –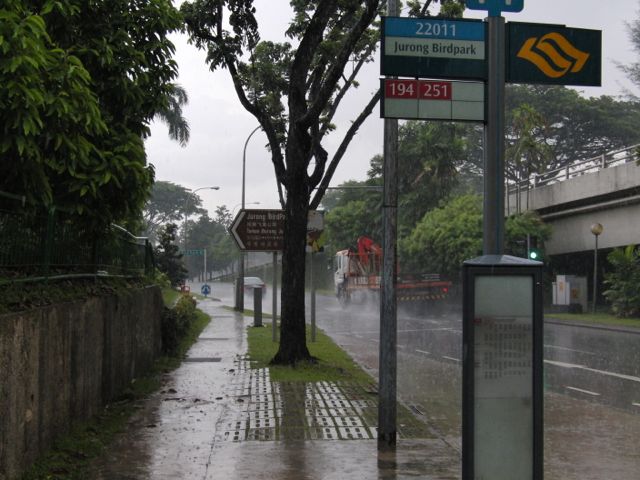 Rain, rain, go away . . .
We decided to eat breakfast on the local economy so we got off the ship as soon as it docked and found the ATM in the Harbour Front MRT station and then found the food court. We were here before on a cruise in 2008 so it looked familiar. Snookums saw a woman get a plate of food for 1.50 SGD ($1.20) and ordered the same thing. She had her choice of three noodles and asked for all three. One was shaped like spaghetti and had a nice, spicy flavor. One was like an egg noodle and one was like angel hair pasta. They had three different sauces on them and the spaghetti shaped one was the best. Filbert ultimately ordered from the same food court vendor and also got a hot dog and a chicken wing on his plate of noodles and had to pay an extra $1.60 total for his two meat items. It was a nice start to the day.
We bought transportation passes with 15 SGD on them since we know we'll be coming back in several months on another cruise and know we will do the night safari at the zoo at that time. Today, though, our ship is leaving at 8 PM so we can't do the night safari. We decided to go to Jurong Bird Park instead.
We took the subway and made one transfer and got off at Boon Lay. We were then supposed to take a bus to the bird park but saw that Boon Lay was attached to a nice mall and decided to walk around it for a few minutes to check it out. Filbert wanted coffee and so we went to a little coffee shop and Filbert had iced coffee and Snookums had peanut butter cake. Our bill was $2.00.
After we were done with our mini-shopping expedition, we returned to Boon Lay and caught the bus to Jurong Bird Park. As soon as we got off the bus, it started pouring rain! We sat under the bus stop awning for awhile but when the bus came back and it was still raining, we decided to return to the Boon Lay shopping mall and wait out the storm. We swiped our transportation passes and got back on the bus.
We walked around the shopping mall and ultimately had lunch at the same company's food court that we had eaten breakfast at in the morning. For lunch, though, we ordered from the Korean vendor. We're not sure what we got, but it was hot and spicy. Filbert had a cast iron bowl that contained rice and a sauce and some meat and a raw egg and he stirred it all together and the bowl was so hot that it cooked the egg. Snookums had some chicken stew-like stuff, rice and egg rolls. We eat got miso soup, too, and our "value meals" each cost around $5.25.
After lunch the weather looked fine so we walked to the bus station again and swiped our transportation cards and rode the bus to the bird park. We walked the ½ block to the entrance and literally had handed the credit card to the lady to purchase our tickets when it started pouring rain again. Snookums hadn't signed the credit card receipt yet and instead we decided not to do the bird park and canceled the transaction. Back to the bus we went where we swiped our transportation passes yet again (and watched our stored value decrease with each trip!).
We decided to go to Orchard Road since a branch of the Singapore Tourism board was located there and we wanted to get info for our return trip in a few months. We used the MRT (and swiped our transportation cards again) and found the tourism place in a large mall. (All of this was inside and it was still pouring outside and in fact, the MRT car was leaking on the seat next to Snookums.) We wandered around for awhile and Filbert found a bookstore to peruse. It was getting late so we decided to go back to the ship and caught the MRT and used our passes one more time. When we finally got back to Harbour Front, we realized we had each spent almost 10 SGD on transportation for the day. We should have just purchased the 10 SGD unlimited travel day pass!!! Who knew we were going to take so many trips to and from Jurong Bird Park (without seeing it!).
We wandered around the new mall at Harbour Front that we hadn't seen in 2008. It even had a Sam's Club-type store in it but we didn't buy anything. We ate dinner at a Vietnamese restaurant and used its free WiFi. Filbert ordered the $14 mixed seafood platter and got a ton of fish, huge prawns and calamari. He really enjoyed the fish. Snookums ordered bun, which is a bowl that has rice noodles in it, thin slices of marinated beef, raw cabbage and fish sauce on the side. You are supposed to pour the fish sauce over the bowl of stuff and mix it all up, but Snookums just ate the rice noodles and beef.
We got back to the ship around 7:15 PM in time for the 8 PM departure. However, after being in the cabin for about 10 minutes, Snookums started shivering uncontrollably and immediately got under the covers. She had a bad headache and was slightly nauseous but the worst part was that her legs were spasming from the cold and her heart seemed to be beating 100 beats per minute. Filbert ordered her hot chocolate from room service and crawled under the blankets to help warm her up. The temperature outside was probably 85° and she didn't get wet or cold or hot during the day so there was no explanation for it. As far as port days go, it was an easy day. At some point, she stopped shivering so much and slept through the night.