Contributed by: filbert Monday, May 24 2010 @ 06:45 PM CST
The Panama Canal-Ft. Lauderdale to San Francisco-20-night Voyage, May 6-26, Regent Seven Seas Navigator
Text by Snookums, Pictures by Filbert
Part Ten
May 15 (Saturday, Day 11, Puntarenas, Costa Rica, continued) –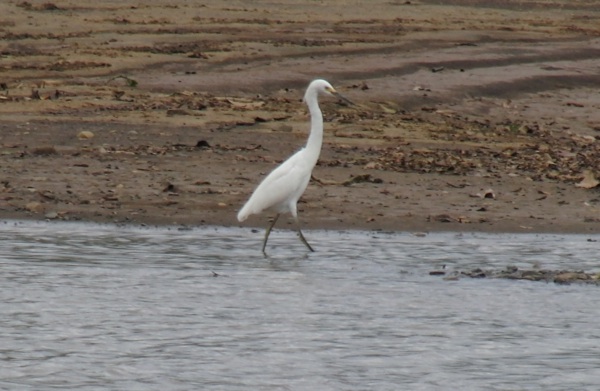 Snowy egret
We continue with pictures of the boat tour of the Guacalillo estuary and Tarcoles River.
More after the jump . . .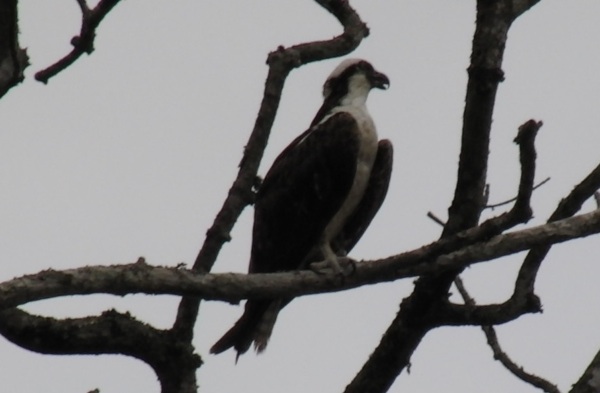 Osprey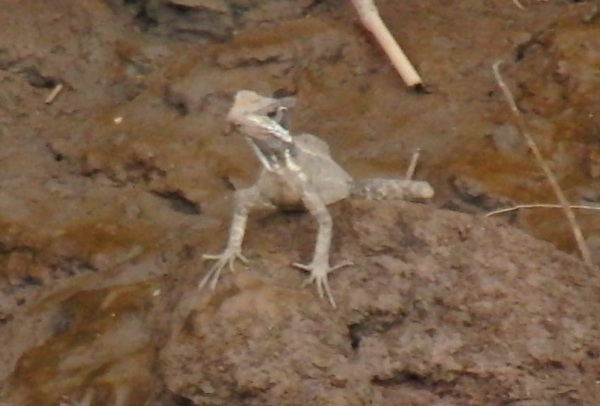 Jesus Christ lizard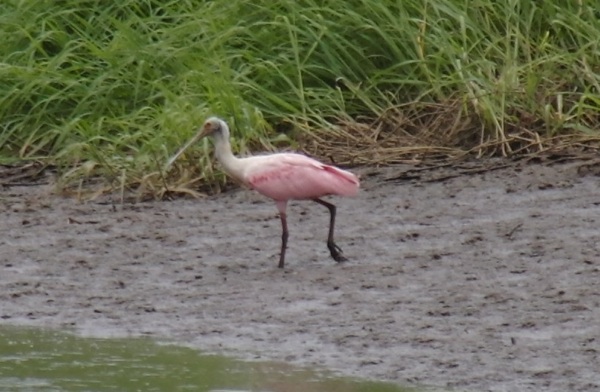 Roseate spoonbill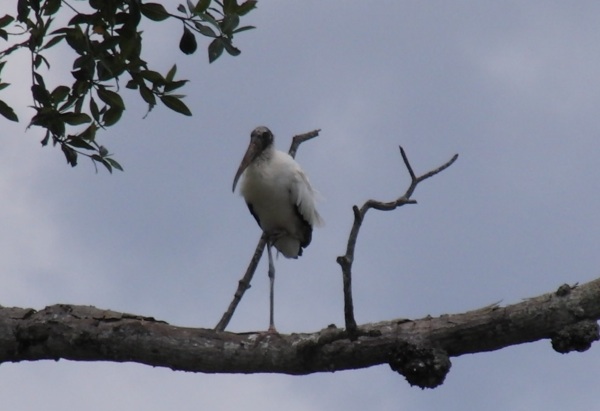 Wood stork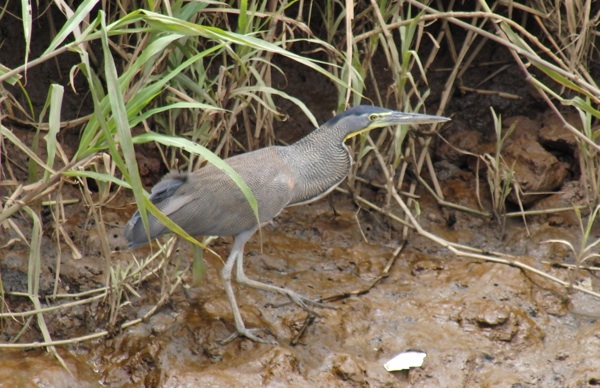 Bare throated tiger heron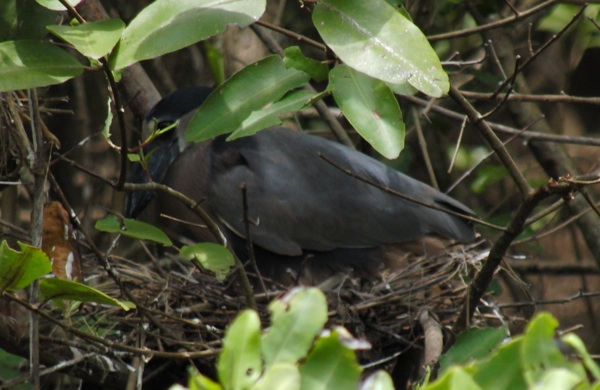 Boat-billed heron
We enjoyed a buffet of watermelon, pineapple and bananas as well as Costa Rican "Imperial" beer before boarding the bus for the trip home. The consensus was that the trip was actually a bit better than we had expected it to be. We certainly saw more wildlife—well, Filbert and Snookums certainly saw more today than in the rain forest on the other side of Costa Rica, anyway! We got back to the ship around 2 and Mom and Dad headed for the Pool Grill for a late lunch. Filbert went to the cabin and Snookums and Judy headed out to Puntarenas. When Mom returned to her cabin, she found two birthday cards in the "mailbox" from Jean and Pam. They had been sent from the U.S. to the port agent for Puntarenas and arrived on her 82nd birthday. She was very excited to receive them.
Snookums had asked Bill to get her a Costa Rican coin for her collection since he planned on going to the market and buying pottery. He gave her a 500 colon coin. (That's pronounced "co-LOAN," not "COAL-un," smartypants!) About 500 colons equal one dollar so Snookums figured she had to spend most of it since she just wanted a "cheap" coin. So, their mission was to find a grocery store and buy cheap candy or potato chips. They found WalMart's Costa Rican super market (WalMart owns 80% of the super markets in Costa Rica) and Snookums bought a package of panty liners for $.80 (a bargain!) and then a one-use packet of Pantene shampoo for $.13. She got two "dimes" as change and gave the young girl behind her in line the one-use packet of Pantene and one of the dimes. Judy and Snookums walked all over the town and saw the Catholic church with portholes for windows and a front door facing east which is unusual in this country since other churches have entryways that face west.
Snookums and Judy headed back to the ship and saw two schools of small (or baby?) stingrays alongside the dock near the bow of the ship. Snookums had never seen such small stingrays. They were about 8" wide. Then Snookums and Judy went to teatime since they were starving.
Dad arranged for a flower to be delivered to him to give to Mom and Regent delivered a single stem of a wonderful smelling lily with five blooms on it. Dad also gave Mom a bag of licorice.
Dinner was food that we specially ordered. We asked for an Indian dinner since we had done this on other Regent cruises. In the past we received three different Indian entrees for the entire table but this time we only received some kind of Indian spiced chicken pieces (with bones) in a gravy, naan and white rice. Everyone enjoyed it except for Snookums who thought it was way too salty. Judy even thought she was back in India and started eating dinner with her right hand (much to Mom and Snookums's embarrassment)! When we were done with our entrée they brought out a birthday cake for Mom and five of our waitstaff sang "Happy Birthday". We've never heard "Happy Birthday" sung on Regent before so we were kind of shocked when it happened. Mom was pleasantly surprised, though, and it was a great ending to a great day.
May 16 (Sunday, Day 12, At sea) –
Today is one month prior to Mom and Dad's 59th wedding anniversary so Snookums told Regent it was their 59th wedding anniversary (and told Mom and Dad, too). No one knows how it will be celebrated.
Snookums and Judy attended Cardio Circuit which is a 45-minute class with 6 stations of different cardio activities that are done for 3 minutes each. Snookums thought the spinning bike was the easiest and didn't enjoy the burpee and squat jump station!
After her shower, Snookums went to the coffee corner to write the journal and she sat with Mom who was reading her book and we both enjoyed the pianist playing morning melodies.
Today's pool deck lunch was Tex-Mex BBQ which meant a giant taco salad buffet. We both enjoyed the ground beef as well as the chicken fajita as toppings on our taco salads. Right before lunch the Captain came on the PA with his daily noon announcement with our position and the weather forecast. He closed by saying that he wanted to wish a happy birthday to a very important female, his 2-year old granddaughter. She is NOT onboard but he wanted us all to know that he just called her and sang to her. Captain John McNeill, from Scotland, is really down to earth and is seen all over the ship. The other day Snookums was on deck 6 pushing Dad's wheelchair to some shore excursion meeting point and the Captain asked if he could push! Snookums told him that she had it under control. We've noticed that any issues are dealt with very quickly and we think one reason is that the captain is so hands on. We like it!
The afternoon ended up being another "sea life watching" day and we saw dolphins in groups of twos and threes, sea turtles and four huge manta rays. The rays were probably 10' wide and they weren't traveling together. The sea turtles weren't traveling together, either. We also enjoyed watching a boobie do dive bombs into the water to try to catch fish. The sun was just right and the water was so clear that we could easily see the boobie dive under the water and swim forward a few feet before coming back up to the surface to fly away.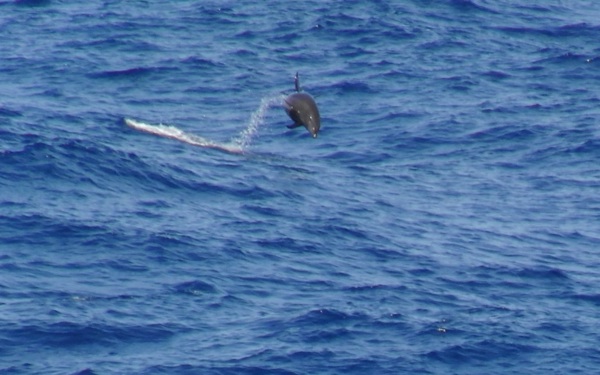 Dolphin of the day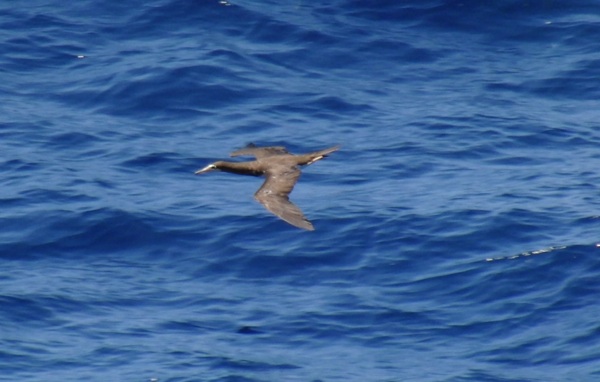 Fishing boobie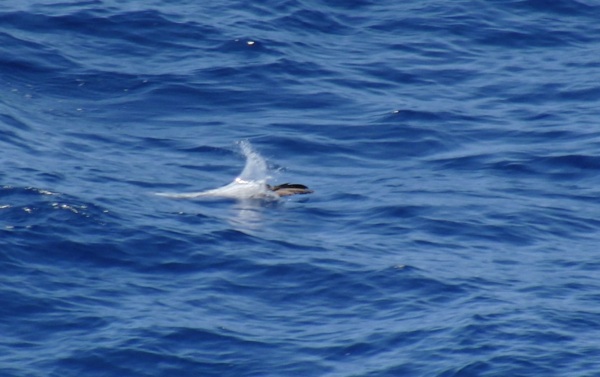 The same boobie, a quarter of a second (!) later
Manta
Mom and Dad did receive two glasses of champagne and a delicious dessert for their anniversary around 4:30. Mom said it was the best dessert she's had on a ship, but she and Dad ate it all so neither Judy nor Snookums could try any to verify that.
Tonight was the second "formal optional" night and we met in Stars Lounge before dinner for drinks and photographs by Bill. (Regent no longer has a photographer onboard which is actually very nice. They aren't always taking your picture and asking you to buy it.) Mom enjoyed another glass of champagne, her third for the day since she started the day with the champagne and caviar breakfast and then enjoyed a glass with her anniversary dessert. (Yes, Snookums does keep count . . . )
We were invited to the Seven Seas Society party but opted not to attend. We learned, however, that 62% of the 500 passengers on board are repeat Regent cruisers. That is actually a low number since most Regent cruises are around 75% repeat passengers. But, the cruise is sold out so Regent probably isn't too concerned whether the passengers are repeat guests or not.
Formal Night pictures:
After dinner Mom, Dad and Judy attended Rodi Alexander's show based on Barbra Streisand. Snookums and Filbert returned to their cabin after dinner and got online to use the free internet.
For those of you wondering what there is to do during a day at sea, the following activities happened between 11:00 and 3:00 today:
11:00 – "Olympic Gold" photography lecture by David Burnett, Galilleo's Lounge
11:00 – Cooking Demonstration, Seven Seas Lounge
11:00 – Slot Tournament, Casino
11:15 – Mah Jongg, Card Room
11:15 – Golf Putting, Sports Deck
Noon – 2:00 – Tex-Mex BBQ, Pool Deck
12:30 – Bingo, Galilleo's Lounge
1:45 – Social and Duplicate Bridge, Card Room
2:00 – "Christopher Columbus on the Spanish Main" Enrichment Lecture, Seven Seas Lounge
2:15 – Baggo, Forward Alcove
2:45 – "Color You Beautiful" spa talk, Stars Lounge
3:00 – Blackjack Tournament, Casino
3:00 – 3:45 – Indoor Cycling, Aerobic Studio
Next: Enormous Mexican Pharmicists!