Contributed by: filbert Monday, November 30 2009 @ 07:00 AM CST
The Bollywood to South Beach Voyage – Regent Seven Seas Voyager, October 29-December 18, 2009
Text by Snookums, Pictures by Filbert
Part Fifteen
November 13 (Friday, Day 16, Zanzibar, Tanzania) (continued) –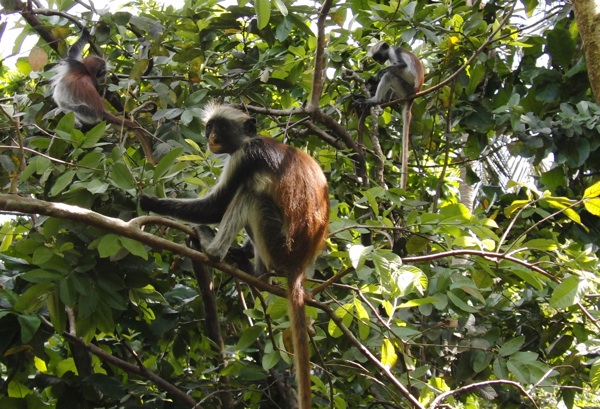 Monkeys in trees.
You could probably figure out that one on your own.
Our tour of the Jozani-Chwaka Bay National Park continued through the monkey-infested jungle, before moving on to the mangrove swamp.
More after the jump . . .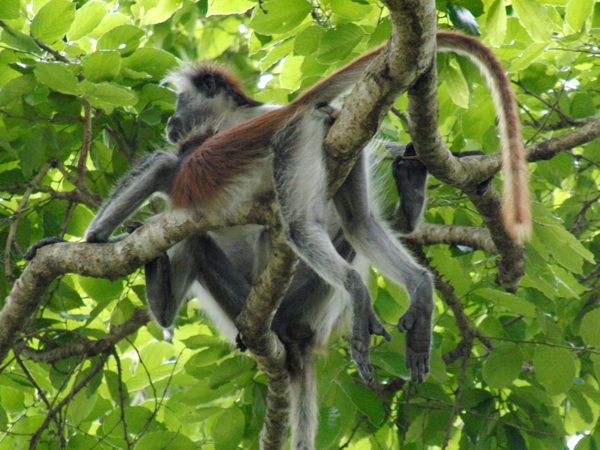 Yes. In the trees.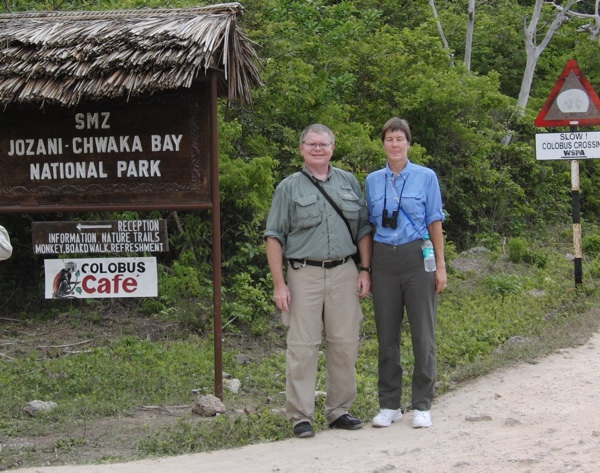 Your intrepid adventurers, at the Jozani-Chwaka Bay National Park.
But you could figure that out, too, I imagine.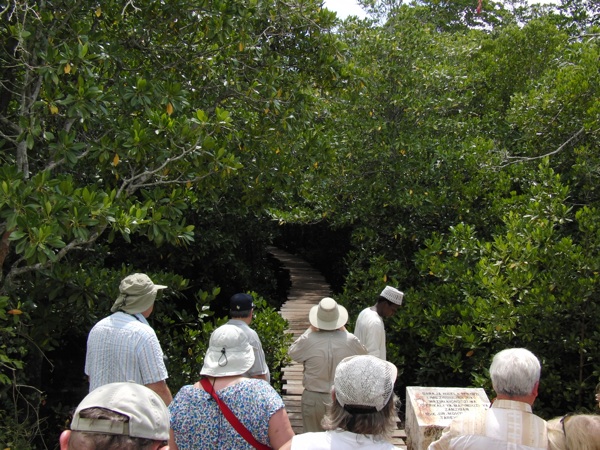 Into the mangroves!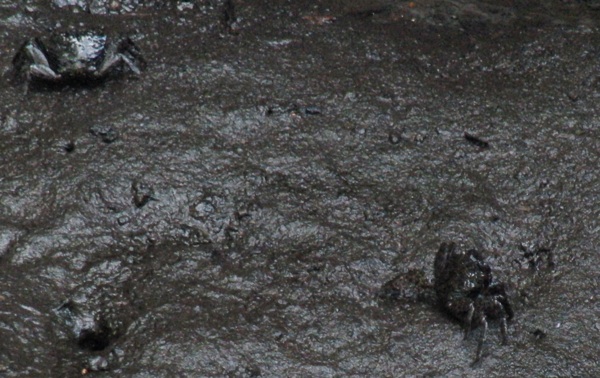 Black crabs. They were hard to see.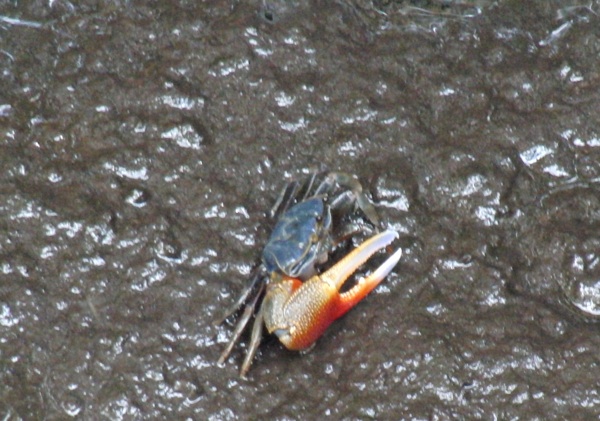 Fiddler crab. They were not hard to see.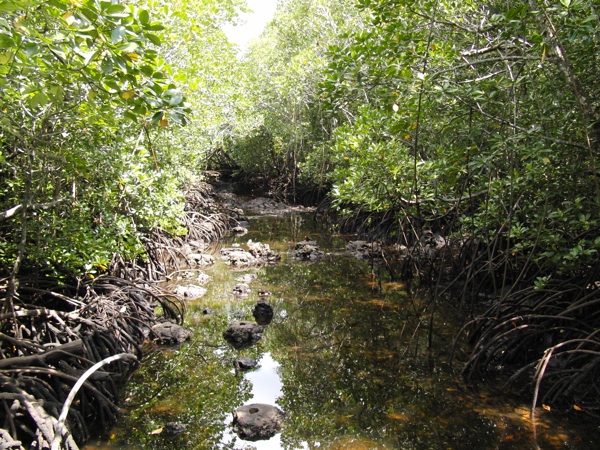 Zanzibar doing an imitation of the Okefenokee swamp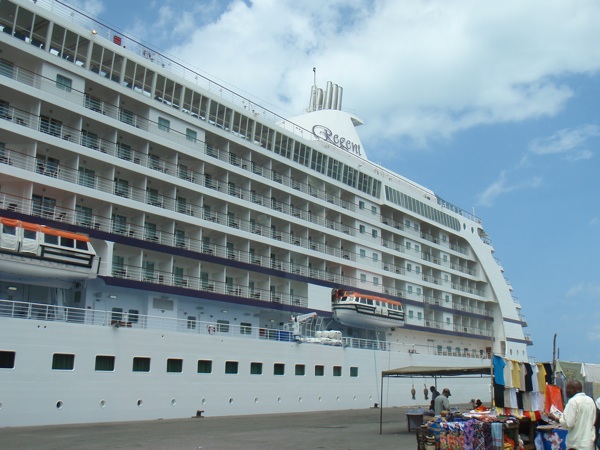 Back at the ship
We had a quick lunch on the ship before getting ready to brace ourselves (again) for the heat of Zanzibar for our own walk around town. We walked around for about 2 hours and went to Darajani Market. This is the open-air market that the locals frequent. It had a section for spices (Zanzibar is known as "Spice Island"), produce, fish and meat. We were almost knocked into by a man carrying a cow leg to a stall to sell. It was big and bloody and he just had it slung over his shoulder. We made room for him.
We continued wandering around and found blocks and blocks of highrise apartment buildings. Zanzibar's population looked much, much, much richer than Mombasa's and there were cars and motorcycles all over. By the time we returned to the ship, Filbert's shirt and shorts were literally soaked through. Snookums's shirt was a little wet under her left armpit (not her right one, just her left!). Showers were immediately taken and Filbert went to the Observation Lounge to secure good seats for our 4 PM departure and Snookums found two available washing machines for our filthy clothes from yesterday and today.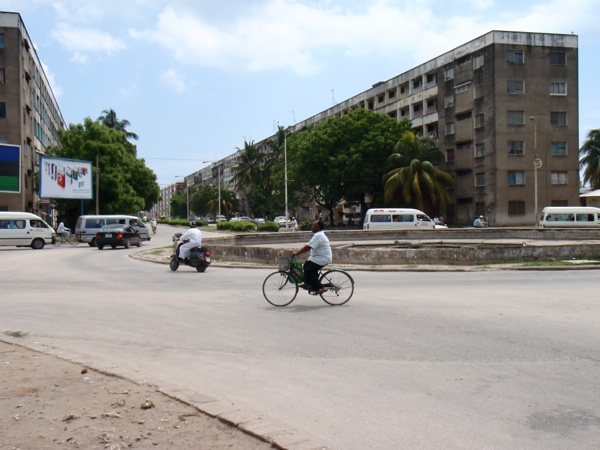 Apartment block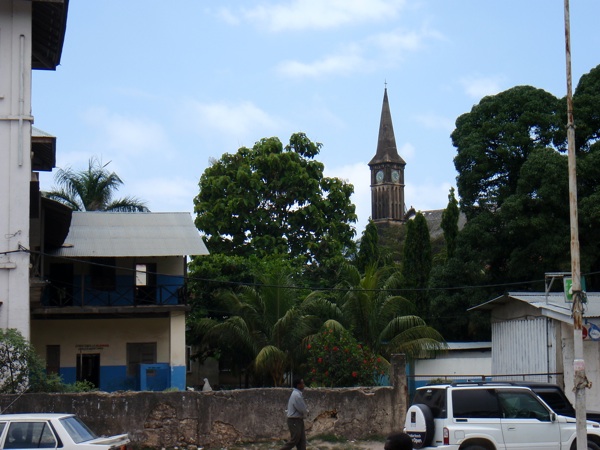 Steeple. Should have been a landmark for us. Wasn't.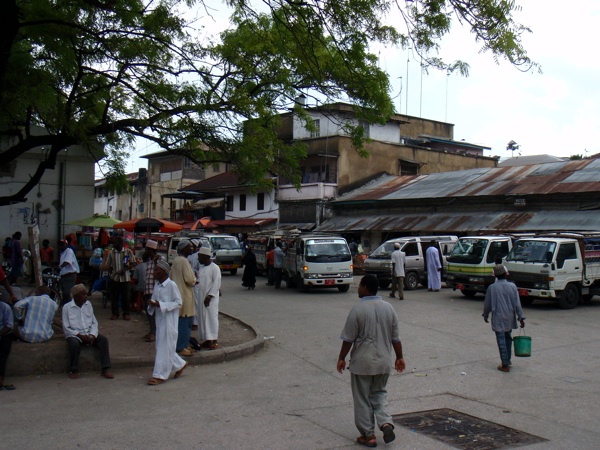 The market, at last!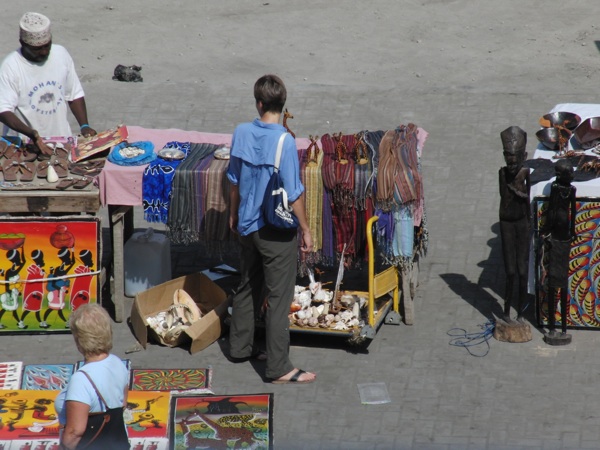 Snookums, inspecting the dockside vendors
We enjoyed a nice peaceful dinner in Compass Rose and then went to bed. Oh yeah – when we showed up for dinner we were both wearing flip-flops. The maitre d' said that we couldn't wear slippers (?). We think he just meant Filbert, but we both went back and changed shoes. Filbert put on his Crocs and made sure the strap was behind his ankle rather than in the "slip on" mode. While we were eating, we noticed that there were two men at another table that were wearing "nice" tshirts. Regent has a minimum dress code of a collared shirt for dinner (and polo shirts do NOT count which means that nice tshirts don't count, either). On the way out, Filbert pointed out the discrepancy to another maitre d' and didn't want the men to get kicked out since they had already been let in, but wanted to make sure Regent knew about it. And, we had seen them at dinner another night wearing t-shirts, too. The maitre d' said he would talk to them after they were done. All in all, we had a great two days in East Africa.
Next: Heading for the RSA!