Contributed by: filbert Saturday, November 28 2009 @ 07:15 AM CST
The Bollywood to South Beach Voyage – Regent Seven Seas Voyager, October 29-December 18, 2009
Text by Snookums, Pictures by Filbert
Part Thirteen
November 12 (Thursday, Day 15, Mombasa, Kenya) (Continued) –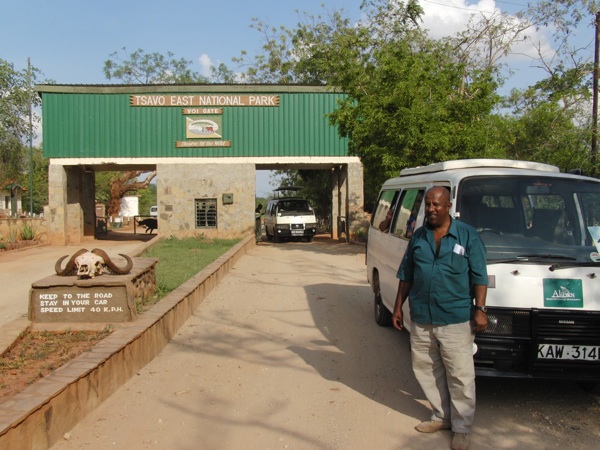 The Tsavo East gate, as we depart (with Ahmed, our driver/tour guide)
On the drive back to the ship, we saw more and more people walking along the highway and the little villages were busier with people.
More after the jump . . .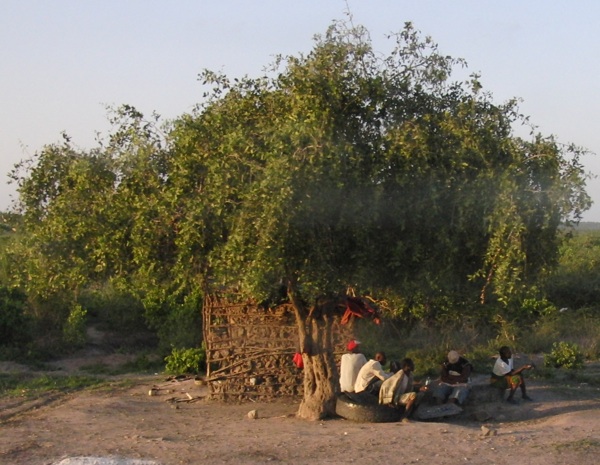 Men and their hut
Women collecting sticks–for firewood, we imagine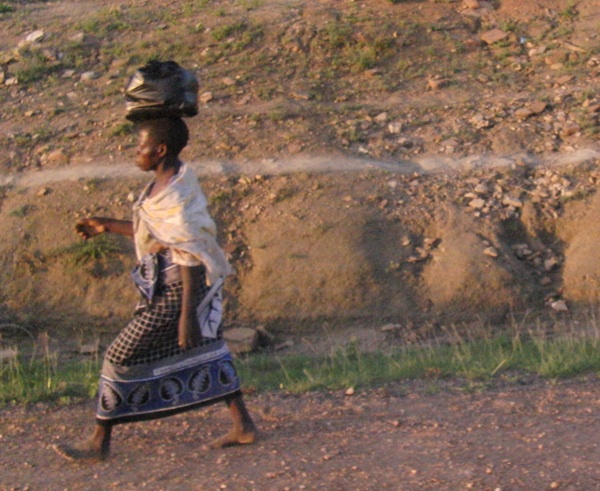 Woman walking with a plastic bag on her head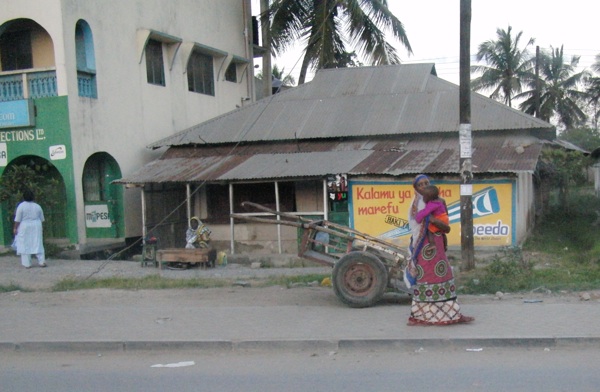 A woman and child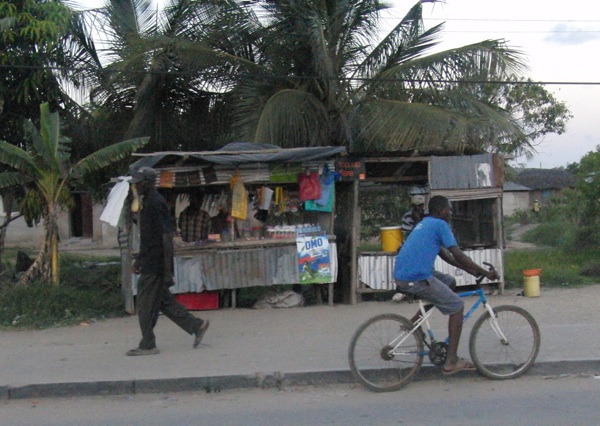 A small shop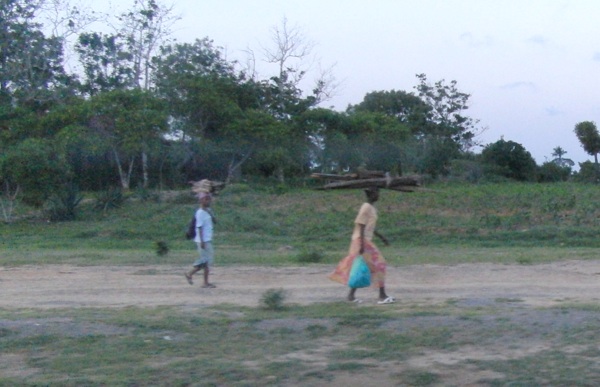 Two women, with burdens balanced on their heads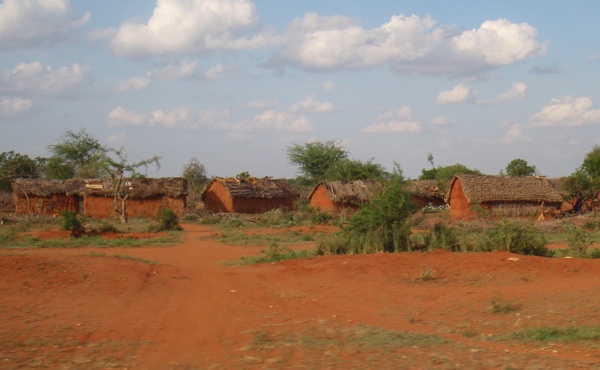 Mud buildings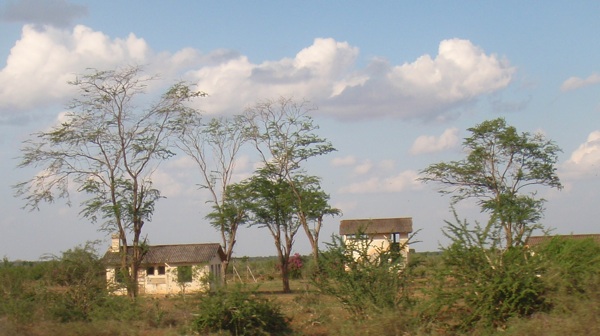 Wood buildings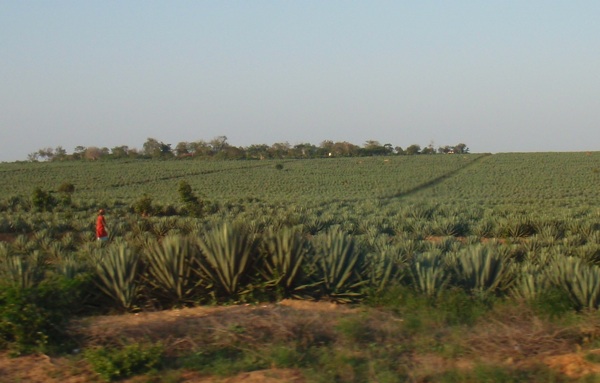 Sisal field
We assumed that these people were coming home from work, but it was strange to figure out where they were walking from (or walking to). One person in the van said that they must be walking home from the bus stop, but no one could figure out why a bus would let the people out miles from home on the highway when the home is then probably another mile or so behind the highway. We'll just never know why everyone was walking along the highway with seemingly no destination in mind. Other than the few stores in each village (kind of like a very poor strip mall along the highway), there didn't appear to be any places to work. Mombasa offered work at the docks and other commercial establishments, but Mombasa was 30+ miles from where we started seeing all of these people walking.
We were supposed to be back to the ship by 5:45 PM, but didn't get back until 7:15. The last 10 miles of our trip took about 1.5 hours and that is no exaggeration. For some reason the traffic jam was unbelievable. Drivers in other vans told the passengers to keep the windows closed since men were known to just grab and steal whatever they could when cars were going slowly. Our driver didn't tell us that and we kept our windows opened and luckily nothing happened.
The van let us out about 50 yards from the ship but around the corner from it. It was very dark and after Snookums stumbled out of the van, she just hung on to Filbert and said "Go to the ship". The dockside vendors were still trying to sell stuff to the cruise passengers and were "harassing" passengers to buy by touching them. Snookums didn't want any part of that. Filbert and Snookums fought through the gauntlet and could hear a band playing "When the Saints Go Marching In" and thought it was strange until we realized it was the ship's band playing.
Then we realized that most of the ship's staff was waiting to greet us and they formed a two-sided reception line and they were cheering things like "You made it back" and "Welcome back" and giving us high-fives. I think they knew that Mombasa (and the game drive) was going to be an assault to our senses and that we were looking forward to a cool, clean ship! The game drive was great but the last 1.5 hours of the trip were quite trying, especially since it was dark and there weren't any street lights. Also, the game drive was very, very bumpy and very dusty and we were literally covered in red dust (and also pollution from the last 1.5 hours).
Actually, no, after thinking about it some more, the tunnel formed by the ship's staff, who were applauding as we approached the gangway really was indeed very strange.
We got back to our cabin and were happy to find a letter from the onboard travel agent saying that our previously booked May, 2010 cruise does qualify for the onboard booking savings. "Free" money – yippee!! After a quick celebration, we took showers that turned the water and wash clothes red. The insides of our collars and cuffs were red, too. We ordered room service and were asleep by 9 PM which was when the ship left Mombasa.
Next: Zanzibar!