Contributed by: filbert Saturday, January 24 2009 @ 07:11 PM CST
The 2009 Circle Hawaii Cruise – Holland America Zaandam, January 5-21, 2009
Text by Snookums, Pictures by Filbert
Part Nine
January 15 (Thursday, Day 11, Hilo, Hawaii, continued)
Filbert spent most of the early evening on the verandah listening to his radio. He heard a Honolulu radio station telling of the University of Hawaii-Honolulu's closure on Friday due to high winds.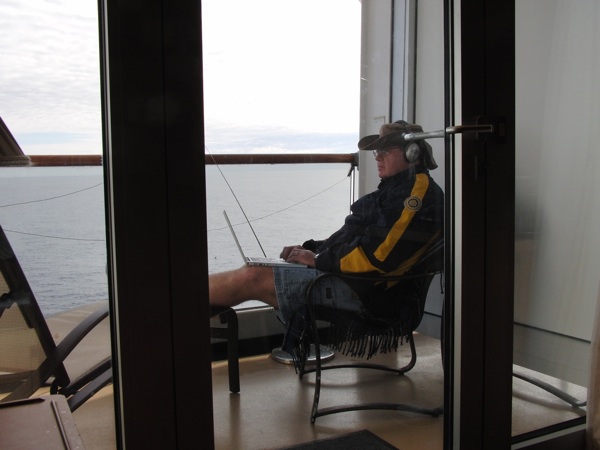 On the verandah
More after the jump . . . We were originally supposed to sail by the lava flows AFTER leaving Hilo tonight rather than BEFORE docking at Hilo this morning but the Captain obviously wanted to get out to sea as soon as possible tonight rather than delaying it three hours with a lava flow sail-by. Universities aren't often closed so a big storm must be coming. It's a good thing Mom has her non-drowsy Dramamine!
The five of us ate dinner at Lido and then set our clocks ahead one hour and went to bed.
January 16 (Friday, Day 12, At sea)
No one really did anything today except for attending the nice Mariner Lunch. Filbert was awarded his 100-day copper medallion and had his picture taken with the Captain. Snookums got in the photo, too, since she skipped her award ceremony on board the 65-day Amsterdam cruise. Other than that, no Dam dollars were even tried to be won. Judy went to the 3:00 PM fitness class but Snookums didn't since it was hips/buns/thighs and she can't do a lot of the exercises due to her recent hip surgery. It was pretty much a lazy day for everyone.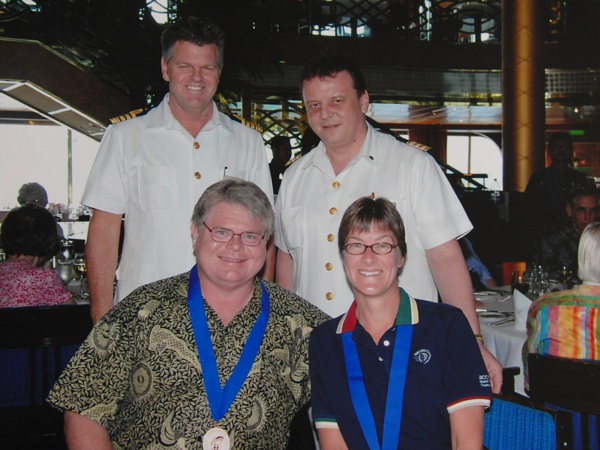 The Captain and the Hotel Manager with Filbert and Snookums
Mom, Dad and Judy attended the "Southern Nights" show put on by the Zaandam singers and dancers and then went to formal night dinner in the dining room. Snookums and Filbert ate in Lido wearing casual clothes.
January 17 (Saturday, Day 13, At sea)
We woke up around 3:15 AM to pounding (like hammering). We knew it was the carpet being replaced in Lido right above us since Mom and Dad received a nice letter in their cabin the other day explaining that between 6 PM and 6 AM, carpet would be laid. However, we didn't get a letter so we called the Front Desk. Someone came to our cabin to hear the noise and we didn't hear the knock at the door due to the pounding. As soon as the steward entered our cabin, the hammering stopped – naturally! The steward went to "investigate" and then we received a call saying that our complaint had been noted and the work crew was told to stop. Earplugs were given to us and we went back to sleep.
Filbert woke up with a sinus headache and he felt kind of chilled and a little out of sorts. He was kind of "sick" all day and spent a lot of time on his computer in the Crow's Nest and in Lido. Snookums felt fine and didn't do much, either, but did manage to read her book on the verandah and get some sun on her arms. She also managed to take a 3-hour nap in bed. That's what sea days are for!
Judy saw a couple peeking into one of the suites being cleaned and offered to show them her suite and then brought the couple to our cabin since they started talking about all of the cruises they had been on. Snookums talked with them for about an hour and then we planned on getting together for lunch tomorrow. They sail on Crystal and Seabourne a lot and this was their first Holland America cruise and they weren't that impressed. Well, Holland America is a totally different class of cruise than what they are used to.
Filbert ordered room service for dinner and the rest of us attended the Master Chef's Dinner in the dining room. It was advertised as an all singing, all dancing culinary experience and it was unique. Everyone was encouraged to wear chef hats. It was kind of corny, but fun. Interestingly enough, this dining experience never happened on our 65-day cruise.
At the Master Chef's Dinner: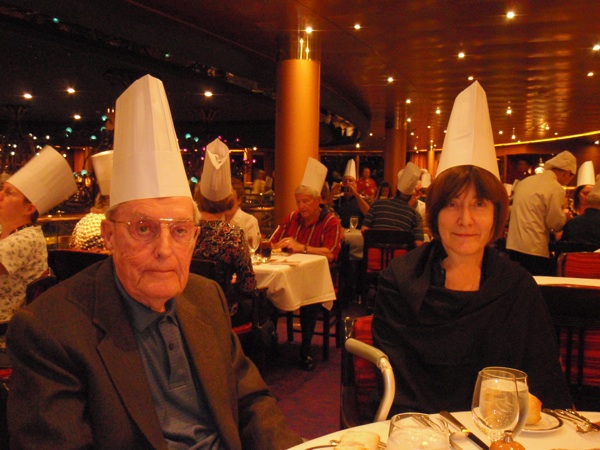 Dad and Judy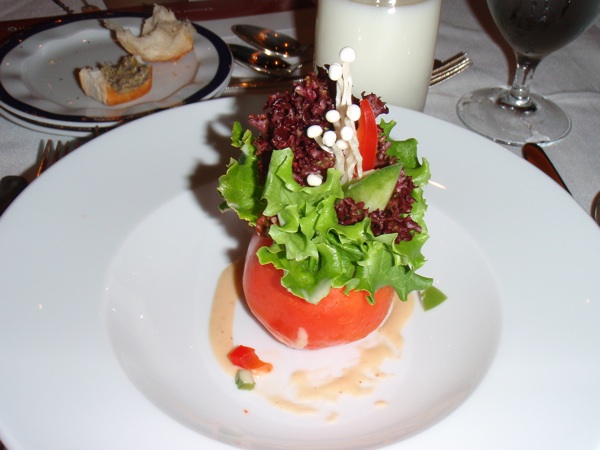 Salad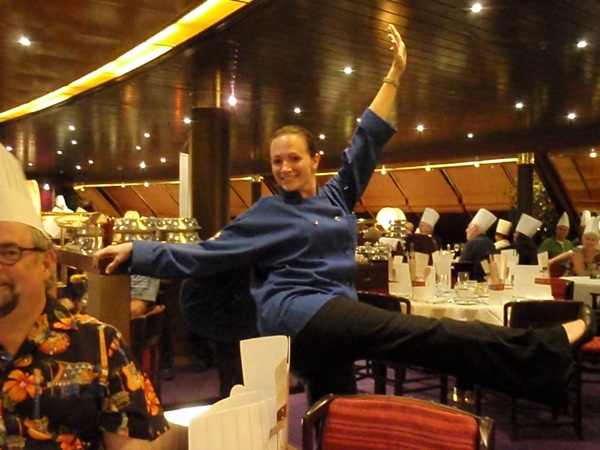 Dancing crew member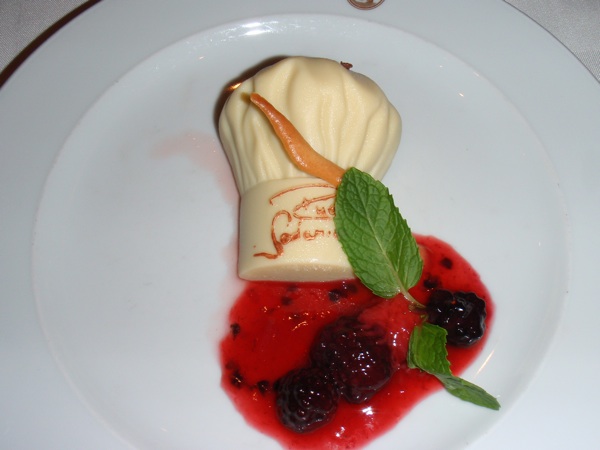 Dessert – white chocolate chef's toque filled with chocolate mousse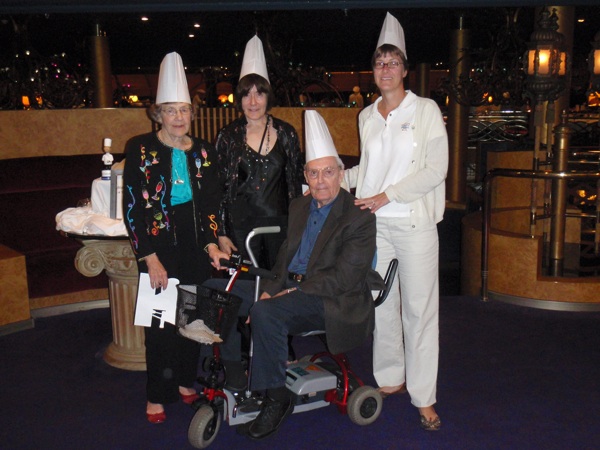 Mom, Dad and the Sisters
A little while after dinner, Judy and Snookums went to the Chocolate Dessert Extravaganza and enjoyed several chocolate desserts. A huge plate of chocolate covered strawberries was acquired from one of the servers and brought back to Mom and Dad to enjoy.