Contributed by: filbert Monday, October 27 2008 @ 08:48 AM CST
The Grand Asia & Australia Voyage – Holland America Amsterdam, September 19-November 23, 2008
Text by Snookums, Pictures by Filbert
Part Seventeen
October 11 (Saturday, Day 25, Hong Kong – 7.75 HKD to the dollar) – Continued
We got to the 120-year old Peak Tram around 10 AM and got right on. The Peak Tram is a double reversible funicular railway that is almost a mile long that goes up 1300 feet above seal level. We had great views from the top of Victoria Peak and also decided to walk around the peak on the 1.75-mile trail.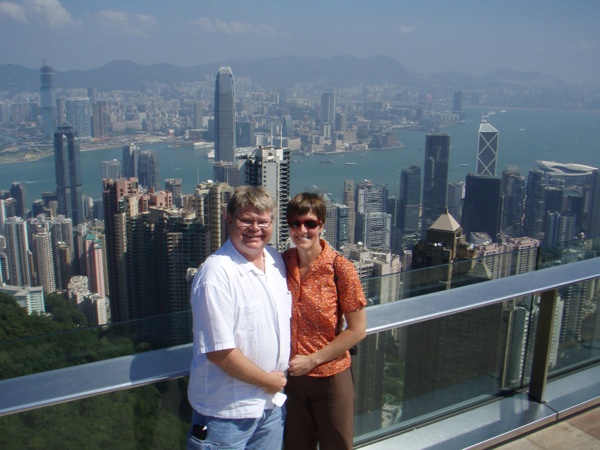 At Victoria Peak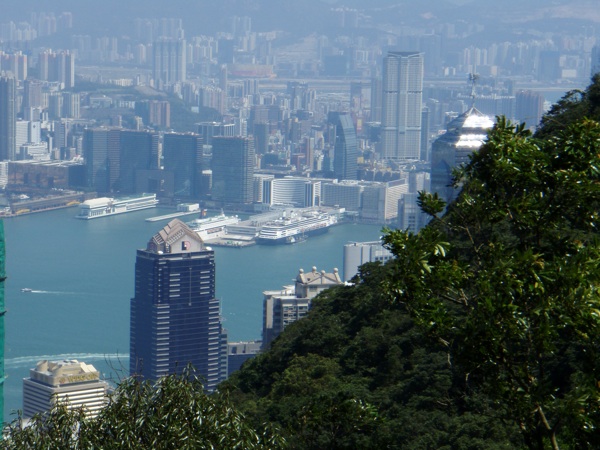 The Amsterdam at Hong Kong
More after the jump . . . When we rode the tram back down we were shocked to see a huge line of people waiting to board. In that line were Jae and Bari with their tour group. We waved and told them that we had no line at all. Timing is everything!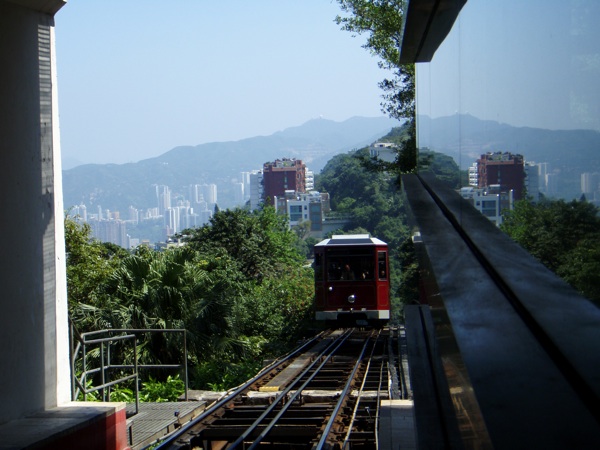 The tram line down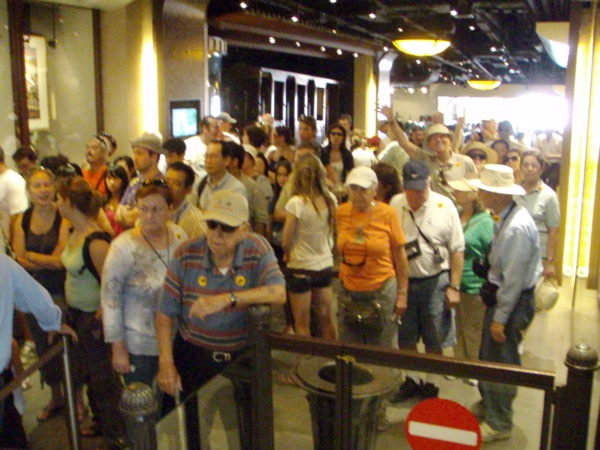 Jae and Bari (Waving, at right)
It was time for our Dukling ride so we rode the bus back to Central. Snookums made a quick stop in a 7/11 convenience store and bought a shrink wrapped BBQ pork bun for $0.75. It wasn't refrigerated at all and was a light and fluffy bun stuffed with BBQ pork. It was pretty tasty for $0.75 and stopped her growling stomach. The Dukling ride was uneventful but nice.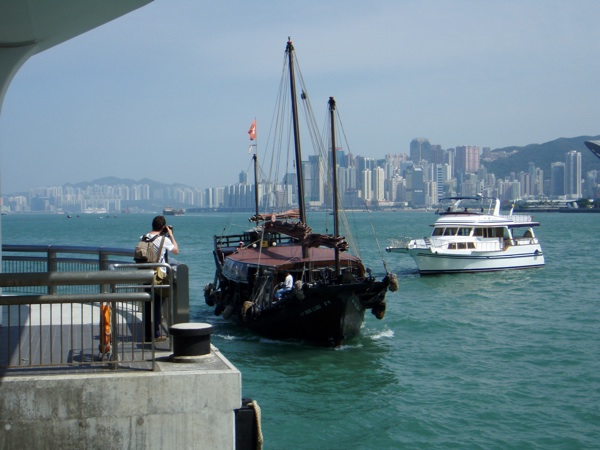 The Duk Ling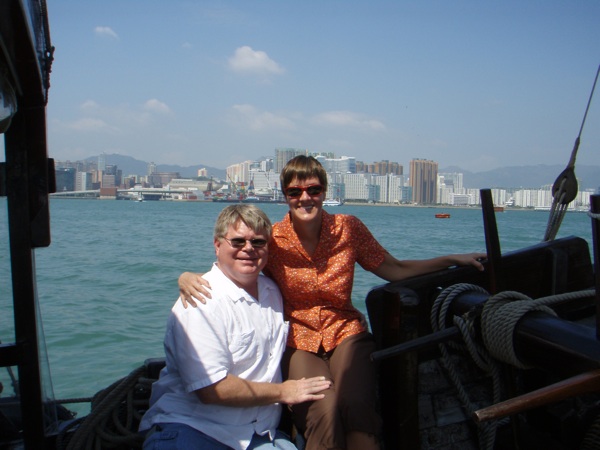 The happy couple on the Dukling
We were let off on the Kowloon side of the bay right by our ship and decided that we had done enough walking for the day. We went back to the ship and then decided we needed to take advantage of the free WiFi in the mall connected to the ship's port so we collected our laptops and went off to find a quiet place to sit. The mall is Hong Kong's largest and was full of pricey stores and full of Hong Kong shoppers. Benches could only be found on the wing that contained the children's clothing stores (like DKNY, Hallmark, Chaus, Chloe and other high fashion names – but only clothing for children!). Those few benches were all taken and it was very noisy so then we went on the search for a restaurant with beer. This was also hard to find but along the way we passed a photo shop and had photos developed for $0.20 each for postcards. (At the photo shop we also saw a 10-pack of DVD-R priced at $4.25 that Filbert bargained for in Shanghai for $7.90. This mall was a "normal" retail mall with price tags on the items and didn't allow bargaining. His Shanghai bargain wasn't that good, but still cheaper than in the U.S.) We finally found a teashop and sat down for about an hour and Filbert nursed a $1.50 beer while we surfed the net.
On the way back to the ship we checked out the full size grocery store in the mall and Filbert bought more beer. He ended up with 12 cans of five brands for less than $8. Some of the cans cost as little as $0.39 each.
We rested for a little while before heading out again to the Temple Street Night Market. This is the market that sells knock-offs of everything: Prada purses, pirated DVDs, T-shirts, Oakley sunglasses and all sorts of other stuff. This market is held on Temple Street every day from 4 PM until ?? and the temporary stalls are set up and taken down every night. We didn't buy anything but decided to eat. We found a "restaurant" in an alley under a tarp. We sat at a table with small plastic stools and a roll of toilet paper on the table for napkins. The ten other tables were full of Chinese. We ordered fried cuttlefish (delicious) and pork with Chinese vegetables (very tasty). A few beers, bottled water and rice were added to that and our bill was around $20. We thought that was kind of pricey and figured we were charged a lot for the beer since we knew the prices of the food. But, we paid it and continued on our way. Like Gary, our tablemate, would have said "It was our contribution to foreign aid."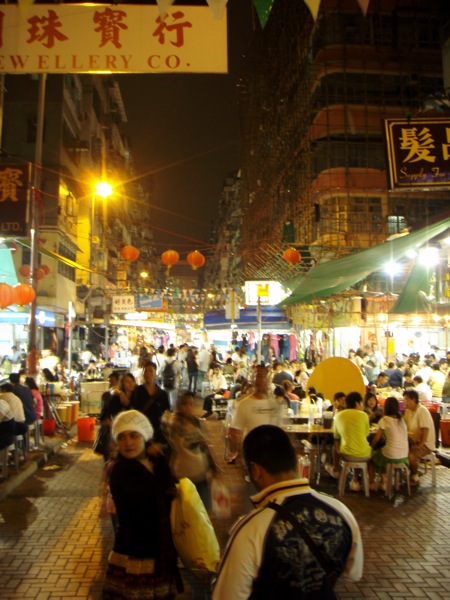 Night market
We returned to the ship and went to bed very tired and very happy with our first day in Hong Kong.
October 12 (Sunday, Day 26, Hong Kong) –
We were tired from our long Saturday and decided to take it easy. The day was warm and humid like yesterday but visibility was not very good. We were lucky that we went up to Victoria Peak yesterday. We took the $0.52 subway to the area that contained the flower market, the bird market and the fish market. This involved a lot of walking but we got to see some great flowers, birds and fish. We didn't buy any, though.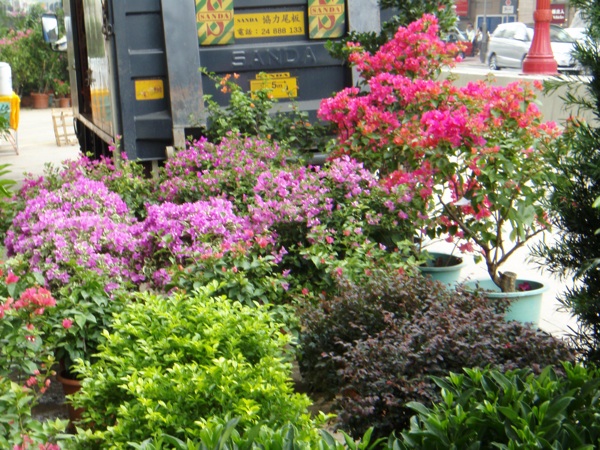 Flowers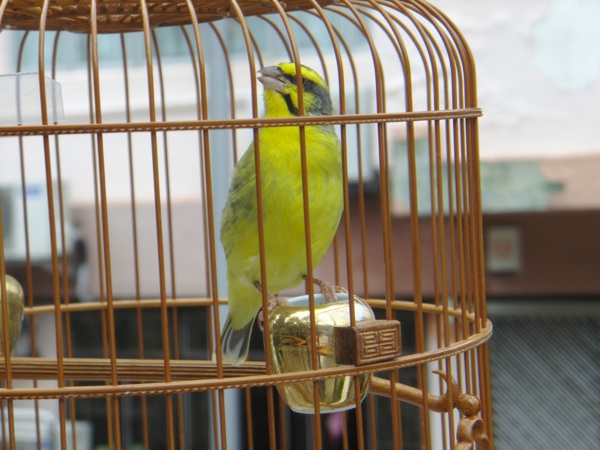 Bird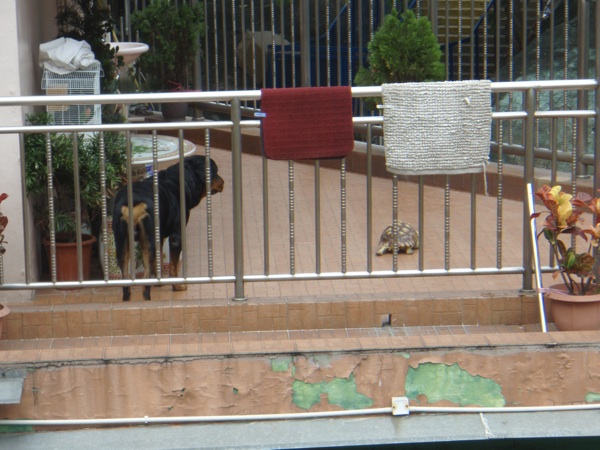 Dog and tortoise
Our Hong Kong visit continues in the next post . . .