Contributed by: filbert Sunday, August 03 2008 @ 11:38 AM CST
Over The Water And Back Again—A Transatlantic Trip
By Snookums, edited by Filbert, photos by Filbert
Part 7
May 10 (Saturday, Day 14, Barcelona, Spain) –
We went to the restaurant for a leisurely sit-down breakfast but the only thing that looked appealing to Snookums was Raisin Bran.  That kind of summed up our experience on this ship.  The food on Royal Caribbean really was uninspired and by this time, we couldn't wait to get off the ship.  Disembarkation in Spain, was (surprisingly) easy.  We got our luggage off of an airport-style baggage carousel (very convenient) and got in line for a taxi to our hotel.  It was raining but we were under an awning most of the time so it was okay.  There was NO sign of any Spanish customs or immigration officials anywhere.  In fact, we saw two Royal Caribbean folks and that was it as far as people in any kind of uniform.  There weren't even any police or security for the 3,000 people getting off the ship!  Getting into Europe is obviously easier than getting into the good ol' U.S.A.  It was the easiest disembarkation we had ever had on any cruise, and by far the best thing that happened to us on this cruise.
We got to our hotel, the Le Méridien Barcelona on La Rambla (THE street in Barcelona) around 9 AM and they had a room ready for us.  We unpacked a little bit for our two-night stay and then decided to head out in the rain and see Barcelona.  We used the good hotel umbrellas.  Except for the Rain in Spain, it wasn't too bad.  The temperature was probably in the mid-60s F. and we had proper outerwear so we were fine.  We went to one of the open-air food markets and saw the rest of Barcelona buying their food for the week.  There were meat stalls, cheese stalls, produce stalls and lots of fish stalls.  Snookums LOVES food markets.  We also saw one stall that had three chairs at the counter and three guys were sitting there drinking red wine and eating olives at 10 AM.  Ah, Europe.  There were also a couple of restaurant stalls and we saw people eating fried eggs served on sautéed/boiled calamari.  (It was breakfast time after all.)
Around 12:30 PM we got hungry and decided to find a restaurant.  We found a hole in the wall place a few blocks off the beaten path and we ordered two combination plates.  The special was paella and a ½ liter of sangria but we didn't order that.  Snookums had stewed chicken, French fries, salad and bottled water and Filbert had fried white fish, fried calamari, French fries and salad and a beer.  We were the only people in the restaurant at the beginning but when we left there were two others there.  We ate earlier than the Spanish siesta time of 2 PM which was why the restaurant was empty.  On our way back to the hotel we got a little lost, but that just meant more wandering so it didn't really matter.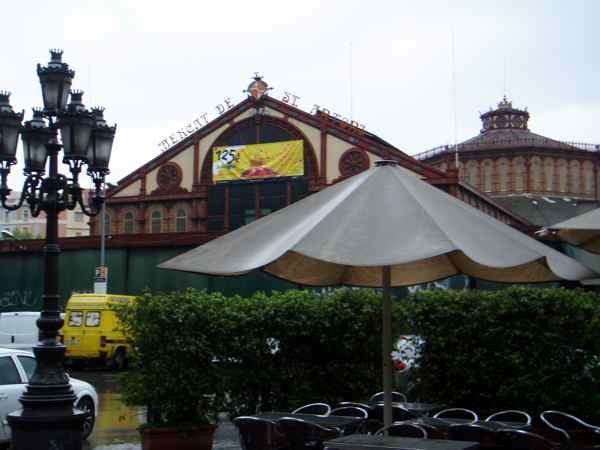 While lost we found this market
We ventured down to the hotel restaurant around 7 PM and were told that that they were fully booked.  So, we went out in the rain again and found a great little bistro two blocks away.  We decided to each have the set meal.  We got various tapas (two sautéed sardines; gazpacho soup; bread topped with roasted eggplant, peppers, and onion; green salad with some kind of pureed meat on the top of it; goose liver pate; fried calamari; black olives that were slightly marinated) followed by Snookums's four cheese pizza and Filbert's steak with Roquefort sauce.  Dessert was Crème Catalan for Snookums which was like a runny version of crème brûlée and a dry curd white cheese with honey on the top for Filbert.  Filbert liked Crème Catalan and Snookums liked the slice of white cottage cheese with honey.  Needless to say we didn't go hungry at all and really enjoyed this family-run establishment.  We both agreed that the pizza was the best choice (although Filbert was really impressed with the Roquefort sauce) and noticed that more than 50% of the diners were eating pizza.  After we left we realized that the restaurant's business card had a picture of a pizza oven on it so we figured it specialized in pizzas.   (Yeah, Filbert's low-carb diet usually goes to heck in foreign countries.  Darn it.-Ed.)
May 11 (Sunday, Day 15, Barcelona, Spain) –
We rolled out of bed and caught the hop on/hop off tourist bus around 11.  We rode around Barcelona on the top open-air deck of the bus and enjoyed the sights.  An architect named Gaudi designed a bunch of parks, buildings and metal objects in Barcelona in the early 1900s.  Snookums thinks the word "gaudy" came from his designs, but this was never verified by the tourist tape we listened to on the bus routes.  (We later did in fact verify the Gaudi-gaudy connection—Ed.)
On the bus
We hopped off and had lunch on La Rambla about ½ a block from our hotel at some kind of chain "diner".  Filbert had pizza (and beer) and Snookums had spinach cannelloni.  We were starving and didn't really care where we ate.  We got back on the bus and did another route to see other parts of Barcelona.  As we walked the four blocks from the bus stop to the hotel, we stopped in a little coffee shop and Snookums had hot chocolate and Filbert had espresso.  We had seen on the Travel Channel that hot chocolate in Spain was something special so Snookums knew she had to have some.  Snookums was in heaven since the hot chocolate was like the kind we had in Paris – thick, creamy and very chocolaty.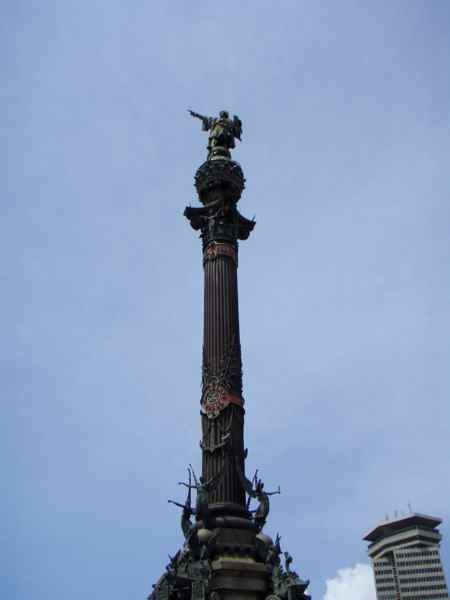 The Christopher Columbus column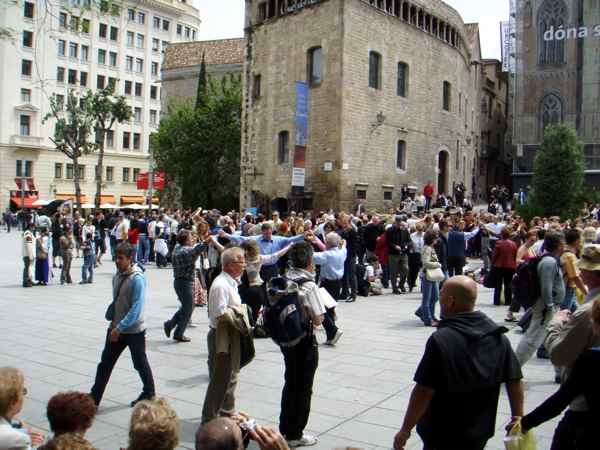 Catalan dancing in the square

The Sagrada Familia cathedral: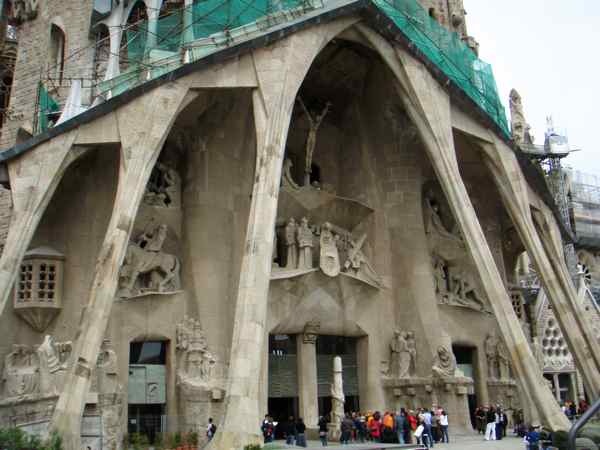 Weird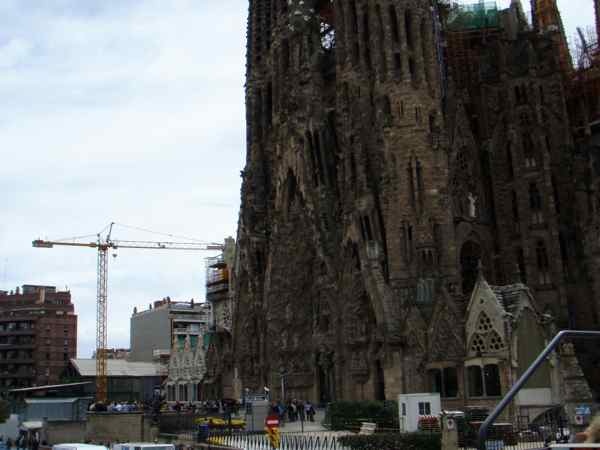 Ugly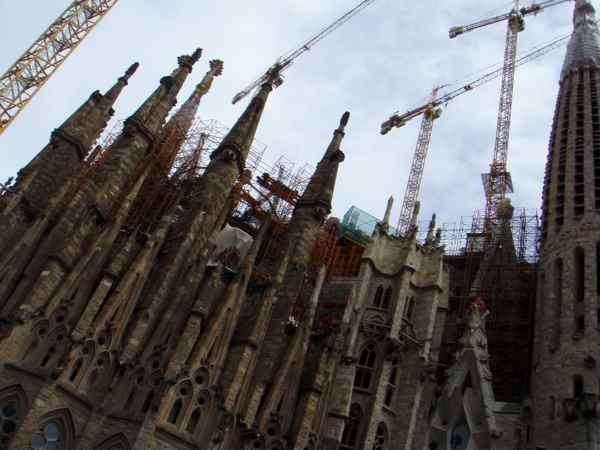 Under construction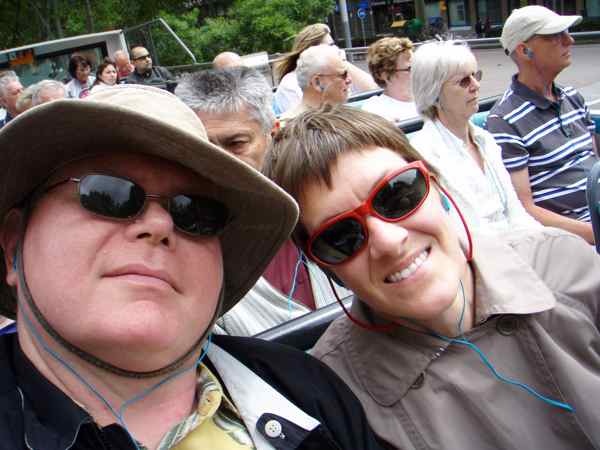 Our happy couple on the bus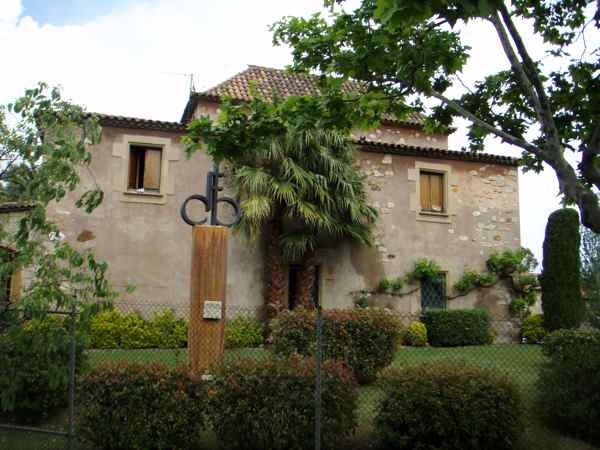 Barcelona football club headquarters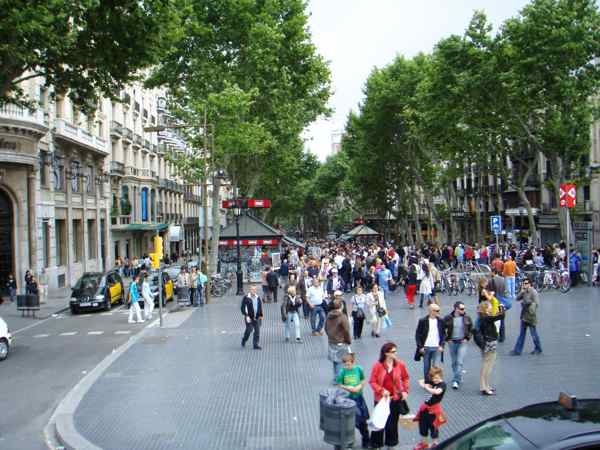 La Rambla
We got back to the hotel and took naps before heading out for dinner.  We asked the concierge for a recommendation similar to the restaurant we went to on Saturday night and he directed us to one that opened at 8:30 PM.  We got to it around 8:15 and there was already a couple waiting in line.  By the time it opened, there were probably 20 people behind us in line.  It featured Catalan foods and Filbert had escargot as the main dish.  They were served in a skillet that contained 45 (?) snails in their shells in some butter.  He was given two very long wooden picks to get the snails out of the shells.  He was in heaven!  Snookums had upscale macaroni and cheese with ham and spinach.  We both enjoyed it and then ordered the two chocolate desserts on the menu and split them.  Filbert thought it was the best meal he had in Barcelona although Snookums thought Saturday's dinner at the corner bistro was better.  In any event, it was a great way to end our Barcelona trip.