The "Bollywood to South Beach" Voyage, part 27
filbert
Saturday, December 12 2009 @ 07:00 AM CST Views: 953
The Bollywood to South Beach Voyage - Regent Seven Seas Voyager, October 29-December 18, 2009
Text by Snookums, Pictures by Filbert
Part Twenty-seven
(Remember to click "read more" if you're looking at this from the main medary.com page to get the whole article!)
December 1 (Tuesday, Day 34, Cruising the South Atlantic Ocean) -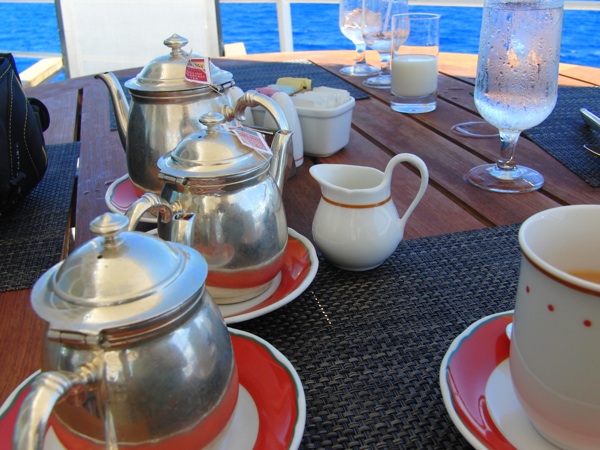 Breakfast Tea
We woke up (Snookums had been up since 5:15 AM) and our morning timing allowed us to enjoy breakfast together at La Veranda. Filbert has been on a huge hot tea kick and drinks 2 or 3 pots at breakfast. Most recently he's been enjoying orange pekoe, but he sometimes has black currant, Irish breakfast or English breakfast.
More after the jump . . .

While we were eating we saw 4 volcanic islands (Martim Vaz Islands) in the distance and as we got closer the captain came on the intercom and said that they belong to Brazil but since they weren't fully charted, we weren't going to get any closer than 8 miles. An hour later we passed a much larger island, Trindade, which was 12 miles away from our ship and houses 32 members of the Brazilian navy.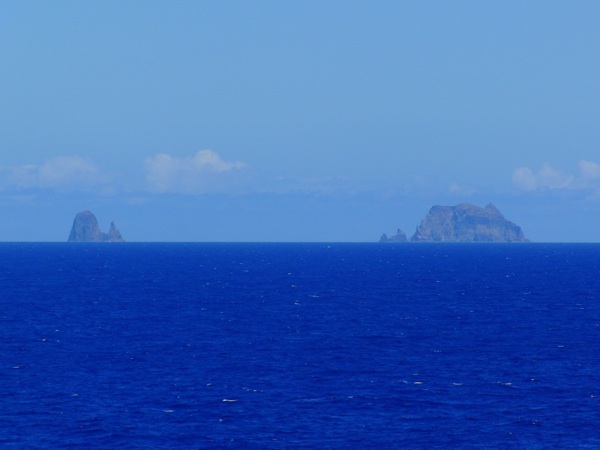 Martim Vaz Islands
While yesterday's weather was extremely calm, today was very, very windy. Nonetheless, the Voyager hosted "The Country Fair" on the pool deck for all of the guests. Every department on the ship (galley, provisioning, stewardesses, shore excursion, casino, bars, boutique, chefs, etc.) puts together a carnival booth and then the guests "play" each game and win raffle tickets for one of 10 prizes at the end of the hour long fair. Some of the booths are very clever considering it's all homemade and it doesn't look like they really get any budget to use. For instance, the boutique staff (which consists of 4 total people) had the "human slot machine" where one man stood and you moved his arm down like a slot machine's lever and then the other 3 people pulled pieces of fruit out of their bags and if the 3 pieces matched, you won. The chefs had "Splat the Chef" and we got to throw sponge cake smeared with thick whip cream (maybe loose butter cream frosting – it was pretty tasty!) at 3 chefs. The 9 singers and dancers were in the pool and they were the human ring toss. We had to throw hula hoops and try to ring a person with each hula hoop. It was fun and the crew really seemed to enjoy it, too, although it meant extra work for them with the set-up and clean-up. But, since it gets them outside, they probably really do enjoy it. (Stewardesses, for instance, NEVER get outside other than when they clean the cabin balconies or when they have some time off when the ship is docked so you know they enjoyed it.) Filbert, however, stayed in the room to process pictures from Cape Town through today for this journal. (And, no, Snookums did NOT make him stay in the room and work!)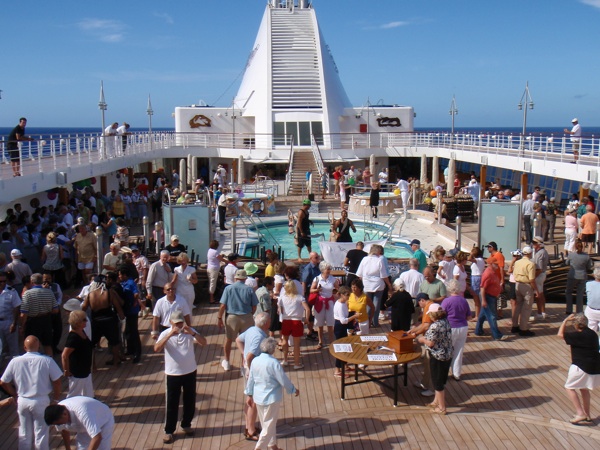 The Country Fair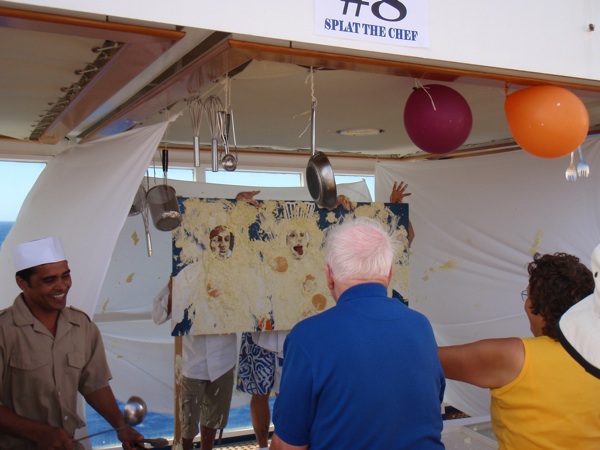 Splat the Chef
Snookums was tired and ended up ordering in for dinner and had a chef salad and potato chips and Filbert had his oatmeal and hot tea.
December 2 (Wednesday, Day 35, Cruising the South Atlantic Ocean)
Snookums woke up and worked out and so did Filbert. However, we didn't have breakfast together since our timing wasn't quite the same. Snookums did laundry since we'll be busy with Rio de Janeiro tours for the next 3 days. Filbert went to the lecture about uncharted lands in South America and then Filbert and Snookums went to the lecture about what diplomats really do. Snookums was discouraged to not learn anything and Filbert reminded her that Ambassador Samuel Hart is a diplomat and therefore doesn't say anything. The speaker did say that a lot of foreign service jobs are held by contractors and he doesn't agree with that. He also doesn't think that ambassadors should be political appointees. Filbert thinks that most ambassadors shouldn't be speakers on cruise ships . . .
After lunch we went to the food lecture on foreign food markets by Paulette Mitchell and saw her slide show of the various markets she has been to around the world. We had been to a lot of them (Bangkok, Apia, and Saigon just to name a few) and were surprised she didn't have a slide of Tokyo and the Japanese department store basement food halls. We guess she hasn't been to Japan.
It wouldn't be a cruise without a helicopter medical evacuation. Sure enough, around 3:00 PM the captain made an announcement saying that we diverted course a little bit (by turning due west) in order to get closer to Brazil for a medical helicopter evacuation. We will still dock in Rio tomorrow as scheduled, though. Snookums heard that a woman was having kidney problems.
Snookums and 4 other guests went on the 45-minute galley tour led by Executive Chef, Georg Hessler. Everything is made fresh on Regent ships – salad dressings, breads, desserts, ice creams, etc. One of the cooks was severely burned when a wind gust came from nowhere right before we got to Cape Town when he was working at the Pool Grill. His hand and arm are really bad (and it's too early to tell if he'll fully recover) and so they are a man short and that challenges the kitchen staff. We were also told that the Brazilian inspection team comes up with different rules every time a ship is in port in order to make a little money on the side (via bribes). Some of the kitchen staff was taking produce out of the cardboard cartons it came in and was putting it in big Rubbermaid totes with locking lids. Produce doesn't store well in closed containers, but that's beside the point. The Brazilian inspectors insist on it that way so the ship has to conform. The provisioning manager frequently purchases local products like fish and vegetables. Snookums jokingly asked if anything was purchased in St. Helena (since everything has to be shipped in) and was told that olive oil was purchased at $8 per liter since the ship was running a little short for dressings. Now the executive chef wished he would have purchased more since Rio de Janeiro is charging $22 per liter of olive oil! The executive chef also told us that sometimes the product that is ordered doesn't come in. He said that he ordered baby spinach in Cape Town and got Swiss chard. He decided to call his Swiss chard creation "African spinach with peanuts". Snookums remembered having that vegetable and commenting to Filbert that it wasn't spinach at all but was some kind of chard or green. The chef shouldn't try to fool the passengers!
The galley tour: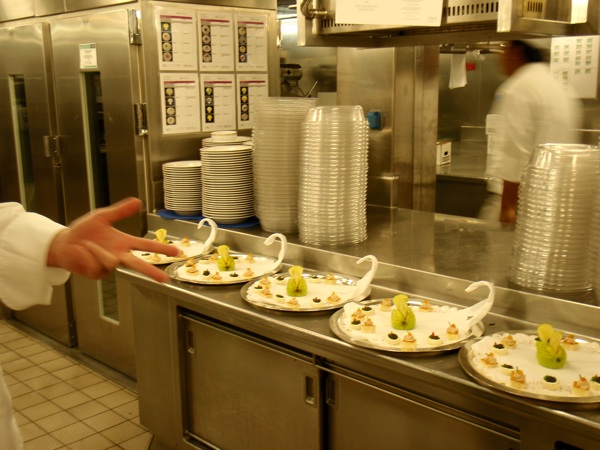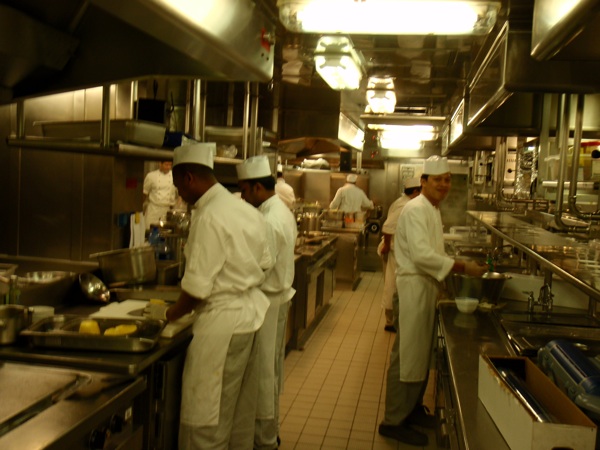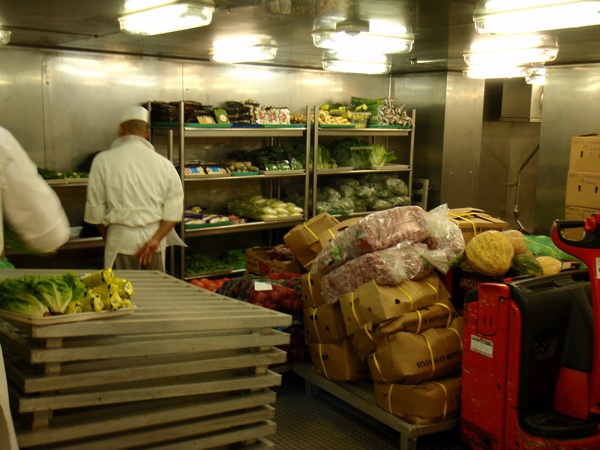 The medical evacuation happened around 6:30 PM. Snookums was standing on the top landing underneath the glass atrium roof and the helicopter was directly above her. She didn't have a camera with her and Filbert had already gone to the Observation Lounge with his but Snookums had the better viewpoint. A few minutes later the Staff Captain ordered everyone to leave which made perfect sense from a safety standpoint. Snookums was wondering what would happen if the helicopter dipped a rotor just a little bit into the atrium's glass ceiling with all the people underneath. It wouldn't have been a pretty sight. And, the wind was very bad and the gusts were very strong so the helicopter pilot had the weather to deal with, too. The woman that was helicoptered off practically lives on the ship with her husband. Her name is Ronnie and they are both elderly and she actually seemed to be in much better shape than her husband. Anyway, she had an internal blockage and needed immediate surgery. As of Friday, December 4, we've been told that she is stable in critical condition. After surgery the doctors did not think she would survive but she is surprising all of them. She's a spry one, that's for sure!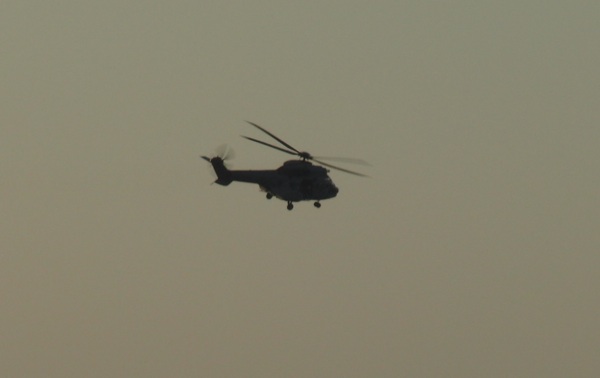 Evac Helicopter
Tonight was formal night (the captain's farewell for the guests getting off in Rio) so we decided to actually get dressed up and go. Filbert didn't want to wear his Indian outfit so he wore his navy blue pants and his pinstripe suit jacket and looked dashing. (Remember that somehow his suit pants managed to stay home rather than get in the suitcase!). For dinner Snookums ordered the Iced Fruit Cup with Lychees and Citrus Segments, Butter Lettuce and the Broiled Fillet of Tilapia with White Truffle Sauce. Filbert's dinner consisted of Brazilian Fish Soup, Butter Lettuce with Crabmeat, Tagliatelle Pasta a la Mediterranean Tossed with Lobster and Seafood Mermaid with Sauce Newburgh (scallops, shrimp, mussels and lobster tail on truffle pilaf rice). Neither of us had the intermezzo of Refreshing Aquavit Sorbet with Almonds to cleanse our palates prior to eating our entrees. Snookums's desserts were the Caramelized Lemon Tart with Summer Berries and an order of Orange Ricotta Ice Cream since she thought it sounded unusual (and it was kind of different, in a good way). Filbert's dessert was Low Carb Flourless Chocolate Cake and Sugar Free Cappuccino Chip Ice Cream. We were both very happy with our choices, although we thought that the butter lettuce was kind of bitter.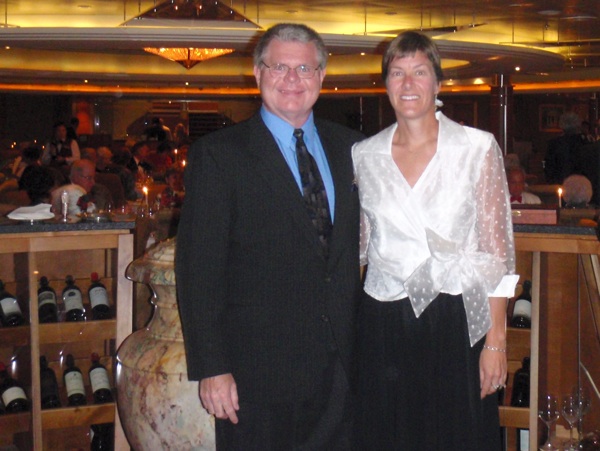 Formal night
Our current cruise segment (Cape Town to Rio) is around 60% occupied. Our first segment (Mumbai to Cape Town) was about 75% occupied. We've been told that our final segment (Rio to Ft. Lauderdale) is actually overbooked and that there is at least one couple onboard that wants to extend to Ft. Lauderdale but might have to get off in Rio as originally planned.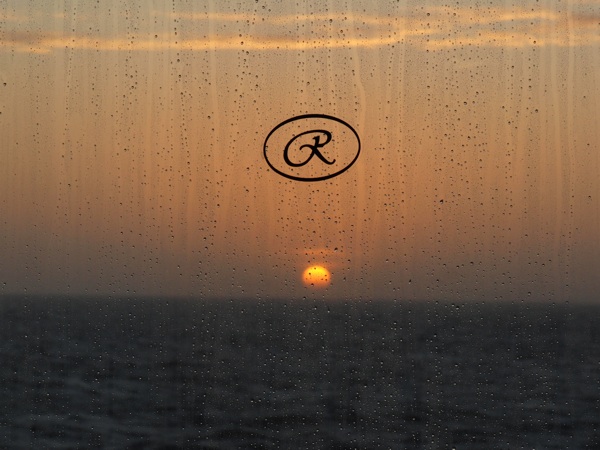 Dec. 2 sunset, through the sea-sprayed veranda glass door
Next: Rio!