The "Bollywood to South Beach" Voyage, part 26
filbert
Friday, December 11 2009 @ 07:00 AM CST Views: 864
The Bollywood to South Beach Voyage - Regent Seven Seas Voyager, October 29-December 18, 2009
Text by Snookums, Pictures by Filbert
Part Twenty-six
(Remember to click "read more" if you're looking at this from the main medary.com page to get the whole article!)
November 28 (Saturday, Day 31, Jamestown, St. Helena, UK) -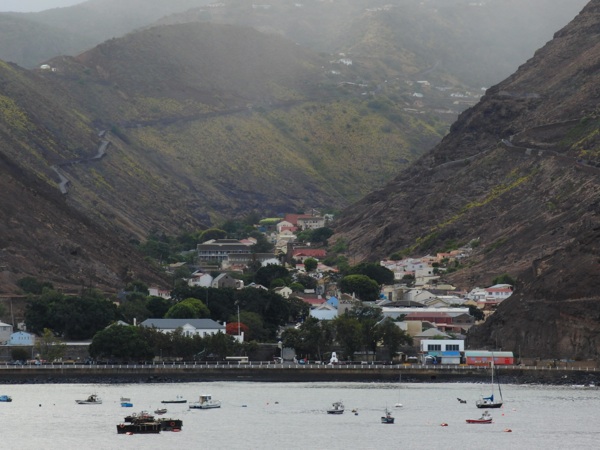 Jamestown
Snookums woke up at 5:30 AM and read her book. Around 6 AM she looked out the window and realized that a huge chunk of rock was out there. Okay, it was St. Helena. While we were eating breakfast Snookums asked the St. Helena policewoman onboard (who was also eating) about getting a pedicure while on shore. She said that there was one shop that did that. Snookums hates paying $65 for an onboard pedicure and tries to get them during our port days if at all possible since she literally is not capable of polishing her own toenails.
More after the jump . . .

We took the tender to beautiful Jamestown and started searching for a pedicure for Snookums and a haircut for Filbert. Snookums was in luck and made an appointment for 11:30. The local beautician/barber, though, was fully booked so Filbert will just wait until we get home. (He doesn't like his hair getting "mask hair" from his sleep apnea mask.) Main Street is about four blocks long and is wonderfully preserved example of Georgian Architecture from the 1700s. One of the landmarks on the island is "Jacob's Ladder". It's 699 steps up the steep side of the cliff and it was built in 1829 to carry manure to the countryside. Snookums wanted to climb it, but she had on the wrong shoes due to her pedicure. Going down is supposedly harder than climbing up since it's so steep.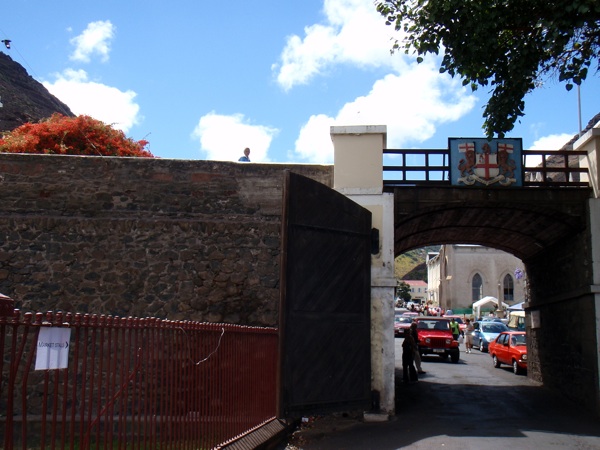 The Gate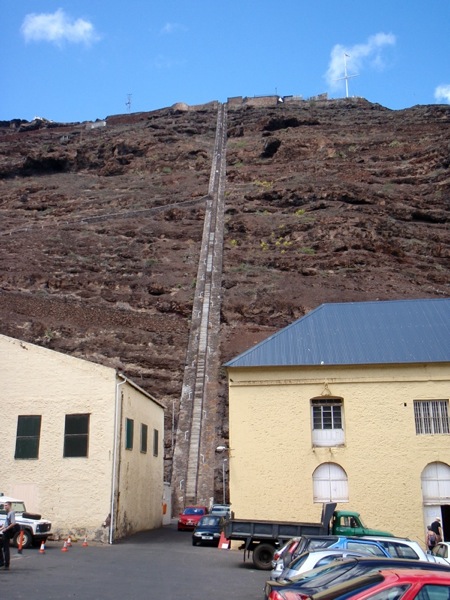 Jacob's Ladder
St. Helena is the island that Napoleon was exiled to. After spending 5 ½ years here, he passed away. It's 5 miles by 10 miles. Around 4,000 people live on St. Helena (down from 6,000 residents about 10 years ago) and there is NO airport. It is located in the middle of the Atlantic Ocean between Namibia and Brazil and gets mail service once a month via the Royal Mail Ship (RMS
St. Helena
). Two cruise ships have anchored at St. Helena so far this year.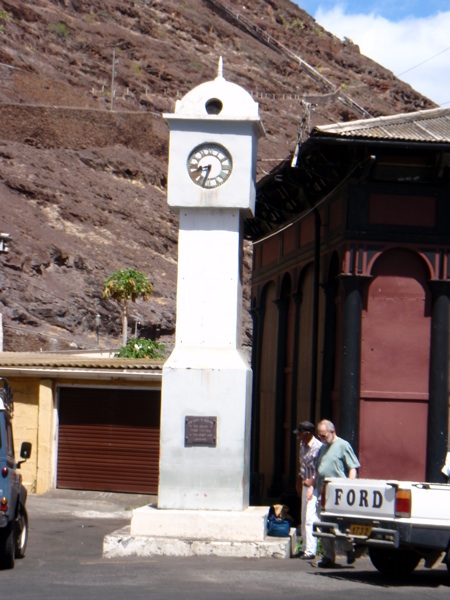 Clock tower
St. Helena is a British Overseas Territory and the residents, many of whom are subsidized by the British government, have British passports. St. Helena has two radio stations and a newspaper and gets its three television channels from South Africa via satellite. It has a hospital and schools, but if someone needs emergency care that the hospital can't provide, that person has to wait for the mail ship's monthly visit in order to get off the island. Then it's at least a two-day journey to Ascension Island and its airport. (This is also how you leave the island for vacations and jobs and for any other reason you want to leave the island. Many residents go to the Falkland Islands to work.)
We went to the bank and got St. Helena pounds and also visited the post office for 4 post cards. The RMS St. Helena is coming on November 30 so the post cards might make it home before we do on December 18, or they might not! The grocery stores had lots of canned goods (and they were kind of pricey - $1.75 for a can of corn) and a little bit of fresh meat. The produce consisted of picked over carrots, cabbage, potatoes and onions and lots of empty display space. Fresh items come on the RMS St. Helena and immediately sell out. Most people have gardens with lettuce and tomatoes and they can grow year round due to the climate. It was 75° and sunny today.
While Snookums was getting her pedicure, Filbert enjoyed a sausage roll and pot of hot tea in the Consulate Hotel café. Lots of locals were there, too. Snookums's pedicurist seemed to be in her late 20s and she was born and raised on St. Helena. She went to the UK for 8 months for training and now has her own shop. She almost didn't make it to training since her scheduled trip on the RMS St. Helena didn't happen due to mechanical problems. She was very fortunate, though, that there was a cruise ship coming and she was able to get on that and go to Ascension Island to make her flight to the UK. If that cruise ship hadn't come, she would have missed out on her training since she would have been at least one month late!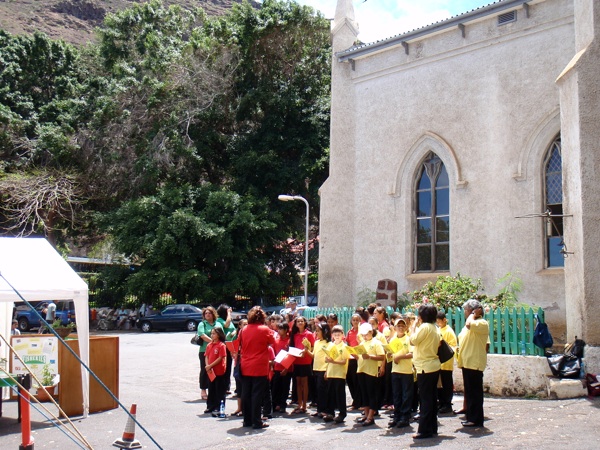 School chorus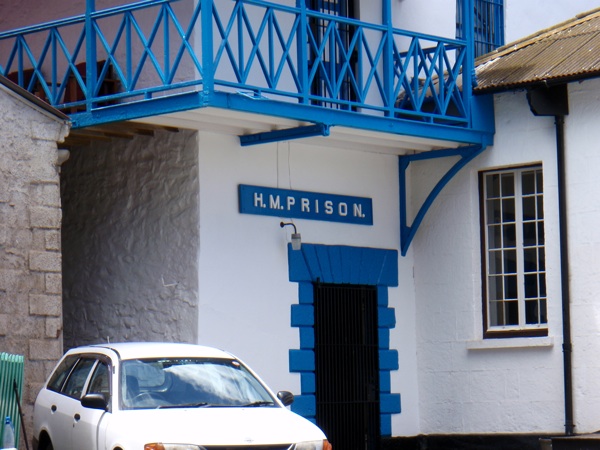 Her Majesty's Prison
There was a little craft market set up on Main Street to take advantage of the ship. We didn't buy anything since there wasn't much to buy.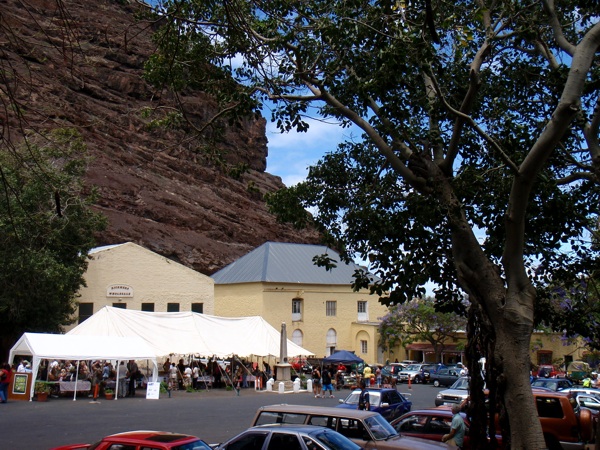 Craft market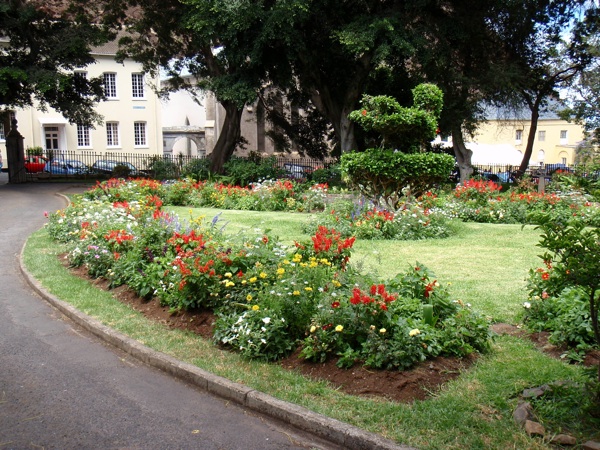 Town park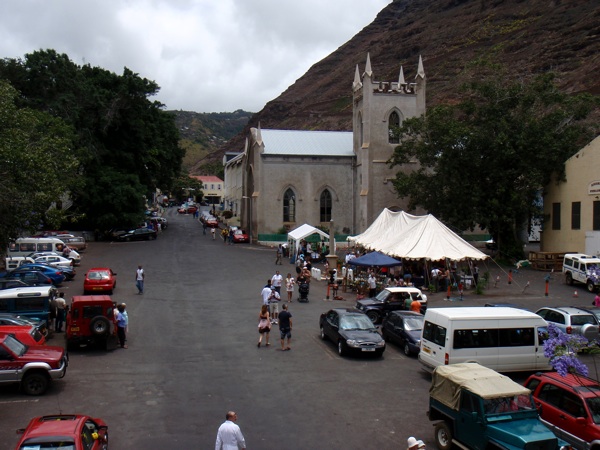 The view up Main Street
We visited the most remote distillery in the world, though, and learned that the man retired to St. Helena and then decided to start a business. Ten years ago when he started, he thought St. Helena was getting an airport. (Two months ago the British government once again said "no" to an airport. The RMS
St. Helena
will need to be replaced in two years due to safety needs so people are thinking that the UK government will build an airport rather than buy a new mail ship. This most recent "no" was a major setback.) Anyway, he distills prickly pear cactus liqueur, coffee liqueur and spiced rum. Filbert tried all three and bought everything but the coffee one (made with St. Helena coffee). This man bought topnotch distilling equipment from Germany and paid $47,000 just to get it shipped to St. Helena. Then he decided to buy special bottles from Italy in the shape of Jacob's Ladder and had to order 20,000 bottles. Snookums doesn't think he is ever going to turn a profit and the man doesn't think he will, either, unless the airport is approved. Right now he exports it to the UK and South Africa, but via the RMS
St. Helena!
There is little to no tourism on the island, either, since it would take someone one week to get on and off if the RMS
St. Helena
did a twice a month route, which it sometimes does.
Tonight was another formal night to honor past Regent cruisers (our second "honoring" that we've skipped) so we went to La Veranda for its Italian-themed menu while wearing our casual clothes and had a nice, quiet dinner.


November 29 (Sunday, Day 32, Cruising the South Atlantic Ocean) -
We woke up and both worked out -- Filbert in the gym and Snookums in "Muscle Mix". Filbert went to two back-to-back lectures. The first was about a 19th century naval hero followed by a lecture about the culture of today's South America. Snookums did laundry which she does every three days. Snookums REALLY, REALLY likes that Holland America allows you to pay a set amount per cruise to have all of your laundry done by the ship's staff. In fact, that's a major reason we won't be sailing on Regent when we sail on a world cruise in the future.
The day was sunny and warm (mid-80s) and lunch was by the pool. We enjoyed the special German buffet today and had various German sausages. Two men joined our table and we found out that they are paying passengers on the ship but they work for H. Stern which is a leading jeweler. They sail this itinerary (Cape Town to Rio de Janeiro) on many cruise lines in order to sign up other passengers to take the free tour of H. Stern with the hopes of selling them some gems. They were very nice and didn't try to push themselves on us at all. After Filbert left, Snookums continued to talk to one and found out a lot of things about Rio such as that spectators must pay to watch Carnival. She thought it was like a U.S. parade – show up, find a place along the route and enjoy the show. But, nope, there are stands built along the route and you have to have a ticket to watch. A bleacher ticket is around $150 and a great seat will cost $1,000. There are 12 Samba schools and 6 perform each night so Carnival is only two nights long.
We also learned that there was a cruise to St. Helena once that ended up having to leave 39 passengers behind since the weather turned and the captain deemed it unsafe to use the tenders. Those passengers had to take a cargo ship to Ascension Island and then the Royal Air Force flew them to London and then they took a commercial flight to Rio to catch up to the cruise ship!
Monica and Joel invited us to dinner at Prime 7. They knew about our experiences at our first two Prime 7 dinners were interested to see if things would turn our right this time. We had a wonderful dinner with them and it was free of any challenges. We left Prime 7 just in time to see the comedian, Sarge. This was the first show we attended and it was pretty good.


November 30 (Monday, Day 33, Cruising the South Atlantic Ocean) –
Snookums woke up and walked on the treadmill before going to the fitness class, Fabulous Abs. Then she ate her Special K and blueberries (she's trying to watch her weight!) outside at La Veranda and enjoyed reading her book. Filbert woke up with a sinus headache and ordered his hot water for oatmeal and hot tea and ate in the cabin and then spent the rest of the morning on the balcony reading and listening to short-wave.
Snookums went to the backstage tour and learned that there are 6 shows that the singers and dancers know and these 6 shows stay in rotation for 3 years and cost $1 million each. 2 of the 6 are the same on all 3 Regent ships. The costumes have to last 3 years, too, and each singer/dancer is responsible for cleaning (usually hand washing) the costumes while on their 6-month contract. While Snookums was learning this, Filbert was sitting on the balcony listening to his iPod and writing his novel. The weather was beautiful (78° and sunny) and the ocean was as smooth as it could possibly be.
Before we ate at Signatures, we went to the Latin Dance demonstration and saw two Brazilian dancers do 5 different dances for around 40 minutes total. They were very fast and their facial expressions were quite entertaining. Our Signatures dinner was excellent and we both enjoyed the beef entrée and the dark chocolate tart for dessert. Then, to make things even better, we returned to our cabin and turned our clock back.
Next: Breakfast tea, and Splat The Chef!