The "Bollywood to South Beach" Voyage, part 23
filbert
Tuesday, December 08 2009 @ 07:00 AM CST Views: 868
The Bollywood to South Beach Voyage - Regent Seven Seas Voyager, October 29-December 18, 2009
Text by Snookums, Pictures by Filbert
Part Twenty-three
(Remember to click "read more" if you're looking at this from the main medary.com page to get the whole article!)
November 23 (Monday, Day 26, Cruising the West Coast of South Africa) -
Filbert woke up not feeling 100%. He was gassy and "full" most of the day. We blamed it on the fish and chips we had off the ship. Snookums's Caffeine Free Diet Coke finally arrived and our stewardess left a 12-pack in our cabin. Later in the day the Food and Beverage Manager phoned to apologize many, many times for the Prime 7 problems as well as the warm champagne mess. He offered us another dinner at Prime 7 (you are guaranteed one meal per cruise segment) but we said "no thanks" since we already have one scheduled for the next cruise segment. It's an okay steakhouse, but we actually like Compass Rose, the normal restaurant, better. But, Prime 7 is a nice change of pace every 15 days or so.
It was formal night and we stayed casual and went to La Veranda for dinner. It was a different South African menu. Phil still wasn't feeling too well and had a few bites of spicy lobster and Janet really enjoyed the side dishes (pumpkin stew, sweet potatoes, African spinach with peanuts, and rice with raisins and spices). It was an early night for both of us.
More after the jump . . .

November 24 (Tuesday, Day 27, Walvis Bay, Namibia) -
We woke up and Filbert didn't feel well enough to go on the seal and dolphin cruise so Snookums went alone. It was a typical foggy, cool morning. We had been told that Walvis Bay only gets about .5" of rain per year. It's part of the Namib Desert and the vegetation survives by sucking out the moisture in the air that is produced most mornings in the fog. Since Filbert didn't go, this meant that Snookums had be the photographer so she got a quick camera lesson. There were 9 of us on a small boat and as soon as we left the dock, 3 or 4 pelicans flew to our boat to get the fish that the captain was offering them. Pelicans have a wing span of 6.5 feet and only weigh 6.5 pounds. Snookums was able to touch the wings of one of them as they flew overhead. They were CLOSE and there was no need to use any kind of telephoto lens! Gulls were flying around us, too. Even after the fish food was all gone the pelicans and gulls still followed our little boat. We motored around and saw some bottlenose dolphins. Our captain was very excited about this since there are only 80 bottlenose in this area and they aren't always seen. Then we saw a small sunfish which is a very rare sight (although Filbert took a picture of one from our balcony a few days before this). We also saw heavyside dolphins which are the second smallest dolphin in the world and have very white sides. Seals were in the water, but most were on a beach. Sometimes a seal will actually come into the boat, but it's mating season and most of them were on the beach. After we saw all of the wildlife it was time for the captain to put out the food – various finger sandwiches and Walvis Bay oysters. The water is perfect for oyster farming since it's cold and very oxygenated. As a result, it takes an oyster 9 months to fully mature in Walvis Bay whereas in other parts of the world it takes 3 years. Snookums had a raw oyster and was surprised at its total lack of fishiness or even saltiness. One was enough for her, though.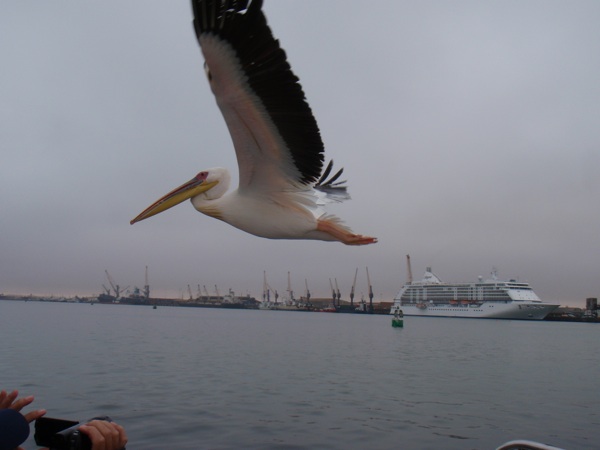 Pelican flyby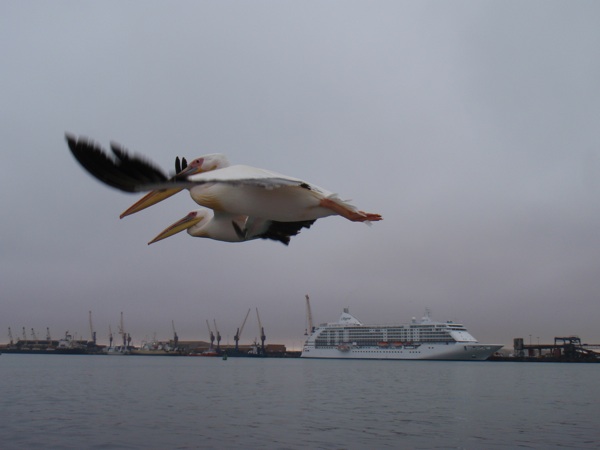 Pelican formation flyby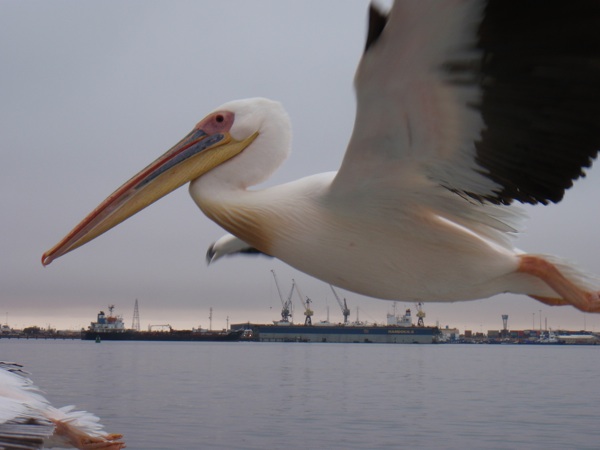 Pelican closeup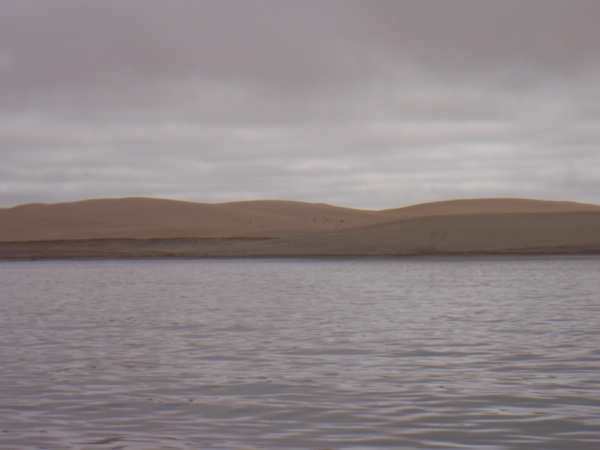 Desert at water's edge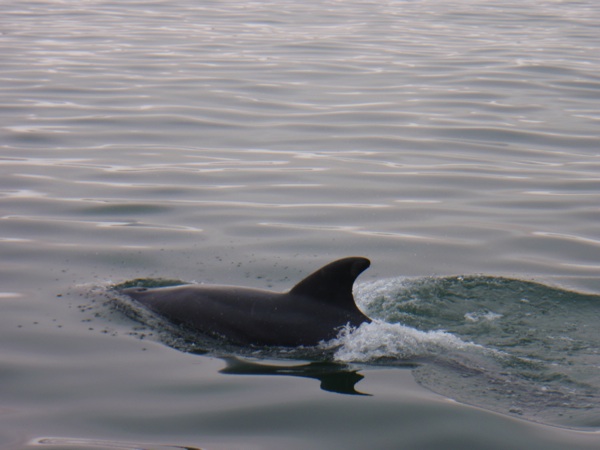 Dolphin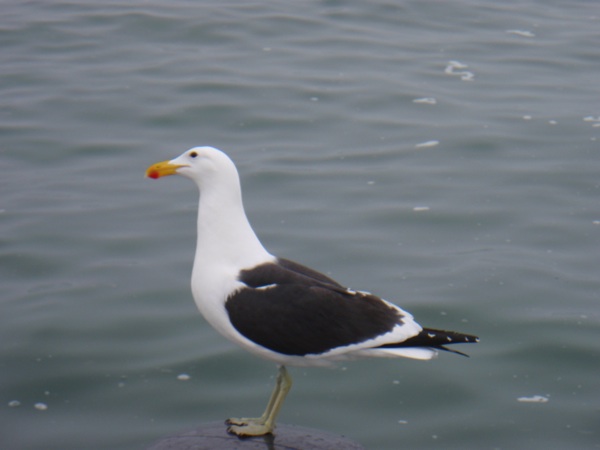 Gull, offended at all the attention the pelicans are getting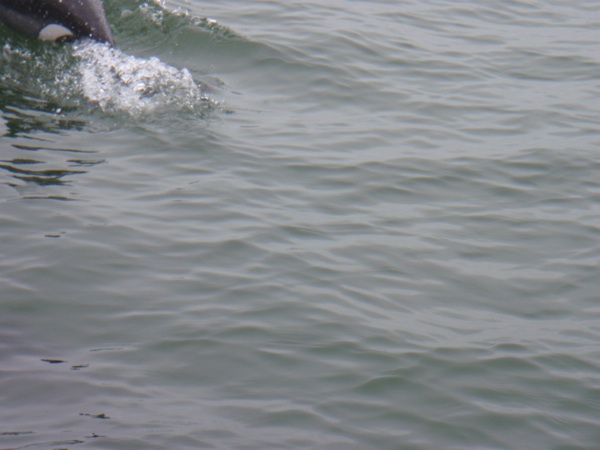 Almost a great picture of a dolphin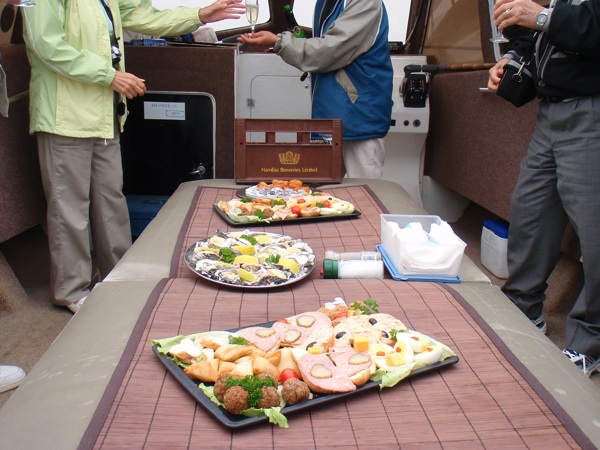 Snacks, anyone?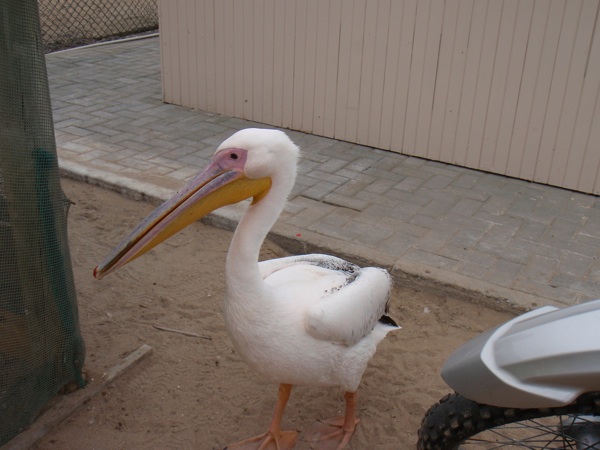 Pelican wants a snack . . .
Snookums got back to the ship and took the free shuttle into town. Walvis Bay is NOT a tourist town and the town was fine for people that lived there but had nothing at all for a tourist. She found a postcard at one of the 3 grocery stores. The stores were fully stocked, and priced, as if we were still in South Africa. Walvis Bay doesn't have an unemployment problem since it has the huge dock and salt flats for jobs.
Dinner was a special event hosted by Regent for everyone on the ship. It was "Dinner Under the Desert Stars". We took buses (probably every bus and van in western Namibia!) about 40 minutes to the middle of the desert and we were completely surrounded by huge, towering dunes. Filbert and Snookums did something similar two years ago in Dubai, but the Dubai dunes were wimpy compared to the Namib Desert dunes. Luminaries were placed on the sand to indicate the "road" for the drivers since we really were in the middle of nowhere. There were huge banquet tents with wooden floors set up for the 400 guests. A youth choir and marimba band played throughout the evening. Camel rides were available, too, even though camels aren't used in Namibia. A very nice buffet was served with several kinds of South African wines and beers. Meat dishes included oxtail, kudu, lamb and chicken. Monica and Joel found us and said that they saved 2 spots for us so we joined them at their table and we had a nice time. In fact, the cruise director had to come to our table and tell the 4 of us it was time to go! It was a nice night but Filbert was very disappointed that it was cloudy so he couldn't see any stars.
Next: Birds, seals, and jackals!