Hawaii Circle Cruise, January 2009, Part Eleven
Monday, February 16 2009 @ 02:21 PM CST
Contributed by:

filbert

Views: 1,872
The 2009 Circle Hawaii Cruise - Holland America Zaandam, January 5-21, 2009
Text by Snookums, Pictures by Filbert
Part Eleven
(Remember to click "read more" if you're looking at this from the main medary.com page to get the whole article!)
(Yes, Snookums finally finished up the writing, and Filbert finally has gotten around to posting the exciting conclusion to our Hawaii trip. Yee hah.
January 20 (Tuesday, Day 16, Ensenada, Mexico)
At 4 AM we were woken by the fog horn. It was still going off every two minutes at 8:30 when we really got up. We turned on CNN to see the inauguration activities. We decided that we are probably one of a very few number of people that were guests on a cruise during the election as well as during the inauguration. After watching the festivities, we went to breakfast. Snookums was thrilled since for the second time on this cruise, chocolate chip pancakes were served. They are delicious since the chocolate chips are ooey and gooey and all melty. Next to Regentís raisin French toast, this is Snookumsís favorite cruise breakfast. It was a perfect start to an action-packed day.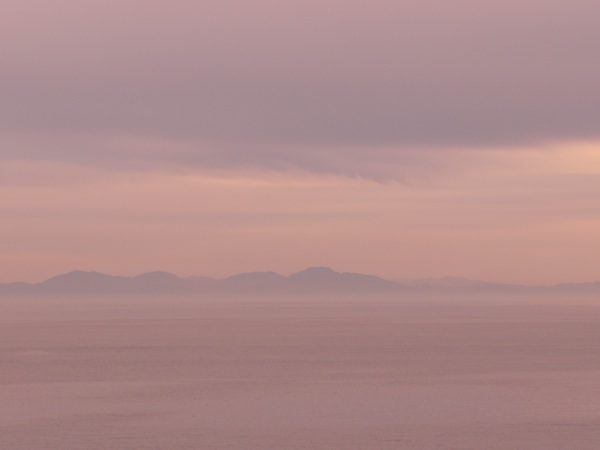 Mexico in the evening twilight
More after the jump . . . The inauguration activities were being shown on the big screen in the Mondriaan Lounge from 7 AM until 2 PM today. There were also drink specials for $4.40 (for our 44th president) including Obama Special, President Shake and American Dream. The Sports Bar television was also tuned to CNN rather than ESPN for todayís events, too.
Snookums went to the 10 AM galley tour and learned that the dishwashers (and there are a total of 12) work on average 11 hours per day. The ship has a crew of 588 and each crewmember eats about 3.5 pounds of rice each week. The 1,450 guests eat 1,500 dozen eggs each week. Yep, thatís about 12 eggs per guest each week!!! The guests also eat 200 gallons of ice cream per week. Snookums knows she didnít eat her weekly egg quotient but is confident that she ate her 2.2 cups of ice cream each week. 8,500 pounds of meat, 4,000 pounds of poultry, 2,000 pounds of fish and 2,500 pounds of seafood are consumed each week, too. 2,600 pounds of flour are used each week to make the 20 kinds of daily breads. Each day this includes 120 loaves of bread, 100 loaves of French bread, 4,000 dinner rolls, 800 croissants, and 800 Danish and sweet rolls.
Filbert and Snookums attended the noon organ recital in the atrium. A photo of this piece of art is in the January 9, Friday, Day 5 post. We figured that we had to see/hear it one time while on the cruise so we made a point of attending one of the four daily recitals on sea days. It lasted around 3 to 4 minutes and was fully automated. Some of the figurines holding musical instruments on the organ moved and added to the music.
Snookums and Judy did the Dam dollar volleyball serve. Judy was a very impressive two out of three and hopes to not have any bruises on her arm tomorrow. Snookums was three for three, even with the cheap volleyball, chilly weather and winds. Filbert watched the incredibly smooth sea while listening to his short-wave. Mom and Dad continued to watch the inaugural activities on the big screen in the Mondriaan Lounge.
Judy and Snookums went to the hole in one golf Dam dollars and each got one dollar. Filbert continued to stand outside on the verandah in his leather gloves, winter coat and headphones. He saw two seals and then managed to see a stick, another stick and a big mass of seaweed. Of course we thought those last three items were sea creatures until we determined they never moved. After three hours he came inside to warm up.
Snookums and Judy turned in the Dam dollars. The dollar value was a little different as compared to the 65-day cruise. T-shirts were more expensive but sweatshirts were cheaper than before. Judy really wanted a windbreaker but they didnít offer them on this cruise. We ended up with a beach towel for 30 Dam dollars for Filbert since they didnít have any t-shirts in his size. Judy and Snookums each got a sweatshirt for 35 dam dollars each.
The stop in Ensenada, Mexico was a short one--from 8 to midnight or thereabouts--not worth getting off the ship. So we didn't.
We had a nice (free) dinner in Pinnacle Grill and managed to get out in under two hours since we requested fast service. The servers were aware of our dislike of LONG dinners and did their best to speed things up.
Mom and Dad went to the show of three of the different performers that had been on this cruise (dulcimer player, Sally Jones, male singer) while Judy packed. Snookums and Filbert went to The Dark Knight which is a 2 Ĺ hour movie. It was a late night for all but a good way to finish the cruise.
January 21 (Wednesday, Day 17, San Diego, California)
We met for breakfast in Lido and Snookums commented that everyone looked tired. The big cabin had toilet problems last night and so Mom and Judy didnít get to sleep until 2:30 due to plumbers and phone calls and door knocks. It might be a long day.
We secured a table in the Lido and had a breakfast--an early one for Snookums and Filbert, the earliest either of them had breakfasted on the entire cruise. Then we went back to our staterooms and waited. Filbert found an old (early 1960's?) movie about some guys with French accents trapped on an island with a volcano that was about to blow. It was not a good movie.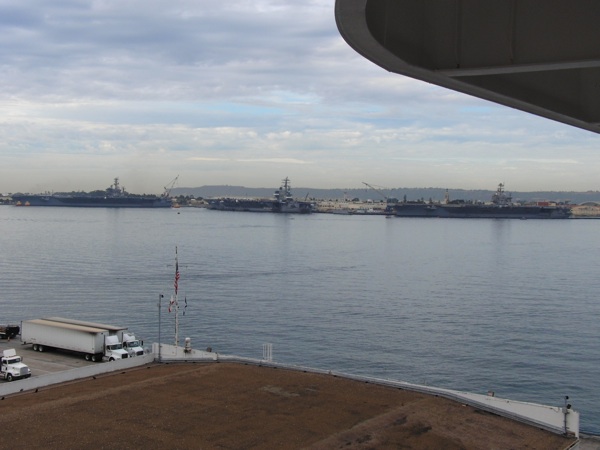 Three aircraft carriers at San Diego
Finally, they called our luggage tag color, about 10:45 (15 minutes early), so we collected up the gang, made our way to and over the gangway, snagged our luggage, then a taxi, and arrived at the airport with no problem at all. Of course, we had to wait three hours before Southwest would check our luggage in. This wasn't a problem, as the traveling party comfortably drank coffee/pop, read newspapers, did crosswords, or took advantage of the free wireless Internet in the airport until it was time to check in.
Check in, on the other hand, took forever. The Southwest agent was very, very thorough. He weighed every bag and wrote the weights on tags that he then stuck on each piece. The one that was two pounds over the limit had to be repacked to fit the 50-pound limit. He inspected Dadís wheelchair and attached the inspection ticket so that we canít claim any existing damage to the wheelchair after the flight. Likewise, he inspected Dadís walker. He had to change Judyís ticket to ďJudithĒ from ďJ.M.Ē. He did absolutely everything by the book and was very pleasant about it. It took at least 15 minutes. He had the gall to say that the auditors have commented on his efficiency! We werenít in any hurry (luckily) and he was pleasant, but it was torture.
We finally got to our gate around 1 PM and had lunch at the restaurant by the gate. Filbert had two microbrews with his wings so he was happy. So far, so good! We boarded the nonstop flight and had plenty of room to spread out. Filbert was able to see the Zaandam in port waiting to sail away in a few hours with a new group of guests.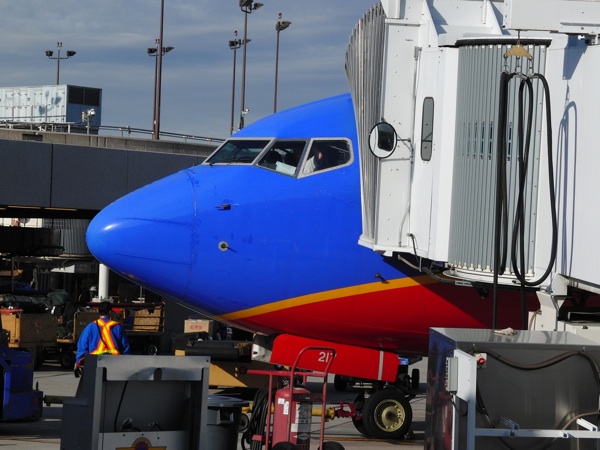 Our ride home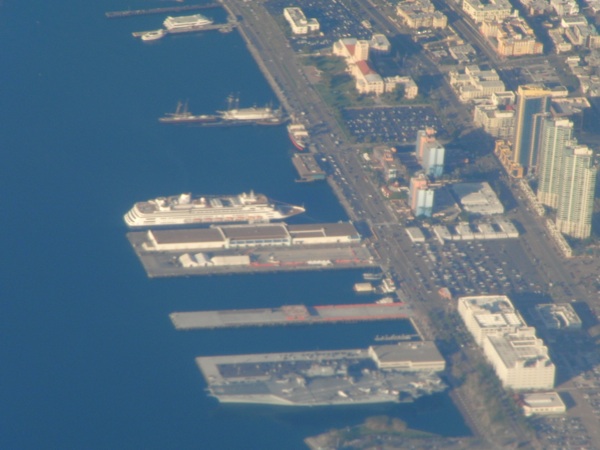 Goodbye, Zaandam
We arrived in Kansas City on time and SuperShuttle was there to pick us up. We dropped off Mom, Dad and Judy and then got home around 10 PM. We were unpacked (and repacked) by 11:30 PM since we were driving to South Dakota the following morning. All in all, it was a great cruise. We sailed a total of 5,314 nautical miles (6,111 statute miles) and consumed 85 gallons of diesel fuel per mile.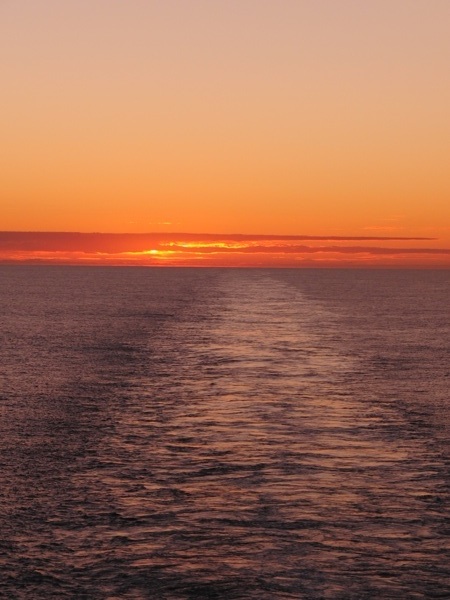 Smooth Sailing and clear skies to all!