Hawaii Circle Cruise, January 2009, Part Ten
Sunday, January 25 2009 @ 03:16 PM CST
Contributed by:

filbert

Views: 3,371
The 2009 Circle Hawaii Cruise - Holland America Zaandam, January 5-21, 2009
Text by Snookums, Pictures by Filbert
Part Ten
(Remember to click "read more" if you're looking at this from the main medary.com page to get the whole article!)
January 18 (Sunday, Day 14, At sea)
Filbert woke up, showered and ate breakfast before Snookums even woke up. Dad went to the Veterans Get-Together. Mom and Judy went to their invitation-only suite lunch buffet and enjoyed it very much. (Dad ate at the taco bar and the grill chef helped him carry his tray.) Snookums and Filbert ate lunch with Eva and Stanley for 2 ½ hours before going to the 30-minute "How to Host a Hawaiian Party" event. We didn't learn much but did learn that the proper way to cut a pineapple takes four days. (Shave the bottom off, put the pineapple on a towel on the counter for three days. Twist the top off and turn it upside down for another day. Cut and serve.)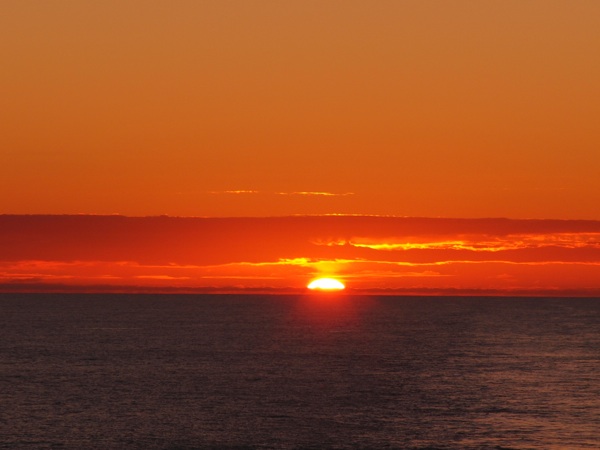 Sunset on the 19th
More after the jump . . . Snookums and Filbert received a plate of chocolates and a bottle of wine for the carpet laying inconvenience. Mom, Dad and Judy enjoyed the chocolates. The wine will be enjoyed during our free Pinnacle Grill dinner on Tuesday night.
Earlier in the cruise Snookums found a $0.25 casino token on the floor of the casino and today we decided to try our luck at one of the pusher machines. Filbert put it in and … nothing happened. We didn't win. That's the extent of our gambling on this cruise.
While leaving the folks' and Judy's room, Filbert's Crocs caught just a bit on the tile, aggravating his heel. He's been battling this problem since mid-June and has decided it's time to go back to the podiatrist yet again for another look-see. He iced it and took Aleve.
Mom, Dad and Judy ordered room service for dinner and then Mom and Dad went to see Sally Jones' one-woman music and comedy show. They were really impressed with her. Filbert spent a few hours on the verandah after the sun went down listening to his short-wave radio (San Francisco, Fresno, Oregon and LA were the primary stations he picked up) and then we went to the dining room. We set our clocks ahead one hour (for the last time) and went to sleep.
January 19 (Monday, Day 15, At sea)
Judy did the 9 AM "On Deck for the Cure" 5K walk to support the Susan G. Komen Foundation while Snookums and Filbert slept through breakfast. Mom got her hair done and no one ever really knows where Dad goes, but he always comes back with stories to tell. Judy, Mom and Dad ate lunch in the dining room and Filbert and Snookums ate in Lido.
The following activities happened between 11:00 and 3:00 today:
11:00 – Art of Napkin Folding and Table Setting, Culinary Arts Center
11:00 – Denny Wong Pearls Seminar, Shops
11:00 – Spa Secrets: Eat More to Weigh Less, Spa
11:00 – Snowball Jackpot Bingo, Mondriaan Lounge
11:00 – Spa Seminar: Acupuncture & Herbal Medicine, Explorer's Lounge
11:30-1:30 – Hawaiian Fruit Buffet, Lido Poolside

12:00 – Zaandam Open Golf Tournament Round 4, Atrium
12:30 – Hula Review, Crow's Nest
12:45 – Voice from the Bridge Announcement
1:00 – Grand Finale Art Auction Preview, Ocean Bar
1:00 – Guests vs. Crew Pool Volleyball, Lido Pool
1:00-3:30 – $500 Slot Tournament, Casino
2:00 – Grand Finale Art Auction, Ocean Bar
2:00 – Ping Pong Semi-Finals, Lido Poolside
2:00 – Sally Jones: A Celebration of the Life and Works of Sir Andrew Lloyd Webber, Mondriaan Lounge
2:00-4:00 – Duplicate Bridge, Crow's Nest
In the afternoon Mom and Dad went to watch Sally Jones talk and sing about Sir Andrew Lloyd Webber and then they went to the Indonesian Tea Ceremony. Judy and Snookums attended the Dam dollars scavenger hunt. Rather than trying to be the ultimate winners and get two Dam dollars each, they had ice cream during the 15 minute "hunt" and then showed up to get the consolation prize of one Dam dollar each. Filbert enjoyed the afternoon sitting on the verandah listening to his short-wave radio while wearing his Tilley hat, leather gloves, long pants, shoes and socks and winter jacket. He saw some dolphins riding the bow wave right below him. The sun was shining most of the day and the sea was like glass, but it was kind of chilly.
Mom, Dad and Judy attended H2 OH! with the Zaandam singers and dancers and then went to formal night dinner.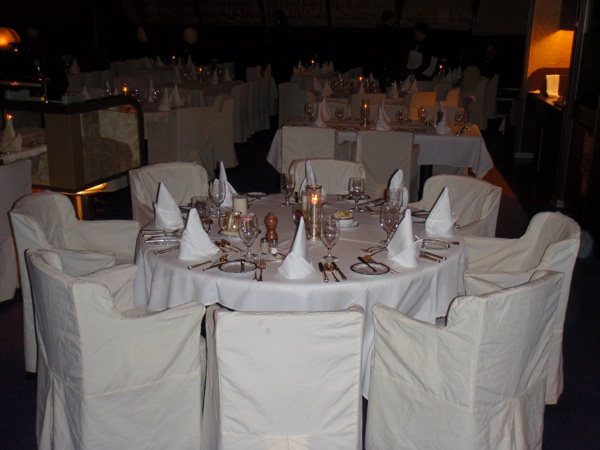 The formal night table setting
They were pleasantly surprised to find us at the table since we had planned on going to Lido until Filbert said that we should get dressed up and eat with the family in the dining room. (Filbert earned a ton of Brownie points for this move!)
Filbert does not like formal nights
Filbert even had to put up with the traditional parade of baked Alaska that he abhors. And, to make matters worse, the servers carried glow sticks rather than sparklers.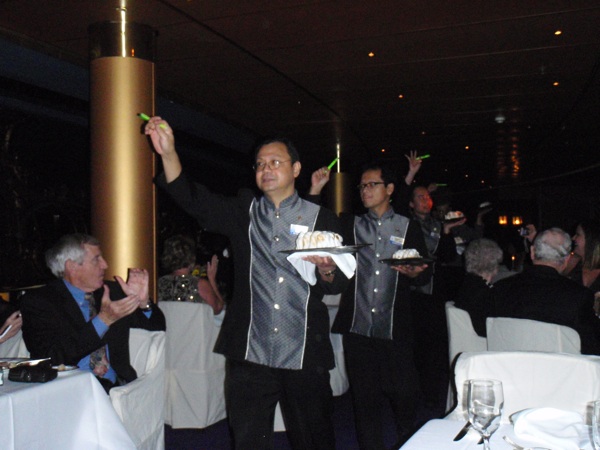 Glowstick parade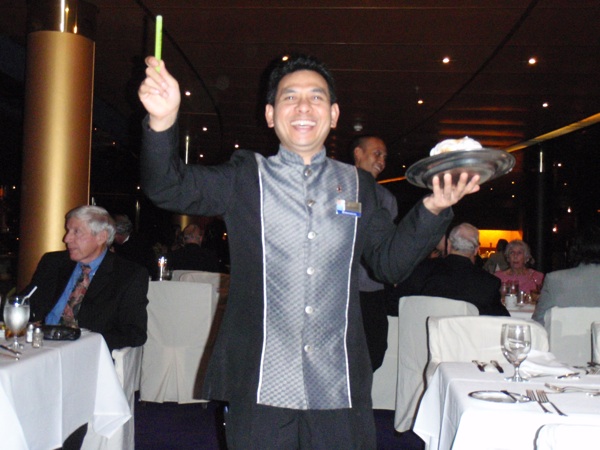 Safari, our waiter, with glowstick
The spectacle was pretty sad, but Mom said that the baked Alaska was the best one she ever had on a cruise. (The baked Alaska on cruises is usually pretty awful with very sugary meringue.)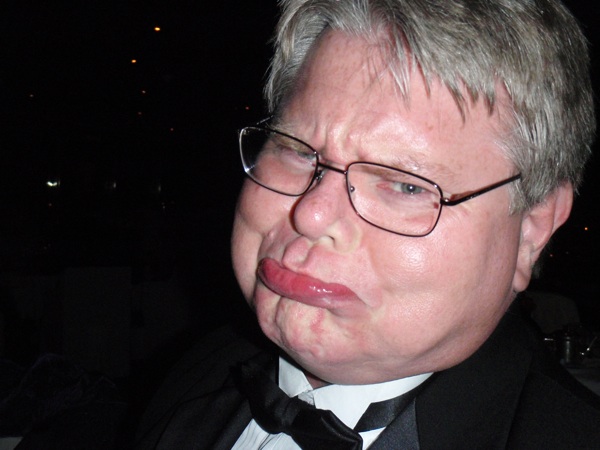 Filbert does not like baked alaska.
He dislikes it enough to not capitalize Alaska.
He does like making funny faces, though.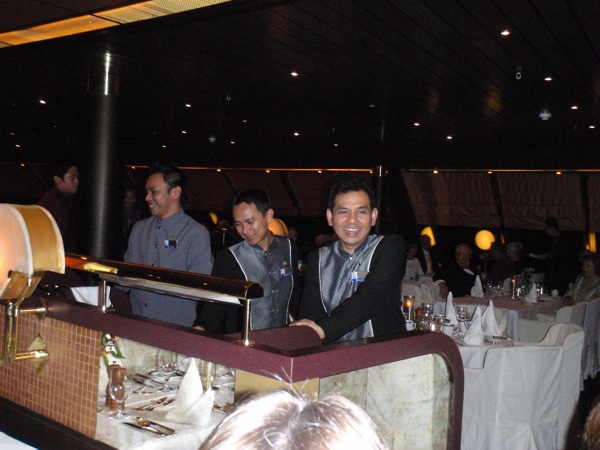 The waitstaff was happy, though.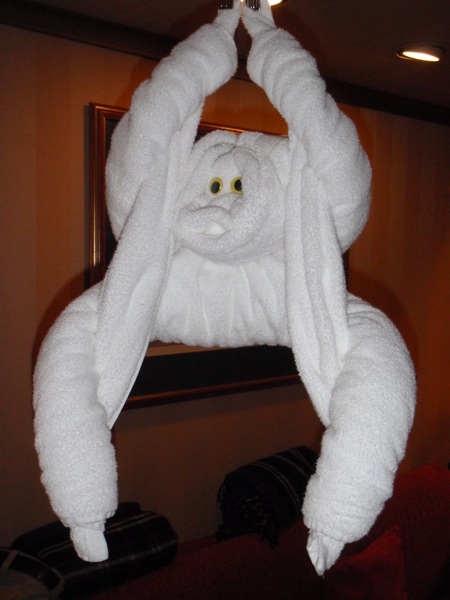 Any day that ends with a towel monkey is a good day.