Hawaii Circle Cruise, January 2009, Part Seven
Friday, January 23 2009 @ 03:54 PM CST
Contributed by:

filbert

Views: 1,690
The 2009 Circle Hawaii Cruise - Holland America Zaandam, January 5-21, 2009
Text by Snookums, Pictures by Filbert
Part Seven
(Remember to click "read more" if you're looking at this from the main medary.com page to get the whole article!)
January 14 (Wednesday, Day 10, Honolulu, Oahu)
Filbert and Snookums woke at 7 AM and not to watch the docking process. Rather, we wanted to get off the ship as soon as it docked in order to use the free WiFi next door at Aloha Tower. We managed to do that and while we were sitting in the open air mall, a bird pooped on Filbertís left shoulder. He said itís supposed to be good luck and he was also happy it didnít land on his keyboard. (So, I guess it was good luck!)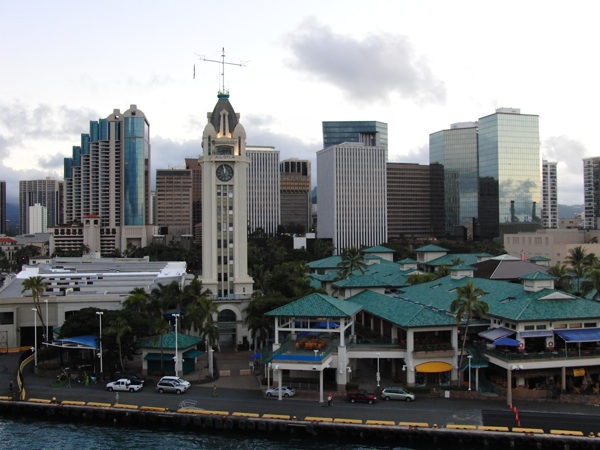 Aloha Tower
More after the jump . . .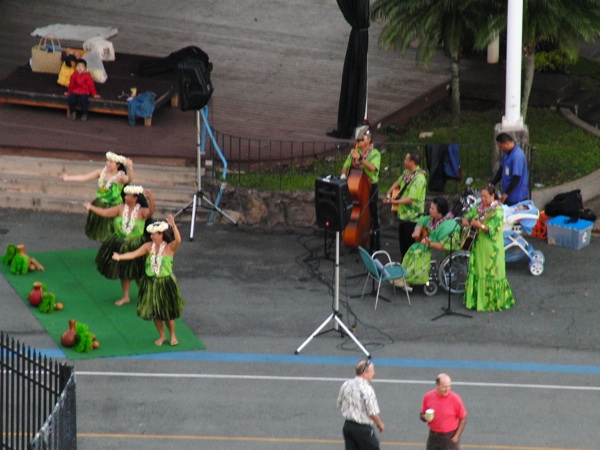 The welcoming hula
At 11 AM we ALL got off the ship and walked (or wheeled in Dadís case) from Pier 11 to Pier 6 (about 4 blocks) to get on the Navatek I for our whale watching tour. The ship was offering this shore excursion for $97 but by booking it directly with the company, we only paid $63 each. We got situated on the boat and Mom immediately opened up the drink list and saw ď7 Deadly ZinsĒ listed under red wines. 7 Deadly Zins is bottled in Lodi, California and the family of Bill, our Regent cruise buddies, provides some of the grapes for this wine. That meant that we had to order a bottle. Everyone enjoyed it a lot (except Snookums who enjoyed the free Diet Pepsi) and it provided the family with another reason to drink before noon.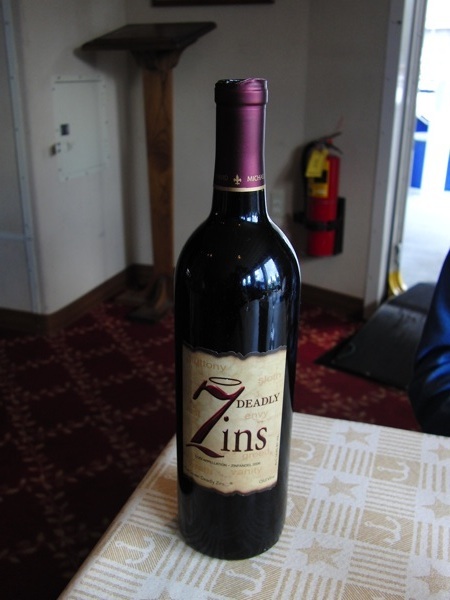 7 Deadly Zins
After eating the good buffet lunch it was time to go outside and look for sea creatures. Dad was able to be wheeled outside and everyone (including Mom and Judy!) had a good time enjoying the scenery and fresh air. After a few minutes the captain spotted a whale so we followed it for a while. However, it just showed spouts and we never really saw much of the whale. Then the captain turned the boat towards the NOAA Whale Sanctuary off of Maunalua Bay. All of a sudden a pod of dolphins appeared and really enjoyed riding the bow waves. There were four on one bow and two on the bow right under where we were standing. They were there for at least five minutes. We also saw several whales breach and lots of tail flukes and tail slaps. There were probably more whales in Kauai and in Maui, but this boat was wheelchair accessible and it was a fun 2.5 hours for all of us.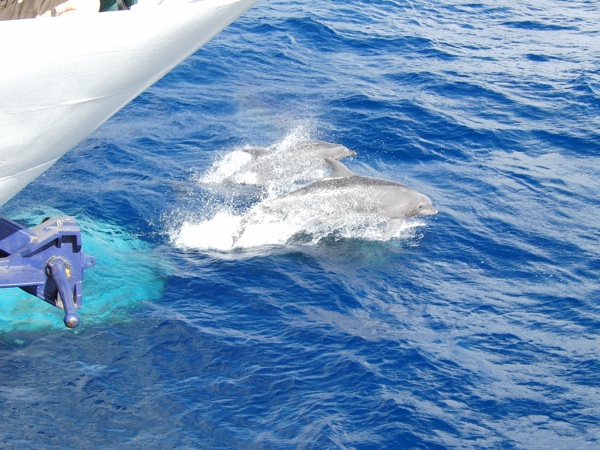 Bow-riding dolphins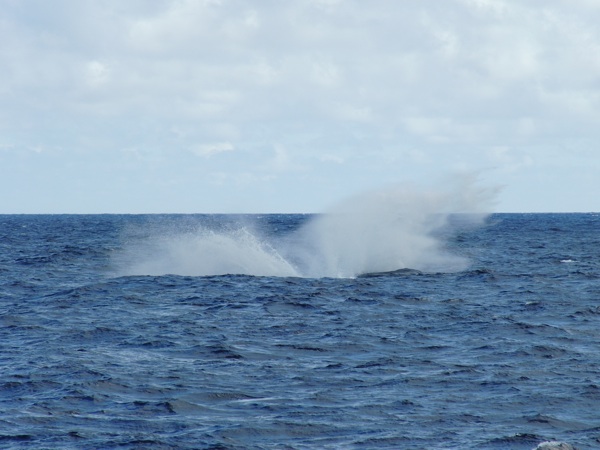 Just missed the breach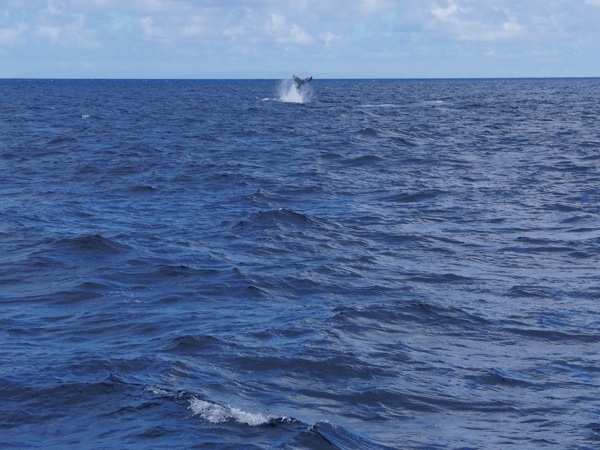 A tail slap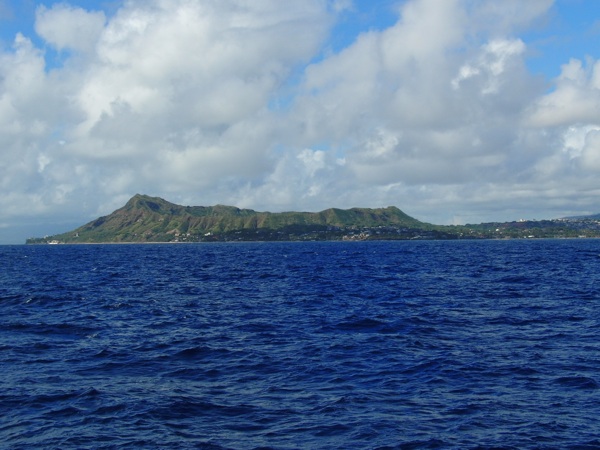 The other side of Diamond Head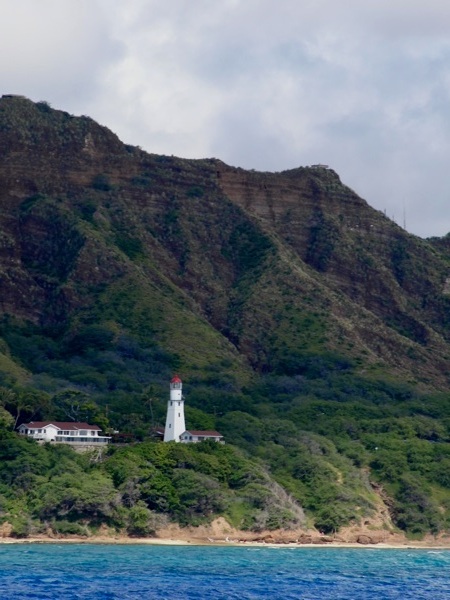 Lighthouse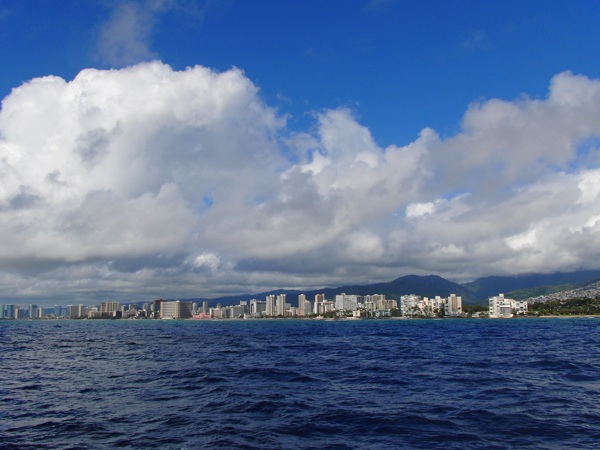 Waikiki hotel row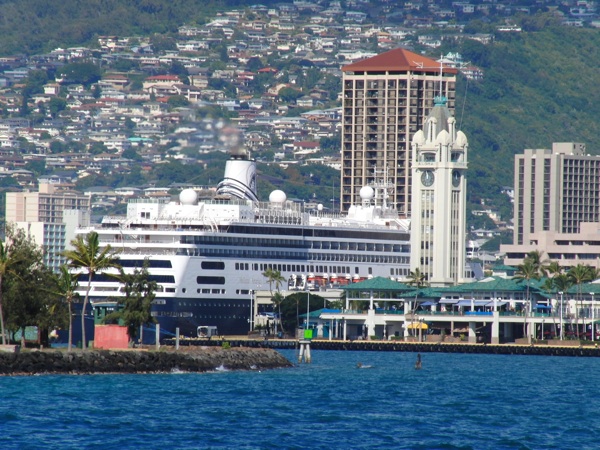 Zaandam and Aloha Tower
We walked back to the ship and Snookums and Dad went up the 10-story Aloha Tower and enjoyed the views. With all of the hotels on Waikiki, Diamond Head almost canít be seen from Aloha Tower anymore. We also looked down on the Zaandam since it was docked next door to Aloha Tower. Mom walked directly back to the ship and took a shower since she was getting her hair done since she couldnít stand it anymore!