Hawaii Circle Cruise, January 2009, Part Six
Monday, January 19 2009 @ 01:14 PM CST
Contributed by:

filbert

Views: 2,123
The 2009 Circle Hawaii Cruise - Holland America Zaandam, January 5-21, 2009
Text by Snookums, Pictures by Filbert
Part Six
(Remember to click "read more" if you're looking at this from the main medary.com page to get the whole article!)
January 13 (Tuesday, Day 9, Lahaina, Maui)
Today started with a bang. Actually it started with six short blasts of the shipís horn around 5 AM!! Filbert woke up a few seconds prior to the shipís horn since his sleep apnea machine lost power. He realized that the ship had no power and thatís when the shipís horn went off. The captain came on the PA a few minutes later (yes, a few minutes Ė someone should have come on the PA within seconds of the six short blasts!) and said that we were without power and that he would keep us informed. About 15 minutes later he came on again to say that there was no fire anywhere and that they were still looking into the cause of the power loss. Around 15 minutes later he came on the PA and announced that the engineers knew the problem and were fixing it. Finally the power came back around 7 AM and the captain said that we would get to Maui around one hour late.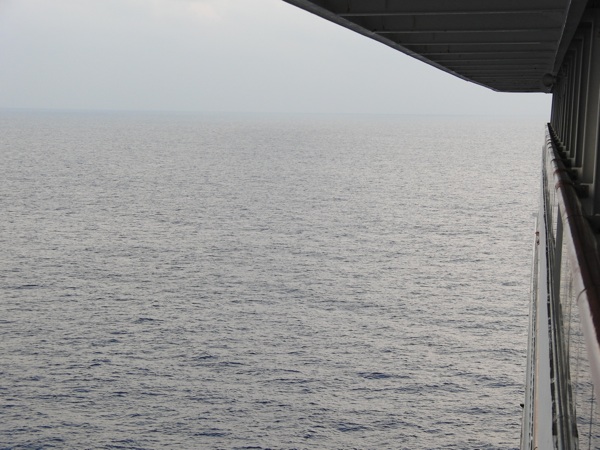 Calm sea, dead ship
More after the jump . . .
Black smoke in morning, engines start running
We were scheduled to do a snorkel trip so assumed that it would be pushed back one hour. NOT! Since the snorkel trip was not a Holland America exclusive tour (other people would be on the tour), the snorkel boat wasnít going to wait for our ship and so we were out of luck. Not only were we rudely awakened, but then our second snorkel trip was canceled. This meant that we would be 0 for 2 on snorkel trips on a Hawaiian cruise! Oh well, itís a good thing that Filbert and I are returning to Kauai in February for a 7-night vacation (using Hyatt points) which means lots of snorkeling.
Now Snookums will have to talk to the front desk about getting some of our shipboard credit refunded. We got the shipboard credit since we own stock, we booked using American Express, we purchased this cruise while on another Holland America cruise and we were given some from our travel agent. It usually isnít refundable but since both of our shore excursions were canceled, weíre going to have a large credit balance on both cabins and the normal policy is use it or lose it. Unfortunately, no one needs or wants ~$500 of Holland America t-shirts or $10 necklaces.
Snookums spent the morning in her swimming suit on the balcony soaking up the sun while Filbert stayed inside the air-conditioned cabin. Judy went to a golfing Dam dollars event and won one and then went to the greeting card crafts class and made two cards. Mom and Dad read books while sitting in various parts of the ship, including their large balcony.
We all met for lunch and enjoyed the do-it-yourself taco bar at the rear of Lido followed by coconut ice cream for Snookums. Then Judy and Snookums took the tender to Maui and wandered around until they found a grocery store where they bought Coke Zero ($6.49 for a 12-pack) and Miller Lite ($6.99 for a 6-pack).
A letter was delivered to each cabin explaining that since one of the five generators broke this morning and caused the total power loss, every person would get a free glass of wine or soda at tonightís dinner. Filbert and Snookums enjoyed their free beverage at the Hawaiian Sunset BBQ on Lido. The beverages were the only good thing about the BBQ, but we didnít starve. Mom and Dad decided to go to the sit-down dining room for dinner and had the Neptune Lounge concierge get them in at 6 PM (and not at their normal table which is at 8 PM).
It was an early night for everyone since the day started so early.