Hawaii Circle Cruise, January 2009, Part Three
Friday, January 16 2009 @ 01:05 PM CST
Contributed by:

filbert

Views: 2,281
The 2009 Circle Hawaii Cruise - Holland America Zaandam, January 5-21, 2009
Text by Snookums, Pictures by Filbert
Part Three
(Remember to click "read more" if you're looking at this from the main medary.com page to get the whole article!)
January 9 (Friday, Day 5, At sea)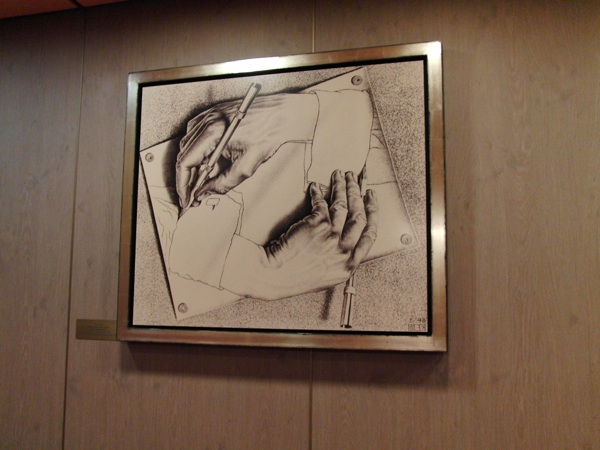 M.C. Escher print, ms Zaandam aft staircase between decks 6 and 7
We turned our clocks back one hour and everyone enjoyed the extra sleep. Snookums, Filbert and Judy went to the 10 AM Dam dollars golf challenge.
More after the jump . . .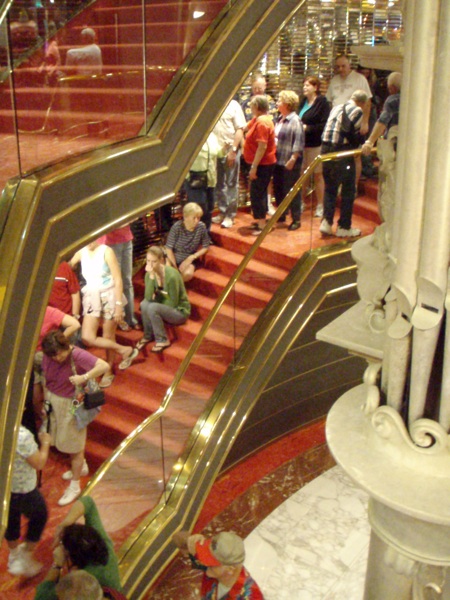 Dam dollar line
Filbert bailed after waiting 15 minutes in line. Judy and Snookums stayed until the bitter end and each collected a dollar. All too soon it was time for the 1 PM event. Judy was eating lunch with Dad so didn't attend. Filbert bailed again after 15 minutes so Snookums was on her own. After 46 minutes she managed to get one Dam dollar for attempting to chip three golf balls into the targets in the swimming pool. While in line she talked to two elderly men that both lived in Knoxville, Tennessee and one of them grew up in Viborg, South Dakota (a little town south of Sioux Falls).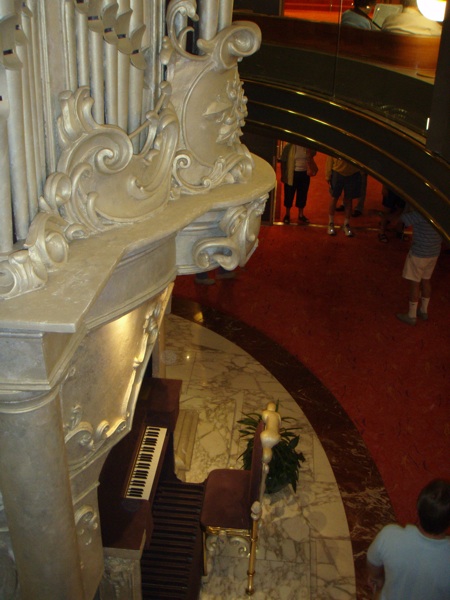 The big organ in the Zaandam's atrium
Snookums found Judy in time for the 3 PM Awesome Arms fitness class and then immediately went to the 3:30 Dam dollars scavenger hunt. We each got one dollar since Snookums made a mistake on one of the items she was supposed to hunt. (There are six floor lamps in the café, not four.) Mom, Dad and Judy tried to go to the 4 PM movie, "Beverly Hills Chihuahua", but the theatre was packed and they ended up just enjoying quiet time in their big cabin.
We were all invited to Captain Jan Smit's private cocktail party so we went to that prior to dinner. The Event Manager (a female officer in a white uniform) talked to us and Snookums asked why we were invited. She said that it could have been due to a suite (which doesn't work for Snookums and Filbert), a large number of nights on Holland America line (once again, Snookums and Filbert really don't have that many nights compared to a lot of cruisers) or that we were friends of Holland America. Snookums figured that was the category that Snookums and Filbert fit in since she wrote a nice letter to Holland America after the 65-day cruise and received a letter back with $300 in shipboard credit and dinner for five at the Pinnacle Grill (which was not what we used on our first night). So, maybe Holland America marked us as "Friends of Holland America" or something like that. Anyway, Snookums enjoyed the free soda and the others enjoyed the free booze.
We got to our table and three other people were there. Margaret and Kay (male) are celebrating their 50th anniversary and sold their house eight years ago and travel around the country in an RV. They usually spend no more than 2 weeks in a single place! Mark is from Toronto, Canada and his father was a German Jew in the British Royal Air Force during World War II and ended up being a POW in Germany. He found out that his father was Jewish a few years ago (his father died 30 years ago) and he is now writing a book. He and Dad spent the entire night talking and that will probably happen at every dinner from now on. It's a small world…..
January 10 (Saturday, Day 6, At sea)
Snookums saw that three of the four Dam dollar events either involved pool activities or trivia and told Judy that she was taking the day off. For the first time on this cruise, the sun is out! After a breakfast of a homemade "Egg McMuffin", Snookums enjoyed the sun on Mom and Dad's verandah. (It was too hot for Mom.) Filbert went to Lido to get a good internet connection. We met up in our small cabin around 2 PM and Filbert was just finishing his self-made taco salad so Snookums decided to call room service for a cheddar burger and French onion soup.
Judy attended the 3 PM hula lesson since it was a Dam dollar event. Well, it was supposed to be. The instructor knew nothing about it so Judy, being the true Simonitsch that she is, said "Let's go to the Front Desk and they can handle it" and led a group of 20 or so to the Front Desk. The lady at the Front Desk didn't know what to do until a guy in the group suggested that she take cabin numbers from people and have the Dam dollars delivered. The Front Desk lady though that was a good idea. Judy managed to sign our cabin up for a Dam dollar, too.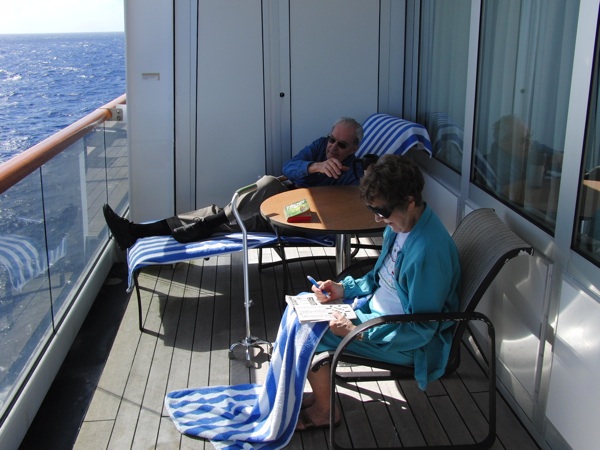 At last, SUN!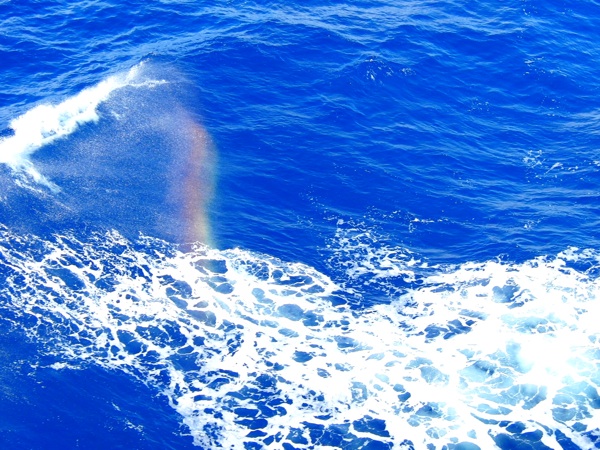 Sea-spray rainbow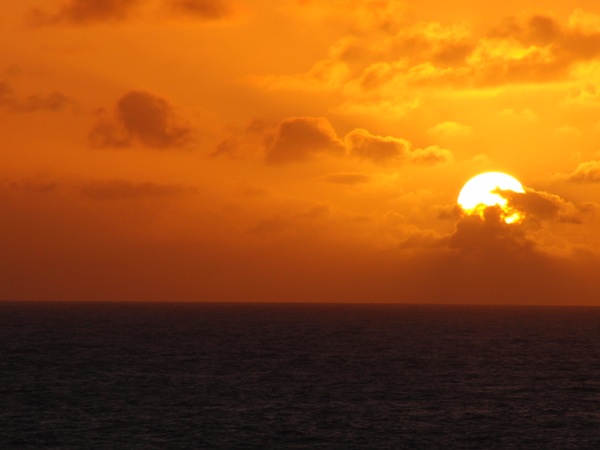 Sunset, Kona-bound
The rest of the day was spent relaxing prior to getting all dressed up for formal night. Our tablemates eat on Lido on formal nights rather than dressing up but Cory joined us again so we enjoyed dinner with the six of us and his free wine. We also enjoyed the additional hour we gained at bedtime as the clocks were turned back.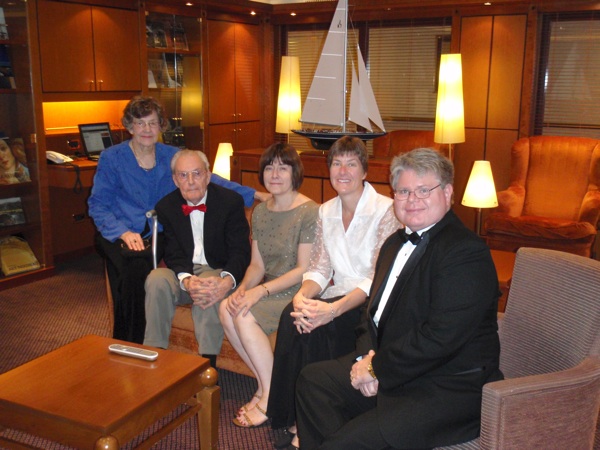 Stopping in the Neptune Lounge on the way to formal night