Hawaii Circle Cruise, January 2009, Part Two
Thursday, January 15 2009 @ 01:01 PM CST
Contributed by:

filbert

Views: 3,295
The 2009 Circle Hawaii Cruise - Holland America Zaandam, January 5-21, 2009
Text by Snookums, Pictures by Filbert
Part Two
(Remember to click "read more" if you're looking at this from the main medary.com page to get the whole article!)
January 7 (Wednesday, Day 3, At sea)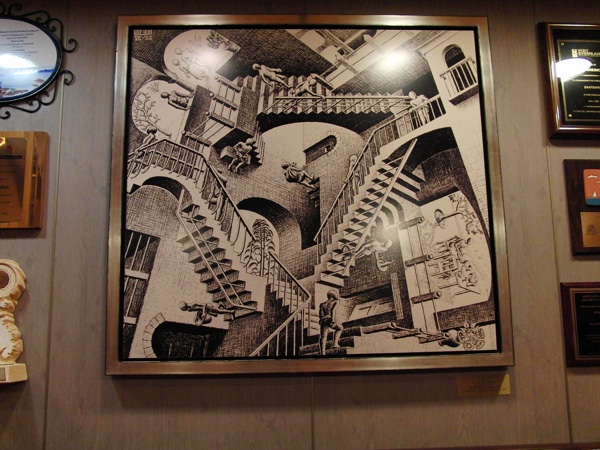 M.C. Escher print, ms Zaandam aft staircase between decks 1 and 2
Snookums went to the big cabin to see how everyone was doing and Judy told her that Dad threw up and was seasick. This from a man that neither of us have ever seen throw up and also from a man that always told Mom to just relax when she was seasick and that it was all in her mind. By the time Snookums saw him at 11, he was sitting in bed reading so he couldn't have been too seasick. Anyway, he was fine and the day continued without incident.
More after the jump . . . The big cabin was invited to a suite lunch so Snookums decided to crash it. Dad managed to eat a little bit of everything that he was served and was feeling pretty good. A man was seated at our table and we learned that his wife was seasick and that her son was an astronaut (and West Point grad) on the last shuttle mission. Filbert ate on Lido since he is committed to eating low carb and wants more choices than what was going to be served at the suite lunch. We had a relaxed lunch.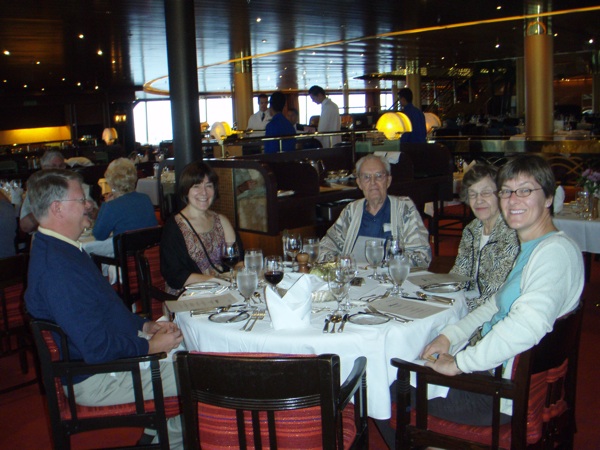 The Suite lunch
The weather was cool, probably in the low 60s, and overcast so it was good day to stay inside and just chill out. Dad continued to get over his seasickness and so did Mom since she was feeling kind of "iffy" throughout the day. Judy and Snookums decided to dedicate the cruise to getting as many Dam dollars as possible since Judy needs a windbreaker and Snookums needs a sweatshirt. That meant that we played ping pong at 1 and then won the scavenger hunt at 2. We participated in the golf putt at 2:30. At 3:00 we went to the Ab Attack fitness class (alas, there are no Dam dollars given at the fitness classes) and did a little workout. Snookums stayed after and rode the bike for 50 minutes since that's the only cardio thing she is allowed to do at this point after her hip surgery.
Filbert and Snookums attended the show prior to dinner and saw Barnaby do juggling and comedy. He was pretty funny and we really like that the show is at 7:00 for those people eating at 8:00 rather than having the show at 10:15 which is how it was on the Amsterdam.
We had no tablemates at dinner but enjoyed it with the five of us. Our server is Safari and he seems competent.
January 8 (Thursday, Day 4, At sea)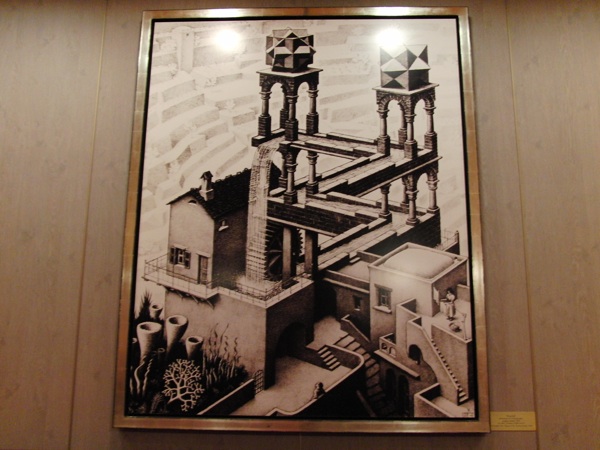 M.C. Escher print, ms Zaandam aft staircase between decks 3 and 4
Mom and Dad felt 100% today and did their own things. It was still overcast but a little warmer. Mom went to the acupuncture seminar (and Snookums gave her a free glass of champagne during it from the jewelry unveiling) while Dad attended the Veterans Meet and Greet. Judy and Snookums and Filbert attended the 10 AM tennis Dam dollars event. Filbert spent a lot of time on Lido on the computer while Snookums and Judy ran around the ship doing errands before it was time for the Quoits Dam dollars event.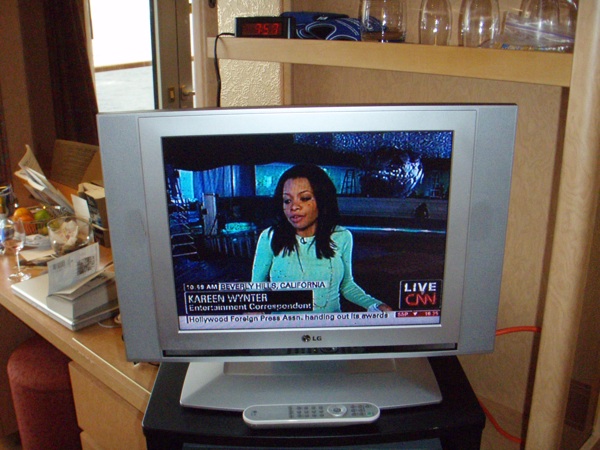 Filbert is ALWAYS delighted to see CNN (yes, that's sarcasm)
Filbert found Dad and they enjoyed the "Geology and Geography of Hawaii" talk while Judy and Snookums waited in line for the volleyball Dam dollars event. Before they had a chance to serve, a woman managed to hit the ball just right and it found the only hole in the net covering the entire area and went in the ocean. Judy was very relieved since she said she always got bruises doing volleyball in high school. We still got our dollar so that's all that mattered. Mom was quietly reading her book (and possibly drinking margaritas) while all of this was happening. Then Judy and Snookums went to the hips, buns and thighs fitness class while Filbert walked around the Promenade deck for 45 minutes. At 4:00 PM the three of us went to the soccer kick Dam dollars event and managed to each get one Dam dollar (the minimum you can get).
Mom, Dad and Judy went to the 7 PM pre-dinner show put on by the Zaandam singers and dancers. The costumes were designed by Bob Mackie and everyone thought the costumes were spectacular but the singers and dancers didn't do them justice. It was formal night and Filbert and Snookums met the rest of the family at the dinner table. Once again we didn't have any tablemates. But, Cory Montee, Port Shopping Ambassador, joined our table which also meant free wine would be served. We found out that he grew up in Oahu with his grandparents until he was 8 when he joined his parents on the mainland. When we finally asked him "where" on the mainland, we were shocked to hear him say "Kansas City". He had already proved to be quite the joker with other things he had said so we thought he was kidding. But when he started talking about attending Blue Springs High School and driving by the house with the blue tiled roof that is right by our subdivision, we knew he was for real! He performed at Starlight several times as a child and he graduated from the University of Missouri. One year he lived a block from Stephen's College. Needless to say we had a very entertaining dinner.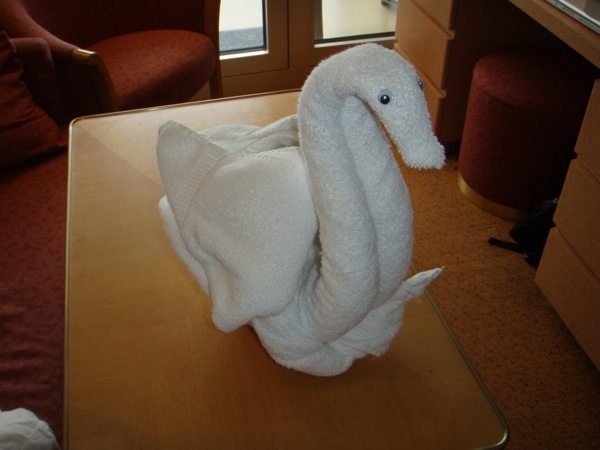 Towel swan