The Grand Asia & Australia Voyage, part 55
Tuesday, December 02 2008 @ 07:59 AM CST
Contributed by:

filbert

Views: 3,056
The Grand Asia & Australia Voyage - Holland America Amsterdam, September 19-November 23, 2008
Text by Snookums, Pictures by Filbert
Part Fifty-five
(Remember to click "read more" if you're looking at this from the main medary.com page to get the whole article!)
November 24 (Monday, Day 70, Flying to Dallas, Texas) -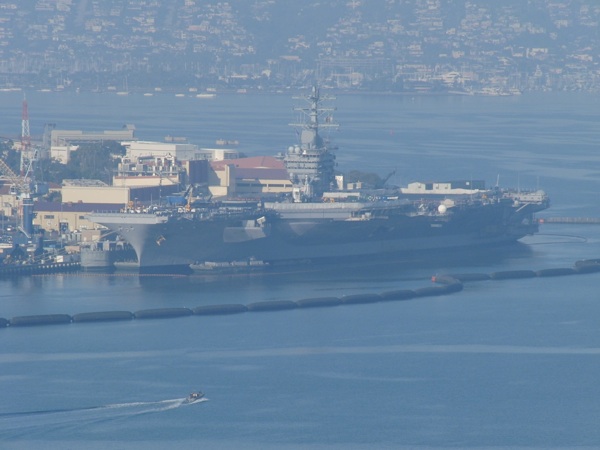 The U.S.S. Nimitz at her home port: San Diego
We woke up and had breakfast at the Regency Club and then took a cab to the airport for our 10 AM flight to Dallas. We landed at the DFW airport around 3 PM and immediately checked in to the Grand Hyatt DFW for the night. The Grand Hyatt DFW is one of the few hotels that is actually IN an airport. Filbert loves airports so we figured this would be a nice break, especially if we got a room that faced the runways.
More after the jump . . .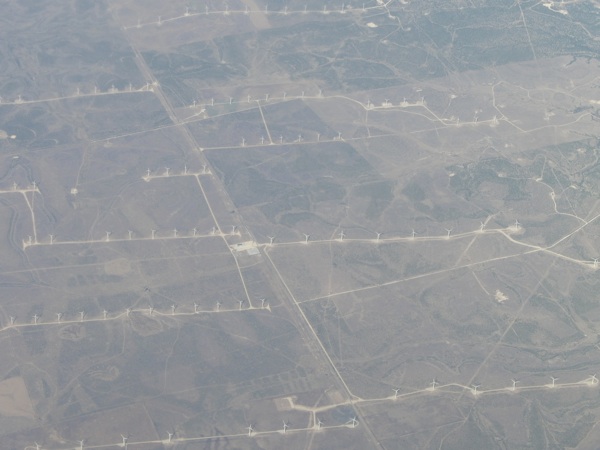 Wind farm, somewhere in West Texas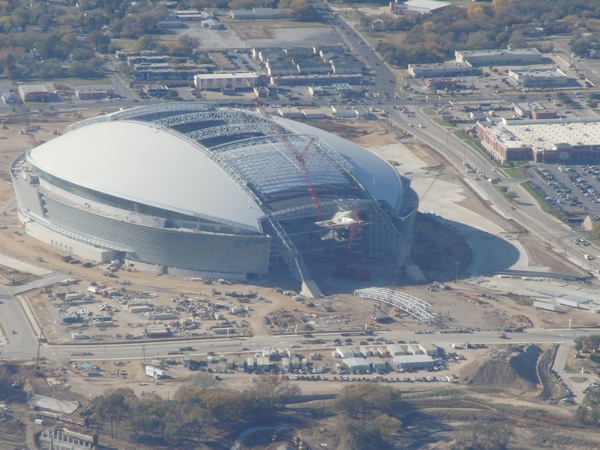 The new Dallas Cowboys stadium
We went to our 8th floor executive suite (a bedroom and a living room that each had a wall of windows overlooking the runways) to put our luggage away. While we were there, the phone rang. Snookums answered it and the Houston Hyatt manager that she knew from when she basically lived at the Houston Hyatt for 2+ years was on the phone! He was now working at the Grand Hyatt DFW and noticed her name on the check-in list and had been calling the front desk frequently to see when she checked in. We went to the lobby in order to see him (Pete Reyes) and to also get our TSA security passes to allow us into the airport even though we didn't have a flight since we wanted to get some lunch. We talked to Pete and he told us to send him an email with our future Hyatt stays since he has several friends that work at Hyatts that we will be visiting (Vancouver, Beijing) and he said he would make sure we were treated well. You don't have to tell us twice!
We ate at the Irish Pub in the airport and returned to our room where a chilled bottle of champagne was waiting for us. Filbert set up shop in the bedroom by turning off the lights, closing the door (to eliminate the light from the living room) and turning on his radio for a nice evening of plane spotting. He said he got some good photos. Snookums, meanwhile, was in the living room watching back-to-back "Law and Order" shows on television. We ordered the Diamond Amenity (red wine and dried fruits and nuts). Snookums ate the fruits and nuts (and the almond toffee from the turndown service) and Filbert saved his wine for Cancun.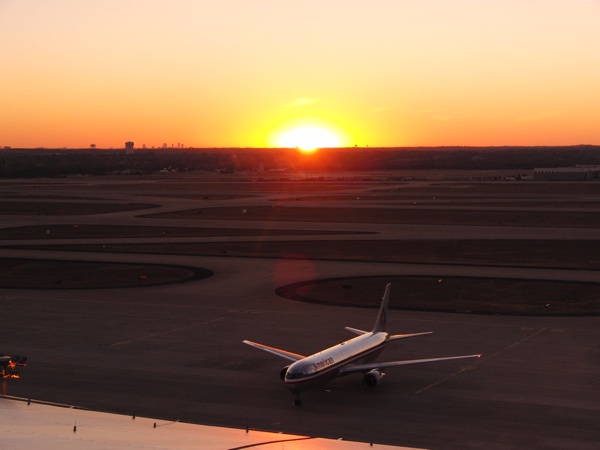 Sunset from our room at DFW
November 25 (Tuesday, Day 71, Flying to Cancun, Mexico – 13 pesos to the dollar) –
Yet another American Airlines plane takes off from DFW
We had our $15 worth of breakfast in the Grand Hyatt DFW restaurant and then took the elevator down to the airline terminal. We checked our luggage, went through security and got to the gate a few minutes prior to boarding. This is definitely the way to get to the airport! We managed to snag the aisle and window seats of the exit row and although the flight was 99% full, no one sat between us. The parents of a South Dakota State University junior women's basketball player sat in front of us so we were the SDSU cheering section on the plane.
We landed in Cancun around 2 PM and took the shuttle to the Hertz car rental facility. Although we had a guaranteed reservation, we were told that there weren't any compact cars and that we could get a Mercedes, but at significant additional cost. Snookums didn't stand for that and was finally told that a Dodge Durango (a big SUV) was available and we could get that at no additional cost. She said fine but insisted that Filbert be added as an extra driver at no additional cost (a savings of $7/day and the compact car was $15/day). When the paperwork was finally presented to Snookums, a compact car had been found AND Filbert was added as an additional driver for free. So, score one for Snookums and zero for Mexican scams!
We got to the Hyatt Cancun Caribe Resort and we were upgraded to a Regency Club Executive King on the third floor (of four) of a building that faces the ocean about 50 yards away. (Pete Reyes, from the Grand Hyatt DFW, told us he was going to notify the Cancun Hyatt about our arrival.) We unpacked and really enjoyed our balcony and ocean view.
We started getting hungry and decided to get in the car and drive away from the Hotel Zone and all of its chain restaurants and to explore. We found a row of outdoor food stands and went to the one that had the most people at it. (They were all Hispanics.) It was a fish place that sold three things – fish tacos, shrimp tacos and ceviche. That's right, just three items (plus beer). Snookums had one order of fish tacos for $1.50 and this consisted of two corn tortillas and two deep fried fish fillets plus condiments (shredded cabbage, pico de gallo, diced cucumbers). Filbert had a huge order of ceviche (raw shrimp and raw fish marinated in lime juice with diced tomatoes and onions) for $6.00. He really enjoyed the habanero peppers, lime juice and cilantro to add some zip to his ceviche. After that yummy feast, we headed back to the hotel and hit the sack.
November 26 (Wednesday, Day 72, Cancun, Mexico) -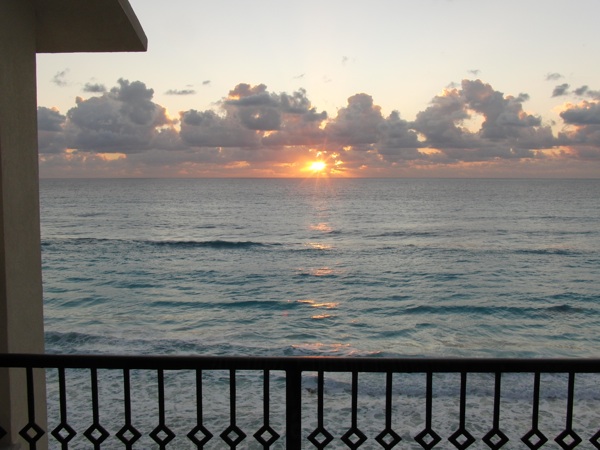 Sunrise from our room's balcony
We woke up and had a quick breakfast before Snookums drove Filbert to the gym for the SDSU women's basketball game versus #10 ranked Maryland. SDSU led by one at the half, but ultimately lost by 13. While Filbert was at the game, Snookums scheduled an appointment with the doctor. For the past week she had been experiencing some urination problems and for $80 the doctor came to the hotel room and diagnosed a urinary tract infection and gave her two prescriptions for $40. Then she drove to a laundromat to do two loads of laundry since our clean underwear supply was running low. It was the first laundry she had done in 73 days! She got the laundry done and put away and then drove the 25 minutes to pick Filbert up at the gym.
The reason that Snookums didn't attend the game was due to her cheapness. Our room at the Hyatt is free since we are using points. A pass to all of the basketball games costs $300 but since the games are being held at an all-inclusive resort (not the Hyatt), visitors must pay $81 per day to enter the property. Snookums couldn't justify $624 to attend basketball games that don't include her alma mater (the #13 ranked Tennessee Lady Vols, lest anyone forget!) so she opted to not go. Filbert, however, must attend since he is SDSU's biggest fan.
(Filbert responds that Snookums' kind of a grumpy-gus sometimes and needs to relax . . . more. No, really.)