The Grand Asia & Australia Voyage, part 46
Tuesday, November 25 2008 @ 11:38 PM CST
Contributed by:

filbert

Views: 3,898
The Grand Asia & Australia Voyage - Holland America Amsterdam, September 19-November 23, 2008
Text by Snookums, Pictures by Filbert
Part Forty-six
(Remember to click "read more" if you're looking at this from the main medary.com page to get the whole article!)
November 13 (Thursday, Day 59, Crossing the equator) -
We crossed the equator at 11:08 AM and celebrated by attending Poseidon's Revenge Ceremony.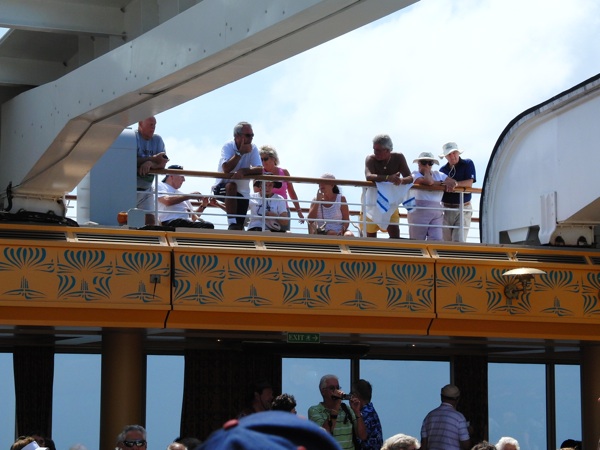 The crowd assembles to watch Poseidon's Revenge
More pictures after the jump!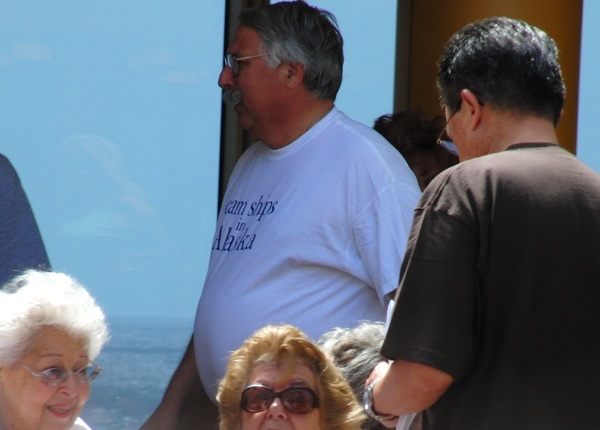 Avast there! A Pollywog!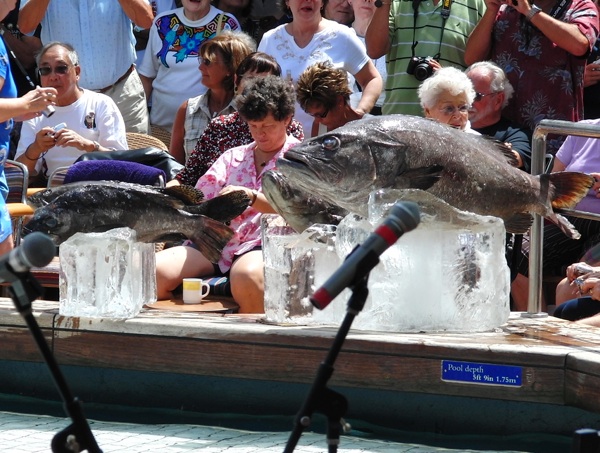 Guests of honor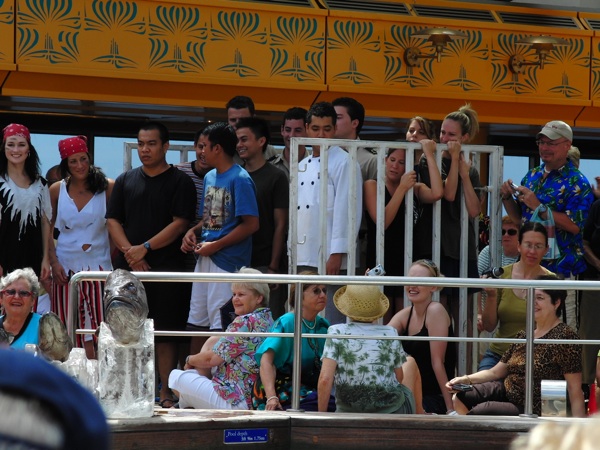 A cage of Pollywogs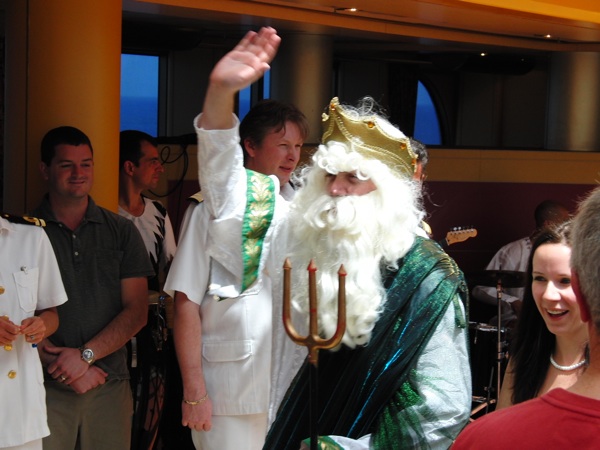 King Poseidon Himself
This is where crew members that haven't crossed the equator before get to kiss a fish and then get food smeared on them before being thrown into the pool. We saw it on Regent and this one was similar except that Holland America smeared the pollywogs with whipped cream (only) and didn't use other food like spaghetti, chili, and fruit. It was a fun event and Gary was bummed that none of the guests were chosen to participate. He was ready! (The pool was still closed for cleaning as of 3 PM.) We were shellbacks since we had already crossed the equator on another sailing.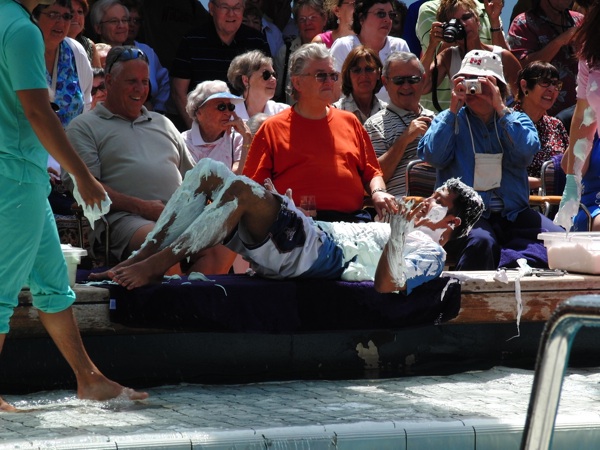 A Pollywog becomes a Shellback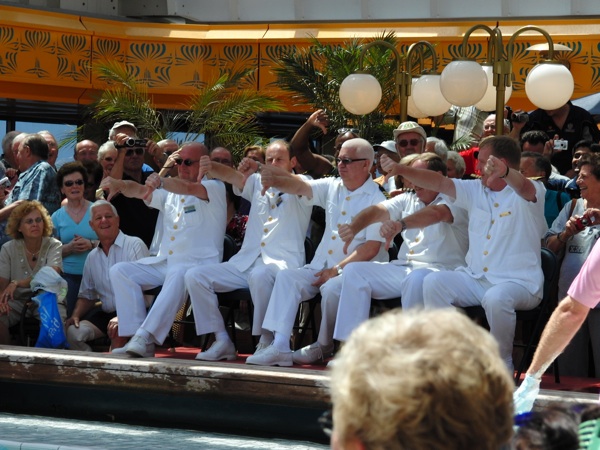 Dump Them!
Into the drink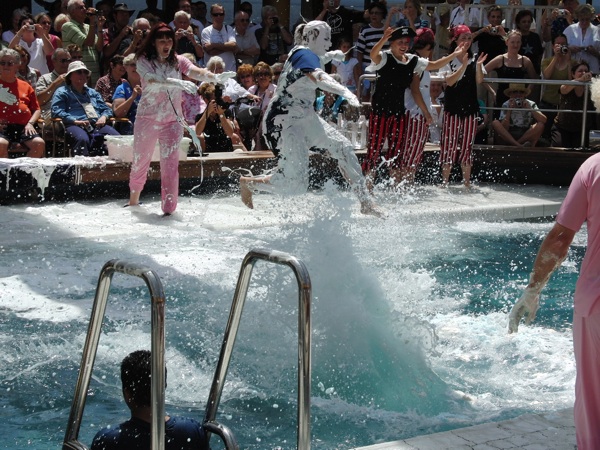 Another pollywog into the soup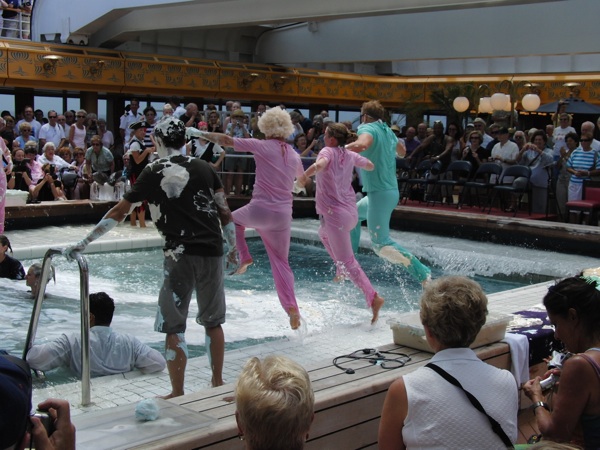 Time for the King's minions to wash up
We went to the Dam Dollars event (football toss) and Snookums won two while Filbert earned one. Filbert interrupted his day of writing to participate. He also picked out three photos to enter in the photo contest. He chose the whale tail for the wildlife category, the morning mists over Bali for the landscape category and a photo from today's Poseidon's Revenge Ceremony for the life category. When Filbert picked up the actual printed photos, the two workers at the photo shop were oohing and aahing over his whale tail photo. Hopefully that means it will win!
Filbert worked out and Snookums went to bed feeling a little queasy. She took a seasick pill and watched the movies 'Sex and The City' and 'Get Smart' while Filbert was at dinner. Filbert took two seasick pills when he came back to make handling the ship's pitching and rolling easier.
Next: Buffet!