The Grand Asia & Australia Voyage, part 38
Monday, November 17 2008 @ 04:21 PM CST
Contributed by:

filbert

Views: 3,025
The Grand Asia & Australia Voyage - Holland America Amsterdam, September 19-November 23, 2008
Text by Snookums, Pictures by Filbert
Part Thirty-eight
(Remember to click "read more" if you're looking at this from the main medary.com page to get the whole article!)
November 5 (Wednesday, Day 50, Sydney, Australia) - Continued
We hustled back to the ship for a 15-minute lunch before packing up our cold weather gear and walking to the other side of the Sydney Cove for Ocean Dreaming to pick us up for our whale watching tour. The 115-foot, three-deck catamaran picked us up and away we went. The seas were a little choppy but the wind was fierce and we were both glad to have taken seasick pills. One guy didn't and his full bag of vomit was overflowing and then being blown by the wind! Filbert was using his camera so he only had one hand to hang on with while it was all Snookums could do to keep steady using two hands. It was very rocky and very windy and everyone really hung on. No one was in any danger of falling overboard, although we were surprised that no one ever fell down on the deck. Anyway, we got out to the ocean and since the boat had some kind of tracking equipment, it knew where to go.
Sure enough, we found ourselves watching a pod of four humpback whales. We learned that whales surface and then go back down for 5-10 minutes before re-surfacing so we just stayed in that spot for about 45 minutes and watched the whales. These whales seemed to stay submerged for about 8 minutes or so. They weren't too active when they surfaced and just used their blowholes and did some fluke up dives to go back down. We saw a lot of their backs, but that was about it. The captain wanted to find a pod of whales that had been more active and breaching earlier in the day so we went to another spot.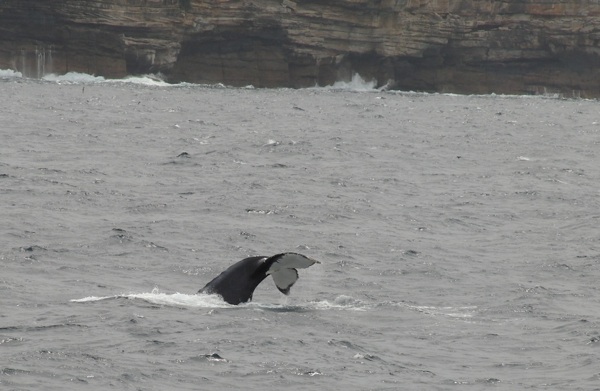 Whale 1
More after the jump: We got to the spot and found a pod of two whales. They entertained us for awhile and seemed to only stay submerged for 5 minutes or so which meant we got to see them more often. We also had about 40 dolphins buzzing around the catamaran riding the bow wave so we followed them for about 5 minutes. That meant that we "lost" the pod of two whales so now the captain continued to look for the pod of four whales that had been so active earlier in the day.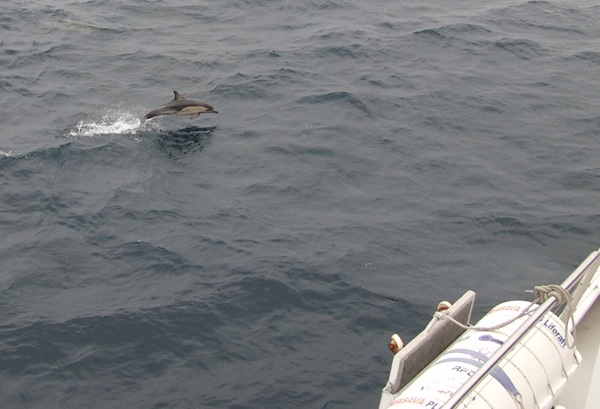 Dolphin leap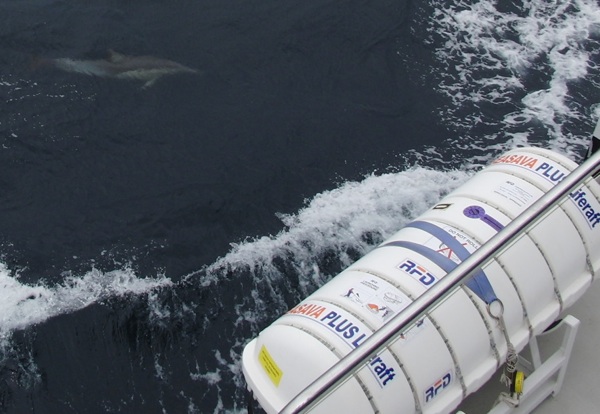 Dolphin under water
He found them and we were given a great show. We saw some tail slaps and some tail swipes and probably 20 pectoral slaps by at least two whales at the same time. (The pectoral fin is about 15 feet long.) At one point the pod of two and the pod of four joined and we saw all six whales together. We noticed a car carrier steaming out of Sydney, and the captain said that often the humpbacks would get more active when a really big ship went by. It turns out, he was right.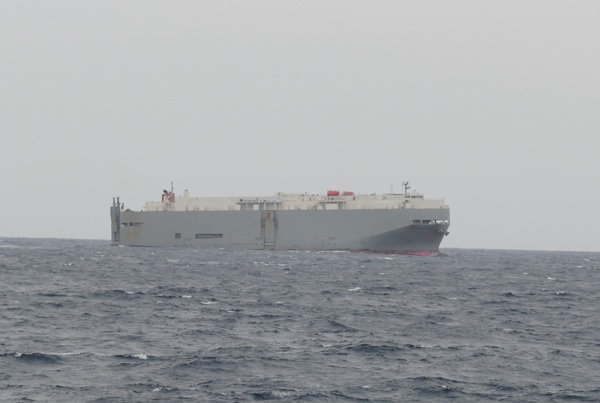 Car carrier--a very big ship indeed
After the whales had been submerged for 5 minutes or so everyone kept looking to the starboard side and all of a sudden a whale breached which is where the whale leaps its whole body out of the water. No one was ready for it since it was the first sign of any surfacing whales. We hoped to see another one breach since the captain said that usually when there is one breaching whale, it will either repeat it or another whale will breach, but that was the only one we saw. By now our cruise time was almost over so it was time to head the boat back to Sydney Cove.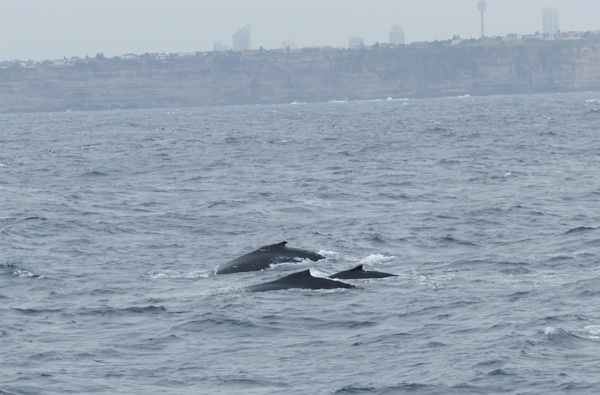 Three whales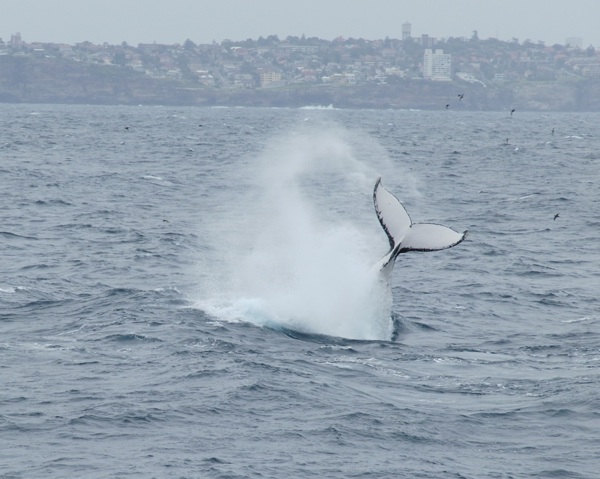 Tail flip
Synchronized flippers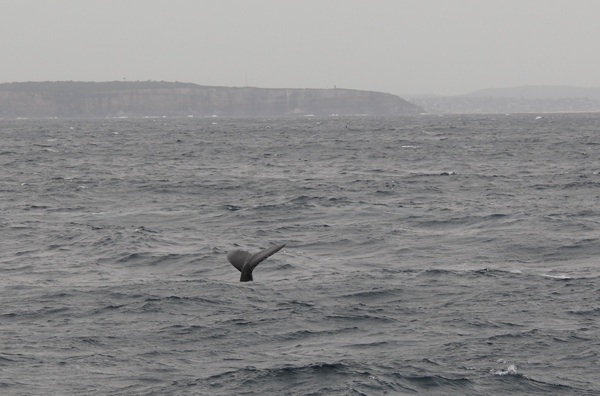 The last whale tail
On the way back two Australian Air Force trainer jets decided to fly right over our heads. They were loud, fast and low and seemed to come out of nowhere (so no one got any pictures). It was the perfect ending to a most excellent whale watching cruise.
We got off the boat and Snookums took off her cold weather gear. We were the only ones on the whale watching cruise that had the appropriate clothing. Snookums had a ski cap and gloves and everything. The wind was so fierce that it really made it quite cool but we were warm with our winter coats. Some people came onboard with just shirts and blouses and no jackets or coats at all!
Snookums took a shower and then a one-hour nap and was shocked by how sore she was when she got up. Standing with bent knees and arms clenched onto railings for four hours on a boat that is flopping around is a hard workout.
We went to dinner and Gary and Charlotte were there and everyone was tired from their days in Sydney. It was a quiet dinner. We learned from the assistant dining room manager that 21 passengers disembarked unexpectedly from the time we left Seattle. That number surprised all of us since we had only heard of a few medical incidents. The assistant dining room manager was kind of surprised that no one had died on board yet.
Filbert stayed up until midnight to watch us leave Sydney. Snookums didn't.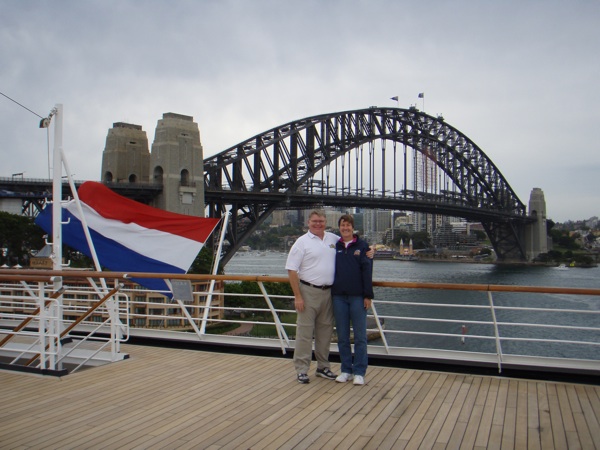 Filbert, Snookums, the Dutch flag and the Sydney Bridge