The Grand Asia & Australia Voyage, part 37
Sunday, November 16 2008 @ 05:41 PM CST
Contributed by:

filbert

Views: 3,059
The Grand Asia & Australia Voyage - Holland America Amsterdam, September 19-November 23, 2008
Text by Snookums, Pictures by Filbert
Part Thirty-seven
(Remember to click "read more" if you're looking at this from the main medary.com page to get the whole article!)
November 4 (Tuesday, Day 49, Sydney, Australia) -
Filbert woke up around 5 AM to watch our arrival into Sydney Cove. Snookums woke up at 6 AM when the port lecturer started narrating our progress. We docked and once again we had the great view of the Sydney Opera House while the other side of the ship looked at the port terminal. We continue to be lucky.
More after the jump . . .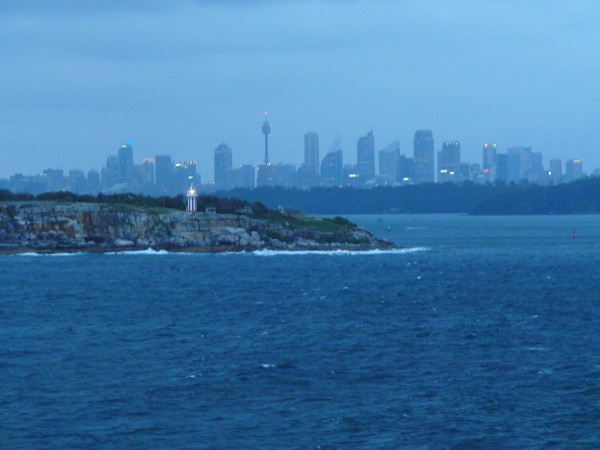 Sydney skyline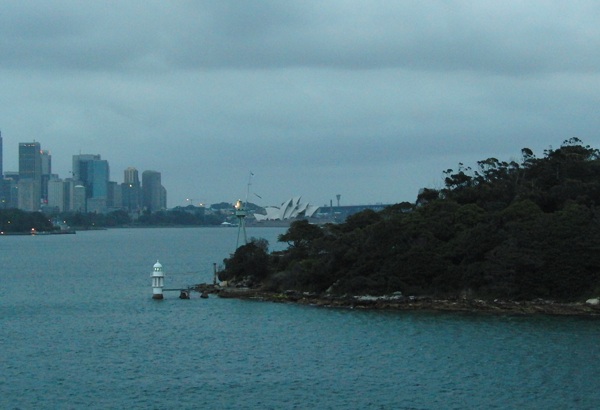 First view of the Opera House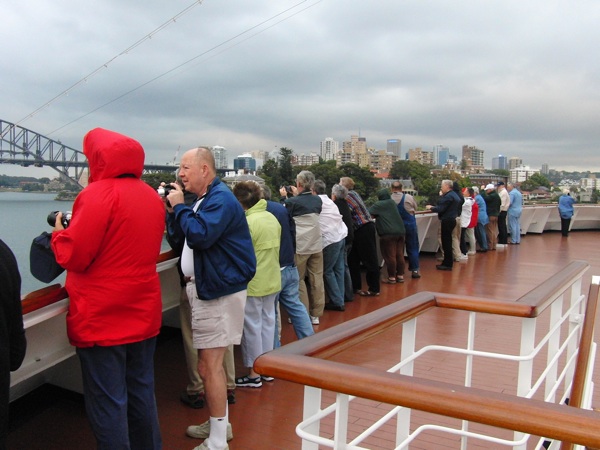 The gallery assembled to watch the harbor entry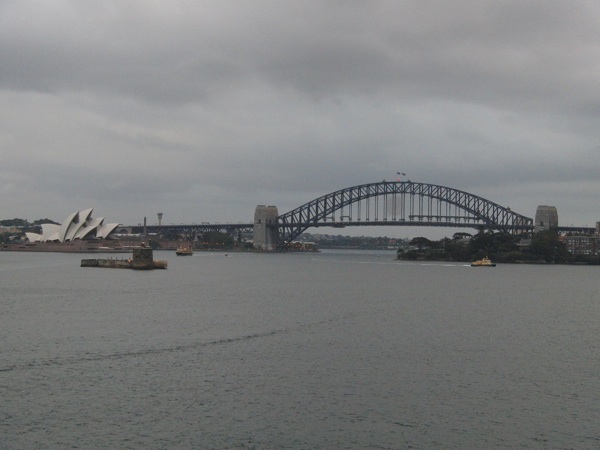 Opera House and Sydney Bridge
The sky was overcast and it rained early on, but by the time we were ready to leave the ship, it had cleared off and was in the mid-60s. Snookums bundled up and Filbert wore a long sleeve shirt.
We got off the ship around 9 AM and walked to the supposedly largest bookstore (Dymock's) in the Southern Hemisphere. Filbert stayed there for a few hours (and bought three history books) while Snookums wandered around downtown Sydney. She got a pedicure and manicure ($35 compared to $100 plus tip on the ship!) and bought a dark chocolate ginger candy bar at Haigt's Chocolates which has been in Australia since 1918.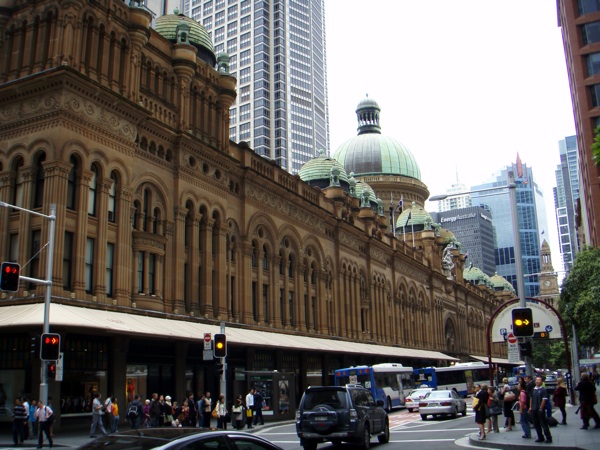 Queen Victoria Building
Snookums went back to Dymock's to get Filbert and his heel started bothering him so we walked back to the ship around 1 PM and ate lunch. Snookums went back out to do some more exploring and wandered around The Rocks which is the area that was first settled in the 1800s and right where our ship docked.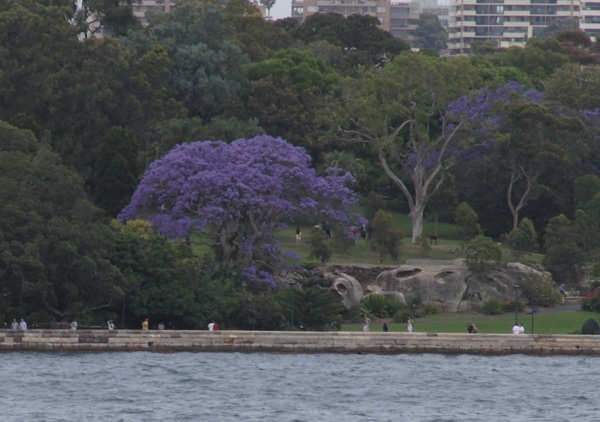 Purple-flowered trees
The Melbourne Cup (a famous horse race like the Kentucky Derby) was raced at 3 PM and we saw a lot of women in their fancy dresses and hats or fascinators (feathers and things on a comb that you wear in your hair in place of a hat) going to the race parties. We never heard what horse won, but a lot of drinking was happening.
We called a whale watching tour company from a pay phone to ask about the best tour to take tomorrow. We were told that the 4-hour one was the best and that it left at 1 PM so we scheduled that.
Since Snookums managed to blow off her workout yesterday she went to the gym. She realized that several of the new passengers that just got on in Sydney were there, too, since they were trying to figure out the machines. Several tours of travel agents walked through, too. (When the ship has docked in the bigger cities, there have been several tours given to local travel agents.)
We went to dinner and we were the only ones that showed up. We knew Gary and Charlotte weren't going to be there but we thought that maybe Alice and Ivan would be. Ron, the wine steward, told Filbert that if Filbert managed to drink an entire bottle of wine at each dinner from now on, the extra bottles would be free. (Filbert bought a 36-bottle package when we first got onboard. Four nights ago Ron said that he had 18 left. We knew that Ron's math was wrong [to Filbert's benefit] but since Filbert tips him every now and then, we don't really care. Filbert will be sharing lots of wine at dinner from now on.)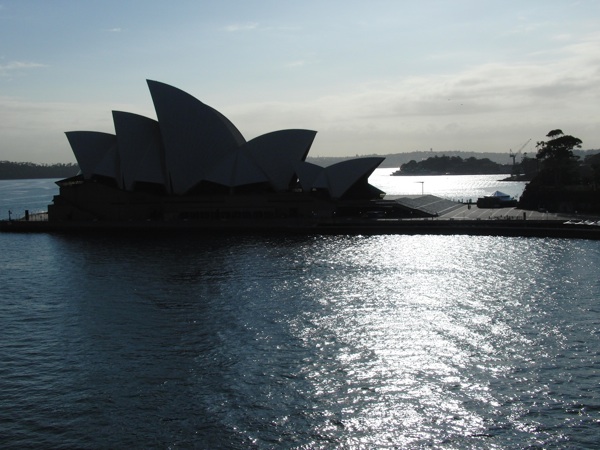 Opera House in the afternoon
November 5 (Wednesday, Day 50, Sydney, Australia) -
The sky was clear and the temperature was warmer and we decided to go out and find a barber since Filbert wanted a haircut. Most of the hair salons were closed yesterday for the Melbourne Cup but we were told a bunch could be found by a mass transit station about ¾ mile away. We went to the Wynyard Station and it was just like any other big mass transit station in Tokyo or Singapore or Hong Kong. It had lots of small shops on several levels and several hair salons. He got his hair cut for $16 (compared to $35 plus tip on the ship) and there was no place on the credit card receipt for a tip so he didn't. (We had read that you don't tip in Australia.)
We bought our picture for our travel wall at a small gallery co-op that sells items from a bunch of different artists. Our print is of the Sydney Bridge with Luna Park (an amusement park) under it. We could easily see this scene from our ship so we thought it was a great souvenir.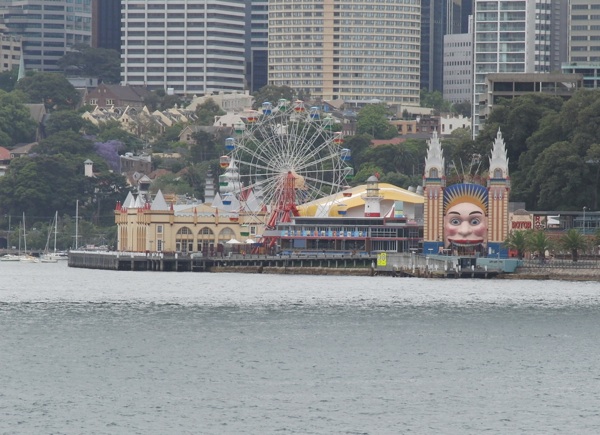 Luna Park