The Grand Asia & Australia Voyage, part 35
Friday, November 14 2008 @ 05:22 PM CST
Contributed by:

filbert

Views: 3,614
The Grand Asia & Australia Voyage - Holland America Amsterdam, September 19-November 23, 2008
Text by Snookums, Pictures by Filbert
Part Thirty-five
(Remember to click "read more" if you're looking at this from the main medary.com page to get the whole article!)
November 2 (Sunday, Day 47, Melbourne, Australia) -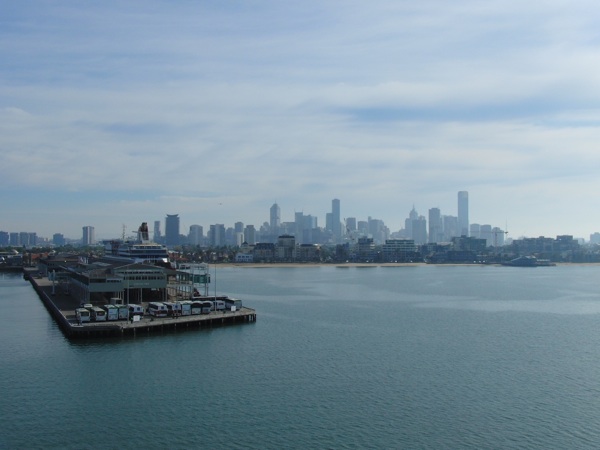 Arriving at Melbourne
Filbert woke up around 6 AM to watch the docking process which turned out to be quite boring. We were behind schedule and were supposed to dock at 8 AM. We ended up being all done around 9:15 AM. In the meantime, the ship sailed through the bay which was wide open and "boring". We got off the ship as soon as it cleared customs and immigration and bought an all-day Sunday public transportation ticket for around $1.65.
More after the jump . . . We took the tram to Queen Victoria Market which is a fixed price, open-air market that has been operating for more than 100 years. We were impressed at the variety of goods we found including Chinese trinkets that we could have purchased in Shanghai or Hong Kong (for about the same price). We also saw Ugg boots and several vendors selling Australian Rules Football jerseys. There was a food section, too, that sold fresh fish, meats, cheeses, produce, and baked goods. It was a nice market and very busy and we enjoyed being able to read all of the English signs. We bought some Australian wool socks and Filbert bought a $5.50 black polo shirt with a kangaroo embroidered on the chest.
We stopped at a cafe and Filbert had a Coke Zero while Snookums ate a huge piece of warm sticky date pudding with orange caramel sauce and whipped cream. We noticed that the breakfast menu listed pancakes and they were all were served with ice cream and we saw a few being served, too. Even the "American pancake" was served with ice cream and maple syrup. Strange.
After that well-deserved break, we took the free tourist shuttle to the Shrine of Remembrance which commemorates Victorians killed in WWI.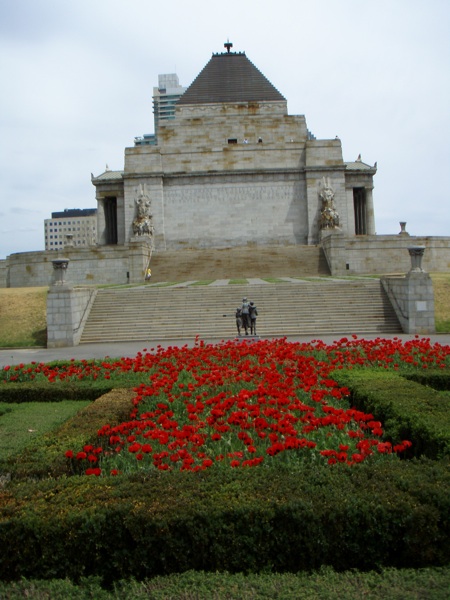 Shrine of Remembrance
Then we walked to the free Royal Botanic Gardens which is considered one of the world's best. And it was.
The Royal Botanic Gardens:
We caught another tram back to the ship in order to get our laptops to find some free internet usage. Bill, our cruise friend in California, did a little web research for us and emailed us a list of free places near the ship.
Filbert decided to go to the grocery store at the end of the pier and pay the $4.35/hour but Snookums decided to venture forth and find the free ones provided by Bill's web search. Filbert ultimately decided to go along with Snookums. After walking for about a mile and going to the establishments on our list and being told "no internet here", we ended up returning to the grocery store. (Just goes to show, you can't believe everything you read on the Internet!)
Filbert drowned his disappointment in a big bottle of Melbourne Bitter beer (a Foster's brand) and posted a dozen cruise blog posts, while Snookums read email and checked on our various financial accounts. (Yippee, we still have money in our checking account and our financial trading account!) We got back to the ship with about 30 minutes to spare. While we were in the grocery store, the temperature seemed to drop from about 80 degrees to about 65 degrees and the skies clouded over.
Back onboard, Filbert showered and got ready to watch us leave port while Snookums sewed buttons on two pairs of pants and got the laundry ready to go out. An Australian warship had docked right next to the Amsterdam--an unusual sight.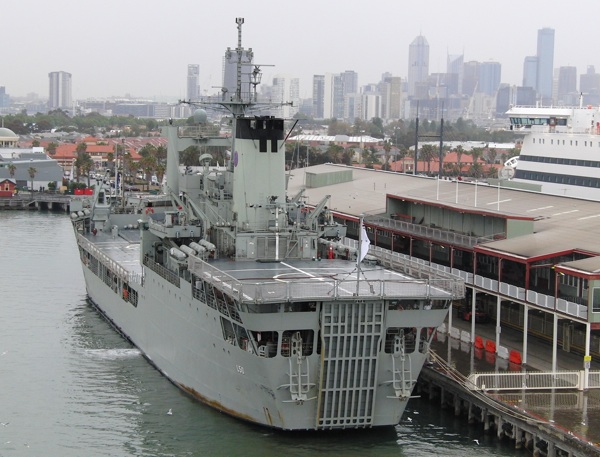 HMAS Tobruk
There had been a motorcycle convention in Melbourne over the weekend. These folks were heading back home to Tasmania on the ferry docked across the pier from us.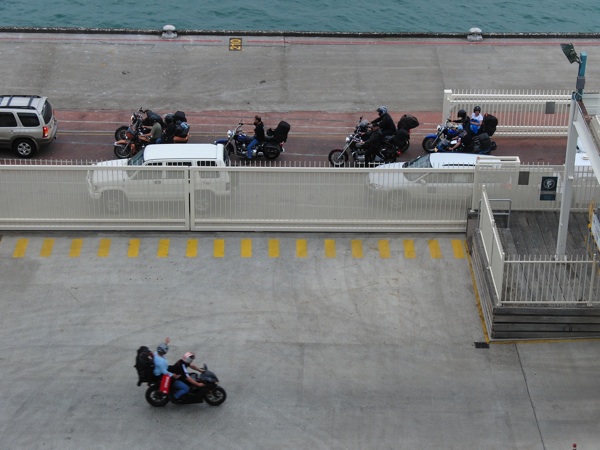 Australian bikers
As soon as the ship pushed away from the dock, it started raining! We have had the best luck with weather. It's just been amazing and we hope it stays that way.
Around 7:00 Filbert decided he was hungry (he didn't have any lunch while Snookums pigged out on the huge piece of sticky date pudding) so we called our tablemates and told them we wouldn't be coming to dinner. We ordered hamburgers and corn chowder and at in while watching "Flawless" on TV. Lights were out at 10 PM due to our long, tiring day.
Sunset enroute to Sydney