The Grand Asia & Australia Voyage, part 30
Sunday, November 09 2008 @ 12:09 AM CST
Contributed by:

filbert

Views: 3,478
The Grand Asia & Australia Voyage - Holland America Amsterdam, September 19-November 23, 2008
Text by Snookums, Pictures by Filbert
Part Thirty
(Remember to click "read more" if you're looking at this from the main medary.com page to get the whole article!)
October 25 (Saturday, Day 39, Padang Bai, Bali, Indonesia - Continued)
Filbert bought a terribly overpriced 600 ml Bintang beer for $4 (it would have cost $1 if we would have had rupiah but by now we decided that U.S. dollars would work just fine and didn't bother using the one ATM that we eventually found) so that was the tip. We ate lunch at the restaurant across from the Wayan's store.
We ordered beer, pork/chicken/fish with Balinese spicy sauce and rice, nasi goreng (stir fried noodles, shrimp, chicken and vegetables – kind of like fried rice with a fried egg on top) and chicken satay. While waiting for the food a lady selling Balinese fabrics came by. Snookums started touching the fabric and Filbert decided he wanted shirts made out of them so we ended up buying three pieces of fabric for $40. She wanted $70 and we later found out we probably could have gotten them for $10 total! As our tablemate, Gary, says "It's foreign aid".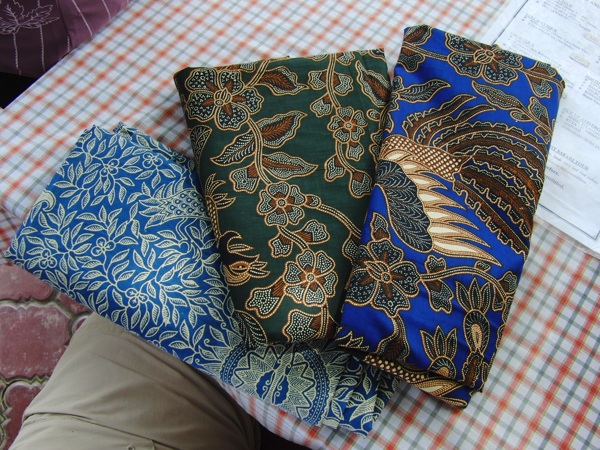 Foreign aid
More after the jump . . . Then a girl selling all sorts of trinkets and knick knacks came by and we ended up buying four postcards from her. We wrote them while waiting for lunch to come. Lunch looked very good, but really wasn't that tasty. And, since we only had U.S. dollars, they gave us a terrible exchange rate of 8,000 rupiah to the $1 rather than 10,000 or so which meant that our lunch was $25. Once again, foreign aid!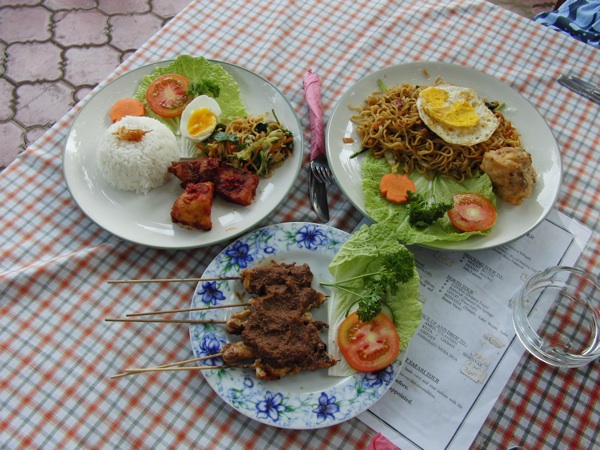 Lunch
We decided that we had seen everything there was to see and since Filbert still had $6, we went back to the snorkel store and bargained for two warm Bintang beers and they happily took our last $6. Well, Snookums thought it was the last of our money, but that was not to be.
We went to the tender line and it was moving slowly. One of the ship's officers explained that due to low tide, the tenders could only be half filled so it would be awhile.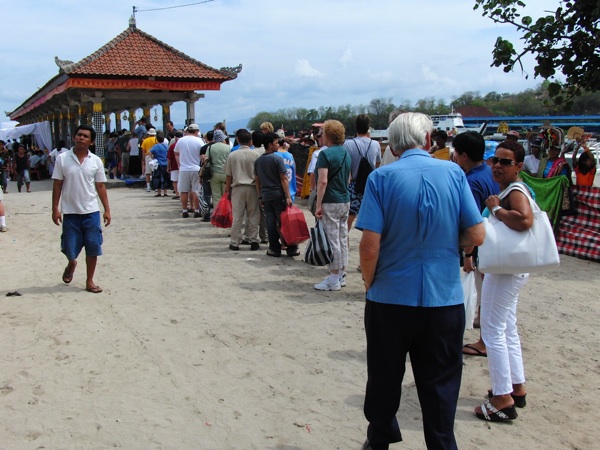 The tender boarding line
That was okay since both sides of the fences were lined with vendors shouting at the people waiting and it was pretty amusing. Filbert explained that he still had money left so Snookums encouraged him to look at the readymade shirts out of the Balinese cotton. He ended up buying two, one from each vendor standing next to each other. The vendors wanted $15 each but he said $10 and they agreed. One vendor took the $10 and a $1 out of his hand while the other vendor only got $10. Whatever!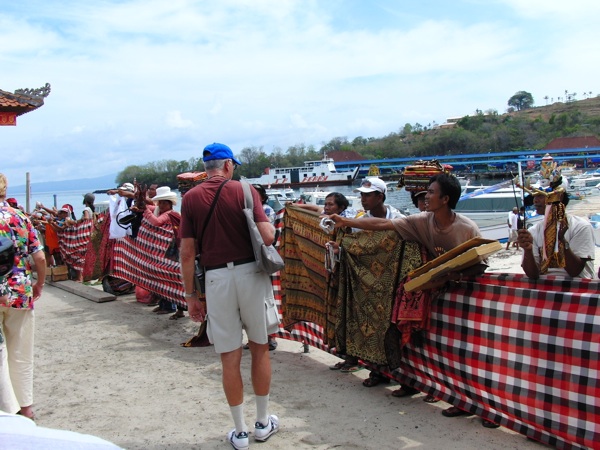 Capitalism at its finest. Hey, Mister! Hey, Miss!
We ended up getting on the tender and by now all of the passengers were kind of laughing about all of it. The vendors were nice and since they were behind the fences and couldn't grab you and stuff, it was okay to have them yell their sales pitches. The people of Bali speak three languages – Balinese, Indonesian and English so language is no problem at all.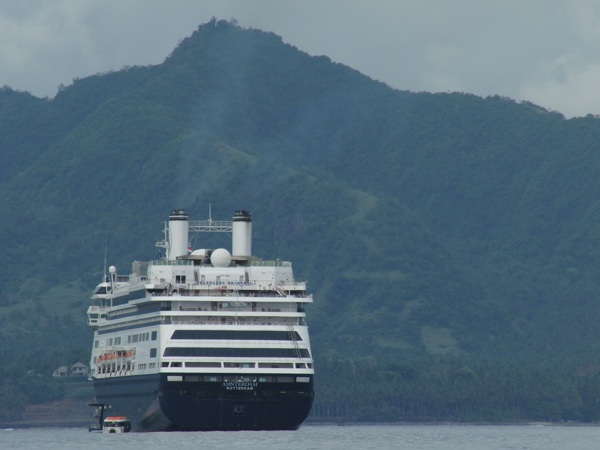 The Amsterdam awaits
We got back to the ship, showered and got ready to host another of our famous sail-away parties for our tablemates. While Snookums was picking up the room and putting laundry away, Filbert was working on putting together a slide show of the underwater pictures he took. At 6 PM the appetizers were delivered and our friends arrived. We traded stories of our adventures and everyone enjoyed watching our slide show.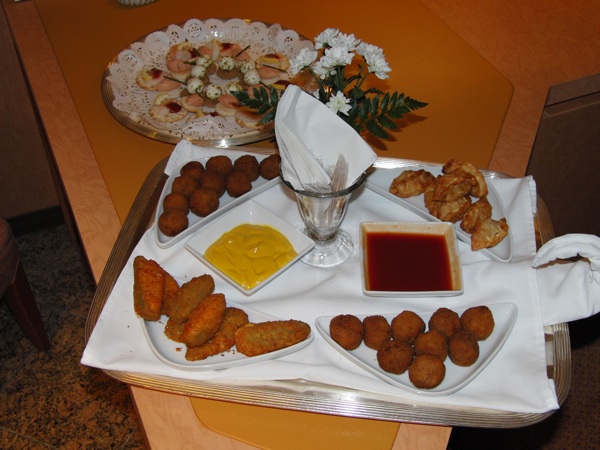 Hors d'oeuvres
After being underway for about an hour, the ship started pitching to and fro although the waves were basically nonexistent. For the past two weeks or so, sailing in the East China Sea and Java Sea had spoiled us and now we were in the Indian Ocean. Oceans ARE different than seas! No one was getting sick, but we could tell we were on the ocean and we needed a few hours to get our sea legs back. Earlier in the day the Captain had also reported that the winds would be picking up between now and Perth.
We all went to dinner in Lido (the buffet) to enjoy the special Indonesian feast which tasted better than our authentic lunch, primarily due to having much better cuts of meat. It was a great way to end a very memorable day.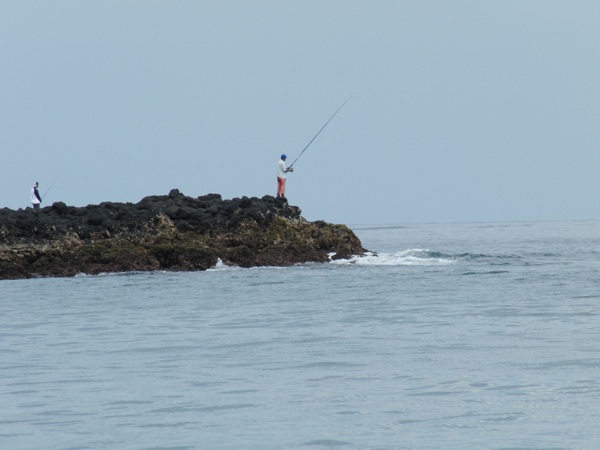 Fisherman at a rocky point on Bali
Next: Back out to sea!